Whitman pulled away late against FSU in prequarters.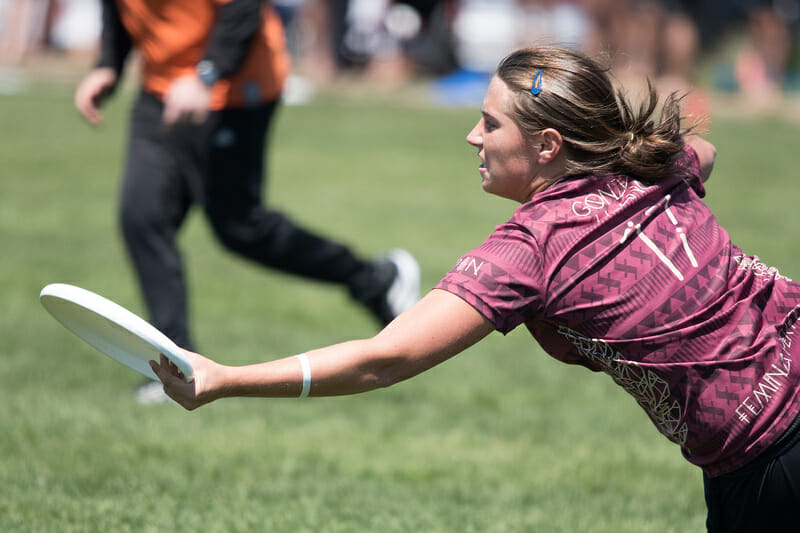 Whitman continued their winning streak with a decisive win over Florida State, winning 15-9. Whitman and Florida State both entered the prequarters game following pool upsets: Whitman overpowered Colorado ­­14-9, and Florida State took down a tired Notre Dame 15-7. Whitman was peaking, building a weekend out of a close Kansas game, a Princeton blowout, and a Colorado upset. Florida State, on the other hand, was still finding their energy after an uneven Friday performance.
Both teams entered the game with diminished power. Whitman was missing both freshman Soo sisters, Alissa and Linnea, to a concussion and a knee injury, respectively. Florida State didn't have handler Alleigh Grover due to an ankle injury, and Kristin Lloyd was struggling with a torn ligament in her right thumb.
Neither team was going to let missing players be the asterisk on their game. Florida State and Whitman traded points to start, pushing their opponents' deep defense with gutsy away looks. Whitman grabbed two breaks to surge ahead in the first half, with the second break coming off a big backhand from Revere across the endzone to a waiting Bladin.
Let's talk about Claire Revere and Julia Bladin. In the first half Bladin threw four assists to four Revere goals, with Revere returning the favor once. While Whitman benched Revere for most of the second half, her one goal in the half was a bid tracing the back of the endzone for a break. Both players displayed incredible field awareness and executed elite level cuts throughout the game and the day. But that's not why Whitman won.
They won because of everyone else. Bladin, Revere, and Finley get a lot of love from the stats sheet, but today belonged to Whitman's midfield. Junior Brenna Bailey was a key piece of their short game, always available under and ready to move the disc downfield, and junior Marlena Sloss had four goals in the prequarters game. During Whitman's incredible four break run to win the game, senior Jessica Shatkin scored two of the goals and threw one assist.
While Whitman took half 8-6, Florida tightened their handler defense in the second half, fighting to tie the game at 8s. Skylar Taggert was the core of Florida State's game in Grover's absence, playing most points in the game and opening up Florida State's deep game. Kari Tomarelli came into her own, scoring four goals in the first half. Larissa Ferreira, while not always reliable in the zone offense, landed a lot of Florida State's more ambitious deep looks.
Whitman's final march from 11-9 to 15-9 showcased the team's steady rise to excellence.
"When our back was against the wall and we had nothing to lose, that's when we did our best," said Whitman coach Jeremy Norden after their win. Whitman has spent several seasons exceeding expectations, and they have developed the position into a pillar of their mental game.
They have a chemistry borne out of the promise shown at Northwest Challenge, and they're becoming more lethal with every performance. By reaching prequarters alone, Whitman moved further in the bracket than they ever have before. Tomorrow, facing Carleton in the quarters, they will take one step further.