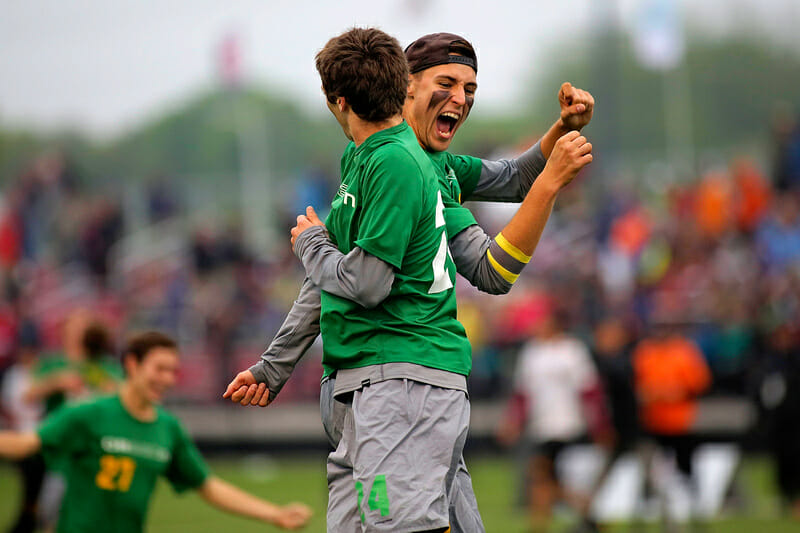 After three straight years of disappointment, heartbreak, and hard questions in the semifinals, it finally happened for Oregon.
While conventional wisdom says that the third time is the charmed one, it took four tries for Oregon Ego to earn a win in the semifinals and reach the championship game at Nationals. It has been a long time coming for Oregon, as they were able to defeat not only Florida State this evening, but also the ghosts of their past defeats.
For an Oregon team that has the reputation of coming into the tournament as high seeded favorites and faltering down the stretch, this year's Nationals has been an entirely different story. After losing a game on Saturday at regionals and needing to qualify through the backdoor bracket, Oregon plummeted from the likely two seed at the tournament all the way to fifteenth. On their first day of competition, they played like a fifteen seed, losing to Maryland and the same Florida State team that they would eventually face in the semifinals.
Starting Saturday morning, however, Oregon has been playing like the elite team they are. A 3-0 performance on Saturday got them into the quarterfinals on Sunday, and their play has only improved. After a lights out performance against Texas on Sunday morning, Oregon found themselves exactly where we thought they would be all year, in the semifinals of Nationals with a chance to finally get over the hurdle that has confounded them for the past three years.
In an interview with Ego captain and Callahan winner Dylan Freechild after Easterns, Freechild made it clear that Oregon's program had grown since their first semifinal exit in 2012, and that lumping all of the defeats under one umbrella missed what was happening in Eugene. This Ego squad really drove that point home, as they have reinvented Oregon's playstyle and, in doing so, found the recipe that got Oregon over the hump.
Ego of old had a reputation as a team that played a huck happy run-and-gun style, but this Oregon team has found that its success lies in punishingly efficient in-cuts and smothering handler defense.
The big breakout stars of the night were Chris Strub and Mario Bundy, two seniors who lead Oregon's D-line, and consistently made the plays Ego needed when it mattered. In particular, Strub had the Herculean task in the semifinals of matching up against Florida State's star handler Chris LaRocque, and Strub did an incredible job blunting LaRocque while also running the offense off of a turn.
When asked about how he prepared for such a tall task, Strub had a simple answer. "I'm just trying to be the premiere dump defender in the game. Not to sound cocky, but that's the attitude you have to have when you're playing literally the best players in the country," said Strub after the game. "I get to guard Dylan every practice. Dylan and Trevor are great handlers, so I get the best practice of anyone."
Oregon came into the semifinal with only 15 healthy players left on their roster. With such a short squad, the D-line's ability to hold their own without having to bring O-line legs into play was huge. Early in the season, Oregon's defense had some trouble converting on breaks without Freechild or other members of the offense on the field. Today, Strub and Bundy lead the defense impeccably against Florida State, and were able to punch in breaks without the offensive players.
Freechild was the first to sing the praises of his teammates after the game. "They just got it done, man," he said. "I'm really proud of those guys, they take a lot of pride in playing D, and they don't need us O-line guys."
The Oregon D-line's ability to give the offense some rest throughout the game made all the difference in crunch time when the Ego offense would be pushed to their limit. "They were a little bit more fresh than I expected," said Florida State's coach Peter van de Burgt. "But they are tough guys, they've been here before."
The big moment that would test Ego came towards beginning the second half. After Oregon's D-line staked them a three break lead, some physical errors from Ego's O-line possibly caused by the slick conditions gave Florida State a chance to climb back into the game. DUF tied the game at 9-9, and all of the pressure swung back onto Freechild and the Oregon offense. With three years of coming up short in the semis staring them in the face, this moment carried more weight than your typical elimination game nail biter at Nationals. For so long, Ego, and Freechild in particular, had been stamped with the rep of chokers, and if that narrative was to be set in stone, this was the time.
Ego knew they were at a definitive moment in their season, and in many ways in the legacy of their program. But when they took the line needing a big hold to stop Florida State's momentum, the team was feeling confident. "We decided after giving up those breaks that it was going to be on our terms," said Freechild. "If anything was going to happen, if we wanted to go anywhere, it was going to be on our terms. And so, maybe for the first time as some people would say, the pressure didn't get to us. The game was on our terms and we just went back out there and executed."
After an intense point with multiple layouts and more intense defense from DUF, Adam Rees sent a big huck to a streaking Connor Matthews in the endzone that gave Ego the momentum they would need to reclaim the game from Florida State.
After that big hold, Oregon was on the attack, and they took the game to FSU with a terrific sequence from their D-line, with both Strub and Bundy coming up huge again. Bundy was able to give Oregon a break cushion on a ridiculous grab near the goal line in which he went full extension with his legs to toe the line for a score. When asked about the play after the game, Bundy said it was just something he knew he could do. "It's just about being aware of where you are on the field and trying to make plays" he said with a smile. "As one of the older guys I need to make the plays I know I can make for my teammates."
Leading 14-12, it was up to Freechild and the Oregon offense to close out the game. For a player and a team that has been ragged on for three years about coming up short, it was poetic justice that Freechild had a hand in sealing the victory, as he launched a perfect flick huck to an open Rees in the endzone for what has to be one of the most emotionally satisfying wins of his career.
The way the team has come together after their rough start to the tournament and getting stronger from adversity has been as impressive as anything Oregon did on the field. No matter what happens tomorrow, the team knows that with their backs against the wall, they were able to come through and banish the notion that Oregon can't win when it counts.
After the game Freechild was enjoying the moment, and had a clear message for his team about the next day's final. "Have fun," said the Ego captain. "It's the same thing as today, just have fun. Attack their best players, take your chances, play our game, and have fun."
The looks on the faces of the players as they gathered after the game ended, basking in what they had done, was a mix of gleeful disbelief and long awaited satisfaction. This team put something special together this year, and nothing that happens in tomorrow's game will change that.