Tiina Booth grades the 2015 College Championships.
Teachers give out better grades in the spring. We just do. Like tired parents or administrators, we are finished with holding back the wave of summer malaise and we want to ride it a bit ourselves. Attending USA Ultimate's 2015 College Championships in Milwaukee launched the summer for many of us, in a spectacular way.
I was much more focused this year than during our field trip to Cincinnati in 2014. Our "Happy to Be Here" mentality was replaced with "Looking Forward to Tearing Things Up." I still paid attention to the fine details, but I had to rely on the observations of others as I missed some of the events. Thanks to those who contributed to this review and, as always, feel free to create your own categories and grades in the comments.
1. Parking
Nothing could really be better than the parking in Cincinnati, as the spaces radiated around the fields like spokes in a wheel. The walk to the fields was a little longer, but since we had 8:30 games on the first three days, we had no trouble parking as close as possible. I suspect that those who had later games may have had some issues. A-
2. Arrival and Welcome
The volunteers were exceptional throughout the weekend. From the parking attendants to the scorekeepers to the random volunteer I stopped to ask a question, the folks in the yellow shirts were consistently helpful and accommodating. I liked the system of white wristbands for parking, as opposed to actual parking passes, which I tend to lose. The Midwest is known for its friendliness and these ultimate volunteers proved this rule to be true.
I also loved the USAU tent situated at the entrance to the stadium. Sometimes this tent disappears among the others and it was good to see how many visitors used them as a resource. The team buttons were again a nice touch, as were the free Jolly Ranchers. Much better than the melted chocolate in Frisco. A+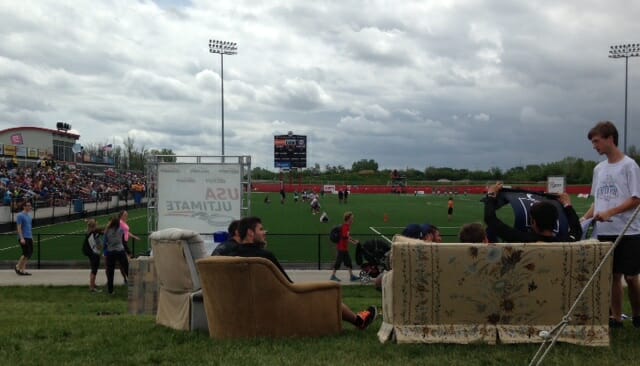 4. Venue: The Stadium
There was only one venue for the entire tournament and this should be a mandatory requirement for future College Nationals. Making everyone — including families, parents and grandparents — switch tournament sites in the middle of the weekend should be avoided if at all possible. The Uihlein Soccer Park, "Home of the Milwaukee Kickers," was a perfect size and provided an intimate and family-friendly atmosphere for the entire weekend. The stands were on one side and the merch, media, and info tents were on the grassy knoll behind an endzone. Bathrooms and food were very close.
I missed the games on Sunday afternoon and evening but followed them back at the hotel. I spent all of Monday at the finals, sitting on a Five couch in the Savage Tent, pseudo-apologizing to my lifelong sponsor VC Ultimate via Twitter. Silly games, a very busy trade area and lots of creative betting distracted the fans between points and games. A+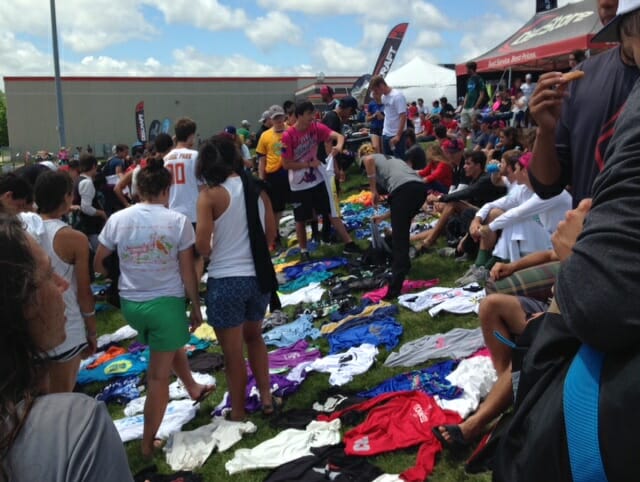 5. Venue: The Fields
Almost all of the fields were lined well and in very good to excellent shape. The fields toward the back were a little bumpy and worn but that is to be expected in any place that hosts lots of events. I also appreciated having a place to warm up that was not too far from the fields, but that was because we were assigned Fields 7 and 8. I think it was a little crowded for teams who were waiting for the earlier rounds to finish. The double-sided scoreboards were a nice touch (a suggestion from 2014) but they were not always used because of not enough Velcro pieces.
On the morning we arrived, the volunteers were scrambling to get the sideline tents up for all the teams but, again, they were pleasant and efficient. Each tent had one bench which was a nice touch. I didn't attend the Captains' Meeting so maybe they covered this, but teams who have just finished need to move quickly out of the tents WITH all of their litter. Maybe the scorekeepers could add that to their duties. Maybe players could just be more responsible. A

5. Signage
We flew into Chicago and drove north to Milwaukee. On the way there, one of our players saw a USAU ad for the tournament on an electronic billboard! I didn't see it but it was confirmed later on Twitter by a friend who knows that I have an unhealthy obsession with signage. The official sign of the soccer park advertised our event (above). The sponsor placards in the stadium were so well-anchored that they didn't move during the rain and serious wind. We watched some TV coverage at the hotel bar and whoever was in charge of promotion for the event deserves multiple gold stars. Or this: A+++++++
6. Media Access
Editor's Note: Charlie Eisenhood wrote and graded this section.
There was a lot to like about media access this year, especially compared to a poor 2014 Club Championships last October. As usual, there was a media-exclusive tent, which provided wind and rain shelter, had (limited) power outlets, and was a decent work space. There weren't quite enough tables, and using a picnic table, which many of our reporters had to do, was not ideal. The location, though, was fantastic. The tent was atop a gentle hill above the showcase field's endzone, providing easy viewing access of all big games from the tent.
For the broadcast side, we were able to use a fully functional press box, complete with power outlets, ample seating, and chairs. This was an enormous advantage over the typical scaffolding/tent setup and made our broadcast better and lives easier. It was also a pleasure to meet and chat with the production team on site from ESPN — our tour of their $2 million production truck (with 35,000 feet of cable inside) was a highlight.
Internet access was still thin. The local soccer club wifi worked, but got swamped by players and ground it to a halt. There should really be dedicated media bandwidth for photographers, reporters, and (if possible) video broadcasters.
It is worth noting that having the stadium site alongside the pool play fields is an enormous plus for media (as well as everyone else). All together, a very solid situation. A-

7. Bathrooms
For those of us who are unable to do the Take a Knee and Pee trick, immediate access to bathrooms is a must. It is frustrating to walk into a bathroom and see a line of players and coaches waiting for a stall. This was certainly not the case in Milwaukee. There were about a dozen stalls in the centrally-located bathroom under the stadium (photo). I never waited once. There were plenty of port-a-johns, but there needed to be more near fields 3 and 4 and perhaps fewer on the backfields. A-
8. Food: Retail
Food trucks and tent vendors were stationed behind the stadium for most of the tournament. There were lots of different options and genuine healthy choices for those who wanted them. I had a quinoa and kale salad (I know, I am such a stereotype) on Friday morning that was reasonably priced and satisfying. On Sunday the trucks were gone and we only had the standard fare offered by the stadium vendors. This was an issue last year in Cincinnati and I don't know if it was part of the contract with the stadium, but I would love to see the food trucks stay for the entire tournament. Thank goodness Savage treated everyone to some free pizza. And that beer was available for purchase in the stadium. B+

9. Food: Tournament
This is where I relied on interviews for feedback, as I missed the tournament dinner. The overall reviews were very good. The players' dinner had four entrees: pulled pork, mac and cheese, burgers, and eggplant parmesan, with cookies for dessert. The lines were very short and you could go back as many times as you wanted, probably because the weather kept many of us away. The parents' dinner was a step up, with grilled chicken, corn on the cob, and three different kinds of cobbler. This dinner is a time for USAU schmoozing, with some polite lobbying for donations to the USA Ultimate Foundation. This seems like a legitimate use of time but some parents were thrown by the separate dinners. They would have preferred to spend time with their kid and teammates. A if you were tired of your child. B if you were not.
10. Observers
My guess is that most teams have individual stories about the observers and that these anecdotes are focused on incorrect or missed calls. Do-overs because no one saw a play are my major complaint but I also accept until we have four observers (or refs) on each field, this is going to happen. I know that some players chafed against the TMFs for swearing, but, really folks, it is Nationals. No one should have to explain to you or your team about cleaning up your act.
After the UNC/FSU controversy where UNC intentionally went offsides to delay the game very close to the hard cap, the observers handed down another rule on Saturday morning. Maybe it was just a clarification, but we were told that if any coach is perceived by the observers to be purposely delaying the game to get closer to a cap, the coach would receive a PMF. Regardless of what you think of the original debate, you have to be impressed that USAU did something in a swift and timely manner. So glad it wasn't sent to committee for a report that comes out in six months.
For those who have reasonable beef with the observing, I suggest you write it down and send it to Mitch Dengler. He is very responsive and thorough in his responses. A-
11. Level of Thrill
It is College Nationals. What can I say? Every player and coach was most likely giddy with anticipation before the event and then each team road a wave of their own making throughout the four days. I will write more about the challenges of prepping a team for this major event in my next column but this is the most fun and poignant national tournament in my book. No one ages out of Club Nationals, at least not officially, but many seniors and fifth years were bereft about ending their college careers. As were their teammates and coaches. A+
12. Level of Skill
It is College Nationals so there is a great deal of parity in terms of skill and ability. Even those teams who had strong regular season performances underperformed in Milwaukee. As Patrick Stegemoeller described in his recap, "It seemed like every time a team had a lights out performance this weekend, they immediately fell flat on their face in their next game." This inconsistency can be contributed to many factors (injuries, missing players, wind, strategy) but, here it comes folks, I am still unimpressed with the level of mental preparation by most teams. If you can't reproduce what you practice when the pressure ramps up, then you are missing a critical piece of team development. B+
13. Pageantry
Before the men's finals, right after the singing of our National Anthem, a small fleet of Harley motorcycles roared into the stadium; they were decorated with American flags and driven by veterans. It was clearly a tribute to Memorial Day, as well as a shout-out to the Harley-Davidson Museum in Milwaukee. I am not sure that everyone understood what was going on but it is always important to notice and pay tribute to those who do not share our immediate world. A-
Random Suggestions
1) Tape a garbage bag on a pole at each tent. I know there were plenty of garbage cans, but putting a receptacle even closer may cut down on the litter. Or players could just be more responsible.
2) John Terry, former USAU board member, tweeted, "USAU needs to hand out championship shirts or hats to the winning team immediately. That would look great on TV. And it's cheap." I agree completely. I know it is derivative of mainstream sports but since we are heading that way, let's start those traditions at Club Nationals this year. And let us all agree to ignore PoNY's suggestion that a "snuggie would be better."
3) The wind. The wind. The wind. It follows us wherever we go. The answer is for teams to clearly prepare for it better but that is easier said than done. No real suggestion.
4) Some talk, as always, that each division did not have the top 20 teams. A trip to Nationals is more than a trip to compete. For those who are trying to develop stronger teams, making Nationals gives a program an incalculable boost. Is it time to take a hard look at how the teams are chosen? Probably yes.
5) Finally, how about playing the Canadian national anthem when a Canadian team is in the stadium? If the Canadian teams are allowed to compete, let's celebrate their inclusion with the singing of our two national anthems. Gosh. I must be really ready for summer.