ESPN's broadcast from Milwaukee had some ups and some downs.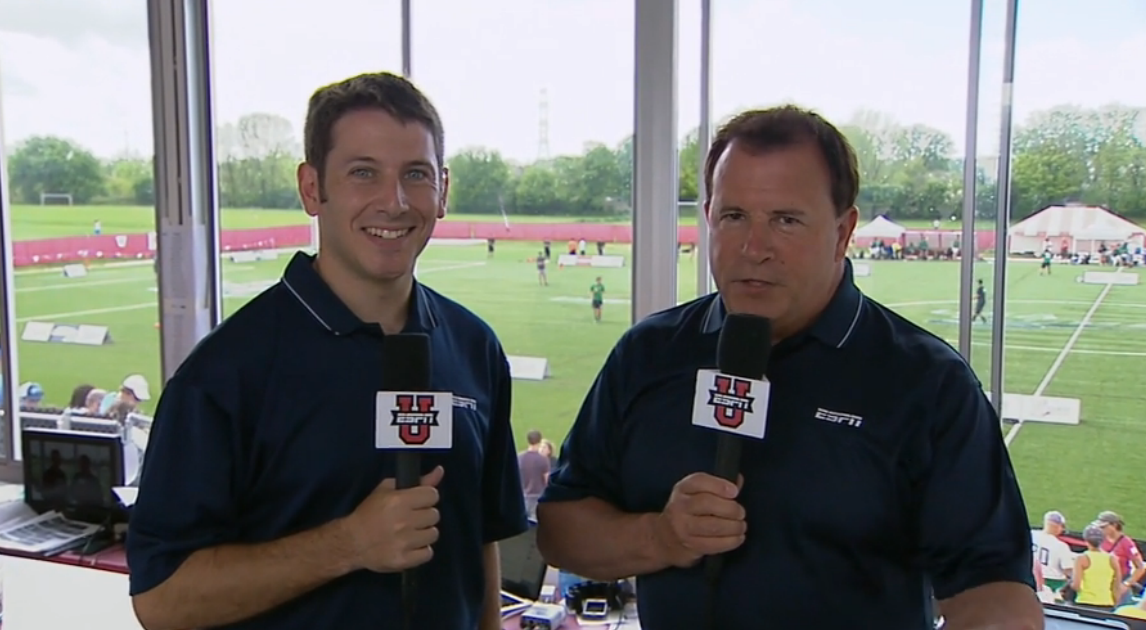 Now in its second year, ESPN and its multiple platforms covered the USA Ultimate College Championships this past weekend in Milwaukee. After a landmark deal with the network was announced in March of 2013 by CEO Tom Crawford, the Worldwide Leader now has two College Championships, a Club Nationals, and a U.S. Open under its belt. Let's take a closer look at the coverage from Milwaukee this weekend.
Jim Barbar & Evan Lepler led the coverage as play-by-play and color commentator. Five cameras were used on the main field: one "game camera" above the press box, one "iso camera" above the press box, two end zone cameras (one on a lift), and a handheld camera along the sideline. ESPN showed all four semifinals and both finals live on its streaming website, ESPN3.com. On Wednesday after the finals, they also aired a 1-hour semifinal recap show on ESPN U, as well as both finals in edited 1-hour shows.
The Good
Evan Lepler (Analyst)
"The Voice of Ultimate" once again led ESPN's coverage this weekend, consistently providing valuable insight and analysis. His presence around the fields throughout the tournament gave him an arsenal of insider info and gave the broadcasts a perspective of the entire weekend (something ESPN sorely missed).
During game calls, Lepler & Barbar would interchange roles as play-by-play and analyst — whether that was accidental or purposeful is unclear. Lepler would often switch from analyst to calling the live action, including goals, turnovers and big plays. This strays from the traditional setup of play-by-play calling the action and setting up the analyst to comment after play slows or concludes.
I doubt that anyone would complain about this change, as Lepler consistently had better calls and more insightful comments than Barbar (more on him later). However, Lepler missed a few chances to explain the upwind/downwind dynamic of the finals. A few times Barbar commented that Oregon shouldn't take a deep shot unless you had a better chance at coming down with it, and Lepler failed to explain the field position/punt-and-play defense strategies of the game.
"Rules of Ultimate"
You'll notice that this will also appear in the "bad" section of this article, as it is probably the most debatable topic of the broadcasts for both the production team and the viewers. I'm referring to the time devoted to explaining the "Rules of Ultimate" or "Ultimate Lingo" (such as "What is a Hammer?"). On one hand, ESPN is trying to grab as many casual viewers as possible, and would like to inform those viewers so they don't become confused with what is happening on the field and turn the channel. On the other side of the argument, by discussing rules and lingo you run the risk of sounding condescending towards what is most likely a viewership made up of people from the ultimate community who already know what you're talking about.
At this point in ultimate's on-air career, it is probably more appropriate to be safe and explain as much about the game as possible to inform new viewers, and that is likely the decision the producers settled on.
Instant Replays
The production team did an admirable job of showing as many angles as possible of the action given that they only had five cameras to work with, especially during the dull moments between points and the next pull. These are rare looks at the game of ultimate as many of us are not used to being able to see a play from multiple perspectives, though a telestrator or deeper analysis using slow motion perhaps could have taken the replays to the next level.
ESPN Access
The unquestioned advantage of having ESPN as the broadcast partner for USA Ultimate is its multiple platforms where viewers can tune in. Having the ability to watch high-quality ultimate on your cell phone is not something that would have been possible even five years ago. Thanks to ESPN's online streaming service, folks were able to watch from home, at work, or anywhere you have a cell service and a WatchESPN app. This access will undoubtedly continue to grow the sport, and is a huge improvement over CBS's coverage in the past that aired just the finals weeks after the tournament.
Interviews
The coach and player interviews after the games were very enjoyable. Olivia Bartruff and Jonathan Nethercutt were extremely impressive and very well-spoken. Too often ultimate players are lumped into a group of "pot-smoking hippies throwing discs with their dogs" and it was nice to see two tremendous, well-spoken athletes shine in front of a TV audience. Well done, guys.
The Bad
Jim Barbar (Play-by-Play)
Poor Jim Barbar, he never stood a chance. We ultimate people tend to be harsh towards those who are foreign to our sport. And though he didn't seem over his head by any means, play-by-play man Jim Barbar simply didn't add anything to these broadcasts.
Barbar normally calls college basketball and baseball for ESPN, the majority of the time on ESPN3, and has been with the network for over 15 years. ESPN probably thought it would be smart to bring in an experienced network guy to work these games, but unfortunately the decision fell flat at times. Barbar was well prepared, didn't screw up many players' names (a tall task when considering the number of teams he was dealing with), and you could tell he took time to learn the game as much as he could.
However, he too often resorted to just being a guy saying things like "Score!", "Wow!", and "Huge Play!", and not really calling the action the way a traditional play-by-play man would. As I mentioned before, Lepler and Barbar's dynamic was strange, and they clearly at times struggled with chemistry. Barbar would often defer to Lepler during play to call the action, and would return later after a point was scored to fill in the viewer with the goal scorer and assist. It was clear Barbar was just not quite sure how to call the game action. He struggled to continue his call as the disc moved from player to player.
Barbar was at his best when he would properly set up Lepler with a question or lead him into a discussion, such as "How do you think UNC's poach zone will affect Oregon's offense?". This allowed Lepler, the more experienced of the two, to provide analysis of the situation. Overall, ultimate is a tough assignment for anyone that is new to the game, and Barbar was the latest in what is sure to be a revolving door of play-by-play men looking to fit in with the sport.
ESPNU Show
Airing on Wednesday after the finals, ESPN showed both finals edited into a one hour timeframe, as well as an additional one hour highlight show from the 4 semifinals. While it was great to see ultimate during a prime slot on an ESPN TV channel, condensing the finals into a one hour slot was troubling and confusing to watch.
I'm sure showing both finals in their entirety is not something ESPN is willing to do in a primetime 8 PM time slot, but I'm not sure how any casual viewers would turn on those games and be able to follow along as the edits and cuts came at random times and sometimes in the middle of points. It was common to return from commercial break to see the disc flying through the air out of bounds, leaving the viewer to figure out what the score is and how much action was missed. It just didn't work, and it seemed like ESPN was just interested in satisfying USA Ultimate by giving it its time on the network and not especially concerned with how it looked.
Game Coverage
A few bones to pick about how ESPN covered the action on the field. As most ultimate fans would agree, the game camera (the main camera shooting the action from the press box area) is always shooting too tight. We needed to see the cutting action downfield. Too many times we miss what caused a player to get open, or the great defense that allowed a player to get a layout D.
On hucks and pulls, the camera would typically follow the disc high into the air and not capture the positioning battle or offensive setup. The game camera needs to shoot wider so we can see all the action on that part of the field, similar to how soccer is shot on TV. When watching soccer, you can always see about 1/3 of the field at any time, including all passing options for the person with possession. The game needs to be seen from more angles than the typical game camera look.
The end zone perspective is one of the best ways to watch ultimate. It gives you a good look at the width of the field and how the players run their offensive sets. ESPN vastly underutilized its end zone camera, limiting it only to an occasional replay. An occasional cut to this camera (during a pull, for example) would be a nice change of perspective for the viewer.
Also, ESPN and USA Ultimate desperately need to find a way to get the main bleachers and fans to sit behind the action when watching the game. There was a great crowd out there all weekend, but due to where they were sitting, they were not seen on camera often and a lot of the festive atmosphere was missed.
Overall
The access ESPN provides will always be the star here, flexing its muscles and using its multiple platforms to bring ultimate to more homes, tablets, and cell phones than ever. However, ultimate fans will come away from these broadcasts feeling underwhelmed by ESPN's efforts. At this point it seems they are simply interested in satisfying their contractual obligations and not as interested in learning about the sport and how to improve the way it is presented.
The Worldwide Leader needs to find a competent voice next to Evan Lepler, and figure out how to shoot ultimate consistently with a constantly changing crew from different areas of the country (Raleigh, NC, next year for the College Championships). ESPN has a lot to learn about covering the nuances of the sport, but I would anticipate their coverage will improve as they continue to broadcast ultimate in the future.