More fantastic ultimate on tap this weekend in Ohio!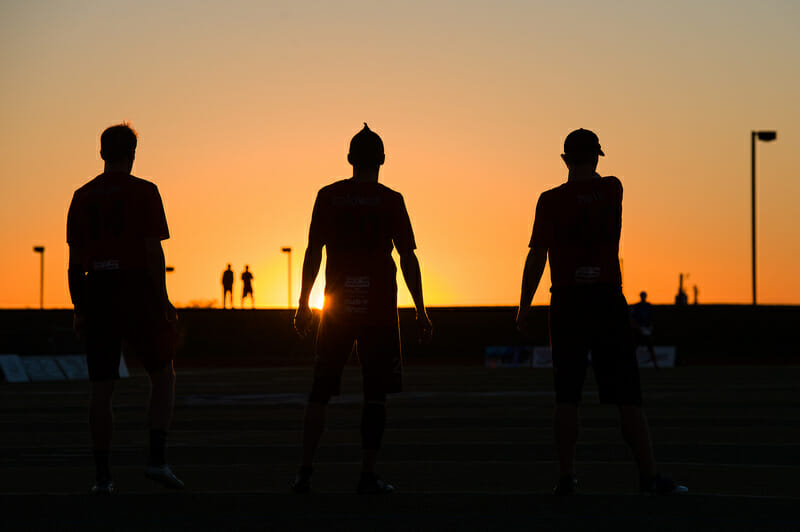 This weekend's Elite-Select Challenge may not be as hotly anticipated as last week's kickoff to the Triple Crown Tour 100 miles away in Cincinnati. The four-day US Open gets the ESPN3 billing, the international presence, and the benefit of being the first major ultimate tournament after late May's College Championships.
But this weekend's tournament could prove just as intriguing, and perhaps even more impactful. Most of the continent's top teams that didn't compete at the US Open start their year in Columbus: #2 Austin Doublewide, #5 Seattle Sockeye, #9 Chicago Machine, #12 Michigan High Five, and #13 Minneapolis Sub Zero among them.
It's not just the top teams, though; it's the slew of fringe Nationals teams, including some that made it last year (#16 Kansas City Prairie Fire), some that just missed out (#19 Madison Club), and a bunch that hope to make the leap into the top tier.
Tournament Profile
Date: July 11-12
Location: Hilliard, OH
Top 10 Teams: 3
Doublewide Back In Top Tier?
It's time for the talk to end and the games to start. A reinvigorated Austin Doublewide team takes the field again featuring Kurt Gibson as a star playmaker. Could he and Kiran Thomas and Will Driscoll make another run at a title since they won in the final Sarasota Nationals in 2012?
Any such run will start this weekend. They have what should be a fantastic game to watch against High Five tomorrow morning in round two (being filmed by Ultiworld — available to subscribers). If everything goes to seed, they would face off against former teammates on Florida United in the quarters, Chicago Machine in the semis, and Seattle Sockeye in the finals. Sounds fun.
Unfortunately, the team's event roster doesn't include some big names, including Thomas, Driscoll, and Jerrod Wolfe. It's becoming common to see Doublewide start the year with a pretty thin roster. Still, Gibson, Brandon "Muffin" Malecek, Kevin Richardson, and lots of veterans will be in Columbus. Let's see if the on-paper pickups look as good on the field.
Other Buzzy Teams Get Their Start
Lots of eyes will be on a handful of upstart teams looking to continue their rise in 2015.
Prairie Fire made it to Nationals last year after Madison stumbled at Regionals. There, they played surprisingly well, opening the tournament with a win over Doublewide and playing tight with a lot of teams. They closed out the tournament with a win over Sub Zero to finish in second-to-last place.
This year, they come in with little roster turnover and a significant pickup: Brett Matzuka. A National champion with Johnny Bravo last season, Matzuka brings a throwing prowess that will immediately bolster the team; they've got plenty of strong athletes but haven't been blessed with handler talent in years past.
High Five adds a crop of Ohio talent to their Michigan core and looks to make the leap to the next level this season. It does seem that the talent is there now; if nothing else, they have absolutely added quality to the depth chart. James Highsmith and John-Michael Guest should continue to dominate downfield; adding the height of Connor Haley and the all-around talent of Mitch Cihon should be a boost for the team, whether they're deployed on offense or defense.
Florida United won't be at full strength this weekend because a number of the team's (literally) big pickups (Mischa Freystaetter, Mike Hickson) will be trying to secure the Jacksonville Cannons' playoff spot and a handful of their recent star college grads (Chris LaRocque, Bobby Ley) are across the pond at U23 Worlds. Perhaps that makes this weekend even more important for Florida: can they do enough to sniff a strength bid for the Southeast? They only have 15 listed on the roster — it could be tough.
Where Do Other Ranked Teams Fit?
Seattle Sockeye comes in as the #1 seed this weekend and, at least based on roster depth, could well be the favorite. A full-strength Doublewide would be considered the odds-on favorite, but they're missing more than a handful of key guys.
With no Worlds getting in the way this season, could Sockeye rise back towards the top of the Division? They had a rough go of it at Nationals, losing to regional rival Portland Rhino in prequarters. Don't expect another result like that this year (although Portland will be gunning for their Northwest regional crown, no doubt) — the team just couldn't peak twice last year. They put their eggs in the Worlds basket and then never looked sharp at Nationals.
Alongside stalwarts like Danny Karlinsky, it will be fun seeing how the fish integrate some new pieces like Mark Burton and Jesse Bolton. (No Zane Rankin this weekend — U23 Worlds).
And what to make of Sub Zero? Sub almost upset Machine at Nationals to win their pool, but then spiraled down to last place with four straight losses on days two and three. The team returns most of its top players (though no Eric Johnson) and (like every year) has the potential to be a top 10 team. Maybe that last place finish will be what kickstarts the team to new highs this year.
The Select Tier
Perhaps the best part of this tournament is that lots of the country's good-but-not-great teams get a shot at the top dogs. From Utah's Powderhogs to New Jersey's Garden State to Denver's Inception, the game-to-go losers from around the country are converging on Columbus with visions of Nationals dancing in their eyes.
It should particularly interesting to see how Philadelphia Patrol plays. Philly has finally re-aggregated all of the best Men's Division talent onto one team for the first time since Southpaw disbanded. Much of the team has been playing for the MLU's Philadelphia Spinners for the pro seasons and should, then, have great chemistry. Watch for them to make a bit of a run on Sunday.
It would not be a surprise to see a Select team in the semis: Madison Club would probably be the favorite to make it there, but plenty of others will have their chances. With some of the Nationals bids potentially being decided in just this one weekend, everyone will bring their best game.