A look at the second major tournament on the Triple Crown Tour.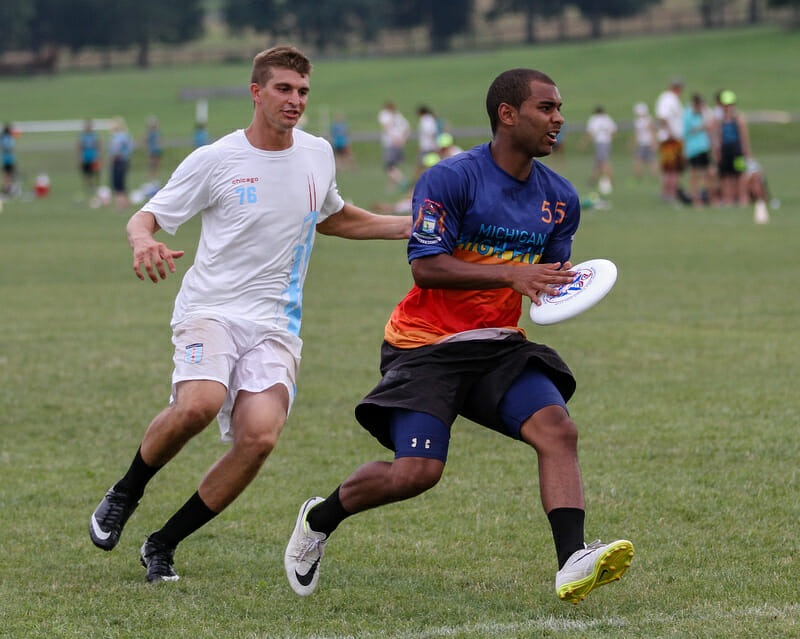 Here's a look at the top finishers from the Elite-Select Challenge. Many of these teams will be competing this coming weekend at the Pro-Elite Challenge in Denver, Colorado. Follow along for Ultiworld's coverage of the next leg of the Triple Crown Tour!
High Five Flies High
Coming into the season, there was plenty of buzz about the new, combined Michigan/Ohio High Five squad. Sporting jerseys with Michigan on one sleeve and Ohio on the other, High Five did more than look like a team with potential.
Few would have picked them to win the Elite-Select Challenge, but that's exactly what they did, taking advantage of a much smoother path to the finals than the top seeded teams faced altogether on the opposite side of the bracket.
Still, wins over Florida United, Philadelphia Patrol, and Chicago Machine in succession is no joke. The former two teams were the hottest at the tournament, both undefeated when they faced High Five. Florida had a win in hand over Sockeye and Patrol had stomped on everyone with their suffocating defense.
High Five took their Ohio offense and Michigan defense (literally, the lines are split almost down the state border) and took it to both teams.
"We are able to put a lot of guys in their more natural roles this season," said captain James Highsmith. "Our starting defensive line has five guys that were on our O-line last year. That's substantial."
Right now, it's the defense making things tick, and the offense will need to sharpen up if the team is to remain competitive with elite teams later this season. Too often cutters were hesitating in the stack, forcing the handlers to try to figure something out with the stall rising.
As mentioned in the finals recap, Johnny Bansfield has already been a huge weapon for the team. Don't be shocked if we see a bit of him on offense (despite being a talented defensive player, no question) just to add some firepower to that line. Right now, some of High Five's best players are on the sideline during offensive points; they'll need to be ready to get those guys on the field in situations where they are bleeding breaks.
For now, though, the team looks fresh, well-conditioned, and motivated. They've probably done enough already to land a strength bid for the Great Lakes. Now we'll see what they can do later this season with a bid to the Pro Flight Finale (thanks to their finals appearance at ESC). Could this be a top 10 team? It's not crazy to think they could be.
Machine Needs A Little Grease
It was fairly obvious that Chicago Machine was knocking the rust off in Columbus.
With much of the team playing on the AUDL's Chicago Wildfire, Machine has hardly practiced together. Their offensive line chemistry and Sunday afternoon fitness both made that clear.
The good: the defense looked excellent and piled up breaks against even the other elite teams (until they ran out of steam against High Five) and the pieces look to be there for growth and improvement.
The biggest question marks are being faced by the offense. With the Madison contingent — Dave Wiseman, Tom Annen, and Pat Shriwise — leaving the team this season (all played offense) plus the departure of glue guy Taylor Kraemer, the O-line does not have the same kind of flow that Machine is used to. Some possessions looked good, with Bob Liu firing deep to Jonathan "Goose" Helton. But when the huck option wasn't there early in a possession, the offense struggled to make smooth progress down the field. Continuations weren't always there, or weren't timed right.
But, structurally, the team should be OK. They beat Doublewide. They looked dominant against weaker teams. The pickup of Brett Matzuka (who just left Prairie Fire to join many of his Wildfire teammates on Machine) could alone be a game-changer for the offense.
Something else that's a lot easier to fix: "Our legs weren't as strong as we thought," said captain Kevin Kelly. Expect Machine to rise back towards the effectiveness we saw during the 2014 regular season.
Doublewide Missing Lots Of Starters: Jury Is Out
It's a common theme for Austin Doublewide early in the club season: thin roster, fresh faces, some wins, some losses.
Frankly, it's hard to read this Doublewide performance from Columbus. Kurt Gibson was doing yeoman's work running the offense, and it's clear they are happy to have him back in the fold. But the team was missing so many starters — including Will Driscoll, Kiran Thomas, Tim Gehret, Jerrod Wolfe, and Max Cook — that you can hardly say with certainty that Doublewide, as the team will be in October, was even there.
This team was the preseason #2 for a reason; on paper, the roster looks fabulous. But for now, it's a slow build towards the postseason.
"We were seeing guys out here for the first time a little bit," said captain Ethan Pollock, who was superb on the weekend, taking advantage of his threatening height to do a lot of damage with long under cuts.
"We talk about taking what teams give us, and teams give me that a lot," he said.
Doublewide was the only team to beat eventual champion High Five on the weekend, but didn't get a rematch after falling to Chicago Machine on double game point in the semis. The offense was clunky in that game (and for much of the weekend), as cutters often stood watching Gibson try to direct traffic. The defense showed off its typical springiness with some big layout blocks and nice plays in the deep space.
That Machine game was something of a coin flip, perhaps a good sign for a Doublewide team that has a lot of reinforcements in the wing.
The quarters win over (an also thin-rostered) Seattle Sockeye was the feather in the cap of the weekend. One veteran player noted on Saturday afternoon that Doublewide has long had trouble against Sockeye's small-ball offense. Austin's athleticism won out in the quarters; after Sockeye blew multiple chances to break on the game's first point, they were never really in control and Doublewide pulled away.
This weekend in Denver for the Pro-Elite Challenge will serve as a much better litmus test for where Doublewide stands.
Philadelphia Ultimate Is Back
It's been a few years since Philadelphia Southpaw was a major player on the elite club circuit. With some fractionated teams popping up in its wake, Philly hasn't established a truly competitive club team again, until this year.
Patrol may have been the beneficiary of major roster continuity with the MLU's Philadelphia Spinners; their fitness certainly didn't suffer either.
Regardless, the best Men's players in Philadelphia are together again on one roster and are prepared to climb back into the Nationals conversation. It's very possible they've already done so, as their bid hopes for the Mid-Atlantic look bright after the Elite-Select Challenge.
Patrol opened the weekend by absolutely annihilating Prairie Fire, who came out in no way ready to play. But it was no fluke. Philadelphia's defense was stifling all weekend long and propelled them to a 3-0 pool play performance and a meeting with High Five in semis. They closed the weekend with an 11-10 win over Doublewide in the third place game.
"A lot of these guys, although they're rookies to us [on Patrol], have been playing together for the better part of a decade," said head coach Charlie Hoppes. But, he said, they intentionally worked on a largely unused offense (vertical stack) and stuck purely to man defense in order to work on building fundamentals and not get false positives from chemistry alone.
"We've got a lot to fix and a lot to tweak," he said.
Many of the team's best deep defenders — including Nick Mathison and Matt Esser — weren't in Columbus and will add some depth that should help them next time against an athletic, run-and-gun team like High Five.
The real question for this Patrol team is: can they get better? Many of their players are already in excellent playing form from the MLU season. Their offense will surely need to improve, as it didn't do a lot to inspire confidence in Columbus. Large wins were often the product of the defense playing four or five points in a row.
Still, the Mid-Atlantic now features three strong teams in Truck Stop, Patrol, and Temper; all three could end up at Nationals.
Florida United Eying Big Year
The team has been called Florida United for years. But this really may be the first year that the state's top players are truly united onto one team.
With top names like Chris LaRocque and Cole Sullivan already on board, the addition of Orlando players Mike Hickson and Mischa Freystaetter could prove to be what Florida needs to get to the next level.
They showed some signs of growth with a stunning victory over Sockeye during pool play; it was the first time they've ever beaten the Seattle powerhouse.
"Beating Sockeye was huge for us," said captain Alton Gaines. "We're here to make sure we earn ourselves a bid."
They likely did that, despite playing with a short roster (many players were with the AUDL's Jacksonville Cannons for an important regular season contest). Andrew Roca played well and the downfield cutters flashed their athleticism over and over again. Against Sockeye, they scored frequently by simply jumping over the Seattle players on 50/50 discs.
Despite forcing a shorthanded ESC, the Cannons have been an integral part of bringing this Florida United team to fruition. When the top Florida guys all got together (and started winning), they realized just how fun it could be for them all to play together. And now they've got a chance to be more than a Nationals qualifier.
But their sights are set first on September.
"Win the region, get to Nationals, and go from there," said Gaines.
Prairie Fire False Starts In More Ways Than One
Kansas City Prairie Fire came into the tournament as one of the buzziest squads in attendance. They promptly laid an egg, losing to Patrol 13-4.
The slow start didn't kill them, though. They shook it off and went on to finish second in the pool after ending the day with a nice 13-10 win over Sub Zero.
They got off to another slow start against Machine on Sunday morning in quarters, lost 10-8, then lost out the rest of the day to Sockeye and New Jersey's Garden State.
After that bumpy performance in Columbus, they found out last week that Brett Matzuka, their star pickup in the offseason, was quitting the team and joining Machine. Ouch.
"We got a little bit ahead of ourselves trying to build off of last year," said captain Joe Nickles after the tournament. "We weren't playing at a competitive speed."
It will help them immensely to get back Abe Coffin (U23), who was a phenom in London. But the loss of Matzuka means they will have to reboot once again this weekend at the Pro-Elite Challenge. Perhaps it's a blessing in disguise?
"Our style doesn't share all the principles that his style does, so it's about finding the best blend of what we like to do and our personnel allows for and what he likes to do with his incredible skills," Nickles said before the Matzuka departure. 
Prairie Fire's ceiling may have gone down, but they have a chance for a fresh start in Denver.
Sockeye Still Spawning
Like Doublewide, Sockeye came to Columbus as an elite program still warming up for the year. The team was missing a big chunk of the roster and was clearly looking to get their legs under them to begin the year.
Ultimately, they came away with just two losses — one to Doublewide, one to Florida United. They avenged that Florida loss in the last round of consolation on Sunday with a 13-10 win.
It's not worth taking much from the slow start of the team, but it is worth noting that their two losses came to the most athletic (and tall) teams at the tournament. Outside of Matt Rehder, Sockeye is not gifted in those areas and perhaps faces a bit of a liability.
But the defense, to its credit, had lots of opportunities. Captain Danny Karlinsky downplayed the notion of an athletic disadvantage and said that, mostly, they failed to execute. He pointed to the missed chances in the game against Doublewide. "We had those opportunities," he said. "We had those shots."
The crisp execution certainly wasn't there. And they will need it to be, as a precise attack will be important for this team. When Sockeye has been at its recent best (for example, in 2013 when they reached the Club National final), they have been exceedingly sharp with the disc and not making mistakes.
We'll see where this team can go. But, right now, their ceiling looks a bit lower than the other semifinals contenders in the field.
Quick Hits
– Give it up for Garden State. They had a good weekend and could be a darkhorse in the Mid-Atlantic.
– Minneapolis Sub Zero looked raw and inconsistent. There were some moments of excellence and the defense has potential, but they were unable to generate much offensively after the turnover and could not generate breaks against good teams. They are a ways off from being a competitor for a top eight finish at Nationals.
– Madison Club may still be in the Madison Radicals headspace. They were underwhelming in Columbus, with their only truly quality win coming against a rocky Sub Zero team.
– Phoenix Sprawl finished the weekend just 2-4, but they were right there with top teams and will again be a contender for the #2 spot in the Southwest behind Revolver. Will there be a bid to Nationals there this year?