With just about two months until nationals, bid races picking up, and tiers quickly taking shape, the club season is in full swing at the Pro-Elite Challenge.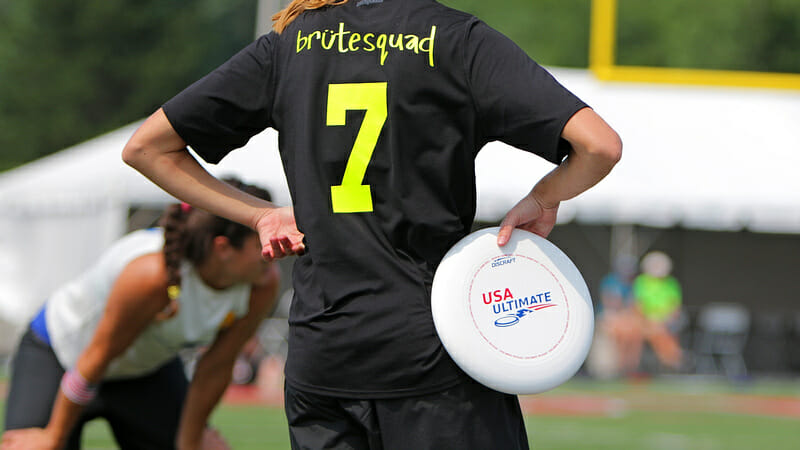 The third major tournament of USAU's regular season brings together most of the best teams, across the Pro, Elite, and even Select flights. That stew of teams brings with it a mix of goals: some teams are tuning up for the Pro Flight Finale with an eye on a title, others are getting a key shot at elite competition, and still others are hoping to make strides towards a strength bid for their region.
Early season excuses are in the rear view; teams should be beginning to find a rhythm and approaching the ramp they'll climb towards Frisco. Don't look now, but Nationals is only two months away.
Tournament Profile
Date: Aug 1-2
Location: Aurora, CO
Top 10 Teams: 8
Numbers below are from current Ultiworld Power Rankings.
Is #3 Brute Squad Heating Up?
The tournament may be called the Pro-Elite Challenge, but it was anything but for Brute in 2014. Boston won the event cleanly, toppling Scandal 13-9 in the final. Their success began a run of excellent play that held until the bracket at Nationals: 23 straight victories, despite a scare from Showdown. Considering Brute Squad enters the weekend 4-0 against other teams in the field — most of whom will be high seeds — it is no wonder they are the favorite.
They'll benefit from their top seed with a pool of underperformers. Each of the three teams they'll face Saturday are lower ranked than where they started the season. Showdown, who came very close to eliminating Boston in the national quarterfinals last year, is unlikely to be taken lightly.
A good progress check will be how their offensive unit looks at this point. The depth Boston has is imposing, but especially apparent on defense. The unit of handlers — primarily Dory Ziperstein and Paula Seville — is adding Shellie Cohen to the fold, while the core cutting group of Courtney Kiesow, Becky Malinowski, Lien Hoffmann, and Laura Bitterman remains in tact. With little turnover, it shouldn't take long for them to click. If they look crisp in the backfield, off the pull, and in the red zone, this weekend could be a cakewalk.
#4 Molly Brown Could Be Hometown Heroes
For a second there, Denver gave us reasons to worry. They weren't exactly dominant against meager competition at the Elite-Select Challenge on Saturday. But when Sunday came, they dialed it up and steamrolled all comers. Even if they are in the Elite Flight, they looked like a top tier team. How will they fare against opponents they can't merely outclass? Getting off to a better start would certainly help.
It'll help to have some reinforcements. Last time out, they were missing their U23 contingent, including Carolyn Matthews, who was coaching. Bringing her and Megan Cousins back, team veterans both, should help smooth out some rough edges. In addition, legendary Alicia White has appeared on the roster, fresh off a Masters title with BKFT, and will be an immediate impact. Talk about a midseason boost!
It'll be particularly intriguing to see how balanced their attack is. With their throwers, speed, and confident defense, there's no reason for this team to take their foot off the gas. But if they have multiple of angles of attack, they could be a real handful. Expect them to turn up the tempo often, but they'll probably need a little variation to throw off their toughest foes.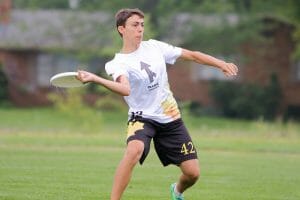 Look Out for #5 Traffic
You've probably the read the phrase "knocking on the door" regarding Traffic's relationship with the top tier of teams, but here's a number to drive it home: they went 1-9 last season against the four semifinalists while losing only one other game to a hot Nemesis squad at ECC. So far in 2015, they are 0-2 against teams in the Top 4 of the Ultiworld Power Rankings.
Well, there's no Fury or Riot this weekend, meaning Vancouver looks primed to have a deep run. They had a good tournament at the US Open, despite the offense looking out of sorts at points. That may not correct itself, since it looks like they'll be missing key offensive cogs Candice Chan, Kira Frew, and Eva Cham, really putting their handler depth to the test. Watch for more strong play from defensive anchors Rachel Moens and Yayuk Joffries, the latter of which seems like she is breaking out this season, after the former did last year.
As the second overall seed sitting atop Pool B, their draw is favorable, albeit not easy. Ozone has the pieces to win the pool if they can play cleaner offense and BENT has shown some flashes. But Traffic's defensive intensity should be able to wear down their opponents until deep into the tournament.
It's Crowded In the Middle of the Pack
While each had their moment, the teams stuffed behind the top squads have yet to distinguish themselves.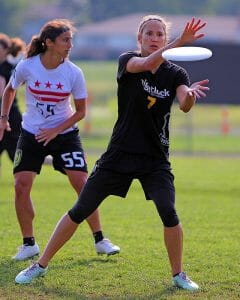 #6 Scandal and #7 Nightlock had the brightest spots in their US Open showings; the defending champs were in every game they played, and Nightlock ultimately yanked a win from D.C. But both also looked sloppy and, understandably, disorganized. Both should be ready to bring a lot more to the table this time around. The pool play battle between Scandal and their numerous former teammates on Molly Brown is appointment viewing.
Meanwhile, #8 Ozone and #10 Showdown underwhelmed to start. Atlanta brought home a 2-4 record, including getting stomped by Riot. The Texas women equaled that record and looked like a work in progress themselves, unsurprising after a lot of turnover – again. Both have a lot of ground to cover, but strong veterans at the top to help see them through that process.
On the other end is #9 Heist. The Madison group looked solid at the US Open, even in their losses, especially on defense. Their offense will need to explore its depth – Kayla Emrick and Kelly Wiese both look prepared to emerge as playmakers – in order to avoid being dependent on Robyn Wiseman and Liza Minor when the competition gets tough. They are an – or perhaps the most – intriguing team going into the weekend and a potential surprise, especially with aforementioned inconsistent Nightlock at the top of the pool.
Can Anyone Climb From Below?
The 2014 version of the Pro-Elite Challenge went mostly as predicted, save an abysmal showing from Nemesis. The top tier teams made their way to the semis is pretty business-like fashion. Some teams broke the rather strange seeding – BENT finished 5th and Phoenix 7th, with Schwa in 9th – but there weren't many fireworks from lower seeds.
This year could be a repeat of that. The bottom eight seeds are a combined 1-12 vs. the top half of the field, without many close losses to give a ton of hope for a storybook run. #12 Capitals and #15 Bent rose above the pack at the Elite-Select Challenge before being mowed down by a refocused Denver team. #11 Schwa has the talent but has yet to put it together, and having their influential All-Star, Jesse Shofner, coming in anything but fresh won't help.
A curious case is #14 Phoenix, whose talented rookie class and returner-heavy core looked primed to pay dividends but has yet to yield much success. Their best win is over a gassed #17 Underground team that will be gunning for revenge in pool play, but another mediocre performance could put them in a precarious spot and challenge the confidence they have spent a lot of time building. But Pool A's makeup seems the most friendly to an upset.
But for these teams, there's something to be said for nearly every win. They all face opposition in region from good teams and would love to leave Colorado with bid security. That means from the first pull to the last, each point truly matters for them. Perhaps having that much on the line will instill the urgency required to upset otherwise established order.