After a tough loss to Ironside in last year's national semifinal, Raleigh Ring of Fire looks to the semis and beyond in 2015.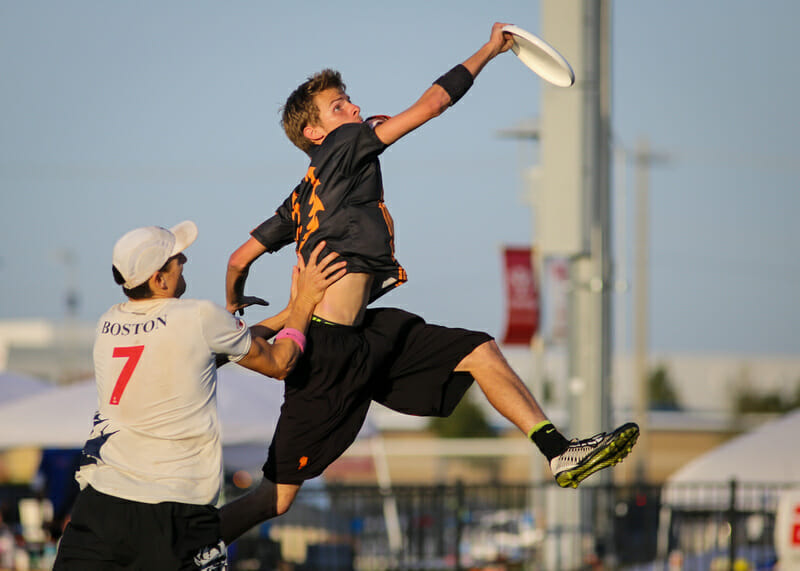 In 2014, Raleigh Ring of Fire stunned their way into a semifinal berth, and made one of the most impressive second half runs in recent history to force double-game point against Boston Ironside1. And they did it to a full chorus of boos.
Ring returns 20 of the players that made that run possible, and will add some young speed and talent to keep things interesting in 2015.
Overall Indicators
2014 Nationals Finish: T-3rd

2014 Southeast Regional Finish: 1st

Returning a majority of the roster that powered them to double-game point in 2014 semifinal

Shares almost all players with Raleigh Flyers; AUDL reps have built chemistry and speed
Positives
Core of team reached semifinals in AUDL playoffs

Younger players coming from college have only improved; raises talent floor

Adding in Jack Williams on offense in wake of Christian Johnson loss; Hunter Taylor returns healthy

New offensive coach Joe Cuneo will help build a more cohesive system and allow Mike Denardis to focus on his defense
Concerns
Transitioning back to the club field; cutters were being overthrown on deep shots during US Open and throwers will need to adjust timing

Peaking again in late September; team fitness needs to take on an endurance component and shift away from the one-game format

Putting on a mentally strong performance at Regionals after a long professional season
Season Outlook
Twenty minutes into a raucous semifinal double game point chock-full of stoppages, heated calls, and numerous possessions for both teams, Ring of Fire's 2014 season ended a second or two after Boston Ironside's George Stubbs bobbled a smooth backhand in the endzone. Hearts in throats, all in attendance saw Ring's next shot at the winning goal wobble towards the turf. But then, in that brief flash of time, Boston mainstay Danny Clark dove behind Stubbs and cleaned up the doinked pass. Game. 13-12 Ironside.
The ESPN crew didn't catch any Raleigh players or head coach Mike Denardis after the game. That airtime went to Clark and Boston coach Josh McCarthy. Ironside had battled their way through three final hair-raising points to save their lead and earn a berth to the final, but the real story was Ring of Fire. That loss likely stoked an already burning desire for the team to return to Frisco in 2015, this time prepared to push further.
Raleigh's elite men's team is a storied franchise—one of the longest-running in the division, founded in 1989. The team has appeared at Nationals 16 consecutive times, with more than 20 appearances since their first season. For whatever reason, they've never put it all together for a title run.
Late in the tournament at USAU's Club Championships last October, it almost seemed like it would come together for Ring. After an underwhelming 1-2 performance in pool play, they edged out Chicago Machine in prequarters, vanquished regional rival Atlanta Chain Lightning in the quarters, and pulled off a 6-1 run in the second half of the semifinal against Boston to force double-game point. They did it with a ferocious defense that fed off the boos from the sauced-up crowd. And they did it with big plays from key players, who banded together in a knock-down, drag-out mental battle that nearly landed them in the title game.
And then it ended, on a bobbled catch.
Six of the players on the field during that last point against Ironside return for Ring of Fire in 2015, along with pretty much all of their sideline.2 In fact, nearly all of the roster returns having spent the entire AUDL season playing together every week. The Raleigh Flyers, a first-year franchise in a first-year division (the AUDL South), brought Triangle men's ultimate to a different semifinal game last weekend in San Jose, with two of Ring's three captains Dennis Tarasi and Brian Casey at the helm, along with Denardis as head coach.
"We've been practicing as one unit basically since June," Denardis told Ultiworld as his team headed into the AUDL postseason. The elite men's players in North Carolina's Triangle Area have spent even longer running their pod workouts together and running practices with a hybrid set of rules to keep the team tuned up between the club and professional styles. The team has pushed its pace to new levels in adjusting to the bigger field, faster stalls, and less rest in between points.
With or without referees, many Ring or Flyers practices have enforced a stall at seven. Denardis likes that the shorter count keeps the disc and his players moving at a good clip, regardless of the league in focus on a given evening.
"The progressions we use are faster because of the AUDL and that's a benefit," he said.
And speed is certainly something that Ring of Fire has plenty of this year.
The younger end of the roster features great talent and athleticism in Terrance Mitchell, Hunter Taylor, Mark Lin, Jack Williams, and JD Hastings, almost all of whom have been playing against each other at the top of the Atlantic Coast Region in the college division. Mitchell is the lone outlier, having made his mark earlier than the rest playing on the U19 team that snagged a silver medal in Lecco, Italy, last year and then taking home the gold at the 2014 Youth Club Championships with the Triangle Area's Triforce.3
Williams and Lin will both work nicely to fill the one big void left in Ring's roster from 2014: Christian Johnson.4 Williams brings his dynamic downfield skills to the team from UNC Wilmington, and Lin, a threat on both sides of the disc who played a starring role for Maryland, has already shown comfort working in isolation out of the stack for the Ring O-line.
Justin Allen, whose explosive blocks and impressive snags stood out for the defense last year, may also step into more of a utility role, according to Denardis. Allen, who played for Appalachian State in college, first rose to prominence after an impressive performance with the U23 Open National team in 2013, and has since made himself well-known for big plays that utilize his length and creative throwing. Ring is likely to use Allen on offense in big moments, but look mostly for him to continue his outstanding defensive work.
Jon "Nutt" Nethercutt rounds out the young talent, a recent national champion and Callahan Award winner. This is not Nethercutt's rookie year, and the throwing phenom from college can relinquish some of his reset duties to Tarasi, Tristan Green, and other throwers, so he can work downfield. Ring has already put some of Nethercutt's downfield work on display at the U.S. Open. Here, he earns a big under out of the stack against the Truck Stop defense, and gets the offense moving down the break side for an easy score.
Nethercutt curl cut to the break side
The offense picks up another addition in Coach Joe Cuneo, formerly of Cash Crop and other North Carolina clubs, who has stepped in for the 2015 season to help Raleigh buy in to a more comprehensive cutting system. Denardis, who is a defensive specialist, was excited that Cuneo could bring some fresh perspective to a team that has buttered their bread more recently on defense. "We had some tenets that we ran in the last couple of years, like how we wanted our offense to be run," said Denardis. "[Cuneo] comes in from a different system."
The beginnings of that offense debuted at the U.S. Open, although with key personnel missing and much of the team still dialed into the AUDL, deep shots came early and often and weren't adjusted for the smaller field. Ring had to rely solely on its chemistry at times to work the disc down the field, but reacted well once they broke the mark. Tarasi eventually scores here after Ben Dieter looks off his first few options, and pivots into a nice flick break.
Dieter flick break throw to space
With the AUDL season concluded, Cuneo will be able focus his O-line players, work in Williams (who hasn't seen the field yet at a tournament), and tune up his system for the Pro Flight Finale. Ring showed an almost whimsical mix of vertical, side, and horizontal stacks at the U.S. Open; expect their late-August offense to look more disciplined, if still a little rough around the edges.
"It's a process, so it might not look the cleanest this year, but frankly, our offense wasn't super clean last year," Denardis said.
Adding Cuneo will help create more opportunities for Ring to score easily, and perhaps weave in a bit more discipline to help the team score more consistently from movement and working it up the field. If the offense can consistently pose a threat breaking the mark and working continuations, it should open up more opportunities to find Mitchell, Allen, and other big downfield targets.
On the other side of the disc, where Denardis feels most comfortable as a strategist, opponents and fans may have to wait a little longer to see the 2015 version of Ring's defense. Denardis, with Tarasi alongside as an assistant coach, kept pretty much all of his Championship-winning defensive sets hidden for the majority of the past college season with UNC Darkside, and has been known to add looks just in time for the Series. Both teams have used man defense to build intensity and chemistry during the regular season, and this year for Ring shouldn't look a whole lot different.
What opponents can expect to see later in the season are roller pulls out of bounds into sideline traps, which both Ring and Darkside have used successfully to isolate throwers early in the offensive possession and create high stall (and high anxiety) throws. The defense deployed this set on the first point against Ironside in last year's semifinal.
Roll pull to trap Ironside on sideline
Personnel-wise, Ring will get some healthy returners back to help grind out those points in man. Hunter Taylor will bring in both size and talent after missing swaths of last season due to injury. Dan Kantor also returns, having made a big impact on defense in 2014, his first with the team after time spent playing with Washington D.C.'s Truck Stop. Tim McAllister, a defensive standout with UNC, has kept himself healthy this year and will beef up Ring's downfield defense.
For now, the biggest challenge Raleigh faces is keeping its lines healthy after the long haul of the professional season. Denardis is fully aware of the physical and mental challenges presented by the longer season. Most of his players have spent the first half of the summer training into the AUDL postseason, slowly adding in more endurance components to prepare for long tournament weekends.5
"You're not peaking once," Denardis explained when talking about how his players' training programs. "You're trying to hit these mini peaks before you hit the big one. It's weird. I think it's kind of like a Worlds year.6 This is similar except that everyone's in the same boat now, for the most part." Raleigh, like almost all cities with elite men's teams, now faces the new normal: mitigating the training demands of the professional schedule with club tournaments. "Just balancing it all is crazy," he said.
Adding in a full AUDL season is no simple task, but the players at the core of Ring of Fire are well-accustomed to the requirements of a Nationals-bound team, and the path for getting there is engrained in the team's long history. Raleigh will get their first true test at the Pro Flight Finale, and will gauge from there the best way to get themselves engaged and working hard in the run up to Regionals. "Pro Flight [Finale] is a measure of where we stand against some of the more elite teams," Denardis said. 
At least one other piece of Ring's formula success might stay hidden, at least until the team can taste Frisco: high stakes and emotional energy. With their backs against the wall at Club Championships in 2014, this team rose to the challenge and reached semifinals, weird postseason mustaches and all. They did it with hard work, physical defense, and big plays—but also with a crowd booing their every block and goal.
If Ring of Fire wants to to return to the semifinal—and they certainly seem to have the returning talent and chemistry to do it—they'll need to generate that sideline fervor earlier in the season, and harness it.
Likely Ceiling
With the whole team healthy and working together, Ring could return to the semifinals. The combination of experienced talent and excellent strategy is too dangerous.
Likely Floor
The team's talent has only improved with their added youth and extra reps in the AUDL; it would be a surprise to see Ring of Fire end their season earlier than the quarterfinals.
---