Molly Brown was the talk of the (home)town as other threats began to emerge.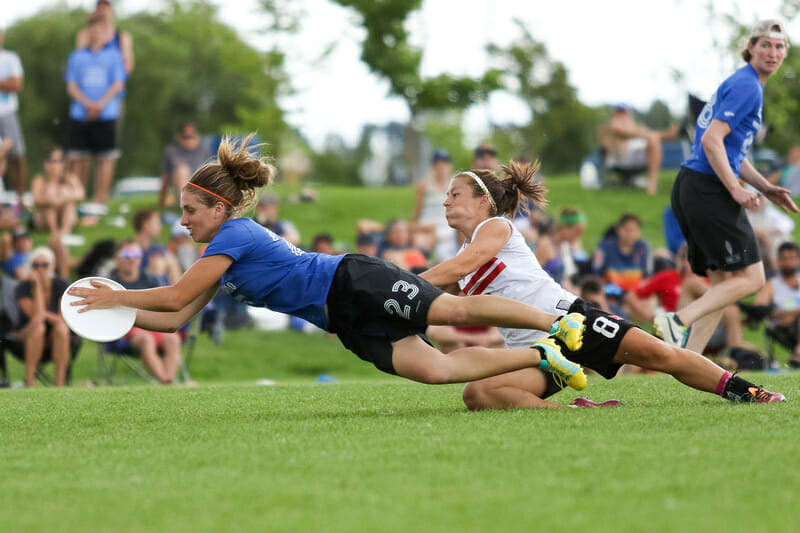 DENVER — Colorado played host to a number of challengers and Nationals hopefuls at the Pro-Elite Challenge, all looking to establish their position in the polls and figure out what they can do to increase their odds come Regionals. Lines are becoming set, rotations refined, and tactics installed. Early season excuses have been cast aside for midseason mettle.
Let's take a look at the notable takeaways from a key landmark in the 2015 Club Season.
Pick Up Molly Brown Stock (While Supplies Last)
By weekend's end, there was no doubt about who won the weekend: the host squad, Molly Brown. While they obviously won the final in a literal sense (and went undefeated), they were the talk of the tournament. Their semifinals performance against Brute Squad showed they can tango with the dance floor's movers and shakers. Many thought they'd be watching the Opi Payne show, but the spotlight quickly shifted to fellow 'rookie' Becca Miller. Yet it was the overall depth of the squad that should scare opponents.
The Champ Is Here: Scandal's Not Going Quietly
Few teams answer a challenge like Washington D.C. Scandal, who wears the underdog label better than anyone. Suggest they aren't a top tier team and they chew up opponents on the way to a finals appearance! Underhype their rookie class and they step up their game. It wasn't quite the show they usually put on, but some of the trademarks of Scandal ultimate were still intact.
They can still deliver with strong team defense and know how to grind with the best. They are fast, physical, and exuberant. And they've still got Sandy Jorgensen, a scoring machine that was calibrated for the end zone all weekend long.
But their performance wasn't flawless. They escaped some very close games, including a dramatic quarterfinal with Capitals that required them to break on double game point to stay in contention. Their offense puts a massive burden on Jorgenson, Jenny Fey, and Sarah Itoh, though that could have been somewhat related to the personnel available at the tournament. Fey has been on the warpath this season, but both she and Itoh are far from possession-based threats. Rookies Kirstin Gruver, Kelly Hyland, Nada Tramonte, and their teammates will need to continue to rise to the occasion if Scandal wants to survive the gauntlet at Nationals. Again.
Traffic Out of Handlers, Out of Gas
The tournament's number two seed, Vancouver Traffic, delivered on what was expected through their first four games. They defeated all three pool play opponents (Bent, Green Means Go, and Ozone) and their quarterfinals draw (Phoenix) by an average of more than five points. Aside from a flurry of second half goals by Atlanta to bring them as close as two, Traffic had breathing room most of the weekend.
And then Vancouver arrived in the semifinals against Scandal. Their play quality deteriorated and they were felled, locked into a drop in seed. Then Brute Squad rocked them in the 3rd place game.
The tired Traffic team proved to have a tough match-up with Scandal. They are a gritty opponent and smart enough to take advantage of exhausted handler corps. Vancouver was missing a large number of handlers, including Kira Frew and Candace Chan. On top of that, they were uncoached, forcing the captains to take on the line calling and other management duties. Even with numerous possessions, the Canadians struggled to find their way to the end zone during key points. They went down 9-5, and despite coming back to 11-10, gave up the final two to lose 13-10.
"Our O didn't connect and felt a little more flustered than normal," said Traffic captain Laura Mason.
The missing personnel clearly impacted their performance and forced them to adjust. Eventually, it caught up to the second seed. "It did force us to lean heavily on some of our vets, especially our veteran handlers, really asking them to play a lot of points," admitted Mason.
Pro Flight Finale would be next on their list, but they are playing the Canadian Club Championships instead and focus on locking up a Worlds berth. After that, it is on to the Series, so we won't see Traffic at full strength in a USAU event for quite some time.
Brute Squad So Close
Already expected to the be the top team at the tournament, it looked as if Boston was poised to fend off an explosive Molly Brown on the way to a berth in the final. They took half 7-6, helped by their O-line's ability to stifle Denver's break opportunities. But Molly Brown broke twice out of half, capitalizing on continued Boston handler mistakes, and they would not relinquish their lead. Molly Brown advanced 13-11 after a goal line stall prevented Brute from tying the game.
"Breaks come from the defense dictating," said Brute Squad rookie O-liner Shellie Cohen after the game. "When our offense is dictating, we play better."
Additionally, Boston's D-line was not able to convert their break opportunities into points, putting pressure on an offensive unit not playing its cleanest game.
"Our D-line's O was a little frazzled in some moments," Cohen added.
Outside of that game, Boston looked to be in a league of their own. They won all of their other games—and all by wide margins. While they're still in search of their first regular season tournament victory, it is clear that Brute Squad has come up just short—two points in their only two losses this season—and is still a threat to close that gap.
Poor Performances Sink Nightlock and Schwa
It was a tough weekend for two teams trying to claw their way into the respected upper echelons of the division. Both San Francisco Nightlock and Portland Schwa left Colorado with four losses, including some upsets and blowouts. While they only fell one spot from their respect seeds, it was a disappointing performance from both squads.
Nightlock looked out of sync for most of the weekend. After opening the weekend with a loss to the Capitals, they were on their way to 0-2 when they dug out of a late 10-7 hole against Nemesis. They came back to win on double game point. They were eventually trounced by Molly Brown in the quarterfinals and followed that with losses to Ozone and Phoenix—both teams they had beaten at the US Open.
For the most part, it seemed like the Bay Area squad just couldn't get out of their own way. The offense lacked flow, and when they achieved it, miscues would crop up to halt their progress.
It was much of the same story for Portland. After losing on double game point to Molly Brown in their opener, in a game in which they held the edge, it seemed like they failed to bounce back. Abundant turnovers put them in a rough spot in the prequarters against Phoenix and they followed that up with a loss to Green Means Go.
But it isn't all doom and gloom. Nightlock scored a big win over Heist and Schwa was incredibly close to a massive upset over Molly Brown (the second straight time they've nearly turned the tables in that match-up, dating back to Nationals last season). But both teams need to improve, particularly in their ability to maintain possession and score efficiently, in order to live up to their potential.
Quick Hits
The Southeast acquitted itself nicely, going a combined 9-5 on the weekend; Ozone finished 5th and Phoenix 7th. When they get back Sophie Darch and Cassie Swafford, respectively, they should only get more consistent and threatening.
Showdown really looks like they are in rebuild. The 3-3 record is deceiving, as they fell in with a group that only notched wins over one another (Underground, Bent, Nemesis, and Wildfire) and finished among the bottom five teams. The Texans weren't at full strength, but they looked behind where they were at this point last season.
Really solid showing for Toronto Capitals. Wins over Heist, Phoenix, and Nightlock and they nearly made the semis, falling to Scandal by one. Kaylee Sparks was playing excellent ultimate and they've got some receivers who can make plays.
Heist got the hype coming in and didn't really deliver. The potential is there, especially when Emily Langland and Anna Hrovadt-Staedter are on the offensive, but seeing them blown out by Nightlock was surprising. They still just are not deep and thus not consistent.
Despite a lot of turnover, Green Means Go looks good! They broke seed by four spots. When their deep game is clicking, they are scary; they are smart enough to capitalize by getting to the break side when teams over commit to stopping to long ball.
The fields were beautiful! Aside from a mixed game being relegated to a distant lonely field, the setup was really great.