It's time for mini-Nationals!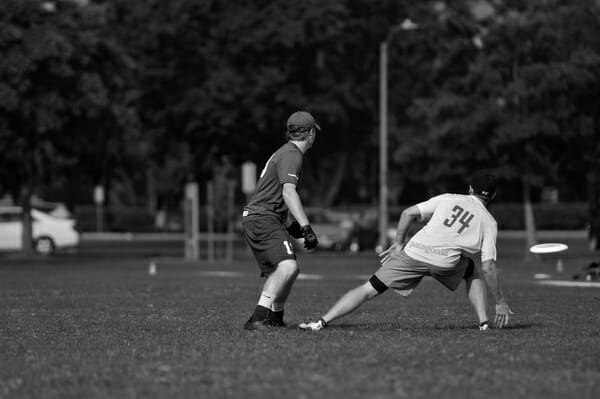 This weekend's Pro Flight Finale has become the gem of the USA Ultimate regular season. While the US Open may get more pomp and circumstance with an ESPN3 broadcast and a 4-day schedule, its place so early on the calendar means that you never see teams at their best.
At this point in the season, with Regionals just weeks away, teams are in full gear. We won't see skeleton crews like we have at earlier tournaments. This is the tournament teams want to win; they know that they'll be tested by the best.
Here's a look at the competition. Make sure to tune in to our live coverage of the Pro Flight Finale, with eight games coming to you over the weekend.
Pool A
While Revolver is the obvious favorite here, it's a complete toss-up who takes second in this pool. GOAT looked strong at the US Open, but Machine's "signing" of Brett Matzuka and steady improvement could give them the push they need. They were clearly one of the better teams at the Pro-Elite Challenge. Meanwhile, Ring of Fire and Rhino are looking to rebound from disappointing previous tournaments.
San Francisco Revolver (USAU #1, UW #1)
Despite a loss to Sockeye in the Pro-Elite Challenge Final, Revolver remains the undisputed favorite to win this tournament and the National Championship. With Beau Kittredge and Joel Schlachet back for the O-line this weekend, expect Revolver's offense to dominate, and their depth on defense to run teams ragged.
I expect Revolver to handle this pool relatively easily, with the possible exception of GOAT, who always seems to give Revolver issues. Their first meeting since the US Open final should be one of the better pool-play games.
Chicago Machine (USAU #4, UW #5)
Machine has quietly had a very successful 2015. Although they suffered a big defeat at the hands of High Five at the ESC (7-13) and looked entirely beatable throughout the weekend, Machine regrouped and looked fantastic at the PEC. Although they lost twice, those losses (11-13 vs. Revolver and 11-12 vs. Bravo) were close and against elite opponents; that should give the team confidence when they inevitably play again. Machine's "acquisition" of Brett Matzuka gives the team a dynamic offensive playmaker to pair with center handler Bob Liu.
Portland Rhino (USAU #13, UW #13)
Rhino remains a bit of a mystery. Undoubtedly they will run their offense through Freechild, and they have a strong recruiting class, bringing back Riley Meinershagen from Sockeye to serve as a center handler, as well as Brian Penner and Eli Janin. Rhino had a middling PEC, with wins over Temper and Truck Stop, but losses to Doublewide, Sockeye, Machine, and High Five (on double game point).
It is entirely plausible that Rhino could finish second, but I think it's more likely that they finish fifth. Prove me wrong, Portland!
Toronto GOAT (USAU #14, UW #3)
Fresh off a Canadian National Championship, Goat's season has gone from a "what could have been" to a "what could be". I am, of course, talking about the devastating ACL tear of Mark Lloyd, and the prevailing early-season theory that without him, GOAT's season was doomed. But then came the US Open. GOAT surprised everyone and made it all the way to the finals. Isaiah Masek-Kelly and Remi Ojo stepped into bigger roles and are now stars in their own right. With Lloyd, I have little doubt that this would be the #2 team in the country right now. As it stands, they're a wild card.
Raleigh Ring of Fire (USAU #17, UW #6)
At the US Open, Ring beat the teams they were supposed to (with the exception of the surprising PONY), and that's it. They didn't look particularly impressive against Germany or Great Britain, winning by only a combined three points, as well as losing to Truck Stop and Bravo. A thin roster clearly didn't do them any favors, but on top of that, they just weren't sharp.
But perhaps more than any other club team, Ring of Fire is known for peaking at the right time. Last year they hit their stride at Nationals, and made it all the way to double game point of the semi-finals. With almost the same roster (with the notable absence of Christian Johnson but the vital addition of Jack Williams), this team has all the personnel to do the same this year.
Prediction:
1. Revolver
2. GOAT
3. Machine
4. Ring of Fire
5. Rhino
Pool B
With no Revolver at the top, the winner of this pool is anybody's guess. While Bravo has been the most consistent team this season, High Five, Truck Stop, and Ironside have all looked fantastic at times.
Denver Johnny Bravo (USAU #3, UW #4)
Much has been made of Bravo's transition from a team filled to the brim with dynamic stars to a team with slightly fewer dynamic stars. I say this because despite losing Kurt Gibson, Brett Matzuka, Brodie Smith, Jack McShane, Tim Morrissey, and Bart Watson, Bravo still has more stars than many teams have wins.
Although they have no tournament wins this season, Bravo has, for the most part, taken care of business. Their main issue seems to be dealing with momentum; they were eliminated (in semis) by the hotter team in both tournaments they've attended this season: by GOAT at the US Open and by Sockeye at the Pro-Elite Challenge. With that being said, Bravo has to be fairly confident in this pool, as they've beaten both High Five and Truck Stop already this season.
Michigan High Five (USAU #6, UW #12)
I'm consistently in awe of Johnny Bansfield. When he's on the field, he radiates calm and collected. And then in two seconds he'll unleash a ridiculous layout D or an equally ridiculous flick huck. He's the reason whenever Ultiworld puts up a High Five game on their Club video subscription, it's must-watch footage. But there actually IS a team besides Bansfield, a team that has had the most successful season in their short history this year.
With a tournament win at the Elite-Select Challenge already in the bag, High Five seems to have their system figured out: Ohio on offense, Michigan on D. With a loss to Bravo and a win over Ironside already on their resume, it'll be interesting to see how High Five matches up with Truck Stop; both teams are deep. Truck's top end talent is better than High Five's, but if the Michigan and Ohio squad can stay sharp on offense, they have a shot against any team.
Washington DC Truck Stop (USAU #7, UW #7)
A depleted roster caused Truck Stop to stumble at the PEC, but don't expect that to continue. Truck Stop at full strength has one of the most complete teams in the country, with stellar handlers (Alan Kolick, Seth Wiggins), cutters (Peter Prial, Nicky Spiva), and defenders (Nate Castine, Markham Shofner). Dangerously under-seeded, I see a full-strength Truck taking it to top-seeded Bravo.
Boston Ironside (USAU #15, UW #9)
We could talk forever about how this isn't the same Ironside team that made it at least to the national semifinals since the team's inception in 2007, but the truth is that it doesn't have to be. When this Ironside has been playing well this year, they've been playing really well. They played Revolver to the closest of anyone so far this season (lost 14-15 at the US Open), and were a double game point loss to GOAT away from semis. You should take their fairly awful Pro-Elite Challenge results with a grain of salt; the team was heavily understaffed, missing half of the offense and many key players.
While they are extremely young this season, the veterans on the team seem to have incorporated the youth very effectively. Tyler Chan and Mark Vandenberg seem like they've been on the Ironside O-line for years. I see Ironside upsetting High Five and taking third in the pool.
Atlanta Chain Lightning (USAU #18, UW #16)
Chain is the biggest question mark in the pool. They've had an exodus of some mainstays (Spiva, Inselmann) and an influx of youth. Does that translate to a successful Pro Flight Finale? Color me doubtful. Their résumé has some close losses to good teams (12-13 vs. Sockeye), but no really impressive wins. Perhaps this will be Chain's statement tournament, proving that they're still relevant in a suddenly very crowded Southeastern region. But like I said, color me doubtful.
Prediction
1. Truck Stop
2. Johnny Bravo
3. Ironside
4. High Five
5. Chain Lightning
Notes
– This year's tournament features 10 teams instead of eight. USA Ultimate added a qualification component at the Elite-Select Challenge. Both finalists — High Five and Machine — have accepted their invitations. That means that bracket play is different this year, with semis play-in games for the #2 and #3 seeds after pool play. The #1 seeds get a bye into semis. It's an improvement over a format that before cleaned the slate on Sunday as every team advanced to quarters.
– The weather could be a bit strange this weekend. It will be hot (high of 83 degrees) and sunny for most of Saturday with a good chance of a late afternoon thunderstorm. Sunday will see the temperature drop dramatically (high of 67 degrees) with spotty clouds and a slight chance of rain.
– The Blaine fields, which hosted the Youth Club Championships two weeks ago, are wonderful and the facilities are top-notch.
– Bookmark our Live page for tournament updates, scores, news, and live video from the Pro Flight Finale.