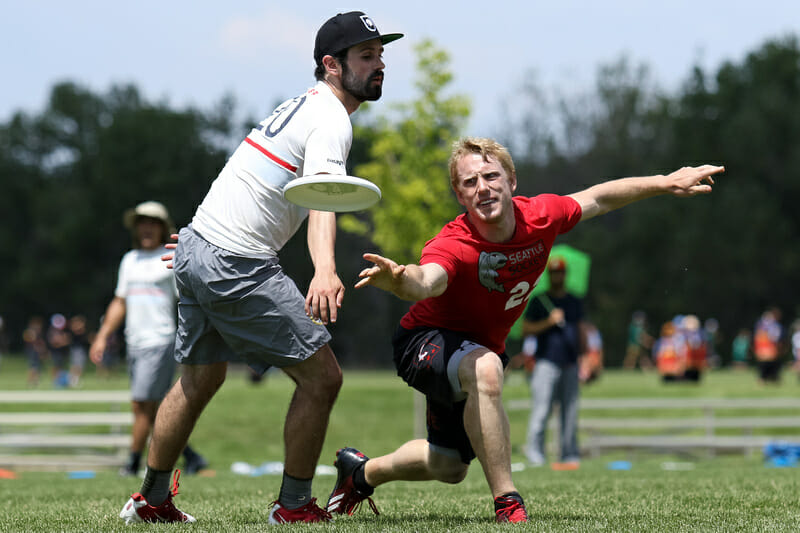 Note: This recap is coming much too late; it's been a very busy couple of weeks. It was 90% finished before the Pro Flight Finale and hasn't been updated to include this weekend's results. For the finals recap, go here.
The Pro-Elite Challenge offered up an exciting midseason tournament with quality teams top to bottom. Here's a look at some of the top performers, big surprises, and takeaways.
Sockeye Leaps To Big Tournament Win
Sockeye did a lot to shore up doubts about their team this season with a fairly convincing tournament win in Aurora. Any time you should up to a tournament and get Sunday bracket wins over Johnny Bravo and Revolver, you're doing something right.
Sockeye was simply the most consistent team at the tournament. Despite a bit of a lull in their second game Saturday against Chain Lightning (13-12 win), they were rock solid for most of the weekend. The offense was an order of magnitude sharper than it was back at the Elite-Select Challenge when they played with a thin roster and little practice under their belts.
They had to grit out a win against Bravo in semis, but then really took it to a surprisingly mediocre Revolver in the final. Matt Rehder was unable to be stopped and did a lot of damage for Sockeye's offense. At one point, he beat triple coverage and, as he caught the disc, three Revolver players were on the ground in his wake.
The Seattle handlers were very effective at moving the disc laterally to create new angles and Revolver, especially, struggled to slow down backfield flow until the second half (when they switched to mark to stop the around). It does seem like Sockeye struggles a bit more when their handlers can't play ping pong in the backfield, something to watch for later in the season.
The defense was better as well. At ESC, Sockeye's defense was capable at getting turns, but could not find the endzone. In Aurora, the fish used a wider variety of defensive looks (clearly tuned up from practice) and had much better success at getting into the endzone.
Sockeye was far from perfect. They coughed the disc up a fair amount in their games, but the O-line did an excellent job of preventing fast break opportunities. Uncharacteristic errors from their opponents also helped out Seattle quite a bit.
Regardless of the up-and-down season we've seen from many teams, it is clear that this year's Sockeye team will be a threat in Frisco.
Revolver's August Blues
San Francisco Revolver can't seem to find a rhythm in early August. Almost every year, the team wins the US Open, takes a few weeks off, and comes out to a tournament at the beginning of August and underperforms.
It wasn't just the Sockeye loss. It was giving up multiple breaks late in the game to Chicago on Saturday. It was getting pushed to the brink by New York in the semis, a game they probably should have lost.
It didn't help that Ashlin Joye, perhaps Revolver's best player, hardly played until semis due to a stomach illness. He was a shell of himself. Many other key contributors, like Russell Wynne and Eli Kerns, didn't have strong games against Sockeye.
But they do this every year. Perhaps it's just part of the long season.
If I were a Revolver fan, I wouldn't worry too much. Many of the errors we saw this weekend are just not ones we ever see from Revolver when it really counts. They remain #1 in the Power Rankings for a reason — they have the most talented offensive line in the country and better depth on defense than any team in the Division.
It's worth noting that Cassidy Rasmussen played great and continues to have an outstanding season. His name often seems to sit in the shadow of players like Beau Kittredge and Joye, but he has been the most consistent contributor on the team this year.
We'll learn a lot more about Revolver at this weekend's Pro Flight Finale, now that they've been back at practice to iron out some kinks.
PoNY Gallops Into Semis With Young Horses
It started out as a bumpy weekend for PoNY after they blew three game points against Prairie Fire to close out pool play 1-2 (win over High Five, losses to Prairie Fire and Johnny Bravo). That set them up for a pre quarters matchup against Sub Zero.
That game was very close throughout. You can almost boil it down into a singular moment. Sub receives on double game point. Quickly, they bomb a huck to Nick Stuart in single coverage. OK, you think on the sideline, this one's over.
Nope. Kevin Norton, a PoNY rookie, flies high for the block over one of the game's elite deeps. That's just not a play PoNY makes last year — or in recent memory.
They go onto win, and then stun Doublewide in quarters on Sunday morning. (For whatever reason, PoNY has ownage on Doublewide.)
They almost stunned Revolver, too, in the game of the tournament, thanks to outstanding play from the youngest players on the roster. Chris Kocher and Josh Alorro were vital pieces of the offense, with Kocher operating skillfully downfield and Alorro giving the team vital reset cuts at high stalls. Coach Bryan Jones switched Alorro over to the offense for Pro-Elite; you can bet he'll stay there.
Chris Mazur also played an inspired game against San Francisco. He had some gutsy throws and a boatload of assists. Despite pulling SF's top defenders, he managed to stay effective even when his first cuts were shut down.
PoNY's defense had some chances to seal the game late, with two break opportunities that could have put them up by two and made it game point. But some panicked throws to the endzone after resets got shut down were gobbled up by Revolver defenders.
PoNY has clearly improved since the US Open. But their offense looked at times to be unsustainable. Consistent flow was often not there, and there were quite a few stall eight or nine prayers that went their way.
Ben Van Heuvelen is still back in the main O-line handler set, but he hasn't had the ability to generate separation for resets, causing lots of clogged space in the backfield. PoNY would do well to move him downfield and let Alorro, Brenner, and Mazur get more touches.
PoNY has the personnel this season to make the leap to quarters at Nationals. If Jones can corral the pieces into the right places, they'll have a legitimate shot.
Johnny Bravo Good But Not Great
The story of Denver Johnny Bravo at the Pro-Elite Challenge was a lot like the one at the US Open. They are clearly a top five team, but they haven't shown the sustained excellence that carried them at Nationals last season.
They did play one of the most exciting games of the weekend in the quarterfinals against Machine, a 12-11 barnburner. They came up short against Sockeye 13-11 in semis.
Offensive execution has been the team's challenge. The loss of so much handler talent in the offseason naturally made for a long adjustment period for the team. They look like they are closer to rounding the corner, and there are rumors of some big additions to the roster coming just in time for the postseason.
It's a bit of a wait-and-see with Bravo. We know they will compete and challenge for a semis spot at Nationals, but will they have enough firepower to get there this year?
Jimmy Mickle and Nick Lance will outmatch most other teams' 1-2 punch, but they, right now, have a harder time keeping up a little further down the depth chart.
Doublewide Drifting Further From Expectations
After a solid 3-0 Saturday, Doublewide laid an egg against PoNY in the quarterfinals, losing 11-9 and looking very shaky on offense.
You can explain away that loss, and the later one (13-8) to Machine, by pointing at Doublewide's inconsistent roster. Kurt Gibson wasn't playing, Tim Gehret won't be around until Regionals, and many players (including Will Driscoll and Mike Ogren) joined the team for the first time this season.
But Doublewide's talent didn't match their results for the second straight tournament, and the preseason #2-ranked team is looking less like a strong semis contender as chemistry concerns crop up.
There was a distinct air of negativity and bad body language during the team's loss to PoNY. Frustration boiled over at multiple points as the offense bled breaks.
The defense did more than its share of work on the weekend, and its not like Doublewide got blanked. They defeated Truck Stop, Rhino, and High Five. Those are good wins.
But in the big spots, Doublewide has not looked sharp.
They are well-known for being a late-peaking team, as the captains are quick to point out. But, right now, all is not well in the clubhouse. Will being full-strength at Regionals be enough to bring the team together?
Machine Showing Growth After Elite-Select
I overheard a Machine player at one point in Aurora say, "We're one of the best teams at this tournament." True.
A fifth place finish with losses only to Revolver (in pool play) and Johnny Bravo (in a thrilling quarterfinal) showed just that.
While Chicago looks like they might again be a team that sits just below the semifinals tier, they have shown lots of growth since their finals appearance at the Elite-Select Challenge.
The offense, facing big personnel changes since last season, has started to coalesce and, at times, looked great. They were neck and neck with Bravo throughout their quarters match — one of the best games of the tournament.
If they can continue to improve steadily towards Frisco, they'll be a dangerous team.
Quick Hits
– Michigan High Five didn't have quite the storybook weekend that they did at the Elite-Select Challenge, but they are clearly a quality team that belongs at Nationals. Strong darkhorse pick for a deep run.
– Portland Rhino played like a team at its first major tournament: some ups, some downs. Their offense looks particularly talented, but the defense seems to struggle a bit to convert breaks.
– Boston Ironside had perhaps its worst tournament ever as a program, finishing 2-4 and closing the weekend with a 13-5 loss to Truck Stop (the first-ever loss to the Washington DC team and the Ironside's biggest loss ever). But the team was missing over half of its starting offense plus its coach Josh McCarthy — expect a bounceback.
– Truck Stop also brought a thin roster and had mediocre results. Not much to see here, except that it's clear they get a lot from the top of their roster.
Notes
…The thin air at altitude sends home runs flying out of the park at Coors Field and sends pulls flying out the back of the endzone. There were also many, many overthrown hucks. Teams that adjusted quickly to the fast air outperformed in the early rounds of the weekend…The Aurora fields were lovely, and many teams were very glad to be in the Denver metro. Lots spent an extra vacation day or two before or after the tournament. Destination tournaments should be more common!…Special thanks to the Hamrick family…Shout out to everyone who tuned in to the periscoped Resistance game on Sunday night…