An overview of Regionals competition around the Women's Division.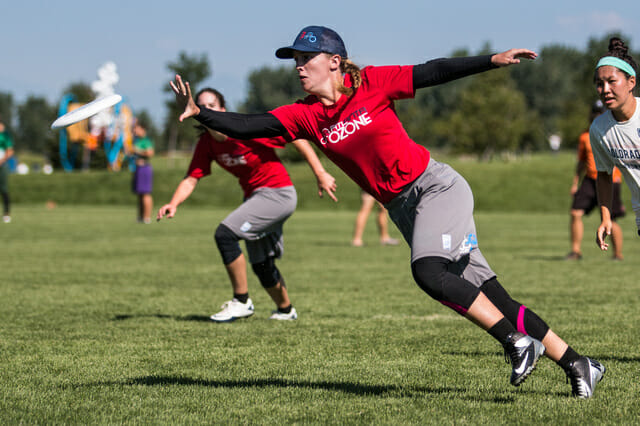 The 16 bids up for grabs to the 2015 Club Championships in Frisco will be decided at the various Regional Championships. While the drama for who will win respective regions is thick at some points, few storylines exist of a team from outside of the bid-earning range being primed for an upset. The powerhouses of the division look a mile ahead of their mid-tier counterparts.
But perhaps another Florida Tabby Rosa lurks in the 2015 field.
You can attribute it to a smaller division. You can attribute it to the Triple Crown Tour's division of schedule and competition. You can attribute it to dumb luck. But the fact that remains that most of the favorites across the division look like safe bets to advance.
Fear not! We still have you covered from end to end on who might surprise and who might falter.
Bids: 3
The Favorite: Seattle Riot
Three top teams – plus some potential surprises – are looking to make their way into the remaining top 2 spots with Riot. There's a fair probability we'll get another battle between Portland Schwa and Seattle Underground with their seasons on the line! Check out our full preview of Northwest Regionals.
Bids: 1
The Favorite: Washington D.C. Scandal
For the third time in four years, Scandal enters Mid-Atlantic Regionals as big fish and the odds-on favorite. Despite all the changes up and down their roster, that fact remains the same. The reigning national champions have cut their teeth on the toughest competition of any team in the region and know a thing or two about peaking.
Part of what will help Scandal peak is increased depth. They've spent the season integrating and developing their new additions. Nada Tramonte has solidified a downfield spot for their offensive sets. Kirstin Gruver's speed and aggressiveness have helped replaced downfield explosiveness the team lost. Kate Stambaugh has brought power to the backfield. Kelly Hyland's brought intense defensive play. Now with a season together under their belt, they'll take their place alongside Kimberly Beach, Sarah Itoh, Jessie O'Connor, and the like to make the support options for D.C. better than the top options in the region.
Another significant portion of the credit can be attributed to Alex "Dutchy" Ghesquiere. He's the best coach in the division and a maestro at turning role players into specialists and a group of specialists into a team. That's a weapon no opponent can defend.
While Dutchy can't throw hucks or catch scores, he has definitive options who can. Chief among them are Jenny Fey, Alika Johnston, and Sandy Jorgensen. Their offense truly depends on the throwing talents of Fey and Johnston to steer the ship, and Fey remains one of the most exciting players in the game. Jorgensen changes the game in a way completely unique to the division.
Answering the many advantages Scandal has will be, suffice to say, a tall task.
The Challengers
Everyone is pretty familiar with the setup: Philadelphia Green Means Go and Pittsburgh Hot Metal will try to find a way to storm the impenetrable Scandal fortress. Philly rewrote the script last year nabbing a second bid to Nationals, but they failed to repeat that this season. Per usual, the format makes a semifinal meet up likely for the right to face Scandal in the final, adding incline to an already tough climb.
The early read favors Green Means Go. Despite a lot of turnover, they've gotten to see tougher competition throughout the season in preparation. Core contributors Nikki Ross, Katie Ryan, Vicki Chen, and Whitney Viets have returned, and get support from young up and comers like the Princeton duo of Jane Urheim and Lyra Olson. They have a couple of nice scores, including a late Pro-Elite win over a tired Schwa squad. If they create open deep looks, they have the throwers – centrally Ross – to punish the defense.
But there's plenty of reason to believe in Hot Metal. They've lost just four games this season – all to ranked opponents – and wrecked all comers at Founders Sectionals. Pittsburgh notched a victory over Underground, who defeated GMG, and mostly outperformed their cross-state rivals at the Elite-Select Challenge. They're a bit more reliant on their young talent to carry the water, and that inexperience could challenge them.
Oddly enough, the two teams have not played each other and not played Scandal. That's a symptom of the Triple Crown Tour; Philadelphia qualified for the Elite Flight while Pittsburgh was left in the Select Flight. What results that yields is anybody's guess.
Bids: 4
The Favorite: Boston Brute Squad
Last year's Northeast Regionals set a dramatic stage, but Boston Brute Squad mostly avoided that altogether by leveling their competition game in and game out. They gave up an average of just two goals a game at 2014 NE Regionals. The prohibitive favorite once more this year, repeating that sort of domination will be difficult, but it is hard to see anyone even giving Boston a run for their money.
Brute Squad is coming off (like last year) winning the Pro Flight Finale and packs plenty of success to point to. At this point, they've suffered just two losses – to Fury and Molly Brown – on the way to a potential #1 seed at the Club Championships. Focused and determined, Boston rarely lets weaker opponents sneak up on them.
Defense is Boston's calling card, despite a decorated offensive unit with all the experience (and spacing) to put away games. In fact, their O-line is pretty phenomenal defending after the turn, with playmakers like Lien Hoffmann and Leila Tunnell to win back discs. But a deep and feisty defense is where Brute Squad makes their bones and will likely be too much for even their top competition to overcome.
The Challengers
First in line is Toronto Capitals, the reigning #2 in the region. They bring a 9-3 record from the USAU regular season into Regionals. While they topped both Nightlock and Heist along the way, more notable are victories against Bent and Iris, the two teams looking to usurp them. This will be their second Series, having already navigated the Canadian Ultimate Championship Series on the way to a runner up finish. Expect them to be well tuned.
One of the surprise teams this year was Quebec Iris, who came hot out of the gates at the Boston Invite with an appearance in the final, following that up with a one loss turn at the Elite-Select Invite. They're 2-0 vs. Bent, to boot. Looking at their roster, it isn't a surprise they've performed so well. A lot of the core of Nova, who went to nationals in 2013, fills out Iris. A return to the Club Championships is well within reach.
New York Bent hopes to exorcise the ghosts of last year. They started their 2014 Regionals out with six straight wins. But when it counted, they came up short, falling to Brute Squad in the final and Caps in the backdoor game to miss out on a trip to Frisco. They held onto their 4th bid this year, and while Regionals won't be easy, they have to feel better than they did going into last year's event.
On the outside looking in is Boston Siege. A new second team from Boston, Siege was forced to piece together a schedule that took them to the Boston Invite and Chesapeake Open prior to the Series. There's talent in the ranks, but it is mostly untested. Composed mostly of recent and so-to-be Northeastern and Tufts grads, they have nothing to lose in their first Regionals.
Bids: 2
The Favorite: Atlanta Ozone
In 2014, Ozone finally knocked the monkey off their back and captured their first Southeast Championship. They rode that momentum to an excellent 5th place showing at Nationals and a spot in the Pro Flight. Most of that unit is back and ready to defend the title they fought so many years to earn.
Atlanta brings the region's best victories to the table as proof of their worth. Victories over Capitals, Heist, and Nightlock adorn their belt. Along with that is a 13-8 US Open win over their nemesis, Phoenix. A season locking horns with the best the division has to offer should have them well prepared for Regionals.
The handler corps received a much needed boost this year from Sophie Darch and Leah Tsinajinnie. Joining Katherine Wooten and Angela Lin in the backfield, Darch and Tsinajinnie have the arms to make good use of the athletic legs they have working downfield. It isn't usually pretty for Ozone, but they do get the job done. They've been the favorite to win the Southeast before, but now they know how to deliver; it is highly unlikely they'll miss nationals for the second time in the past 28 years.
The Challengers
The longstanding rivalry between Atlanta and the triangle will be renewed, with Raleigh Phoenix in hot pursuit of the regional title. Their focus will mostly be centered around a return to the Club Championships, after a shocking upset left the rebuilding program sitting at home. Raleigh's squad looks a lot more potent than in 2014, having added former college stars Cassie Swafford, Mariel Hammond, and Jenna Dahl.
This year's Phoenix team has a stronger resume. Their victories include wins over Showdown, Nightlock, and Schwa. Even some of their losses are competitive enough to merit notice. They also have a nice head to head win over the next best team in the region, 12-6. A Regional title is possible, but a re-berth to nationals seems likely.
Florida Tabby Rosa is hoping to, again, shock and awe. Like 2014, they enter Regionals without any notable wins. But this season's team is much younger and will have trouble turning to the same playmakers against a more seasoned Phoenix roster. Florida managed to defeat them twice on their way to their first nationals appearance. You can bet Phoenix will be looking over their shoulder, especially since Tabby will be playing with the full deck finally.
Is there another potential sleeper lurking in the Southeast? Atlanta Outbreak hopes so. They've won every regular season tournament they've played, playing few closes games along the way. Most importantly, they are 2-0 against Tabby Rosa. Outbreak, the second team out of Atlanta, dropped one to in-region opponent Encore, but could actually be a bigger threat than Tabby, anchored by the former Ozone (and Seattle Riot) duo of Maddy Frey and Miranda Knowles.
Bids: 1
The Favorite: Chicago Nemesis
Chicago's dominance in the Great Lakes has been mostly unchallenged over the region's existence. Last season's win the final was an uncomfortable 13-10 score against Dish. However, this year they are undefeated in region, including a sterling 2-0 showing against combo team Rival. Is there a reason to doubt that Nemesis will come through again, reigning supreme once more?
That depends on your perspective. Their undefeated Great Lakes record is most of the green on their team page. Taking on the toughest schedule of any team in the region, Nemesis's reward was a hard knocks 3-15.
But ultimately, they've crushed most regional opposition, and even Rival's three and five point margins aren't intimidating. The competition level Nemesis is used to gives them an edge over lower tier competition — see their push to the final at Heavyweights — and sets them up as the "been there, done that" favorite.
The Challenger
A new challenger has risen in the Great Lakes, a combination club squad from Ohio and Michigan called Rival. Aside from those two losses to Nemesis, they've also faced little opposition within the region, setting up a likely date with Chicago in the final with the region's lone bid on the line.
What Rival is hoping makes the difference is a complete roster. Their first meeting took place sans a sizable contingent of contributors for Rival. But now Tracey Lo, Hannah Henkin, Caitlyn Harley, and Stevie Miller are back ready to show off what their unified front can do. Their collegiate allegiances may be able to counteract inexperience together, facing a Nemesis team that has weathered the storms of elite competition.
Bids: 1
The Favorite: Madison Heist
The elite regular season has been a mixed bag for Heist, who played .500 ball through their first two tournaments. Against weaker competition at Heavyweights, they went undefeated. Whatever ups and downs Heist has had during their season, they've never really stumbled at Regionals. Consistently, they've outdone the small pool of teams trying to find a way past them.
There's no reason to believe this year will be any different for the North Central rulers. Madison has improved depth from past year's editions, perhaps a counterbalance to losing hyper-talented Georgia Bosscher. The defense always comes to play, and when their backfield play ramps up, they become a difficult force to contain. It is unlikely any team has the athleticism to keep from getting run over by an aggressive and physical Heist team.
The Challenger
Minneapolis Pop is hoping this year is the year they can upset Heist. Last year looked like a great opportunity, but they ultimately fell short in the final. The second seed lacks big wins on the resume, with their brightest accomplishments coming against Tabby Rosa and fellow NC hopeful Wicked. While Rebecca Enders, Biz Cook, and Megan Molteni give them a formidable offense, they'll need a perfect performance to knock off the resilient top seed.
Meanwhile, Kansas City Wicked seeks to surprise everyone. They played Pop tight during the regular season, but will need to reach a whole new level to win the region.
Bids: 2
The Favorite: San Francisco Fury
The Challengers
While Bay Area Nightlock's roster is a cut above, their shaky results plus the solid play of the region's other teams make their advancement uncertain. Our full Southwest Regionals breakdown tells you about who to watch and what their chances are.
Bids: 2
The Favorite: Denver Molly Brown
Based on the regular season results, Molly Brown has finally cleared the hurdle between them and the elite teams in the women's division. They claimed the top spot at the Pro-Elite Challenge and Elite-Select Challenge, made it to the semifinals of the Pro Flight Finale, and head into the postseason the fourth ranked team in the country. Extensively talented with a variety of capable threats at every position, Molly Brown has established themselves as a national title contender.
The only teams to answer Denver have been top ranked fellow contenders Fury and Brute Squad. In the South Central, Molly Brown is 3-0 with a seven point average margin of victory. Their schedule is stocked with teams likely to be at the Club Championships, and they've overcome quality opponents at nearly every turn. Expect them to emerge from South Central Regionals with the crown.
The Challengers
Regional rival Texas Showdown would like to continue their streak of seven consecutive trips to the Club Championships. They went into Pro Flight Finale weekend teetering on the edge of losing their second bid in the South Central, but some favorable scores were enough to claim that critical bid. Now, all they need to do is hold seed to advance.
It doesn't look like they'll either threaten or be threatened. Molly Brown dismantled Showdown, 13-5, in the winds of the PFF. Aside from a surprise win over Scandal in those same conditions, Texas's lack of marquee wins and abundance of blowout losses sets a wide line against the favored Denver team. But neither Colorado Small Batch nor Dallas Maeve – despite positive regular seasons – have done much to demonstrate they have the necessary firepower to topple Showdown.