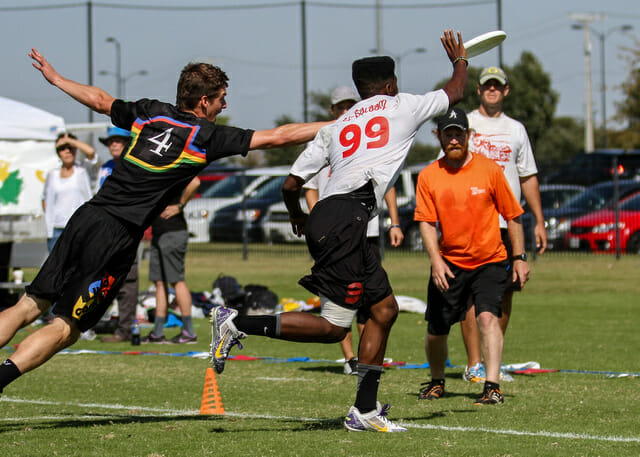 As they are just about every year, the Club Championships in the Mixed division are sure to be a fun jumble of elite domination and nutty upsets.
Between the stories of teams looking to be the first three-time champions to the crops of squads ready to make a name for themselves at their inaugural showing at Nationals, the weekend is guaranteed to provide lots of exciting narratives and wacky results.
Here's a quick breakdown of Thursday's pool play:
Pool A – Drag'n Thrust, Mixtape, NOISE, 7 Express
The 1 vs. 2 seed game in Pool A is perhaps the tastiest match-up on Thursday. It's a rematch of last year's title game and one that will probably be even better, as both teams have only gotten that much better and will be looking to set a dominant tone for the weekend early. (It will also be livestreamed at 6 PM Central by Ultiworld!)
Minneapolis Drag'n Thrust likely has the advantage, particularly in a lower stakes setting like this that tends to favor the more veteran squads. But winning the pool would put Seattle Mixtape in a prime position to make a deep run through the bracket, since it would give them some easier matches in prequarters and quarters. It's not as if there's nothing on the line.
Meanwhile, both Madison NOISE and New York 7 Express are possibly just glad to be in Frisco this weekend and might be happy with just playing their hearts out against two of the best teams in the country.
Pool B – Chad Larson Experience, Bucket, Metro North, Ambiguous Grey
As detailed in Alex Rummelhart's feature, this may very well be CLX's final year. They've been on the cusp of taking home a national title a majority of the seasons since their inception in 2004. And although a Worlds title in 2010 is definitely nothing to slouch at, a USA Ultimate national title still holds a certain prestige that just can't be matched by any other accolade.
Bucket, however, is a very strong second seed with a solid season of impressive results. And considering how well they did last year — and only look more dangerous this year with the addition of more ballers like Asa Wilson and Steve Rouisse — there's good reason to think that they'll show up again this weekend.
Though somewhat untested, New York Metro North is also a threat to pull off some upsets. They have a handful of veterans from the New York scene that have been around the bend a number of times and should have little problem showing up at this tournament.
Even Washington D.C. Ambiguous Grey proved at Mid-Atlantic Regionals that although they've had a so-so season, they still have the experience to upend a favored opponent.
Pool C – Wild Card, Polar Bears, Love Tractor, Bird Fruit
Pool C features another great rematch of a big game from last year's Club Championships. Due to their surprising fourth place finish in the pool after coming in as the overall one seed, San Francisco Polar Bears consequently had to play a real grind of a game against Boston Wild Card in prequarters and lost a close one in the end. This time around, they'll be even hungrier to take care of business.
Wild Card will also be looking for a crucial pool win after being upset by a red hot Mixtape in semis last year. The match-up is sure to be one of the more exciting ones on Thursday.
It's tough to know what to expect of Boulder Love Tractor and Seattle Bird Fruit. They're both basically newcomers to the national scene, they've both played well against mid-level teams but don't have any big wins against great teams, and they both come from areas where other local teams garner way more attention. Guess we'll just have to see.
Pool D – Slow White, Blackbird, AMP, The UPA
Pool D has maybe the best chance for some big shake-ups to go down. As tenured at the national level as Boston Slow White is and as good a season as they've had, their fellow opponents are no chumps.
San Francisco Blackbird ripped through Regionals with barely a scratch on them, despite being in perhaps the toughest region in the country and fighting over only two bids. They're loaded with talent and have more high-level Nationals experience than maybe any other team in the country. And after just missing semis last season, you can bet the wily Bay Area squad will be deeply focused on claiming their third national title.
Although Philadelphia AMP isn't quite as good as they were a few years ago — after Southpaw folded but before Patrol started, when AMP had most of the best male players in Philly — they're still always contenders, especially with all their Club Championships experience.
With maybe the funniest name at the tournament and very little information available about their team and history, Chicago's The UPA definitely comes in as the weekend's biggest question mark. Many have speculated that they're a sleeper lying in wait to upset some unsuspecting squads. Since they haven't played many top opponents it's tough to have even the slightest idea of how they might fair, but at the very least seeing their name repeatedly plastered across Score Reporter and various other USAU functionings should be frequently good for an easy laugh.