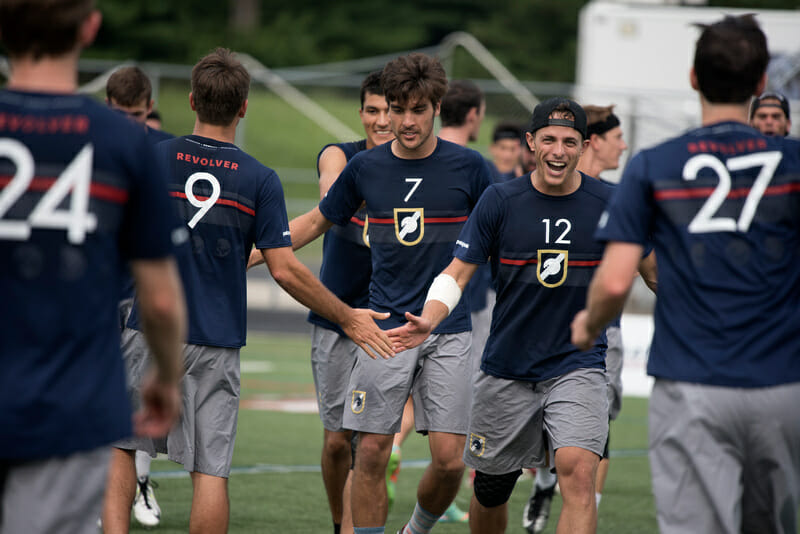 Pool A:
San Francisco Revolver 15-8 Philadelphia Patrol
San Fransisco Revolver (overall #1, seeded A1) scored a commanding  win over Philadelphia Patrol (overall #12, seeded A3). After two holds, the Revolver D-line took over the game early, mixing up looks and running out to an early 4-1 lead. Patrol took a timeout to assess the deficit, but the point gap stayed wide as San Francisco's athletic and talented defense remained in control for the rest of the game.
Patrol's lines were open by the second half, although they were able to record a break to make the score 9-6. Revolver's offense answered with lightning quick efficiency, and kept their distance over Patrol. A 15-8 finish gave Revolver their first win well inside the soft cap horn.
Madison Club 14-13 Chicago Machine
Madison Club (overall #13, seeded A4) upset Chicago Machine (overall #8, seeded A2) 14-13 in a soft-capped sloppy game. Chicago Machine squared off just a few fields away against nearby rival Madison Club. Machine patience and defensive coordination defined the first half, as they positioned themselves well to gum up Madison cutters from the front of a vertical stack. A pair of breaks came early for Machine to put them up 4-2, scoring off of good blocks ands and a couple of very athletic catches. George Hughes, Machine's 6'6″ O-line cutter, was active early and owning his match ups, and throwers found him quickly.
Walden Nelson widened the Machine lead to 7-4, recording bookends after getting great position to stop a Madison deep shot, and then catching up for a flip off a long huck to Kevin Kelly. Travis Carpenter recorded the fourth Machine break off a throw from Jonathan "Goose" Helton, and Machine looked steady and in control, taking half 8-4.
The second half turned loose and both teams lost discipline in the steady crosswind.
Machine had gained an advantage by activating tall cutters in deep space, but hucks started to fall short or into double coverage early in the second half. Madison stayed close, focused, and competitive, benefitting from excellent play from Kevin Brown, Brian Hart, and Colin Camp. They worked in a break for close the gap to 8-10, and heaped the pressure onto Machine's offense.
At 13-10 and game to 14, with the soft cap on, Chicago's offense had done just enough to keep the lead in hand. Madison, not backing down, doled out some heavy hitting man defense, and a number of multi-possession points dragged the Machine offense into the muck. After some fearless Madison deep shots, the score was suddenly tied at 13, with Chicago's O-line to receive.
With the wind nearly at his back, Helton sent a monstrous backhand deep 75 yards to a streaking Brett Matzuka, but Thomas Coolidge was there for a big-time layout block to earn the disc for the Madison defense. A first-throw turnover put the disc back in Chicago hands, but a poorly thrown flick bladed into the grass of the end zone before Walden Nelson could secure the game-winner.
Madison Club took the disc back down the field, and worked it hard for a few resets outside the end zone against the churning Machine O-line. A high flick went up over the stack and into the end zone for Peter Graffy, and a diving Matzuka was there to make the interception, but Graffy called for a foul. After a heated discussion, the disc went back to the thrower, and Andrew Meshnick found Graffy a few resets later to seal the upset win for Madison.
Chicago's composure seemed to disintegrate in the second against a Madison defense that they had handled well in the first half. A lack of efficiency let Madison see the road to a win, and they did well to stay close. Madison also took the edge on hucking in the second half, something their leadership has been working into their game plans this season.
Pool B:
Austin Doublewide 15-10 Raleigh Ring of Fire
The top seed in the pool took care of business in game one, beating the 2014 semifinalists this morning. Doublewide (overall #2, seeded B1) showed a good-looking offense, as they were able to mix and match personnel and still do pretty whatever they wanted against a Ring of Fire (overall #11, seeded B3) defense that looked a step behind all day. Kurt Gibson looked back at home in a Doublewide jersey, as his 5 assist 2 goal performance shows why he is widely considered one of the best players in the world.
Austin came out hot, jumping out to a 7-3 lead on the back of smooth offense and a very efficient defense that was happy to convert the many opportunities that some sloppy offense from Ring sent their way. Dalton Smith, handling on the D-line for Doublewide, had several pretty throws to help stake his team an 8-4 halftime lead.
Ring would look better in the second half, as their deep game started to click and their defense started to increase the pressure on Austin's O-line. The closest they would get would be 11-9, before Doublewide went on a 4-1 run to close out the game.
Minneapolis Sub Zero 15-14 Portland Rhino
New year, same result, as Sub Zero (overall #14, seeded B4) upset Portland Rhino (overall #7, B2) for the second year in a row to kick off the action in Pool B.
Neither team was able to seize the momentum early on, with the early morning gusts disturbing both teams and causing some long sloppy points. Rhino would put a couple breaks on Sub in the first half on the way to  a 6-4 lead, but some physical errors from the Portland offense allowed Sub to climb back in the game, eventually breaking for half at 8-7.
Dylan Freechild was the focal point of the Portland offense, initiating the action out of a side stack and burning whomever Sub put on him to the tune of 4 goals and 2 assists. The Rhino offense in general was able to consistently move the disc downfield against a Sub Zero defense that wasn't able to apply much pressure to an athletic Portland offense.
Sub Zero's offense was running largely open lines, trying to find the right personnel combinations. They were without the services of stud deep threat Nick Stuart who appears to be saving his injury-prone body for later in the weekend. In his place, Sub Zero rookie Conor Kline stepped up in a big way, scoring 4 goals and using his speed to stretch the field, opening up space for his teammates to operate.
The teams would grapple for the upper hand all second half, with the game eventually coming down to double game point with scores tied at 14-14. Rhino received and Cody Bjorkland underthrew an open Freechild on a huck to the endzone, which gave Sub Zero a chance to break for the win. They could not capitalize however, as Topher Davis made a nice play on a huck to get the disc back for Portland.
Rhino would turn near the endzone again, when Trevor Smith tried to force an I/O flick that went straight to a defender. Sub would convert on their second chance, when a floaty around throw from Grant Lindsely to Ben Jagt held up in the air, allowing Sub Zero's Greg Cousins to sky a pile for the win.
Pool C:
Seattle Sockeye 13-7 Florida United
This isn't Seattle's first rodeo and it showed, as Sockeye (overall #3, seeded C1) cruised to victory over Florida United (overall #10, seeded C3). United, making their second program appearance at club Nationals, was unable to find rhythm offensively and create effective pressure on defense.
The Fish took half 8-3 and never looked back. Florida United wasn't supposed to win this game, but if they want to stay away from Pool B's top seed they'll need to get in sync offensively.
Washington D.C. Truck Stop 14-13 Toronto GOAT
If you want to make a big comeback you've got to keep the faith.
Neither team was crisp in the first half. Toronto GOAT (overall #15, seeded C4) broke to start and broke again to go to the huddle up 8-6. Washington Truck Stop (overall #6, seeded C2) had plenty of chances to score on defense but was plagued with bad drops.
Even down 11-7, Truck Stop coach Mike LoPresti trotted his top guys out there.
Finally at 12-9, DC's Bobby Gordon got a layout block on a swing pass in GOAT's endzone and Truck cashed in their first break of the game. GOAT received a deep pull and gave DC a short turn that led to a second consecutive break.
O-line handler Alan Kolick would stay on the field for several of Truck Stop's remaining defensive points which helped resolve flow issues when they got the disc.
At 13-13, Truck Stop came down in a zone. Toronto worked it to the brick mark and, just as DC smoothly transitioned to man-to-man, GOAT missed a late stall up-line throw. Truck called it's final two timeouts to patiently walk the disc in as Nate Castine found Peter Prial for the game winner.
Pool D:
Michigan High Five 15-10 Boston Ironside
Michigan High Five (overall #4, seeded D1) started off their nationals campaign with a solid performance against Boston Ironside (overall #9, seeded D3). The game started out sloppy for both sides, with multiple turnovers per point giving plenty of opportunities to the opposition. Ironside capitalized early, with a 4-2 lead thanks to Tyler Chan. The Johnny Bansfield vs Tyler Chan matchup was pivotal for most of the game. In the first half, Chan took a bulk of the Boston offense. High release backhands and his open field speed set up multiple scores, worrying the favorites. High Five would eventually close the gap, setting up an opportunity to take half at 7-7. Ironside missed an easy chance to gain the advantage and High Five took a tight one point lead with a fantastic Mitch Cihon backhand break.
The second half showed a remarkably different High Five team. The offense was finally clicking in the way an elite level offense should, with minimal turnovers. Ben Ayres stepped up his game big, with an impressive sky for a break out of half. An inspired string of breaks forced the Ironside offense to try and change things up, and effectively dig a deeper hole. The statement of the game came from Johnny Bansfield skying a few Ironside receivers on a throw that he had marked. Chilly offense from the Michigan squad finished the game off, opening their tournament with a five point win.
Denver Johnny Bravo 15-7 Kansas City Prairie Fire
The defending national champions were all business in their first matchup of the tournament. Strong defense from Denver Johnny Bravo (overall #5, seeded D2) gave them a quick 5-0 lead, and a smart rotation from Head Coach Bob Krier would keep the important players in the game without tiring them out. Prairie Fire (overall #16, seeded D4) did however show flashes of greatness. When Valley Renshaw laid out big for the score at 8-4, the spectators saw the sparks of the impressive athletes that make up their squad. The offense from Bravo was too consistent, as they traded in the second half for an easy win. They'll look to continue the winning ways against Ironside in round 2.