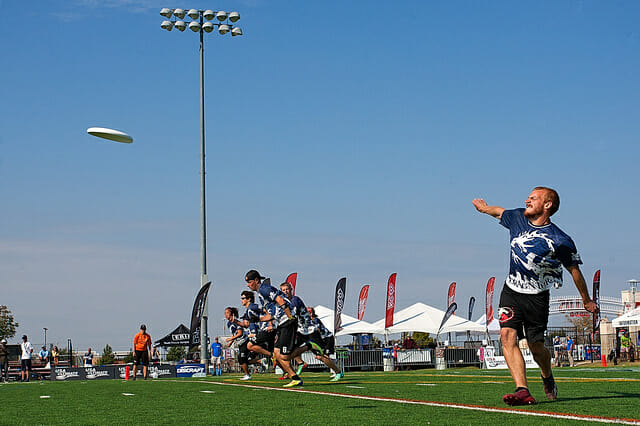 Pool A:
Minneapolis Drag'n Thrust 13-11 Madison NOISE
Despite coming in as something of an afterthought in a pool with the two finalists from last year, Madison NOISE (overall #12, seeded A3) very nearly pulled off the upset of the tournament before falling late 13-11 to Minneapolis Drag'n Thrust (overall #1, seeded A1).
The pounding rain that ran through most of the first half kept the game tight, with both teams racking up the turnovers.
Yet, somehow, NOISE managed to take half 8-7 on the two-time defending national champs.
With the rain and wind dying down, the defense on both sides got more aggressive and throws often had to be squeezed through tight windows or repeatedly dumped in wait for openings downfield.
At 10s, NOISE cutter Claire Kelley came down with a huge layout grab in the endzone on a huck to make it 11-10, game to 13. It looked like the overall one seed was going to be upset in pool play for the second year in a row.
But that's when Drag'n Thrust showed why they are who they are. With tight defense and very patient offense that utilized give-gos and break throws to open up space and new lanes downfield, Minneapolis rattled off three straight to close out the win and put them in a good position to manhandle 7 Express in their next match.
Seattle Mixtape 15-5 New York 7 Express
A slurry of unforced errors, including a handful of embarrassing drops sunk New York 7 Express (overall #13, seeded A4) into an 8-1 hole early that they were never able to climb out of.
Seattle Mixtape (overall #8, seeded A2) executed like a championship team, even in their deep shots through the pouring rain, proving that they are dead set on returning to the title game even more ready to earn their first national title.
Pool D:
Boston Slow White 15-7 Philadelphia AMP
The defense of Boston Slow White (overall #4, D1) was simply too much for Philadelphia AMP (overall #9, seeded D3). Though the latter hung tight in the first half, almost nothing came easy and Boston really opened up the game in the second half. Philadelphia just had no chance.
Slow White was a step within the AMP cutters all game, and Philadelphia couldn't figure out how to alter their vert stack to open up more space.
On the turn, Boston showed great poise and patience, working it up, even in the rain, with short passes and easy looks.
Though they certainly looked fallible early on, the rest of Pool D is going to have to figure out a way to confuse Boston's defense if they expect to make any headway.
Chicago UPA 11-10 San Francisco Blackbird
Coming into the tournament, The UPA (overall #16, seeded D4) were as big a wild card as they come. With only a modest showing at Heavyweights and a not terribly impressive Regionals win in the so-so Great Lakes region, there was no telling how good they were.
A solid 11-10 universe point win over Southwest Regionals champs San Francisco Blackbird (overall #5, seeded D2) in their first game of the weekend goes a long way toward revealing their great potential.
The game was close the entire time, with no team gaining more than a single break advantage at any point. Though those advantages would be nullified, UPA would manage to hold onto their 8-7 halftime lead and ride it to an exciting 11-10 finish, with no breaks coming on either side in the second half.
Despite Blackbird's wealth of talent and experience, they kept taking sketchy looks in the first half and threw away a number of break opportunities. UPA, on the other hand, while being far from perfect, managed to stay more patient over the course of the game and showed great ultimate IQ reacting to Blackbird's various poaches.
Note: Pools B and C in the Mixed Division had a bye for Round 2.