Pool A:
San Francisco Revolver 15-10 Madison Club 
Rain came unexpectedly pouring out of the sky onto the previously pristine fields as the second round of the men's division got underway. Madison Club (overall #13, seeded A4), fresh of an impressive 4-point comeback win on double game point over rival Machine, sent its red hot man defense out to take on Revolver (overall #1, seeded A1).
A break pushed Madison to the 1-0 lead and ignited a grinding competition with the San Francisco favorites. As the rain picked up, both teams traded points back and forth, keeping the game on pace and intense. 12 points into the contest, the unexpected precipitation had all but subsided as Revolver pulled, tied at 6-6.
Off a relatively quick Madison turn, a deep cross-field 50-50 shot from Revolver went into a pack of players and was tipped out of reach. San Francisco kept the pressure on and forced another turnover from the Madison O-line, and Taylor Lahey found Zachary Travis for their team's first and much-needed break.  Sideline spectators dried off as Revolver forced another turn on defense, and Jamie Quella found Jordan Jeffrey for the 8-6 lead at half.
Madison's O-line coughed up two more turns on the first point from half and Ryo Kawaoka launched a full field backhand to Lucas Dallmann to extend Revolver's lead to 9-6.
Madison Club showed Revolver a look at their zone at 9-7, after lots of first-half success in man. Whether it the defense was losing some of their legs or the lack of wind, an efficient point from Revolver found the right gaps and Beau Kittredge reeled in the goal for 10-7. Madison would not recover much ground in the face of Revolver's O-line pace, and San Francisco showed their focus and control to secure the lead.
Philadelphia Patrol 15-14 Chicago Machine
In a game that had a number of lead changes, Philadelphia Patrol (overall #12, seeded A3) notched their first nationals win in program history on double game point, 15-14 over Chicago Machine (overall #8, seeded A2).
Machine edged their way into a halftime lead, but these teams matched each other well in both height and athleticism and stayed largely in man defense, with both teams working to help cover deep shots. With an 11-10 lead, Chicago pulled to Philadelphia. Cutters continued to churn into the wet field, as divots started to pockmark the field. Jake Rainwater snuck a flick into the end zone for Billy Sickles to secure the hold for Patrol.
Chicago answered with one of their most efficient scores of the half. After some easy work down the field, Jonathan "Goose" Helton bladed a flick across the red zone for AJ Nelson, and kept the lead in Machine's hands.
After securing the tying score at 12-12, Patrol ground out a turn from the Machine O-line, and a high flying hammer turned over early, but was secured by David Baer in the end zone to give Philly the 13-12 lead. The soft cap sounded as Machine answered with a 13-13 hold.
Two more holds put Machine in another double game point position, this time pulling. Jake Rainwater, who spent much of the second half in full control of every matchup he received, reeled in one of a number of goals for a one-possession score and the Philadelphia win.
After two rounds:
Revolver is 2-0 and faces and 0-2 Machine next. Madison and Philadelphia, both at 1-1, will square off for what will effectively be the second place in the pool.
Pool B:
Austin Doublewide 15-8 Minneapolis Sub Zero  
Any momentum that Sub Zero (overall #14, seeded B4) had picked up after taking down Portland Rhino this morning came to a screeching halt as Austin Doublewide (overall #2, seeded B1) dominated virtually every aspect of this round two matchup.
Sub simply had no answer for the height and physicality of the Austin squad. Doublewide was able to out jump, out run, and outscore their opponents all game. The big bodies of Ethan Pollock and Will Driscoll looked almost unstoppable on offense, usually scoring within a few throws. Kieran Thomas, making his return to Nationals with Doublewide this season, hasn't lost a step and made a number of impressive grabs over multiple opponents.
The game got out of reach early, as quick efficient play from Austin's D-line offense propelled Doublewide to 7-2 lead before Sub Zero could get their bearings straight. While Kurt Gibson did a lot of the heavy lifting in the first game for Doublewide, their big lead allowed them to spread the wealth and playing time.
The win combined with Rhino's loss clinches the pool for Austin, as the favorites have emphatically taken care of business in pool play and will get the chance to rest some of their legs heading into elimination play tomorrow.
Raleigh Ring of Fire 15-13 Portland Rhino
Rebounding from a lackluster performance against Doublewide in round one, Ring of Fire (overall #11, seeded B3) managed to come out on top of a back and forth affair over Portland Rhino (overall #7, B2). The win puts Ring in position to break seed and finish second in the pool, while Portland's loss relegates them to a second consecutive last place finish in pool play at Nationals.
Despite a torrential downpour that accompanied the start of the game, Ring kept the fire burning and got off to a scalding hot start, going up 5-2. John Nethercutt, playing a lot of defensive points today, was able to cut through the precipitation with big O/I forehands that zoomed perfectly into the hands of streaking receivers.
Down 5-2, Rhino called a timeout to regain their composure and ripped off a run of their own, holding and then breaking twice to tie the game 5-5. The teams would trade holds to half from there, with each offense looking confident working the breakside unders.
Out of half Ring changed up their defensive approach and tried some junk zones designed to trap Rhino on the force sideline. Big handler Eli Janin was more than ready to oblige this strategy, as he sent booming hucks over the top of the defense for quick scores. With the score 11-11, Ring went back to a hard man approach and clamped down on Rhino's handlers, which forced several dump space turns that Ring's defense managed to capitalize on.
With the score 14-12 Ring, Dylan Freechild roasted his defender for a deep score to bring the game within one, but was given a TMF by the observer for a delay of game after the point. It was Rhino's third TMF which allowed Ring to start with the disc at Rhino's brick mark, a mere 20 yards from the endzone. Nethercutt promptly sent a hammer breakside to Jarrett Bowen for the win.
Pool C:
Seattle Sockeye 15-9 Toronto GOAT
Facing off in pool play of Nationals for the fourth consecutive year, Sockeye (overall #3, seeded C1) is keeping with tradition and improving to 4-0 in that annual rivalry.
Seattle's offense is humming along and GOAT (overall #15, seeded C4), after dropping a heartbreaker to Truck Stop, find themselves staring at the prospect of another disappointing Thursday a Nationals. An encouraging note for GOAT is that they've been here before. In 2014 they ran a subpar pool performance to a semis appearance.
The Fish will have one more game to cement the fact that they are the cream of this year's "Pool of Death."
Florida United 14-11 Washington D.C. Truck Stop
In heavy rains followed by residual wetness, Florida United (overall #10, seeded C3) pulled off a gritty statement win over Truck Stop (overall #6, seeded C2).
United is mean, nasty, and, above all, fun to watch. The big-play style of college ultimate you've come to expect from Florida schools is on full display.
At 7-7, Daniel Petronio hauled down a contested hammer from Jeremy Langdon to go up a break at half. Florida pressure was steady in the second half and forced several Truck Stop miscues.
Break chances for Truck became scarce. On offense, United was quick to move the disc and challenged the Mid Atlantic champs to play tight to the break side, for fear of an inverted throw. Cole Sullivan turned in a monster performance for United with fearless over-the-top throws and handler movement. Another Langdon hammer sealed the game for Florida, 14-10.
In round 1, United found themselves in a hole early against Sockeye and chose to save legs for other pool play opponents by opening lines. Meanwhile, Truck Stop kept their horses in against GOAT and rallied back from 11-7 to win on double game point.
Truck has already been in two tight games in as many rounds. It will be interesting to see if this extra milage comes back to bite them.
Due to obligations United is playing Thursday without Bobby Ley and Chris LaRocque. They return to the team tomorrow.
Florida coach Cyle Van Auken is nobody's fool, thus the decision not to die the battlefield against Sockeye at 9 AM. When reinforcements return tomorrow for prequarters, United will be a scary draw for any competitor at this tournament.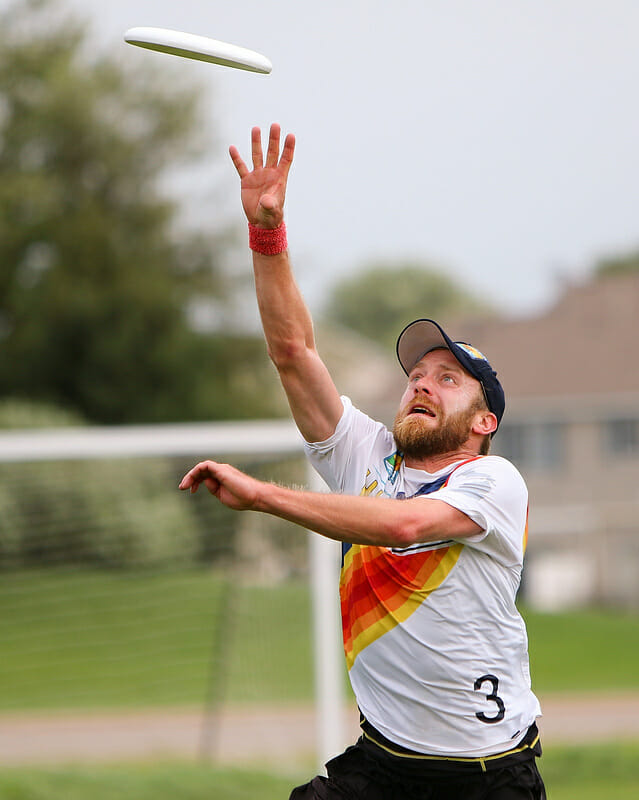 Pool D:
Denver Johnny Bravo 14-12 Boston Ironside
The second round of Pool D featured a rematch of last years National Championship game. But without Kurt Gibson, George Stubbs, and plenty of others, the game could have taken a different shape. But it was just as close as last year. The first half was back and forth, with no team being able to rattle off consecutive breaks. The pouring rain couldn't stop the strong offenses for either side, going four straight points without a turn. But the floodgates opened with Bravo (overall #5, seeded D2) up 5-4. A marathon point ensued, with turns for both sides and questionable decisions abound. Ironside (overall #9, seeded D3) would finally find success in a Will Neff sky over two Bravo defenders. A quick dish for the score kept Ironside in it and left Bravo tired.
Ironside took their momentum and turned it into a break. They would keep their one point lead until late in the game at 10-9. Faced with a limited amount of time, Bravo turned it on. Three straight points gave them a 12-9 lead. Ironside managed to close the gap, but a Jimmy Mickle sky to go up 13-12 was demoralizing enough to assure the 14-12 victory. Bravo remains undefeated on the day, while Ironside is in range of a tough prequarter draw.
Michigan High Five 15-12 Kansas City Prairie Fire
The scoreline of this 1v4 matchup doesn't quite tell the full story. In their first trip to nationals, High Five (overall #4, seeded D1) was caught in a classic situation. They had just bested a strong Ironside team, and flying high, they know had to deal with the seemingly worse 4-seed Prairie Fire (overall #16, seeded D4). Kansas City capitalized on the sleeping giants, and rattled off a few breaks for an 8-6 halftime lead. Abe Coffin registered two assists and a goal in the first half, but there was more to do.
Halftime wasn't the wake up moment for High Five, and Prairie Fire got yet another break for a 9-6 lead. But then High Five's Connor Haley stole the moment with a huge sky over multiple defenders to bring it to 10-8, and it's game on. With the game tied at 11's, Johnny Bansfield gets a clutch layout D. He picks up, then throws a perfect flick blade to James Highsmith for the goal. High Five had their first lead since 6-5. The defense was finally playing up to the competition, and they comfortably closed out a troubling game 15-12.