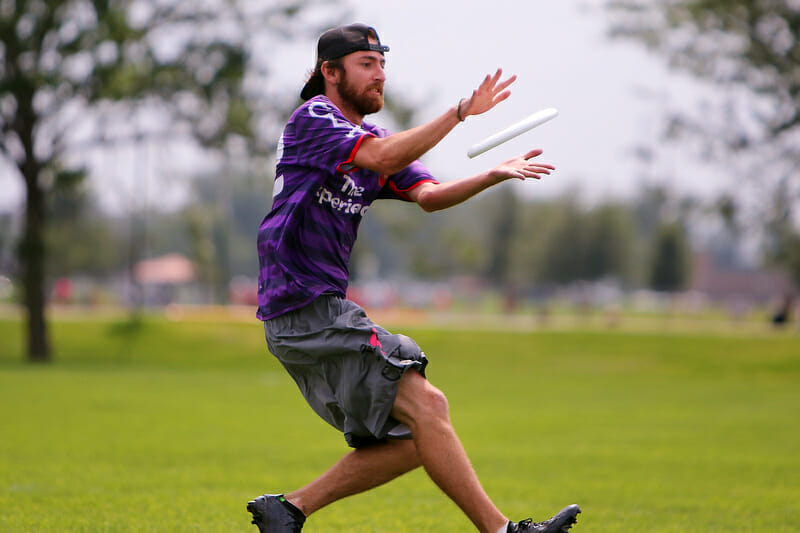 Pool B:
Ames CLX 17-15 New York Metro North
Much like the previous round with Drag'n Thrust's near-upset, Ames Chad Larson Experience (overall #2, seeded B1) nearly dropped a close one to New York Metro North (overall #11, seeded B3) but managed to squeak out a 17-15 win.
For almost the entire game, it looked like Metro North had it in the bag. They jumped out to a 3-0 lead and took half 8-4, all on the back of only one first half turnover. But then it started to slip away.
CLX rattled off three straight out of half and eventually tied it up at 11s. It would remain a one-point game up through the final break to take the two-point victory. Their break to take the advantage at 13-12 was all they needed to coast to a big win.
Both offenses looked strong throughout the contest, particularly when it came to deep shots. Neither defense seemed to find an answer for how to stop hucks from getting off or being completed. Part of this was due to a slurry of excellent puts from the throwers, but it also came from poor defensive positioning downfield.
Metro North played a loose, freeform kind of vert stack—the kind of seemingly pick-up style you'd expect from a team of veterans. CLX, however, just looked too disciplined and in sync to be stopped.
Washington D.C. Ambiguous Grey 14-12 Atlanta Bucket
Right out of the gate, Washington D.C. Ambiguous Grey (overall #14, seeded B4) proved that their Mid-Atlantic Regionals victory was no fluke with a big 14-12 upset win over Atlanta Bucket (overall #7, seeded B2).
The latter had their full roster for the first time this season and the incorporation of all those new elements together at the same time really showed, especially on offense. Offensive miscommunications and bad looks plagued Bucket for the first two-thirds or so of the game and put them in a hole too big to climb out of.
Ambiguous Grey, on the other hand, came out hungry and locked in. They used their athleticism and quick disc movement to rack up some early breaks and take half 8-5.
Though Atlanta would eventually wake up and derive momentum from some solid defensive pressure, they just couldn't execute well enough to pull of the comeback, despite coming within one at 13-12.
Pool C:
Boston Wild Card 15-12 Boulder Love Tractor
Thanks to a series of mini-runs, Boston Wild Card (overall #3, seeded C1) held Boulder Love Tractor (overall #10, seeded C3) at bay and secured a confident 15-12 win in their first game of the tournament.
With their athletic vert stack and strong handler play, Wild Card jumped out to a 4-1 lead. Though Boulder would tie it up at 5s and go into half on serve, Boston would make another run out of half to go up 11-8 and hold that two break advantage through the end.
Love Tractor came out with a lot of energy and tried some different defensive looks and various poaches to try and stymie Wild Card's vert stack. But the latter knew how to punish the poaches and play dynamic offense, hitting freed up cutters whenever their defenders left their sides.
While Boulder looks to be a solid contender, Boston looks like the real semis (and possibly championship game) hopeful that their potential hinted at.
San Francisco Polar Bears 15-13 Seattle Birdfruit
In a tightly contested match where no team took a lead larger than two, San Francisco Polar Bears (overall #6, seeded C2) stole a 15-13 victory away from Seattle Birdfruit (overall #15, seeded C4) thanks in large part to some great defense in the final point that led to the winning break.
While both offenses were far from perfect, both defenses also struggled with scoring breaks, handing out multiple second chances on both sides.
But PBR is the kind of team that loves to fight in really close games, knowing that they should have the edge in terms of discipline and mental fortitude, and they once again returned on that promise.
A good majority of San Francisco's points came from 10+ throw possessions where they were content to work it up and move the disc if they didn't see any good away looks downfield.
Although Birdfruit looked surprisingly strong, it was Polar Bears that proved to be the more veteran squad that knew how to finish in the end.
Note: Pools A and D in the Mixed Division had a bye for Round 3.