Get ready for Friday's elimination play with our Thursday recap!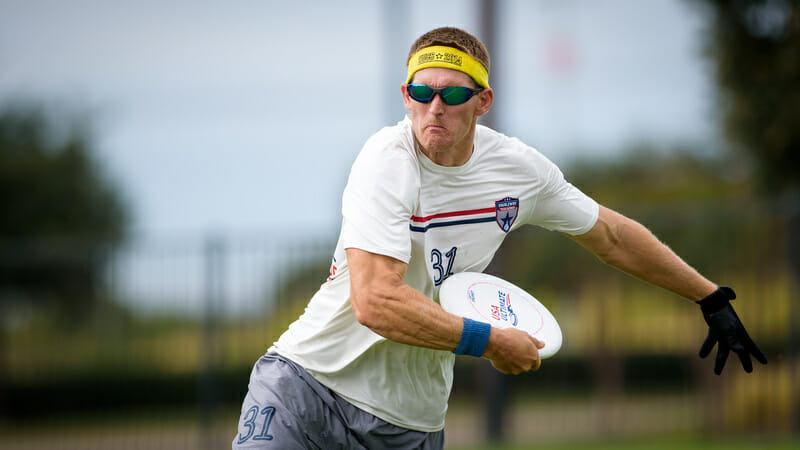 Here's a look around the action on Thursday at the 2015 National Championships in the Men's Division.
Pool A
Revolver Unscathed in Pool Play at 3-0
Through intermittent rain and wind, San Francisco Revolver held the rest of Pool A at bay, winning by no fewer than five points in each of their three games and sealing the deal on a prequarters matchup tomorrow morning with the tournament's overall #16 seed, Kansas City Prairie Fire.
Though both Madison Club and Chicago Machine offered gritty resistance in the form of athletic man defense in their respective first halves against the Bay Area behemoth, Revolver showed loads of second half poise and focus. Philadelphia Patrol couldn't muster the same sort of first half lead, or even resistance — they found themselves in a 4-1 hole early and never recovered.
Revolver spent the day sending out much of their deep defensive line, alternating between a freakishly athletic man defense and a freshly-refurbished "middle-mark" zone that the team revived for the 2015 season. Madison recorded one of just a few breaks against the San Francisco O-line, which continued to put on a throwing clinic as they worked through opposing defenses.
There was no repeat of last year's extended rest for players with tweaks or nagging injuries. Payne was happy to report that for the first time since his last year playing in 2010, the team entered Thursday's games with everyone healthy, and left the fields that way, ready for a prequarters matchup against Kansas City Prairie Fire.
Philadelphia Patrol & Madison Club Break Seed With Statement Wins
The pool's #3 and #4 seeds each climbed up a spot with their respective wins today. Patrol notched a second round double game point win over Chicago Machine after trailing most of the way, and then fended off two Madison runs in the last round to earn the second seed in the pool and a prequarters match up with Boston Ironside.
What stood out most was the Philly defense, which went two lines deep and saddled each of their latter two opponents with tough man-to-man match ups and hotly contested hucks. Jake Rainwater, Nick Hirranet, and David Brandolph put their long-running chemistry on display for the offense, and making up for some at-times inconsistent performances with the kind of hucks to space that only come with a rapport built over many games and seasons together.
Tomorrow's prequarter against a younger, fresh-look Boston Ironside promises to be an exciting one, as both teams have an interesting blend of experience and young athletes to pit against each other. "I'm hoping to potentially exploit their uncertainty in their roles…put some pressure on those guys and say, 'Hey if you're going to succeed on offense, you're going to have to do it against what I consider one the best defenses here," Zargham said.
***
Madison Club, fresh in Frisco with a greater commitment to game-planning and preparation, unleashed a torrent of hucks on each of their opponents today, with varying degrees of success. Their pivotal win came early against rival Chicago Machine, when Madison roared back with a 4-0 run to win 14-13 on double game point, which served to guaranteed them to break seed when the day was done.
Though they took two losses on the chin later in the day, taking the third spot in the pool landed Madison with an interesting matchup in prequarters against Michigan High Five, a team with a similar blend of speed and hucking. If Madison can pour pressure on throughout tomorrow morning's game the way they did against Machine and early against Revolver, a stumble or two from High Five could prove dangerous.
Machine Face Two Double Game Disappointments
Not much is left to be said about Chicago Machine's rough outing in pool play today. Their first round loss saw them give a lead back to Madison in the with multiple chances to close out the game, and Patrol took the lead just before time ran out and left Machine pulling on double game point. Revolver owned the last two thirds of Chicago's final game.
"The silver lining is that we have the same opportunity to win this tournament as we did before the day started and the same opportunity as everybody else for tomorrow, so that's there keeping us in check. But I think everybody's collectively disappointed with how we responded to some adversity today," said captain Kevin Kelly. 
Pool B
Those of you looking for concrete answers about the teams in Pool B might be disappointed, as the results today seem to raise just as many questions as they answered.
Is Doublewide really this good?
Doublewide looked absolutely imperious today, handily taking down Ring and Sub Zero before losing a meaningless game at the end of the day in which their second string players came within a couple points of taking down Portland Rhino.
With a whopping 10 players on their roster above 6'1", Doublewide were able to bully their opponents up and down the field, and the returning veterans like Kurt Gibson and Kiran Thomas clearly haven't lost a step. But it should be noted that no team gave Doublewide their best shot today, as in general their opponents opted to save legs for their other pool play games and tomorrow. Against a team playing all out, they might not have been able to be as physically dominant and hit on all their deep shots. We'll find out tomorrow morning when they face off against GOAT in prequarters.
Will Sub maintain their momentum this year?
Last season Sub Zero came out hot in pool play, only to cool off in a big way once the elimination rounds began. If they are going to avoid that fate, it may come down to the health of their dominant cutter Nick Stuart.
Stuart sat out every game until their showdown with Ring of Fire at the end of the day, and he put a spark into the team that just wasn't there before by providing a big target for speed merchant Conor Kline to play off. Kline had himself quite a day at his first club Nationals, tallying 10 goals in three games.
Sub Zero captain Simon Montague said that after their disappointment last season, the team made sure to open up their lines and keep everyone fresh for day two. Sub got the results they wanted without having to expend too much energy, but will face stiff competition tomorrow against Truck Stop if they hope for their Cinderella run to continue.
Who is the real Ring of Fire?
Last year Ring slow played Thursday at Nationals before they took it to Machine in prequarters, so there is some reason to believe that the Ring we see tomorrow may not be the same as the one we saw today. The team, coached by defensive wizard Mike DeNardis, only sparingly employed tricky defensive looks, and their opponents tomorrow could encounter much more of that on Friday. The return of Justin Allen could play a big role as well, as he was not available to play today but will be in action tomorrow and could provide a little edge to a Ring D-line that didn't quite have their trademark intensity on display today.
Can Rhino do it again?
Rhino vs. Sockeye round III will take place tomorrow morning in the shadow of Rhino's famous take down of the Seattle squad from 2014 Nationals, and it will occur in almost the exact same circumstances this year. But can they pull it off?
Based on their performance day one, it doesn't look likely. The D-line for Rhino managed to force plenty of turnovers, but looked toothless when trying to convert on their own, and the O-line looked out of sync most of the day. It should be noted that Dylan Freechild and several other key players for Rhino played almost no D points the entire day, even at the end of tight games, so perhaps the composition of the team will look different tomorrow when the chips are on the table.
Pool C
Sockeye With a Shot at Redemption
Seattle is weirdly mirroring their path from last year's Nationals.
They were the third overall seed. They went 3-0 to win their pool. And for the second year in a row, they will face regional foe Portland Rhino in prequarters — the team that ended their season in 2014.
Before Nationals, Seattle captain Danny Karlinsky revisited that game in an interview with Ultiworld.
"I think it was a game where they played extremely well and we played not that great," Karlinsky remembered. "It was a huge win for them and a good learning lesson for us; that they are rivals in equal amounts."
This is a dream matchup for spectators and fans. Limited footage from the prequarters last year teases that this contest has the potential to be…intense.
Sockeye does all the leg work to win the pool, then they draw Rhino — the last team to have beaten them this season.
Less than three weeks ago, Rhino upset Sockeye to win the Northwest regional title, 16-14.
Sockeye is the clear cut favorite. Rhino is the a four seed for a reason, having only managed one win against a Doublewide team who had already locked up the top spot. But to use a cliche as overused as it is accurate: you have to throw the records out on a rivalry game like this.
Florida United On The Rise
It's tough to get a read on coach Cyle Van Auken and his team that could pass as a Florida-specific NexGen Tour. They're not like the other teams at Nationals.
"We came into the day with loose expectations knowing that we couldn't even pick an opponent that we wanted out of the B Pool," Van Auken flatly shared after beating GOAT to finish 2-1 on the day. "We knew to be prepared for tomorrow morning and not really care about what the results got us."
United doesn't do a lot to surprise you out there. They center the pull up to Cole Sullivan in a horizontal stack and it's off to the races.
On both sides of the disc there's an ever-present confidence. No worry. No nerves.
"Our entire team philosophy is to be very loose. We've found that we can't get actually out of our chairs before games at four minutes before game time," Van Auken said with a smile. "It has to be three minutes before game time, otherwise that's too much."
Whatever works.
Florida United had a great day and they're only going to get better. On Friday they will return Chris LaRocque, Bobby Ley, and James Dahl, who all had prior obligations. The fact this team was able to survive — and thrive — without Ley and Dahl to command the backfield really underscores their roster depth.
LaRocque, who has not played a point for United yet this season, will likely plug in on the D-line in place of Travis Catron (who is sidelined with a concussion sustained in the GOAT game).
United has reinforcements on the way and they come out against Ring of Fire who they beat in the regional final. Like their Southeast pals Raleigh last year, this could be suddenly playing on Saturday.
Truck Stop Survives
The day wasn't a disaster for Truck Stop but if it hadn't been for a late comeback against Toronto to win on double game point, it could've been.
DC has looked as good as anyone in spots but mini slumps in the middle of games have left a lot on the D-line's plate.
Truck is still dangerous. The talent is there on defense to get them back into any game and the team as a whole is in shape. DC had no qualms with leaning on certain players to eat points. In the three consecutive pool play games guys like Alan Kolick, Peter Prial, and Nicky Spiva spent time on both lines when needed.
A prequarters game against Sub Zero is a good draw for them. Truck has already defeated them twice this year.
The body language Truck displayed at the end of the day Thursday was positive — even though a misstep against Florida gave them their largest margin of loss all season. DC seems ready to move on to the bracket with a clean slate.
"Our best ultimate this year has been in times where we're looking to move forward always and always improve and always grow from what just happened," captain Jonathan Neeley told Ultiworld before Nationals. "That's the mindset that puts us in playing our best ultimate. When we're doing that I wouldn't want to play us."
GOAT: Up to the Challenge
"I think we were pretty sad to let that one against Truck Stop slip away," GOAT coach Shooter Hastie reflected after pool play.
"They obviously ratcheted up pressure. I just think we allowed ourselves to get tight, and that's something we've been able to get out of game a little bit."
Toronto didn't look tight when they led Truck 11-7. Without being able to close out round 1, the Canadians suffered some lasting effects in their second game against Sockeye, and couldn't sustain a late surge to get a win over Florida United.
That's an 0-3 finish with two double game point losses.
As a GOAT player quipped when trailing Florida United, "You gotta beat the good teams sometime. Might as well be prequarters."
He's not wrong. Toronto looked down for the count in 2014 but found a way to semis through the tournament's top seed in Revolver. The path of most resistance.
"We're pretty keen on not getting too high or too low, but I don't think we can ever be accused of getting too high in any of those three games," Hastie said, pointing to sideline energy as a necessary adjustment. "Sometimes I think you need to do that a little more."
Tomorrow GOAT will set out to do the unexpected — again.
If nothing else and with the season on the line, expect Toronto to be breathing fire at the start of their meeting with Doublewide.
Pool D
Pool D began with a simple question: Would High Five live up to the hype?
The answer started to come in round one when they handily took down Ironside. Both teams started out with early jitters and nerves, but after a few big plays under their belts, the offenses began to take shape. Johnny Bansfield took the tough matchups defensively, most notably on Tyler Chan. Bansfield's defensive play can best be described as opportunistic. The few times that throws were the tiniest bit off, he was there. In the second half the High Five star got three D's on the way to their 15-10 victory.
Meanwhile, the defending champs were off to a strong start. Unlike their pool competitors, Johnny Bravo showed little nerves, coming out clicking on both sides of the disc. Their decisive victory over Prairie Fire was no surprise, but it still did set them on the right course.
They would need that momentum for their upcoming finals rematch with Ironside. A close contest climaxed at 12 all in a game to 14. In what had been a back and forth second half, Jimmy Mickle made the game changing play. An ill-advised upwind huck from the Bravo handler was saved by Mickle's ability in the air. A quick dish for the score gave Denver a 13-12 lead. In the following point, Johnny Bravo locked down their dump defense. Ironside had trouble resetting the disc and couldn't get anything going on offense. A few patient throws gave Bravo a 14-12 victory.
Prairie Fire was again ready to play as they took on High Five. Some first half breaks would give them an early lead, but as High Five began to realize the situation they faced, they showed signs of life. The defensive intensity went from 0 to 100 in no time at all, making Prairie Fire's O work for every throw. Again Johnny Bansfield came up big with a late block and two assists near the end. Their struggle to win set up the final round of pool play.
The last round of the day featured the most anticipated matchup of the pool: Johnny Bravo v High Five. In an anticlimactic yet foreseeable turn of events, High Five rested their starters in preparation for Friday's elimination bracket. They preferred to see Madison Club over Machine. Bravo stayed consistent and motivated and easily took the top spot in the pool with a 15-9 victory.
Ironside and Prairie Fire both entered into their last game at 0-2. Prairie Fire kept with their theme for the day and started the game off more ready than their opponent. But a two point lead at 6-4 only woke the sleeping giant that was Ironside, as they rattled off four straight to take half 8-6. Ironside wouldn't let up, as they avoided the Revolver matchup by taking third in the pool with a victory.