Sockeye held off a furious comeback from Madison Club to win on double game point.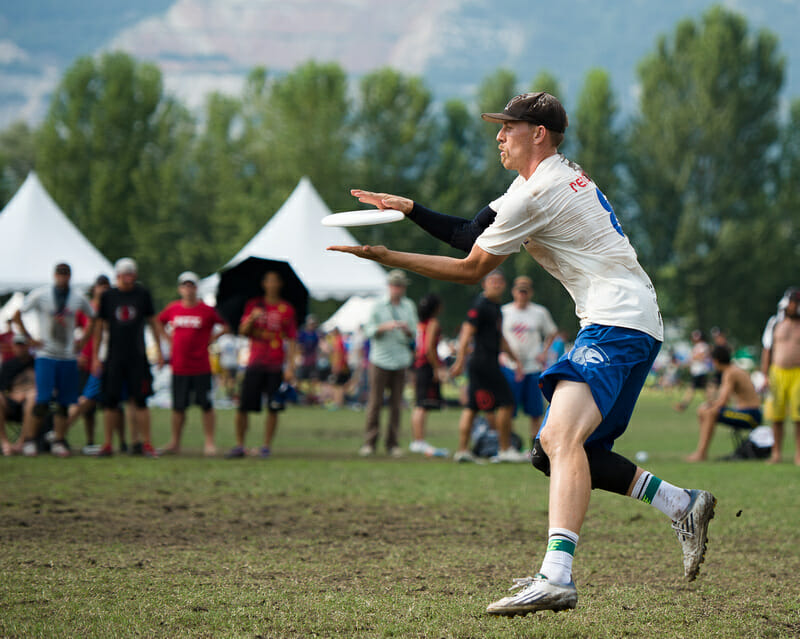 As Madison Club's Peter Graffy caught a quick dish from Thomas Coolidge at the front cone of the upwind end zone, things were looking bleak for Sockeye. Moments earlier Seattle had the disc twice to put the game away.
Now it was 14-14, game to 16.
***
The wind for the 1:30 PM afternoon quarterfinals was stiff, a steady upwind/downwind. It wasn't quite huck-and-hope, but enough to make working upwind a jerky, start-and-stop drive.
It was a quick first few points as the usual suspects made contributions. Madison's Colin Camp chalked up a goal and an assist in his team's first two attempts – just like cutter Matt Rehder did for Sockeye's offense.
Defenses began to tinker. Sockeye adjusted to a more straight up mark to challenge Madison's deep game, which generated the game's first turns. Zane Rankin got a layout block on an inside throw to give Seattle a short field and an easy score. Sockeye completed the break downwind.
A few points later, a Madison hammer turn became another Seattle D-line score when Reid Koss put up a stall nine prayer to Rankin — who made one of the catches of the tournament for a third upwind break.
That made it 7-4 and the Wisconsin boys were on the ropes. If Sockeye completes, they go to half up 8-4 and receive on offense going downwind.
To this point Madison's defense had not generated a Seattle turnover, but captain Brian Hart assured that the D-line would show up to play.
"I'm not worried about the D-line," Hart said minutes before the start of the game. "We're going to get the disc and we're going to be able to convert breaks against this team."
So Madison starts fighting back -– largely on the back of Peter Graffy who had himself a game.
Graffy threw the goal to make it 7-5. He got the block and the assist on the ensuing point. Then he hand blocked Matt Rehder and stabbed a laser beam backhand huck from Logan Pruess. Graffy finished the game with a nutty 3G, 3A, 2D, zero turnover stat line.
All of a sudden it's 7-7.
Sockeye didn't stack the line to try to seal the break to take half. Head coach Roger Crafts went into detail about the big picture benefits of that choice.
"I think it's a fine line between putting in our super strong line at that point on defense going downwind, and trying to keep making sure everyone gets playing time – and trying to get everyone involved," Crafts said post-game.
Top to bottom, this Sockeye team is invested in the game. Everyone is storming the field after scores. Everyone is cheering between points. Crafts plays the roster. That's a great way to make everyone – not just the stars – feel like contributors.
It worked: Seattle went on to take half 8-7.
The Madison defense was finally starting to get steady pressure and force lots of throws by sprinkling in different zone and junk looks. Sockeye's smaller handlers were dancing through the rangy bodies around the disc. Danny Karlinsky, Aly Lenon, and Mario O'Brien dinked and dunked until the hammer space opened.
The Fish carried a precarious one break lead for most of the second half. Mad Club was running out of time – but they were scrapping.
Kevin Brown got a sky D and later flipped an elevator pass to Jordan O'Neill for a crucial hold at 14-13. Pulling into the heavy gusts, needing to find pay dirt to kep their season alive, Madison jammed in the break they were searching for.
***
0-0. Game to 2.
Sockeye put out a handler heavy line. They found themselves in some tight, high stall situations a few times but would not be flustered. After multiple calls near the Madison endzone, Phil Murray found Danny Karlinsky in the phone booth of the front cone for the clutch hold.
Madison responded with a Benjy Keren inside out flick after a towering huck got the disc deep. 15-15. Double game point.
Like the previous O-point Sockeye walked the disc up to the front cone. After a couple of calls, Phil Murray hit a diving Aly Lenon on stall nine, and there's your game.
***
Madison had already shocked Nationals four seed High Five in prequarters – a major upset, by the numbers. The Wisconsin squad wasn't happy to hang their hat on a win in the round of 16. It would have been easy for this team to fold when behind 7-4, but this team rightly expects more from themselves.
"We know what we are capable of," injured Mad Club captain Andrew Brown said after his team's run at Nationals. "I think we surprised a lot of people this weekend, except ourselves."
His name only appears once on the stat sheet (an assist at 11-9) but Mario O'Brien's contributions were immeasurable in this game. When Sockeye absolutely had to move the disc in the wind, O'Brien's number was called a lot. Time after time when the Fish needed a bailout cut late in the stall count or a break throw to get the disc out of a pickle – O'Brien was Johnny on the spot.
He's an interesting player to watch. O'Brien is a relaxed player. Weirdly relaxed. Sometimes when he's set up as the reset his body language resembles a dude waiting for the bus. Then out of nowhere he'll scorch up line and calmly throw a backbreaking around backhand.
"He's been great. He's a great thrower. He's got a great sense of the game," Crafts said. "Most importantly this season he's been using that sort of unflappable mentality to lead our sideline."
Crafts isn't kidding. On the sideline O'Brien is incessantly chirping encouragement at teammates on defense and leading cheers. When it's his turn to distribute with the O-line again, he turns on the quiet cool.
"As a handler and a leader, you don't just lead with what you do or what you say," O'Brien said. "You lead with your confidence; you lead with your poise. That's an intentional thing that I've worked on. And…I guess that's how it looks."
On Thursday Roger Crafts was wearing a Return of the Sockeye t-shirt, which featured a bunch of stormtroopers riding salmon. Call it foreshadowing. It was an upstream, upwind swim against Madison but Seattle is back in semis.