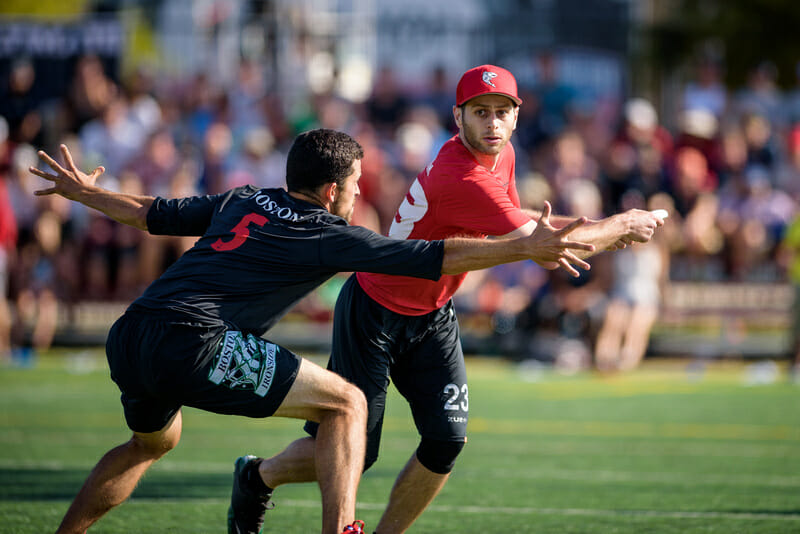 Sockeye and Revolver meet again in a big final. Maybe this year it's more surprising than normal, given Revolver's patchy record and Sockeye's poor performance at last year's Nationals, but it's still a match-up that puts two extremely capable and experienced teams into the Championship game. Far from being the untouchable powerhouses of the past, both Revolver and Sockeye have fought from behind to win this weekend, so expect the game to go to the wire.
Revolver have historically won this matchup when it matters most. From eliminating Sockeye at Regionals to winning back-to-back World Club Championship finals, Revolver seems to be the bogey team for a Seattle squad that seems able to beat anyone else. However, in their most recent matchup at the PEC finals, Sockeye pulled off the win to get their season off to a fine start. We look at what happened in that game below.
Inconsistent Deep Throwing
Both teams struggled throwing deep, particularly at the start of the PEC finals game. Three of Revolver's ten turns in that game came from deep shots, and three of Sockeye's seven turns were also from throwing long.
As well as overthrowing their receivers, both teams threw multiple jump balls. With a Championship on the line, expect to see some hesitancy throwing long. It's worth noting that at PEC, Matt Rehder pulled down everything for Seattle — over poaches, double, and triple coverage. The only person who is likely to be able to cover him will be Beau Kittredge, but will Revolver's superstar be able to play both ways all game?
Today's semifinal saw very few deep shots from Seattle, and as the game wore on their deep game became lower percentage, including over-throwing Karlinsky on game point; the kind of crucial error that could cost them dearly in today's game.
Seattle Poach Scemes
The PEC finals saw Revolver struggle with a three handler set in a side stack; Sockeye poached effectively, preventing Revolver's classic isolation cutting.
Revolver was also forced to reset often, even from excellent field position, allowing Sockeye to create some easy turnovers. Revolver was opting to place both resets on the same side of the field, making it difficult for them to abuse poaches. If the wind is tricky, expect to see more poaching from Sockeye.
Revolver's prescribed pull play — sending both cutters to one side of the field — means they are not adaptable to situational poaches, forcing them to reset into a poor position.
That said, expect San Francisco to play a more adaptable style today; both Ashlin Joye and Kittredge were missing at PEC, and both provide release valves when Sockeye's pressure builds. Historically, Sockeye have been over-scared of Beau, allowing him to work unders without any pressure. Sockeye will need to limit Beau's impact if they want to win, and that might mean being beaten deep from time to time.
Rather than forcing the Seattle poaches to reposition, Revolver continued to squeeze the disc into tight lanes through poaching defenders. Revolver played straight into the hands of the poaches, rather than attempting to use the other side of the field. Their D-line struggled with the same issue, so expect Seattle to run their poach sets often.
Defensive Struggles From Revolver
In contrast, Revolver's poaching during the PEC final was utterly ineffective; Sockeye is so comfortable with small ball that Revolver's poach attempts appeared clumsy in comparison. Only tight, 1-on-1 defense is going to be effective: contrary to Lou's claims that man defense is dead, I'd expect Revolver to smother Sockeye with individual man-to-man coverage. Getting the right matchups will be vital, particularly on the main target Rehder and squirrelly handler Danny Karlinsky, both of whom had uncharacteristic turnovers in yesterday's win over Ironside. Whether this was a momentary blip, or signs of fatigue from a team that's been played so tight all tournament, remains an open question.
Revolver O-line really struggled to play defense after turning over. While some would say that Sockeye's fast break can be effective, it is equally fair to say that Revolver's O-line was slack at getting tight. Revolver will really need to sort this out if they are to stand a chance of winning tomorrow, as the Seattle D line is tricky and more capable than most of taking advantage of poaches.