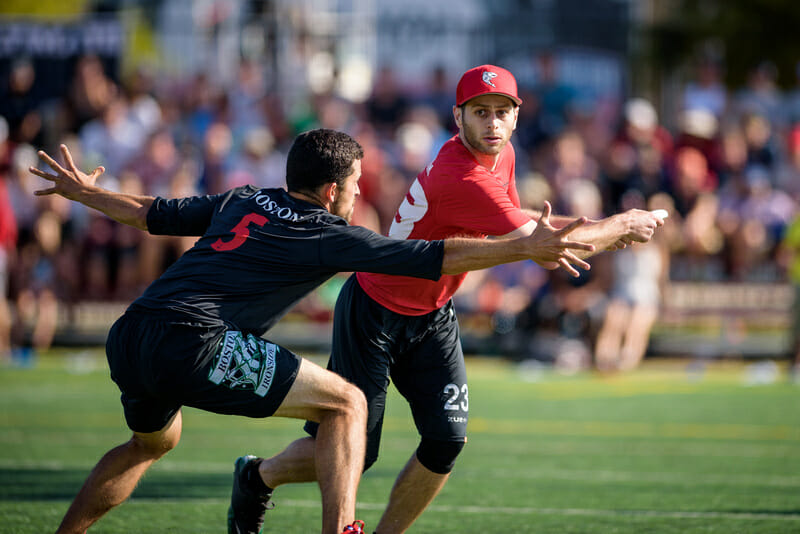 It was a run that was as improbable as it was impressive for Boston Ironside, who were coming off of their best performance of the season en route to an unbelievable eighth consecutive semifinals appearance.
Still, they were an underdog.
Even though they were in this game a year ago, Seattle Sockeye is likewise not a stranger to big games; they would not make the mistake of underestimating Boston.
Though Ironside would go on a run in the middle of the first half with a real chance to make it interesting, in the end, Seattle was too prepared, too focused, and too hungry to get back to the top. They topped Boston, 13-10.
***
You can't get to this stage of the National tournament without playing close to your top game. Sockeye and Ironside had each been challenged in quarters.
Madison Club put heavy pressure on Sockeye late, forcing Seattle's O-line to engineer a season-saving upwind drive on double game point. Meanwhile, Boston put together what was probably their best game all season with a wild blowout over heavily favored Doublewide.
The wind in today's semifinal was consistent with the rest of the weekend. There was a clear upwind endzone. Both offenses would experience some glitches due to the conditions and consequently this game would lack an overall crispness.
"It was kind of a sloppy game, to be honest. On both sides," Ironside handler Josh Markette said after the game. "Their offense was clean when we turned it. They were patient and worked it up. A lot of points with a lot a passes. Give them credit."
Sockeye showed off that some of that D-line patience early. Reid Koss and company marched a deep Ironside turn up the field before Joe Sefton found pay dirt for a first point break.
Even though Seattle started with a break there was still that boxing match feel in the air. A lot of jabbing to try and find weakness, but no big punches yet. The combatants were still circling one another.
An uncharacteristic drop by Matt Rehder gave Ironside a short field and led to a break. Sockeye ran into trouble a few points later when they muffed a centering pass in their own end zone. Alex Cooper walked the disc to the line and called a timeout before finding Christian Foster with a leading inside out flick.
Boston was up 5-3 and pulling downwind.
Sockeye was in a real jam. They would turn it over twice and Ironside worked the disc to 10 yards out before throwing a crossfield backhand that sailed high and landed near the feet of the spectators in the south endzone. Seattle finally got it together and a Phil Murray goal made it 5-4 instead of 6-3. Haymaker dodged.
"We've been practicing all year that random stuff is going to happen," Sockeye coach Roger Crafts said after the game. "Whether it's wind or drops or whatever. How to respond is just to get your D mindset on."
Crafts went on to describe how Sockeye used a whistle at practice to blow offensive possession dead, immediately putting the O-line on defense. It must work. As they had all tournament, Sockeye found a way to manufacture an upwind hold.
At 6-5, Seattle emerged from a timeout with a key defensive adjustment: a force middle defense that would consistently disrupt Ironside's offense.
"If we got an open pass, you could not get the next pass off — the next continuation," Ironside captain Danny Clark said after the loss. "Some of that was their [force middle] defense, but they made O hard just because we could not move in a normal pattern of offense and we could never really settle into a flow."
With regular pressure and opportunities came big plays. Reid Koss climbed the ladder for a break. Seattle's Jesse Bolton got a chest high layout block (a scary moment here, as Bolton would stay down for several minutes before leaving the field on a golf cart with a dislocated shoulder). The rhythm of the Ironside offense was off.
"At halftime I felt like we were in a good position," said Clark. "We were down 8-7 but we had a few goals that were in our hands that we just didn't come down with and it was like, 'Look, if we can clean up the execution mistakes, we can get open on O, and we just maintain possession and we'll be fine.' A couple brutal turnovers and that's the story of the game. They capitalized and we didn't get the breaks and the turns that we needed."
Ironside didn't do themselves any favors with some would keep it interesting in the second half. John Stubbs got a layout block on an inside flick then bookended it with a huck from Mark Vandenberg to cut Seattle's lead to 10-9.
The cap came on and Seattle smelled blood in the water. As he's been doing in the later moments of the last few games, Danny Karlinsky struck up line for the goal.
Sockeye was headed back to the finals.
***
Tip your cap to Ironside. What an incredible season. When their roster was released and revealed the extent of their turnover, the narrative changed from "How good will Ironside be this year?" to "How bad is it going to get?" Shame on everyone.
"We're a low seed but we're Ironside," head coach Josh McCarthy said before the game when asked if there was less pressure on Ironside this season. "And the people who predicted against us should know better by now."
It was an incredible job by Boston to get back here in 2015. If you had to pick semifinalists for Nationals in 2016, is there any way you could leave Ironside out?
A year is a long time to wait for redemption. Seattle getting knocked out in prequarters in 2014 just didn't seem right.
Here's a quote from another captain at the tournament this weekend in an interview before Nationals.
"Those were my Chicago Bulls when I started to play ultimate…Sockeye had this super crisp website and they were the only team with a website when I was a freshman in college…I've just enjoyed playing Sockeye because I've always had this 'looking up to Sockeye' thing."
If you're in your late 20s or 30s, that should really speak to you. This is the caliber of Sockeye team people are used to seeing.