Drag'N Thrust survived two three point deficits and clawed back late to stun Seattle Mixtape.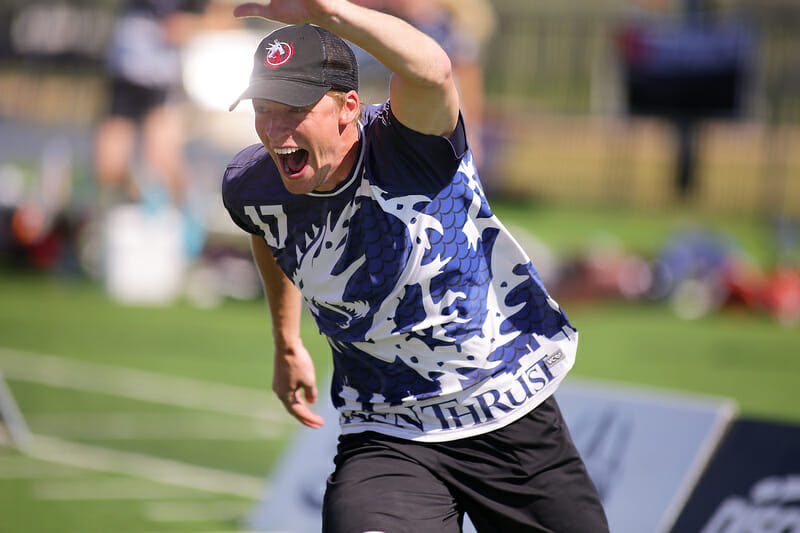 For the third year in a row, Minneapolis Drag'n Thrust is the National champion, making them the first team in Mixed Division history to win three titles and effectively elevating their program to legacy status.
Despite giving up five breaks in the first half, Drag'n Thrust used stifling defensive pressure and precise offense to snatch away a 14-12 last-minute victory from Seattle Mixtape in a rematch of last year's title game.
While 2014's contest became a Minneapolis blowout, up until the very end, this year's iteration looked to be headed for a Mixtape victory. On the very first throw of the game, Drag'n Thrust receiver Carlos Wolle dropped a routine centering pass, which gave Mixtape a free goal line possession that they promptly converted.
More uncharacteristic Minneapolis turnovers gave Seattle two more breaks. This put the two-time defending national champions in a 3-0 hole before they could even muster an offensive hold.
But the veteran squad showed few signs of genuine collapse.
"We got down 0-3, but I don't think anyone really felt bad about it," captain Austin Lien said. "We kind of shook ourselves out and got ready to play again starting over."
Minneapolis answered back with three scores of their own to even it up, largely on the back of excellent defense.
Drag'n Thrust threw roller pulls to prevent Mixtape's pull plays, went a mix of no-around and straight-up on the mark to limit Mixtape's ability to get off easy hucks to space (especially on the break side), locked down on resets, and provided additional help defense on almost every Mixtape huck that went up.
"It still just boils down to defense," said Lien. "We think we are the best defense in the division."
Every time Drag'n Thrust's offense would falter, their suffocating pressure and determination to convert breaks no matter how many passes it took brought them back into the game.
When Seattle went on another 3-0 run to make it 7-4, Minneapolis once again tightened the screws and evened it up at 7-7. When Seattle held out of half, Minneapolis went on a mini 2-0 run to tie it at 9 and never relinquished much advantage from that point on.
Part of the way Drag'n Thrust accomplished this was with calculated line-calling, courtesy of coach Jake Henderson.
Rather than calling the usual O- and D-lines, Henderson transitioned a few players like handler Austin Lien and dynamic cutters Sarah Meckstroth and Sarah Anciaux onto critical defensive points, trusting that the chemistry developed over many years between players like Josh Hemmesch and Dave Klink would take care of the offensive possessions without much trouble.
"Once he figured that out and he was only running those seven on O-line, our D-line was so deep," Anciaux said. "We were able to run everybody, and we were so fresh."
Since those top contributors came in ready to play on certain pivotal defensive points, they had more energy to run hard after the turn, and with outstanding talent like Lien and Meckstroth playing D-line offense, Drag'n Thrust had plenty of firepower to convert those crucial break opportunities.
With players like Hemmesch (5A), Mike Clark (4G), and Klink (2A) holding down the fort on offense, all that was left to do for Minneapolis was secure a few breaks.
With the score tied at 12 during soft cap in a game to 14 and Mixtape receiving going downwind, a Meckstroth layout bid on an under provided enough pressure to force a short field bobble and drop by Seattle's Claire Revere. Drag'n Thrust called a timeout.
Coming out of the break, Minneapolis ran a play that cleared out central handler Lien and relied on working the disc through the whole team, trusting that no matter who had the disc, the team was going to convert.
After a handful of resets and swings, Jay Drescher found Mike Petersen on an in-cut for the momentous 13-12 break and downwind advantage. Mixtape looked stunned.
Receiving upwind, Seattle put up an ill-advised huck to an already very deep Jen Cogburn, resulting in a turn. A few short passes later, Drescher lofted up a deep shot to Wolle—the same player who had the critical drop on the first possession—who boxed out Evan Klein and came down with the break and game winner.
Such a decision showed the trust apparent within the entire team. "I've said it before and I'll say it again, we are a really deep team," Lien said. "I think we've got several lines that can run with anybody."
Though they managed to put Drag'n Thrust on the ropes early and had a few shots to put it away, Mixtape was left contending with what could have been. "We held until the very end," captain Bert Abbott said. "If you compare the first half O to the second, I think that we played pretty good. If we had gotten one break then our momentum would have accelerated. We just didn't get those opportunities. They played 100% offense."
While they may not be leaving the weekend with a trophy hoisted above their heads, Mixtape proved by making it to their second-straight title game and crushing teams all weekend that their program deserves to be considered among the very best in the nation. And much of that, Abbott said, comes from the trusting, supporting culture that the team has strived to foster.
"All season it's always been full support all the time," Abbott said. "These tears are a little for myself but really they're for the other 25. I'm really excited for next season."
As for Minneapolis, they earned the prestige of becoming the first indisputably dominant program in the Mixed Division, notching three national titles and one world title in a span of only three years -— a feat no other team has even come close to matching.
Regardless of what happens in the following years, Drag'n Thrust will remain the name that people remember when they think about mixed ultimate from this era. The team's performance within the last few years has made an absolute certainty of that.