These seven men stepped up their game and separated themselves from the pack this season and are poised for future greatness.
As mentioned in the announcements of our All-Club 1st and 2nd teams, the talent in the Club division extends far beyond a short list of 14 players. So which previously unheralded players caught our eye this season and are poised to muscle their way into the 1st or 2nd team in future years? Here's the list of our seven breakout performers in the Men's division from the 2015 season.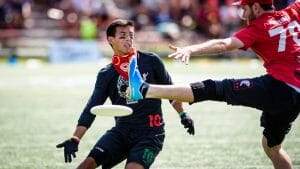 Tyler Chan (Ironside) – 6g, 9a at Nationals
While the Ironside O-line might have more experienced players (Danny Clark) and more technically skilled players (Josh Markette), there's an argument to be made that Chan was the Ironside O's most consistently excellent player this year. What makes him such a dangerous player? Lots of things, but mostly his blazing speed. Chan might be one of the fastest players in the division. I once saw him beat a BUS in a race! Alright that was Usain Bolt, but I'm sure Chan could've done it, too. The point is that Chan is fast, and he uses that speed to get open unders at will. Chan has been an amazing player at Tufts for years, but this season was his coming-out party at the elite club level. Ironside has to be excited about their future with Chan at the helm.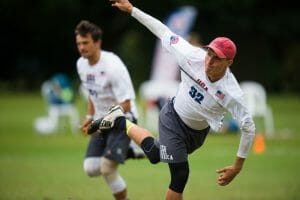 Kevin Brown (Madison Club) – 7g, 8a at Nationals
Brown and Peter Graffy were the driving forces behind Madison's improbable quarters run (and almost upset of Sockeye). Ultimate people know who Brown is: he was a collegiate star with Wisconsin-Milwaukee, a U-23 captain, and a Mad Club veteran. But recent years saw his role expand, and this year he became their go-to guy. Colin Camp has the higher profile and draws the tougher matchups, but it's Brown who runs the offense.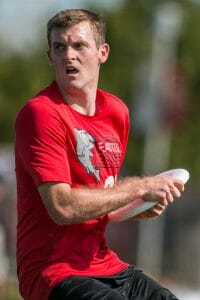 Duncan Linn (Sockeye) – 2g, 6a at Nationals
The smallest guy on Sockeye's roster (5'6") might have had the biggest impact on defense. Linn has gone relatively unnoticed for years; he's always been left to cover the other team's dump handler and to be a reliable dump on a turn. But this season saw his playing time expand, and with it his role. Linn, like most of Sockeye, is fantastic at moving the disc quickly. But typically that quick disc movement was for the O-line, with the D relying on the long ball. With BJ Sefton's transition to D-line this season, Linn has a running mate who also prefers the ping-pong variety of disc movement. Linn excelled, and perhaps also gave Cassidy Rasmussen his toughest challenge in Frisco. While no one could halt the unstoppable force that Rasmussen was that weekend, Linn more often than not denied Rasmussen his first look, sometimes all you can do against a player of his caliber.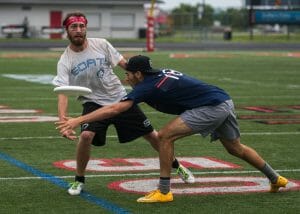 Isaiah Masek-Kelly (GOAT) – 9g, 9a at Nationals
Like Brown and Linn, IMK was certainly known about before this season. But it was this season that saw his metamorphosis from a skilled role-player into a bonafide star. Although no one can replace Mark Lloyd, Masek-Kelly ALMOST managed it. He was that good. Freakishly athletic and supremely skilled, IMK could be thought of right now as "the poor man's Mark Lloyd." IMK took the responsibilities that a healthy Lloyd would have had: being a deep-cutting terror and a vocal team leader. With Lloyd coming back for GOAT's 2016 campaign, the two will form one of the most terrifying tandems in Club.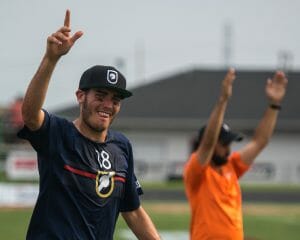 Greg Cohen (Revolver) – 2g 4a at Nationals
From relative anonymity comes Cohen, the behemoth cutter on Revolver's deep D-line. Like all of Revolver's D-line players, they "suffer" from an over-abundance of excellence; everyone is so good that it's nigh-impossible to single one out. But Cohen comes to mind, mostly because of his expanded role. Traditionally there to be athletic and cut deep on a turn, Cohen showed at Nationals that he has the throws to be a threat from anywhere. He had a crucial huck to Dallman in crunch time vs Truck Stop, at a point where Revolver NEEDED a break. The throw was upwind and more-or-less perfect, giving Revolver a huge boost in momentum and launching them to the win (and the National title). It wouldn't surprise me to see Cohen's role expand even more next season.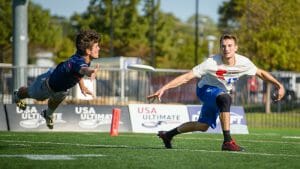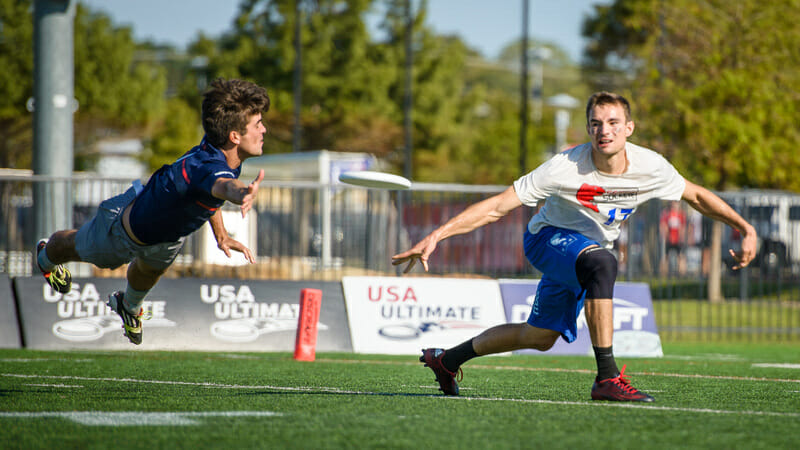 Zane Rankin (Sockeye) – 12g 6a at Nationals
The newest member of Sockeye's famous O-line was it's third most important player, behind Karlinsky and Murray. Rankin was everywhere in Frisco — his 12 goals and 6 assists are evidence of that. While he hasn't fully adopted the Sockeye O's dink-and-dunk style of play yet, he's clearly learning. This season, Rankin took more of a Matt Rehder role: let the handlers pinball the disc around the field, and cut deep when the opportunity arises, using his explosive athleticism to make big plays. This he excelled at, and the tandem he forms with Rehder will be giving opposing defenses headaches for years.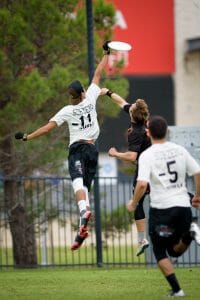 Conor Kline (Sub Zero) – 24g 4a at Nationals
It looks like a typo. Kline, a mid-season pickup for Sub, came from relatively nowhere to lead the tournament with an astounding 24 goals. That's seven more than 2nd place finisher Jay Froude, a preposterous margin at a tournament chalk full of the best players in the world. Only a junior at UMass, Kline has blazing speed and quickness, but it's not like there aren't other supremely talented receivers on Sub. With usual-first-look Nick Stuart resting a large part of the time, Simon Montague and Kline must have just clicked. Although there aren't stats to support this, I feel confident saying that Montague and Kline connected more than any other tandem at Nationals.