UCF has a chance to establish its program as one of the nation's best.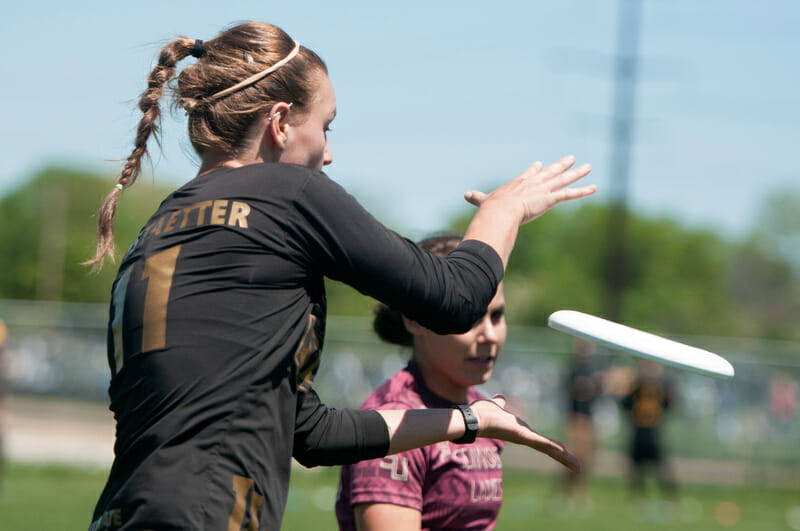 The fall is a strange time for college ultimate. Teams are very much in the beginning stages of the gelling process, working in rookies, and often times still figuring out what the roster will look like come the spring. It can be difficult to accurately gauge how impressive a team will be when it really matters. But with that in mind, after a resounding Classic City Classic victory, the UCF Sirens appear to be ready to take the proverbial next step this season and prove themselves as a program.
As a nationals team in each of the last three seasons, and with a third place finish in 2014, it would be unfair to claim that CCC was UCF's coming out party. But if the Sirens' dominant showing in one of the fall's biggest tournaments is any indication, UCF looks ready to fully cement its place as one of the nation's elite. They are certainly a heavy frontrunner to reclaim the Southeast Regional title.
Led by a group of veteran stars, UCF has the not only the talent to play with any of the division's best teams, but has the experience to do so as well. Shayna Brock played like a potential Callahan nominee at CCC and, truthfully, the same could be said of Alexa Wood. Stephanie "Eli" Williams was instrumental in the UCF's surgical offense and Janina Freystaetter, too, had her fingerprints all over the Sirens' domination of the field in Athens. Freystaetter appears to have taken a step up in ability and consistency after an impressive freshman campaign. Brock, Wood, and Williams have all continued to build on already very strong college careers.
Other veterans such as Mia Griner and Chloe Baldino chipped in with solid performances in supporting roles as well, but the real story of UCF's fall may the contributions of newcomer Gentry Maddox. Maddox, a graduate transfer from Florida State, made an instant and significant impact in her first tournament with her new team.
Maddox, a 4 year member of the FSU Seminole Ladies, really emerged as a senior on the club's first ever Nationals team a season ago and she appears to have taken another step under UCF head coach Joseph Tilley.
Maddox places responsibility of her impressive play at CCC on Tilley. Under her new coach, Maddox says, she has been able to "refine every little detail that I had not quite worked on yet."
She also noticed connections with Brock and Freystaetter right away in practice, and again she noted that, even when "little details weren't going right," Tilley was on her "right away" to get the problems fixed.
Tilley, on the other hand, was quick to heap the praise on his new playmaker. "[Gentry's] assimilated very, very well," he said. "She listens very well; she's very coachable. I can put her in spots and have an immediate impact here this year. She's been a huge, huge help for our team."
With burgeoning stars like Brock and Wood already in the system for a number of years, Maddox is one that could truly take UCF over the elite tipping point. If she continues to play as well as she did at CCC, UCF has certainly the most dynamic cutting duo in the Southeast.
In addition to the individual talent UCF has on its roster, it owes its success to the system and schemes implemented by Tilley. He was co-Coach of the Year after UCF's semifinals run in 2014. Famous for its rotating cup zone, UCF has perfected this style of defense under Tilley and it was in peak form at CCC.
The players in the cup moved in unison, taking away all downfield throwing lanes as the down field defenders were virtually never caught out of position. It took audacious throws from some of the best throwers in the tournament to ever beat the UCF zone and even that was a rare occurrence.
"We really try to get teams to be impatient and that's usually what causes a lot turns," said Tilley. That was best evidenced in the final game against Ohio State. Even elite throwers like Stevie Miller and Sadie Jezierski were drawn into turns and misthrows.
But to say that UCF implements a bend-and-don't-break style of zone, waiting for unforced errors, would be a mistake.
"Throws that they think are there aren't always there," said Tilley. "I do a lot of shifting so that they think the holes are there but the next time around it'll be different. There's something unexpected all the time."
In addition to the UCF zone proving to be a turnover causing machine that often leads to long streaks of breaks, it provides a welcome respite from the hard running person defense demands. "If everybody does their job correctly," Tilley explained after the CCC final, "there isn't a whole lot of running except for the senior guys that are trying to hold those spots [in the cup]."
The energy the defense saves proves just as important as the break chances it creates for UCF's small roster. With a squad of only ten players, maintaining a requisite level of energy for an entire tournament for UCF is a big ask and the Sirens' zone gives them an ability to do so.
Still, though, UCF's lack of numbers has to be seen as its Achilles' heel going forward. Tilley is certainly aware that his team's size is its biggest weakness. "It's risky," he said. "It's definitely risky. Injuries will affect us a lot more than other teams."
Tilley did say that team would be adding a few more players during the fall, which should help, and the team has been able to focus more on conditioning in the preseason than perhaps other teams have, due to the core of the team having played together already for the last season or more. The team will also not travel to any further fall tournaments in an effort to minimize the grind on the team prior to the spring.
Ultimately, UCF saw CCC as a test to see if its plans for the season, its roster size, and makeup would be successful in getting the team to Nationals in May. Tilley had questions about his team he sought to answer before the spring. "How conditioned are they?" he asked. "Can they fight through it? What adjustments do I need to make?" He has to like the answers the team's performance gave him.
With UCF's fall schedule completed, it will be interesting to see how the team starts in the spring when other squads get closer to their peak form. Can UCF peak at the right time, or was CCC as well as it will play all year? Can the Sirens small roster stay healthy enough to be competitive as the competition gets tougher and the tournaments become more important? These are the questions of that will be asked of UCF once the college season really gets going, but as Tilley said after the team's win over Ohio State in the CCC final, he feels good about his team. Right now, you can't disagree with him.