East coast college ultimate gets its engines going this weekend.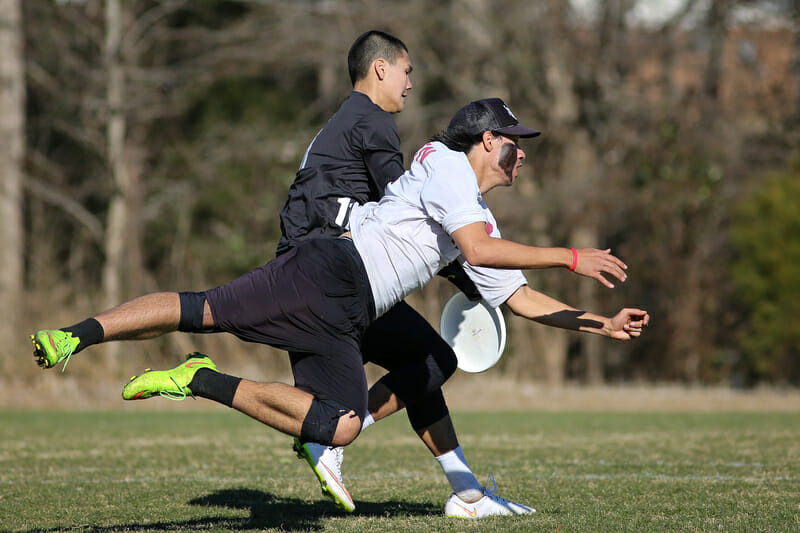 Two weeks ago, Carolina Kickoff was set to be the start of the regular season for teams on the East Coast. And then this angry Jackson Pollack painting happened.
With the snow all cleared up and good weather in the forecast (fingers crossed), it looks like the 2016 season will finally begin for teams east of the Mississippi at Queen City Tune Up. It's only February, but with the level of talent on hand in Charlotte this weekend we should be in store for an action packed start to the season. Four of the top ten teams in the nation will be competing alongside a wide swath of talented regional mainstays, sleepers, and programs on the rise, all hoping to get their seasons off on the right foot.
Tournament Profile
Date: February 6-7, 2016
Location: Charlotte, NC
Top 25 Teams: 6
#1 With a Babbitt
Swaggering into Charlotte as the number one seed at the tournament, and the number one overall team in the country, comes Zoodisc of UMass Amherst (#1). UMass propelled themselves to the top seed after laying a smackdown of biblical proportions on the competition at CCC in November. The reigning New England regional champs will surely get every team's best shot, but based on their play this fall they are ready to take on all comers.
Last year at this tournament, UMass and their trademark zone stormed to a finals appearance by exploiting their opponent's early season rust and discomfort in the wind (in particular, their 13-4 dismantling of Georgia). They played a near perfect game and blew a Nationals caliber team off the field.
The forecast doesn't call for heavy winds this weekend, which should be a relief to their opponents, but even in mild conditions the UMass zone has been devastating, anchored by POTY frontrunner and destroyer of worlds, Jeff Babbitt. Babbitt is singlehandedly redefining what a wing in a zone is capable of, as the preposterous amount of ground he is able to cover means that he can lock down half of the field while still wreaking havoc in the middle of the zone, like a VC-wearing Von Miller1.
While Babbitt justifiably gets a lot of the headlines, UMass is way more than just a one player team. In fact, part of what makes UMass so dominant is that their depth allows Babbitt to play primarily on defense, one of the only superstars in the college game that has the luxury of focusing on getting blocks while his teammates hold him down on the other side of the ball. While Babbitt will likely cross over for important offensive points, Conor Kline, Ben Sadok, Brett Gramann, and the rest of Zoodisc's offense are more than capable of cutting through defenses on their own. Gramann, the 2015 Rookie of the Year, will be on a minutes limit this weekend as part of his recovery from foot surgery this fall. If his team is as dominant as they are expected to be this weekend, he won't have too much of a load to bear.
Remember, UMass wasn't just the best team at CCC, they were handily better than everyone else there. Of course, as impressive as that performance was, CCC is still a preseason tournament. A stumble out of the gate in their first real tournament of the reason would cast doubts over Zoodisc's number one credentials and potentially highlight some chinks in their armor. For now though, that armor is still intact and Massachusetts has to be considered the favorite to be the kings of the queen city.
Can Anyone Beat UMass?
UMass are the definitive favorites, but there are a few other highly touted squads in attendance at QCTU that will be nipping at their heels. Let's take a look at the three teams that have the best shot at taking down the juggernaut from Amherst.
Following the cancelation of Carolina Kickoff two weeks ago, we all missed the shot at seeing another UNC-Wilmington (#2) vs. Pitt showdown. This weekend, the prospect of the top two teams in the rankings going head to head will have to do.
There is more intrigue to a potential Wilmington-UMass finals matchup this weekend than just the fact that they are number one and two in the country. If they do end up facing off, it will be an interesting clash of styles, with UNCW's bold throwers unafraid to take shots over the top of Massachusetts's trademark zone.
Last year at Nationals, these two played in a game that was supposed to be Wilmington's coronation but ended up being the big win that propelled UMass to the quarterfinals and started the hype train that has carried them into this season on as one of favorites to win it all in May.
In that game, Babbitt managed to take out Jack Williams in a way that no one else in the country had been able to all season. This time around Williams is coming off of a summer in which he starred for Team USA at U23s and was one of the most explosive assets on a Ring of Fire team that came within a double game point loss of reaching the semifinals at club Nationals. Williams is getting some serious POTY buzz heading into the season and if he can have a dominant weekend in Charlotte, and outplay Babbitt while doing so, it could go a long way toward establishing him as an early favorite.
Of course, if Williams wants to take home any accolades at the end of the year one of his biggest challengers will be his own teammate, Xavier Maxstadt. Maxstadt took the regular season by storm in 2015 before cooling off a bit in the series. If "X" can play at or above the level he demonstrated during his peaks last season on a consistent basis, there is no telling how good this Wilmington team could be. With Jon Nethercutt and Matt Bennett graduating, the crown for best thrower in the college game seems firmly affixed to Maxstadt's head, and it will be a treat to see him wear that title proudly on the field at QCTU. Seeing what sort of creative throws he comes up with in a potential showdown with UMass' zone is one of the most exciting things that could happen this weekend.
Wilmington won QCTU in 2015 on the first leg of their raucous 29 game win streak that made headlines all season long. I'm sure they'd love nothing more to repeat that feat and start 2016 off with a bang.
With most of the buzz heading into the weekend revolving around the 1 vs. 2 matchup at the top of the docket, UNC Darkside (#5) is taking the field a little under-the-radar despite their lofty ranking. And for the defending champs, that's probably exactly how they like it.
"We're looking long term, just as we did last year," said Darkside captain J.D. Hastings. "We're using these early season tournaments to build our depth and perfect the fundamentals we went over in the fall."
After a mediocre regular season in 2015, UNC rolled through the postseason en route to a National title. The team that took home the championship last May was very different from the team that showed up to QCTU last February, and we can expect more of the same this year. All of the devious trap zones and ingenious marking schemes that Darkside coach Mike DeNardis is so famous for will likely stay in the toolbox for now, waiting to spring them on some poor, unsuspecting team in the late spring.
Just because UNC isn't going to show all of their hand this weekend doesn't mean we can't learn something from their performance. Replacing the likes of Jon Nethercutt and Ben Snell is no easy task, and perhaps this weekend will give us a glimpse at who on Darkside will fill their shoes. Aaron Warshauer seems to be the leading candidate for the job, and if he has a big weekend it could be a sign that he is the new BMOC at Chapel Hill.
UNC draws some tough competition in Pool C as they will have to take on two of the challengers for their Atlantic Coast crown in VCU and JMU, as well as a feisty Notre Dame team. They are talented enough that they should emerge on top, but even if they do stumble this weekend it's too early at this point to hit the panic button for this developing squad.
Unlike last season, expectations are sky high for Harvard Redline (#7), as they kick off their regular season at seventh in the rankings despite missing out on Nationals last year. The reason for the optimism surrounding the team is clear: John Stubbs and Mark Vandenberg are really, really good at ultimate. The Ironside teammates are not only supremely talented, but after being key contributors in Boston's run to the semifinals this past fall at Nationals, they have experience playing when the chips are down.
That said, Stubbs and Vandenberg were stars for Red Line last year, and the perennial New England favorites sputtered to a fourth place finish at Regionals. The difference this time around seems to be their depth. After bringing in a giant crop of rookies in 2015 following a mass exodus from the year before, Harvard's young players looked much more comfortable during the preseason than they did at any point last season. At CCC in November, Red Line looked like they were already in regular season form as they rode their depth along with their two studs to an impressive semifinals appearance.
UMass, the team that beat them at CCC, stands in their way, both at the top of the region and this weekend. If seeding holds, Harvard will get another shot at Zoodisc in the semifinals in what could be an exciting preview of a season long rivalry between the two elite New England squads.
Who Emerges From the Pack in the Atlantic Coast?
One of the interesting subplots this season will be the competition for that third spot in the Atlantic Coast behind the two Carolina powerhouses. Last year Maryland was consistently solid all season long, and it was enough to secure a third bid for the region and a trip to Nationals for their program. There is a glut of talent in the AC this year, and it's certainly not out of the question that another team could repeat Maryland's formula and find themselves lining up at Nationals. NC State, VCU, James Madison, Virginia, and Maryland are all in action in Charlotte, and a good weekend from one of them could be the catalyst that jumpstarts a successful season.
If you had to pick one team from this group to make some noise, it might be Virginia. They found themselves on the losing end of the game-to-go last season, a few agonizing points shy of the promised land. Night Train returns most of their core and gets back a few key players that were injured during the stretch run in 2015, most notably Tyler Berkeley.
Saturday could be tough sledding for UVA, however, as they will be missing a significant chunk of their team, including standout defender Henry LeGaurd. LeGaurd and other reinforcements will be available to play on Sunday, though, so if UVA can hold their ground while short-handed on Saturday, they may be able to turn some heads in the bracket on Sunday and potentially earn important rankings points.
It's something of a toss-up amongst the remaining teams in that group, as each has strengths and weaknesses that will play out over the course of the season. VCU and James Madison (#23) both had good preseasons, most notably JMU's shocking third place finish at CCC, but they need to prove their credentials in the spring before the either team can really start building serious buzz.
Always a fringe contender, NC State is a dangerous team because they have one of the best players in the region in Jake McGoogan. The Ring of Fire and Raleigh Flyers stud is an uber athlete who consistently faces the toughest defenders on opposing teams and still always seems to make his presence felt on the field. He could single handedly carve out some wins for the Wolfpack this weekend, but he'll need a supporting cast before NC State can be taken seriously as a true Nationals contender.
For their part, Maryland don't seem overly concerned with how their performance this weekend will affect the bid picture. "Nobody earns a strength bid in February" is the line the team is taking into the tournament as they seem more concerned with building towards the series than playing the algorithm game.
Losing talismanic cutter Mark Lin is a major blow for the team, and Maryland will have to discover what life is like without their 1st Team All Region superstar and Callahan nominee. They'll also have to do it this weekend without Ben Slade, their charismatic coach who took home Coach of the Year honors in the Atlantic Coast last season, which adds to the weight on Maryland's shoulders heading into competition at QCTU.
The players returning to Maryland this season learned how to win last year, and that is definitely significant. But if they want to get back to Nationals in 2016, they will have to prove they can do it without their star, and that starts for them this weekend.
Will a Low Seed Make Quarters?
There are no prequarters at Queen City, so to get a shot at rumbling in the championship bracket, teams have to finish top two in their pool. That's a daunting task for most teams here, but it does open up the possibility for a tremendous upset to totally shake up the bracket. Last season, VCU and NC State came from nowhere to knock off big teams and force their way into quarters.
In an early season tournament like this sometimes factors such as how much outdoor practice time a team had leading up to the event can create a recipe for an upset. This year, though, it doesn't seem like there will be much discrepancy on that front, because after Jonas wiped out the east coast and made outdoor practice all but impossible for a week, each team should be at about the same level of preparedness. This even footing could be to the benefit of the top seeds, who can win on sheer talent, but it could also mean that the probability of something weird happening increases as everyone struggles to shake off the rust.
If you're looking for an upset pick, Notre Dame isn't a bad choice, especially if UNC really is taking their foot off the gas to start the year. The other team to keep an eye on is Ohio State Leadbelly. They went toe-to-toe with very good Tulane and Virginia teams last year and are bringing back a solid core of talent.
Players to Watch in Filmed Games
Harvard v. Georgia
This is the jewel of Saturday, with #7 Harvard taking on #19 Georgia. Both of these teams brought in exciting young talent over the past couple seasons, and it will be on display Saturday. We've already talked about Harvard's dynamic duo of Stubbs and Vandenberg, but for Georgia, keep an eye on sophomore Nathan Haskell. A member of the Southeast All-Freshman team last year, Haskell is a dynamic cutter who fearlessly attacks any open space. With captain Sebastian Di Francesco out for Jojah, expect Haskell to pick up some of the slack.
Iowa v. Virgina
A matchup that pits against each other two programs not far removed from Nationals appearances, seeking to reclaim lost glory in 2016. Watch out for some explosive plays from Tyler Berkley from Virginia. He missed all of the 2015 season with a groin injury, but is a monster in the air and has a penchant for getting some incredible blocks.
JMU v. Michigan State
If JMU is able to replicate their success from CCC this weekend, you can count on Garrett Braun to play a big role in it. He is the team's premier deep cutter and could stack up goals all weekend if the Hellfish get rolling.
---
For the other big event happening this Sunday, all I'll say is that Von Miller or no, the Panthers only giving 5.5 points is FREE MONEY. Lay the points and thank me later ↩