The biggest college women's tournament of the early season, QCTU promises top flight matchups, surprises, and exciting first impressions.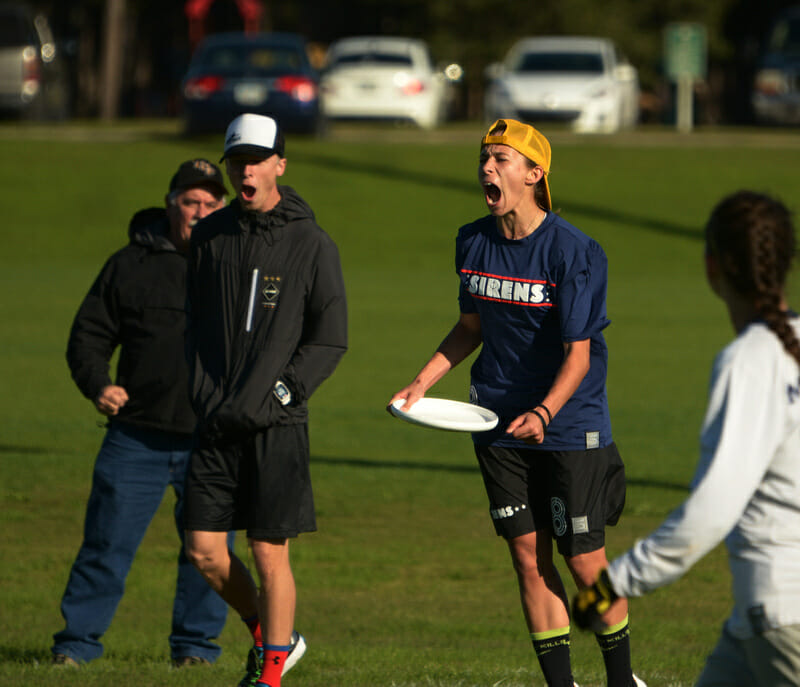 The first pillar tournament of the women's season holds a lot of promise this year. QCTU boasts an impressive field: Nine 2015 National Championship qualifiers, with fourteen teams ranked in the Ultiworld Top 25. The expanded list also means four additional teams will take the field in Charlotte, NC, offering a more complete picture of the early spring standings.
One thing QCTU has consistently delivered is upsets. Northeastern beat the likes of Carleton and regional powerhouse Tufts on the way to the final in 2014, while Florida State beat Virginia and Dartmouth surprised Central Florida last season. At this early juncture – the first tournament of most attendees' seasons – teams are inconsistent, mistake-prone, and subbing more openly. All of that can lead to uneven performances and surprise victories. Make no mistake that the crowded murky bid picture will be impacted by the results of this weekend.
Tournament Profile
Date: February 6-7, 2016
Location: Charlotte, NC
Top 25 Teams: 14
Doubling Your Dose Of Central Florida
The number one seed, #7 Central Florida, raised of lot of eyebrows with their season opening victory at Florida Winter Classic. Whether they had one or no subs, nobody had any answers for UCF's talent and the tournament's other teams watched some what helplessly as the small band of Sirens marched to the win. Well, their roster has swelled to 16. Their rotation? Not so much.
"Our main rotation will still be our 8 A team players," said UCF Coach Joe Tilley. "Our rotation was tight last year too. At Regionals, six players played every point. It just wasn't as obvious."
Steph "Eli" Williams, Shayna Brock, and Janina Freystaetter soak up the majority of the available touches on any given offensive possession. Alexa Wood and FSU transplant Gentry Maddox do a lot of the legwork, with the help of Chloe Baldino and Mia Griner. Even a more robust sideline won't dent the play time of the team's key players.
Can anyone stop them? North Carolina is the only other team in their pool to have played this spring, falling 15-6 to the Sirens. That's an advantage the top seed is probably glad to have. Talented teams like #16 Carleton, #23 Colorado College, and #15 Notre Dame won't be easy wins by any means, but they'll be knocking off the rust while UCF is leaning into a sprint.
Dartmouth To Make 2016 Debut, Sans Verzuh
A lot of anticipation has been built into #5 Dartmouth Princess Layout's potential this spring. Perhaps even more hype has surrounded vaunted phenom Jaclyn Verzuh. The college chapter of her world domination won't begin in Charlotte, though. The freshman cutter sat out Team USA's East Coast tryouts last weekend with a concussion a mere week earlier, and she remains off the field this weekend. Julianna Werfelli is out as well, as she is currently studying abroad in France.
Despite some missing pieces, the team is probably itching to hit the field. Their last trip to Charlotte was cut short by snowstorms at home, forcing them to leave Saturday night. A big weekend without two of their top players would justify a lot of the hype. That same hype is mostly being ignored by the team.
"Obviously potential on paper is exciting, but meaningless on the field," said captain and All-American Angela Zhu. "We're just trying to build a season and I'd say we don't think about it very much."
Even if they've tried to to shut out the hype around their team, they have to be wondering how good they can be and must be eager to find out.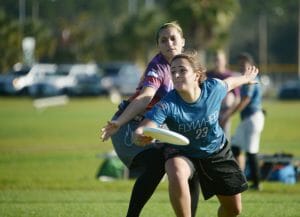 Putting The "Great" In Great Lakes
A trio of Great Lakes teams are hoping they can gain some respect for the maligned region. While they are at it, maybe they could begin the process to snatch an elusive strength bid to add to their automatic one.
"I think people have seen that Notre Dame's success last year was not a fluke," said Michigan coach Ben Murphy. He downplayed teams aiming for a multi-bid region, but did add that he hopes his team can "can also maintain our performance thus far and give the region a good chance at two bids."
For their part, #10 Michigan has looked strong in their early efforts. After a down year in which they missed Nationals, this is the kind of foot they'd like to put forward. Murphy explained that his team usually practices indoors this time of year and that going to Florida Winter Classic — where they went 5-1 — should make the team more likely to reach their considerable potential. With Hannah Henkin and Tracey Lo manning the backfield and Liz Benedetto and Leah Bar-On Simmons gaining yards downfield, they should be one of the teams to watch in Charlotte. They even added Santa Barbara grad Talia Barth. Some tests await with a solid pool offering them considerable opportunity to demonstrate their ability.
As they would prefer it, #15 Notre Dame is a wild card. Having won the Great Lakes last season, their 17 seed is probably undershooting their potential. They did lose centerpiece handler Kelsey Fink, but bring back athletic cutters — Julia Butterfield exploded onto the scene at Nationals, and Sarah Lipscomb can make plays — and an experienced backfield. MK Andersen, Mary Herman, and Mara Jurkovic are all back. They play fearlessly and are an incredibly dangerous team to find lurking in the bottom half of your pool.
#25 Northwestern may not be on your radar yet, but that may quickly change if they continue the strong play they started with in the fall. Missouri Loves Company served as the launching platform for other strong teams previously, and could do the same for a Gung Ho team that's been on the outside looking in of the Great Lakes elite for longer than they are used to or care for. Phoebe Evans is a difficult matchup with her height, as is Jen Evans with her speed, giving this handler-based offense some weapons to attack with.
Converting Hype Into Wins
Two teams traveling from out of region to Charlotte didn't make Nationals last season, but were pegged as early season squads with potential worth noting.
Expectations are high for #23 Colorado College after a solid roster from 2015 brought in a powerful freshman class, led by Frances Gellert. They and their veteran core didn't have a spectacular fall, but the talent level merits attention. With three ranked teams in their pool, we should know a lot more about Strata by the time bracket play rolls around.
The fifth seed, #19 Minnesota, has earned more than just Ultiworld's excitement. They are seeded ahead of six 2015 Nationals qualifiers, despite no impressive results to stand on. A veteran-laden roster — led by Greta Regan and Sarah Anciaux — has added a fresh crop of strong rookies, including Ellie Sjordal and Hannah Cowan. It's no wonder they are garnering high seeds preemptively.
Can Virginia Repeat After Personnel Changes?
We usually don't find out about #8 Virginia's real potential until Queen City Tune Up, but by that point, they've typically cut their teeth at Winta Binta Vinta Fest. With that tournament canceled this season, this will be a different type of test for a Hydra team looking to fill new roles. Alika Johnston is obviously gone, but so are Sarah Hansen, Nada Tramonte, and Michelle DeRieux. Even vets in key positions last year are going to have more asked of them in 2016, and it wouldn't be surprising to see them come a little slow out of the gates.
They may have lucked into the weakest pool, however. #21 Ohio State is the only ranked team or 2015 Nationals qualifier on their schedule; every other pool features at least two qualifiers and four teams in the Top 25. OSU is also the only team with any spring games under their belt. Sure, Georgia Tech, Tufts, and UNC-Wilmington could also wind up ranked, but they are also unproven. Virginia will seek to overpower them with depth and their system in an attempt to repeat at champions.
Southeast Sleepers
Four of the best teams in the Southeast Region at headed to QCTU. After Central Florida, two others could be sleepers in the field.
#20 Florida State was predicted to fall off after losing a large contingent of the senior class that took them to their first ever Nationals. But they turned in a 3-3 FWC, including beating Ohio State, proving they are still a team to be feared. They'll be shorthanded this coming weekend, without Carolina Gonzalez-Llanos and Gabby Sehres, and that could hamper them in later rounds. QCTU was their coming out party last season and they hope to surprise once more. Kristin Lloyd, Skylar Taggart, and Lisa Fitton give them a strong set of throwers that all logged significant minutes last season.
Georgia Tech is perhaps the most likely unranked team to fight their way into the top 25 with a strong QCTU. They looked very good in the fall and have a talented group of seniors and a few newer impact players sprinkled in. Taylor Hartman and Julia Ting, a pair of U23 tryout invitees, are hoping to help put GT on the map. The pressure of an elite tournament will be an extra challenge for them to overcome.