A look at the college season's first important tournament.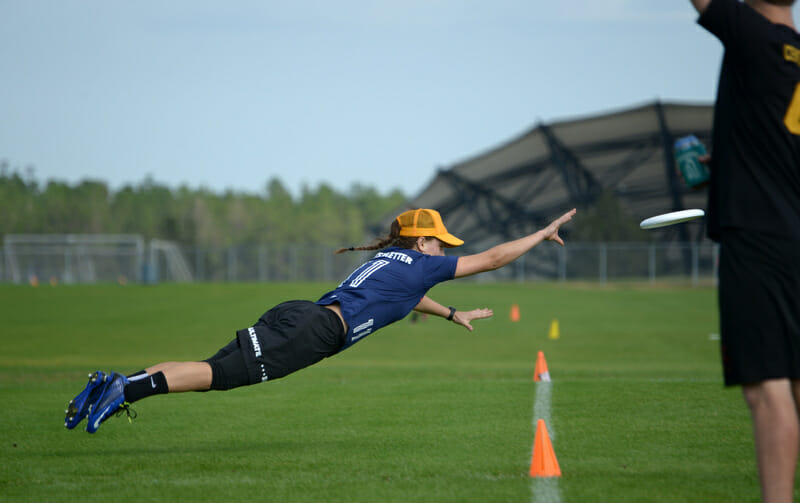 The article is presented by Nike Ultimate Camps; all opinions are those of the author. Please support the brands that make Ultiworld possible and participate in Nike Ultimate Camps!
APOPKA, FL — The first major tournament of the college season — the Florida Winter Classic — is in the books. Here is a look at the biggest stories from the weekend after a ridiculously windy Sunday.
UCF Defies Doubt
Virtually everyone at FWC this past weekend gave Central Florida little to no chance at winning the tournament, though certainly not for a lack of talent. UCF has a lineup of genuine stars on its roster: Shayna Brock, Janina Freystaetter, Alexa Wood, and Stephanie "Eli" Williams will all be on the shortlist for first team All Region and players like Gentry Maddox, Mia Griner, and Chloe Baldino bring plenty of experience and playmaking ability in their own rights. But UCF could not possibly win FWC, everyone thought, because they have no depth. To be exact, the Sirens brought a roster of eight to Apopka.
No matter. UCF, while essentially playing savage, breezed through Saturday, defeating North Carolina, Ohio State, and Florida by a combined score of 41-19. The Ohio State game felt closer than its final score of 12-7, and Ohio State showed vast improvements from the CCC championship matchup between the two, but it was clear that UCF was a step or two above its Saturday competition.
Things were no different through the first two rounds of play on Sunday. The Sirens nearly shut out Iowa, beating them 11-1 in quarters, and then followed that up with a 15-1 victory over Florida State in the semifinals. It must be said that FSU did open lines up after UCF broke on the first two points of the game in order to get rookies experience against a regional rival and to prepare for a third place game with an out-of-region opponent, but UCF imposed its will on the Seminole Ladies nevertheless.
A showdown with Michigan in the final started poorly for UCF, but the team responded quickly and ruthlessly. Coach Joe Tilley was proud of his team. "I thought they did a really good job of staying calm and making adjustments," he said.
The final game was far from routine like all of UCF's other games had been, and the team, down to only seven players by the time of the championship due to an injury Griner picked up in the semifinal, was clearly exhausted by the end of it. Still, with the tournament win, UCF emphatically defied its doubters and, truthfully, any notion of logic.
Questions may remain over the team's ability to play with so few throughout an entire season, but all UCF has to point to in order to defend itself is two tournament wins out of two on the school year. Tilley did say that although it was "still up for discussion," the team would probably add the B team roster to the A squad for the rest of the season, though the team would still employ a "very tight rotation" of players.
Regardless of how many players wind up on the roster, UCF clearly has a special team on its hands. Freystaetter, probably UCF's best player on the weekend, referred to players "taking it for the team" and stepping up for each other when their teammates needed a rest. More than anything, it seems the bond the small team has is what has allowed it to fight through exhaustion and the nicks and niggles that every team experiences in a tournament. Whether or not the success against all odds continues has to be one of the main storylines of the 2016 season. How will they stack up with the deep and talented teams out west?
Michigan Looking Strong
Michigan very much deserved its place in the championship game, even if things did not quite go how the team would have wanted in the tournament final. Hannah Henkin was one of the most enjoyable players to watch on the weekend, routinely destroying marks with lefty backhands and launching upfield for the give-and-go.
Elizabeth Benedetto, Leah Simmons, and Tracey Lo all made major contributions to the team's success as well, but, truly, Michigan's strength lay in its impressive depth. At times it was difficult to identify who was carrying the Michigan team because it did not feel as if anyone in particular really was. The trio of Michigan coaches — Ben Murphy, Alyssa Abbey, and Joe Besser — have themselves a complete team filled with capable and reliable playmakers from the top of the roster to the bottom.
After an up-and-down performance in the early fall at CCC and then a tournament win at Shootout in November, Michigan showcased its growth at a big time tournament that really matters. Flywheel, with its FWC performance, showed the country that it should be a force to be reckoned with this year and, barring injuries to its more important players, should be capable of making a run at Nationals this year.
Beyond Obvious Top Two, An Obvious Top Four
Beyond UCF and Michigan — clearly the two best teams at the tournament — there was a clear second tier. Ohio State and Florida State both showed they ability to dominate some of the other teams in Tier 1, while not quite being at the level of UCF and Michigan yet. Still, both showed promising signs for the chance to jump to that level later in the spring.
Ohio State, led by its crop of experienced playmakers, were a few plays away from really challenging UCF in their pool play matchup and gave Michigan all it could handle in the semifinal game. At times, Fever looked as deep and talented as any team in the field, but were also prone to cheap turns and mistakes. But the likes of Sadie Jezierski, Stevie Miller, Alora Reiff, and Katie Backus should be plenty for Ohio State to put together a great spring going into the Series if the team can improve its consistency.
Florida State, similarly, has talent and experience alike and has the look of a team that, as the spring goes on, should grow into a Nationals caliber group. FSU went on a 9-0 run to end its game with Florida for a 13-4 victory, and rebounded from a tough loss to Michigan by beating Ohio State in its crossover game on Saturday 15-12, ending the game with three straight breaks.
On Sunday, in the crazy wind, FSU beat North Carolina on double game point, 9-8. Every point prior to the last point of the game was a downwind hold. In a game with more normal weather conditions, the game would likely not have been as close, but the Seminole Ladies showed tremendous fight to break upwind when they had to do so.
FSU bases its play on a steady group of handlers led by Kristin Lloyd and Skylar Taggart, but players like Zoe Stapleton and Lisa Fitton would fit right into most top teams across the country. Although they lost their rematch with Ohio State on double game point in the third place game, FSU has plenty to build on from this tournament.
Florida Shows Promise; UNC Not Quite There Yet
To round out Tier 1, Florida and UNC were the only two teams in the tournament's top division to finish in their pre-tournament seeds. Florida went 0-2 in pool play and lost to UCF in the crossover round, but had two halves of play – the second half against Michigan and the first half against UCF – where the team showed the potential to play with the top teams. In those two halves, Florida outscored Michigan 5-3 and trailed only 8-6 to UCF. However, they were outscored 14-4 in the other halves of those games.
On Sunday, Florida easily bested Emory in a play-in game and then again put in one strong half against Ohio State to match Fever 3-3 after halftime in the morning's brutal wind. Though given a tough time by Auburn in the first game of consolation play, UF managed to hold on for the win and then come back and beat UNC 12-11 for a fifth place finish.
Florida is fairly deep, featuring a host of strong players, but are led by a few big time play makers in Tori Taylor, Jaime Estes, and Courtney Testa. The team has some improving to do in decision making and execution, but if all goes right the team could be a dark horse to make some noise at Regionals.
UNC, meanwhile, had an even tougher start than UF. Outscored 43-19 by UCF, Ohio State, and Michigan during pool play, UNC had the toughest first day schedule possible — based on how the teams finished the tournament — and Pleiades did not really look capable of hanging with any of its opponents.
With teams taking away Jenny Wei — who was still one of the most impressive players of the tournament — North Carolina struggled at times to find much of an identity on offense. Elizabeth Parker is clearly the team's second star, but UNC will have to get more from the supporting cast more consistently if it is to fare better later this year.
North Carolina did seem to be a more balanced team on Sunday, beating Georgia 12-9 in the play-in game before taking FSU to double game point in quarters. As mentioned before, the wind made the FSU game an almost entirely downwind game, but UNC's defense was strong and Wei and Parker played extremely well, nearly doing enough to key the upset. UNC then dominated Iowa in the consolation bracket 13-5 and lost the heartbreaker to Florida to finish sixth.
First year coaches Jessi Jones and Jenna Dahl should take comfort in how the team rebounded from a disheartening Saturday and knowing they have two cornerstones worth building a team around in Wei and Parker. If the rest of the UNC squad can play like they did on Sunday more consistently, then perhaps UNC, too, could grow into a team that could potentially shake things up at Regionals.
Tier II
Iowa and Auburn were the most impressive of the Tier II teams, finishing in 7th and 8th place, respectively. The two teams traded wins and each made it to the quarterfinals. Auburn came the closest to an upset with a one point loss to Florida, but neither team challenged the tournament's top teams. Both teams should be in the mix come Regionals.
MIT also played well, going 3-0 in pool play with wins over Georgia, Alabama, and Akron. They lost by one to Iowa in the prequarters.
***
Of course, it is difficult to say with much certainty how much weight this tournament should be given in assessing any of these teams. During parts of Sunday, it was hardly even ultimate being played on account of the blustery weather. And, of course, teams still have so much time to change and grow between now and the end of the spring. But FWC has set a marker of measurement, fair or unfair, for all of the teams involved for the rest of the season. UCF could not possibly keep winning tournaments with the number of players they currently have, could they? Will Michigan, Ohio State, and Florida State all build on very strong starts to the season?
Perhaps FWC 2016 left more questions than answers, but we need something to look forward to in the rest of the spring, right?