Which teams flashed Nationals potential in North Carolina?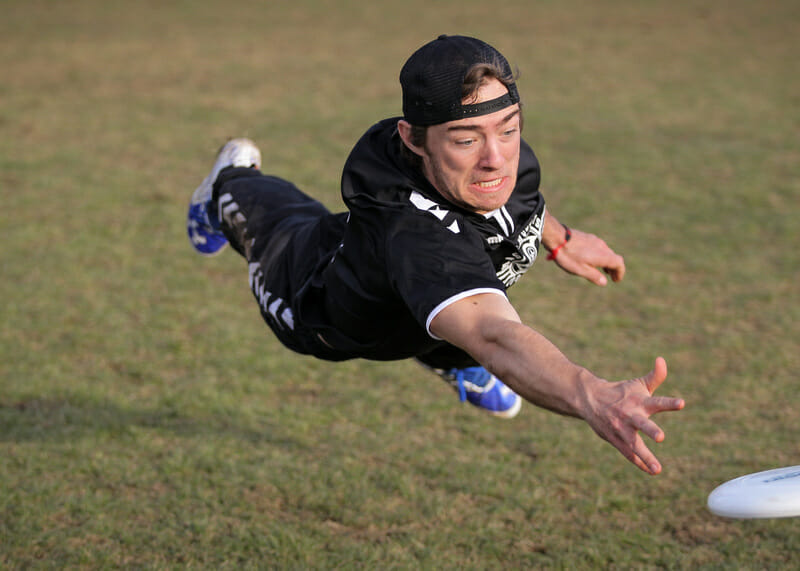 CHARLOTTE — Queen City Tune Up is in the books, and the college season is off and running for teams on the East Coast. In addition to the excitement of finally seeing the season get underway, there were several big questions circling around many of the teams who competed this weekend.
Stepping back from the action on the field, here are some takeaways from the weekend in terms of what we know, and what answers the future still holds.
What We Know
Wilmington and UMass Are A Cut Above
Pittsburgh, Wisconsin, Carleton…the ball's in your court now to prove your title contender credentials, because Wilmington and UMass emphatically showed us that they are going to be at the top of the list all year. These two behemoths dueled in the finals of QCTU in one of the most epic regular season games in recent memory, and in doing so, threw down the gauntlet to any other team that wants to be mentioned in the same breath as these two programs.
The two top ranked teams showed by the end of the weekend that they were simply on another level from the other teams in attendance. While they both demonstrated the immense capability their respective teams possess, they took different roads to get there.
Wilmington built up a head of steam over the course of the weekend, peaking with their incandescent performance in the final against UMass. Though they had been able to win all of their previous games, it seemed that the Seamen didn't really put the foot on the gas until the later rounds of Sunday.
In general, Wilmington played to the level of their competition. They looked a little lethargic during pool play, winning more on sheer talent than exceptional execution. They let D-III team UNC Asheville hang around, and were unconvincing on offense against a good but not great Michigan team. Of course once the elimination rounds began, they kicked into gear and beat all three of the other one seeds at the tournament in Harvard, UNC, and UMass on their way to a title.
The first time they really started to look like the world-beaters we saw during the regular season last year was in the semifinal against UNC. They completely outclassed their regional rivals, going full Blitzkrieg from the start with a series of layout blocks, aggressive throws, and general dominance of every little battle on both sides of the disc.
Their initial rust and subsequent revitalization may have to do with some changes to their lines from last season. For most of the tournament Xavier Maxstadt was running the show on the D-line while Jack Williams got the keys to the offense. On Saturday, the O-line struggled to coalesce without Maxstadt there to stretch the defense with his throws, and as a result Williams was forced to do more work around the disc than is ideal for such a transcendent deep cutter.
In the elimination rounds, and especially against UMass in the finals, Maxstadt hopped over to offense and went both ways for long stretches. His ability to keep defenders honest allowed Williams more freedom downfield, opened things up for the speedy duo of Erik Esposto and Austin McGrayne, and gave Charlie Lian the ability to do more work with his legs, running defenders ragged with handler cuts.
That stacked "kill" line was just devastating all weekend, and while there are still some question marks about how Wilmington will resolve their line balance over the course of the season, they have a top seven that can overwhelm just about anyone in the college game.
While Wilmington took some time to get up to their elite standard, UMass was consistently dominant pretty much all weekend, industriously taking care of business on Saturday and demolishing VCU in quarters on Sunday. They hit a tiny snag during the middle of their semifinal against Georgia when the offense got a little too liberal with some deep looks, but the outcome of that game was never really in doubt.
The big names at the top for Zoodisc were great, Jeff Babbitt proved once again that he is one of the most astonishing athletes to ever play the sport, but it was the depth of talent that really set this team apart over the course of a tournament. Going down the line, from Brett Gramann and Ben Sadok to Ben Tseytlin and freshman phenom Tanner Johnson, there are just so many names that stand out as truly impactful players. UMass flexed their depth all weekend, with different players taking over when the opportunity arose, each one seeming like they had the potential to be the number one guy on a high caliber team.
The one UMass star that had a quiet weekend was Conor Kline. He didn't seem to be the same unstoppable speed merchant that he was at CCC, and was played sparingly by coach Tiina Booth on Sunday before the showdown with Wilmington. After the game, Booth attributed Kline's semi-absence to a bout of strep throat, and while he wasn't "crisp" this weekend, she expressed confidence that the goals leader from club Nationals would be back on track as the season progressed.
UMass may have ultimately come up just shy of taking the crown at Queen City, but there were so many positives from their performance on the whole that they should feel very confident of their place at the top of the college game.
There Is No Third Team In The Atlantic Coast
Going into the weekend, one of the big questions surrounding the tournament was who would stand out in the crowded field of Atlantic Coast teams not named UNC or Wilmington. The answer was…none of them, really.
Following a year in which Maryland earned a third bid for the region and opened the door for an outsider to get to the big dance, the performance by the host of mid-level Atlantic Coast teams this weekend may have shut that door for 2016.
With a disastrous showing by Virginia, multiple meltdowns from Maryland, and a blasé Saturday performance by 6th seeded JMU, it looks like QCTU will be a squandered opportunity for AC teams seeking a third bid.
VCU was the only one out of the bunch to make the quarterfinals, on the back of a 12-6 dismantling of JMU, which is nothing to sneeze at. However, in both of the opportunities they had to play a Nationals caliber team they were badly exposed on both ends of the disc. Undoubtedly VCU is an athletic, exciting team, headlined by Dom Gibson and his eye-popping hops, but this weekend showed that they won't be ready for the big time until they can play more consistently on offense and maintain their discipline of the defensive side of the disc.
Harvard Doesn't Have The Juice
Coming into the tournament ranked #7 overall, QCTU was a chance for Red Line to prove their top 10 bona fides. Unfortunately for them, their quarterfinals exit and overall performance this weekend had quite the opposite effect.
John Stubbs and Mark Vandenberg were the two big names entering the weekend, but to prove that Harvard are a genuine title contender we needed to see someone else emerge from their roster that can be a real difference maker against elite opposition, and that just didn't happen.
Ben Scharfstein was a solid contributor as the second handler working with Vandenberg on the O-line, demonstrating good field awareness and chemistry on give-go upline cuts in the end zone set, but he wasn't a game changer.
John Stubbs may very well be one of the five best players in the nation this year, but he is going to find himself spread awfully thin this season if QCTU is any indication. He was one of the only players on the offense that could reliably beat his matchup in one on one situations, and the D-line struggled mightily to get breaks when he was off the field. It did appear that Stubbs was still recovering from injury and perhaps playing a little gingerly, but even a full strength John Stubbs would not have put Harvard in the same class as Wilmington or UMass.
Of course, it is still early in the season and there were some mitigating factors to Harvard's disappointing showing. Because of the snowstorm that battered the Northeast on Friday, the team's flights were delayed and most of the players didn't arrive in North Carolina until 5 AM on Saturday, a mere four hours before the first round of games. But sleep deprived or not, it was clear that Harvard just doesn't have the horses to be considered a genuine title contender at the moment. They are still likely a Nationals level team, but more than that looks doubtful at this juncture.
What We Don't Know
What Will the End Product Look Like for UNC?
The defending champs did what they needed to this weekend to assuage any fears that their program would fall out of relevancy following the departures of Jon Nethercutt and Ben Snell. Darkside held seed, convincingly took care of business against the teams ranked below them in their region, and showed much of the same poise and strong mental game that was the trademark of their title winning forerunners. While that sounds very cut and dry, how they achieved those results is interesting, and leaves several questions unanswered.
During their run of success last season, North Carolina relied a lot on their top end talent to carry the load, and a lot of that talent is gone. Based on this weekend, it looks like readily available 1:1 replacements for those roles just aren't there yet. Aaron Warshauer was probably the team's biggest weapon in Charlotte, and while he is a more than capable downfield cutter, he just doesn't have the kind of versatility that makes opponents quake in their boots.
The trademarks for this new-look Darkside squad at QCTU were good decision making with the disc, boundless effort on defense, and speed all over the field. The product UNC put on the field this weekend was good enough for a semifinal finish, but it lacked the firepower of last year's champs.
Coach Mike DeNardis will have his work cut out for him if he hopes to get this team back to title contender status. It was shocking to see UNC so thoroughly outmatched by Wilmington in their semi-final contest; the score line doesn't really reflect how dominant Wilmington was in that win. Darkside just didn't seem to be in the same gear as their counterparts, but according to DeNardis, that was all part of the plan.
"Our whole season is going to be growth based, in terms of results," said the 2015 Ultiworld Coach of the Year. "This weekend was sort of a diagnostic, there was a lot of feeling out. We don't go in with the mindset of, we want to win the game. It's a growth mindset."
It will be very interesting to see what DeNardis and the Darkside leadership are able to construct out of this team that has youth, speed, and athleticism in spades, but lack traditional big playmaking throwers. They also lack traditional bigs. The team will be giving up a few inches to most teams and will instead have to rely on speed and quickness to beat matchups one on one. You have to wonder if they might try to take some pages from the Japanese playbook down the road.
Still, bringing along the team's abundant youth contingent seems to be the chief concern for UNC at this point in the season, and the coaches and captains seemed very pleased with that aspect of their performance at the tournament.
"Our younger guys looked really good. They stepped up to the plate," said captain J.D. Hastings. "Even when we started going down early in the Wilmington game, they never really faded, or wavered. I was really impressed."
The young players for UNC did seem more polished compared to rookies on other teams, with Elijah Long contributing on the O-line and Austin Banks fitting right in with the defense. Last season under the tutelage of DeNardis and his staff, Nathan Kwon and Matt Gouchoe-Hanas became some of the best rookies in the country, and if this year's crop can follow suit, UNC should have one of the best young cores in the country going forward.
This season, with a lot of young talent and some new puzzle pieces to play around with, it's clear that this UNC team will look very different from the team that emerged victorious in 2015. The question becomes, what exactly will it look like? Based on DeNardis and Darkside's history, we might have to wait until the series to find out.
What is Georgia's Ceiling?
Behind Wilmington and UMass, the big winner this weekend has to be Georgia. Notching quality wins over Harvard and Maryland in pool play, finishing off a feisty Michigan squad in quarters, and putting up a respectable showing against UMass has them again in the bid picture in the Southeast and looking like a quality Nationals caliber team.
It didn't always look like Georgia would emerge from the tournament with such a rosy disposition however, as a few key plays could have changed the tenor of Georgia's weekend and their outlook on the rest of the season.
They came out as flat as can be against George Washington in the first game of pool play, and would have started out their weekend with a shocking loss if not for a gut wrenching drop by a GW player in the end zone on double game point. After surviving the big upset, Georgia recovered from their slow start and put in a good performance against an out-of-sorts Harvard team to take pole position in Pool D.
The emotional rollercoaster would continue for the crew from Athens as they almost blew the pool in their afternoon bout with Maryland, needing massive 8-2 comeback in the second half to clinch the win after playing an uninspired first half marred by drops, needless throwaways, and aimless defense.
Going into Sunday, the team's coaches Benjamin Gray and Nate Kelly knew they would have to get their team in a groove if they were going to have success on Sunday. "We needed to preach playing our system, like we practice, and not just trying to make plays as individuals," said Kelly. The team took that to heart in the quarterfinals against Michigan. Playing a more polished game than they had shown on Saturday despite the windy conditions, Jojah was able to string two good halves together and take down Magnum to advance into the semifinals.
Perhaps even more impressive than that win was the team's performance in their loss to UMass in semis. Going into the game, coach Gray stressed the importance of being able to hang with a team like UMass, particularly after their 13-4 drubbing at the hands of Zoodisc the season prior. "What's really important to us is the mental perspective of the game, getting through the game in a positive mental position," said Gray. "If that happens, then we'll consider it a win, no matter what happens." If that's the case, then Georgia has to come away from that game feeling good. Their offense was able to navigate the imposing UMass zone with only a few hiccups, and in the end they were able to hold their own against the then #1 team in the country before ultimately falling 12-9.
The big question that remains after an impressive weekend is, where does Georgia go from here? Their steady, consistent play on Sunday had the look of a prequarters team at Nationals, but given that it is early in the season, how much room is there for improvement? Some of that may come down to how their big three of Sam Little, Nathan Haskell, and Parker Bray are able to perform over the course of the season.
Bray and Little were both key figures all weekend for Georgia. In particular, Little's indomitable leadership and consistent play were essential in righting the ship after an up and down Saturday. In truth though, Nathan Haskell was the real revelation at QCTU, as he was just an undeniable talent on both sides of the disc. Always an industrious cutter, he revealed some flashier elements of his game this weekend that could signify a real star in the making, highlighted by a stunning 40 yard upwind hammer to clinch the quarterfinal victory over Michigan. If Haskell can develop ahead of schedule and fully realize his immense potential, then the ceiling could rise for this Georgia team.
Quick Hits
– JMU came out slow against VCU in their first game of the weekend and got trounced 12-6. Would that result hold up later in the season? It seems like JMU still has plenty of potential, as highlighted by them winning six straight games to close the weekend finishing ninth.
– Michigan continues to show off a grinder mentality, and they are talented enough to get to Nationals in a weak Great Lakes region. They'll have their work cut out for them, though, with Illinois and Northwestern showing a bit more upside in the region.
– Ohio State was clearly the odd man out in quarterfinals, benefitting from a thin pool to reach the top eight. They were soundly beaten by both UMass and UNC this weekend and almost blew a huge lead against Davidson in what was effectively prequarters. There is talent there (Paul Arters was impressive), but they're a long way from having a shot at a bid, one they would need to earn in the Ohio Valley.
Notes
…The weather was mild on Saturday and chilly, but not cold, on Sunday, and the wind was minimal, a rarity for QCTU…Big thanks to the tournament directors for their assistance with field assignments and planning…Get the banana pudding milkshake from Cookout. Just trust us…