A look at the early matchups in the Warm Up championship bracket.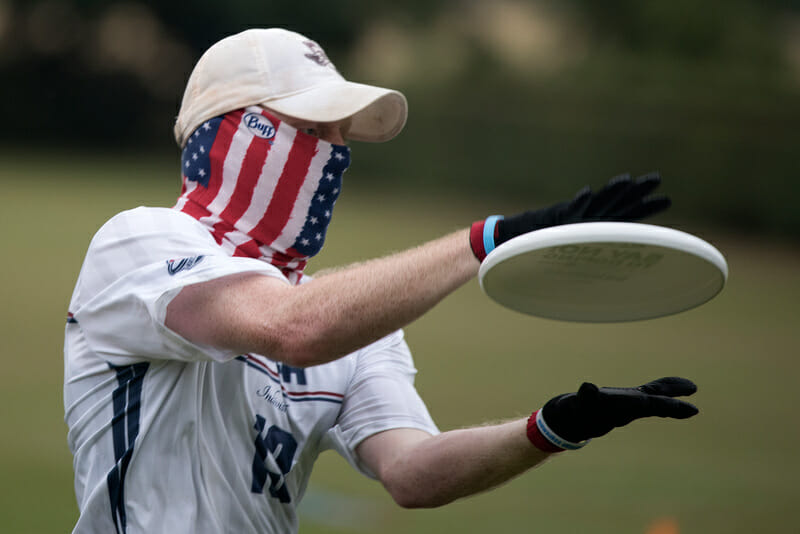 The article is presented by Nike Ultimate Camps; all opinions are those of the author. Please support the brands that make Ultiworld possible and participate in Nike Ultimate Camps!
Here's a look at tomorrow's semis play in games at Florida Warm Up.
Wisconsin (-2) v. Virginia Tech
If you've been sleeping on Virginia Tech, this is your wake up call. Burn has put together a quite a tournament — winning all four games on Saturday to finish with a 5-2 record and a spot in the bracket. They picked up a quality win against a 2015 Nationals qualifier in Illinois, then another when they came from behind to beat Wisconsin in extra innings, 14-12.
Now, in elimination play, the Hodags will have a chance to avenge that loss.
In a Friday night showcase game, Wisconsin dropped a two point loss to Florida but have largely taken care of business. The Hodags tallied wins over a Texas team that still has plenty of star power, a BYU team that was playing spoiler, and Pitt. This Hodag team honors the program's roots, making their presence known horizontally and defensively.
Wisconsin has a roster full of seasoned big game players, while Burn is an early season Cinderella with a lot of underclassmen on the roster. Arrow up for VT but Wisconsin is the favorite.
NOTE: Virginia Tech had on of the easiest schedules based on strength of opponent at Warm Up, second only to Connecticut. But Burn has played well. At Atlantic Coast regionals last year, VT finished 10th and that result actually broke their 11th place seed. Regional foes take note. This team is on the rise.
The winner will face #2 seed Florida in the semifinals.
Texas A&M (-1.5) v. Carleton
Tomorrow morning's quarterfinal matchup between Texas A&M Dozen and Carleton CUT offers not only a contrast in programs — one built on recent success, the other forged from years of excellence — but also a major contrast in styles.
The free-flowing and unconventional offense you'll see from A&M is star-driven, led by one of the country's best handlers in Dalton Smith. A strong performance from Smith will be a must in this game, as Carleton's defensive unit has been — aside from Saturday night's game against Florida — capable of finding the endzone with some consistency.
CUT's offense, on the other hand, is cut from deep North Central traditions: inside breaks, hucks off of movement, and a strong cutting corps. When things are right for CUT, they score quickly and ruthlessly, often hucking to wide open receivers up a sideline. Expect Texas A&M to try to disrupt their flow with zones, junks, and other unusual looks.
Carleton got some wins today thanks to a smart zone D with a tall cup — Texas, for one, was stifled by their largely unpracticed zone. But that might not work against Texas A&M: Smith is just too good and too crafty to get stopped by that and will be able to snipe hammers and exploit weak points.
The question for A&M: can they keep their defense on the field? If the O line has to run on long, turnover-heavy points, they will be playing into CUT's hands. Carleton is deeper, and A&M's O line sometimes looks like they can't be bothered to play much defense anyhow.
Bottom line: A&M has the athletic advantage and will be coming in with full rest. Edge: A&M.
The winner will face #1 seed Minnesota in the semifinals.