A look at the first two days of Prez Day!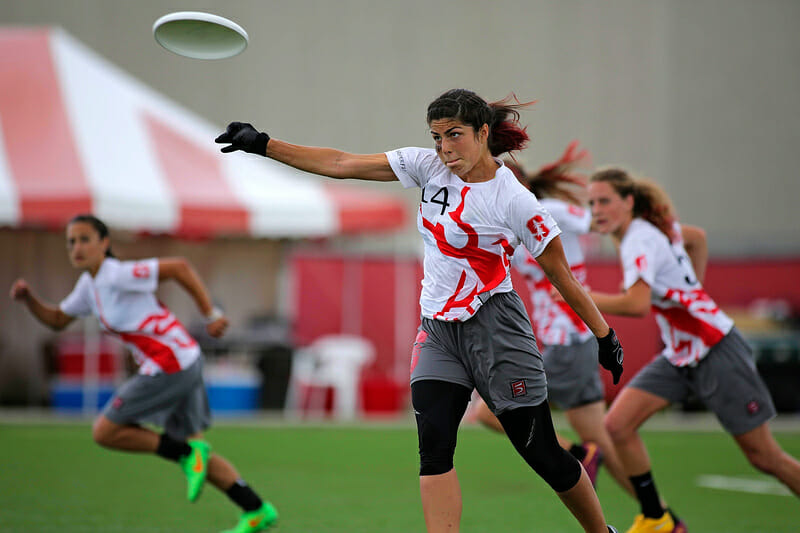 SAN DIEGO — Two days of play have concluded at the 2016 Presidents' Day Invite. After pool play and power pools, teams took the field for the quarterfinals yesterday afternoon. The semifinals matchups are now set for Monday morning. Here's a look back at what we've seen so far.
Men's Division
In spite of all the grit, sweat, and emotion packed into two full days of ultimate, the best teams that landed in San Diego have asserted themselves in since the first pull on Saturday, facing only a few challenges along the way.
Oregon, Colorado, and Washington — the respective #1 seeds of Pools A, B, and C — have all faced moment of adversity, but their superior talent and systems have left them the unquestionable top teams. As the semifinals loom this morning, all three remain undefeated. British Columbia is the lone semifinalist with a loss, a close 11-9 bout with regional rival Washington on Saturday. The semifinalists are a combined 20-1 against the competition.
The class of the tournament so far has been the Oregon offense. No other team in attendance can send out a line on either side of the disc that matches the pedigree and experience shared by Adam Rees, Chris Strub, Colton Clark, Braedon Petrus, and Connor Matthews, all of whom saw heavy minutes through the 2015 final in Milwaukee. Will Lohre and Xander Cuizon Tice, top first-year recruits from Denver and Seattle, respectively, have gone above and beyond to add talent, speed, and goals to this impressive offense. Will Watkins has helped anchor the Ego D-line, but on that side of the disc Oregon has been content to take punches as they search for roles. San Diego State gave Oregon its biggest and only true scare of the weekend so far — a barn burner in the second round of power pools that finished 15-14 after a late Ego comeback.
It may take a defense that can match Oregon's athleticism and bring discipline after the turn to take Ego down, and Colorado has consistently won its games by piling on extra breaks whenever possible. But their offense is susceptible to being broken; Colorado faced deficits twice on Sunday. Region rival Colorado State Hibida held a lead for most of the game until Mamabird tied the contest at 13, broke to go ahead, and held on to win 16-14 before the cap. In quarterfinals, California jumped out to a two-break lead at the expense of the weaker Colorado offense, but the defense took over and closed the contest with six points in hand, 15-9. Mark Rauls has been a leader for the injury-plagued Mamabird, using his speed and precision throws after the turn to spirit his team to wins in the absence of Pawel Janas.
Washington and British Columbia, neither team with the same type of recent nationals pedigree of the above two favorites, have earned their spots on consistency and raw talent. Washington's true bright spot has been their grit. When push came to shove, the Sundodgers got the breaks they needed to either stay in front by a few points, or, in the case of today's heated rematch from 2015 Northwest Regionals, to overcome a deficit and break for half against Western Washington. Washington's win's have not always been pretty, but there's an element of chemistry and trust that has helped them stay in control of their own destiny this weekend.
British Columbia, on the other hand, may have the most impressive collection of throwing talent on hand this weekend — it's just the challenge of putting it all together that has slowed them down. With Peter Yu at the helm, the Thunderbirds have hammered opponents with excellent give and gos, speedy man defense, and a throwing attack that is more deadly with its inside breaks than its deep game. Just about anyone on the roster seems to be able to get a block, and Yu's leadership both behind the disc and downfield has landed the under-seeded British Columbia in what should be an entertaining semifinal with Oregon.
Cal-Poly SLO logged another solid weekend on their way to their second quarterfinals in as many weeks, riding a fired-up sideline, raw athleticism in the air and on defense, and seasoned throwing from veteran Joel Anton. SLO is the kind of team that will benefit heavily from traveling outside the region and facing new and different talent beyond the west coast to hone their program. Two other Southwest competitors, California and Santa Barbara, made semifinals appearances, but couldn't provide the same kind of promise as SLO and took bad beatings to end their bracket hopes.
Women's Division
Days one and two of President's Day are now in the books. The women's side consisted of the good, the bad, and the ugly.
Undefeated, And It Feels So Good
2015 Nationals finalists Oregon and Stanford both dominated the first two days of play and have showed few signs of slowing down this season. Both Fugue and Superfly are undefeated heading into the semis. Oregon's first game against the California Pie Queens was by far their closest match of the tournament thus far, but Fugue pulled out a 13-10 win.
Power pools offered some more tests. Oregon had to battle back against a feisty Northeastern squad, 15-10. On the other side, Stanford edged out California 11-10 and held off a strong Washington defense to win 15-11.
A note: Stanford defeated Texas 14-5 earlier in the tournament and gets the Texas team again in the semifinals this morning. Let's see if Texas can put up more of a fight.
Pool D Stands for "Dominant"
Usually the toughest pool in any tournament, the D pool did not disappoint. As the #1 seed in the pool, Texas had a tough battle against the 2-seed UCLA as Blu grabbed the 9-7 victory over Melee. UCLA's cup was just too much for the Melee handlers, even though it seemed like they controlled the pace of most possessions. Texas, lead by handler star Domenica Sutherland, did everything they could against the cup, showing patience and moving the disc laterally. However, that can only get you so far as UCLA's Han Chen — anchoring the back of the zone — swooped in to take away any over-the-top throw.
Texas has managed to claw and grind their way into a semis appearance. After going 1-2 (losses to Northeastern and UCLA) in pool play, they found their grove and determination in power pools. Starting off the day with a gritty 12-11 victory over California, they got smoked by Stanford, 14-5. To bounce back and win a 15-13 game over Colorado College shows some real mental toughness. They know how to grind.
"I think it's mostly our players staying mentally tough," said Texas coach Edith said. "We had a really rough day yesterday, came out really slow. Today we made it our goal to make sure we came out every half really hard. And we did it sometimes, and didn't other times. But I think just the focusing on staying mentally focused, checked in, taking care of themselves physically…I think that really helped."
It definitely paid off as Texas now looks to get revenge against Stanford in a semifinals matchup.
UCLA Looking Strong
UCLA's Blu also went undefeated after days one and two thanks to Chen and Kristen Pojunis, backed up by a deep bench.
"Everyone is playing hard, regardless of the score," said Pojunis. "It's a team effort. Every single girl has played in every single game so far."
UCLA comfortably took the top seed in pool D after day one and were victorious in power pools against Western Washington (14-11) and USC (12-7). They defeated UC Davis in quarters 12-7. They now look to their biggest test of the season thus far: a repeat semis match from last year at Prez Day against a talented Oregon roster.
Colorado's Downward Spiral
The biggest shock coming out of Saturday and Sunday has to be Colorado. Coming in as the top seed of their pool, Kali finished 2-1 with a 7-9 loss to UC-San Diego. Kali again was at the top of their power pool, but fell to both in-state rival Colorado College (who would go on to win the power pool) 9-11 and UC-Davis 12-13.
Granted, both losses were quite close, but Colorado struggled against the pressure of both Strata and Rogue. On several occasions, Kali handlers, led by Kristin Johnson, worked it down the field patiently and with strong throws, but couldn't quite connect with the long ball. The presence of former Kali star cutter Megan Cousins is greatly missed.