Minnesota secured front-runner status in the North Central with an impressive Warm Up weekend.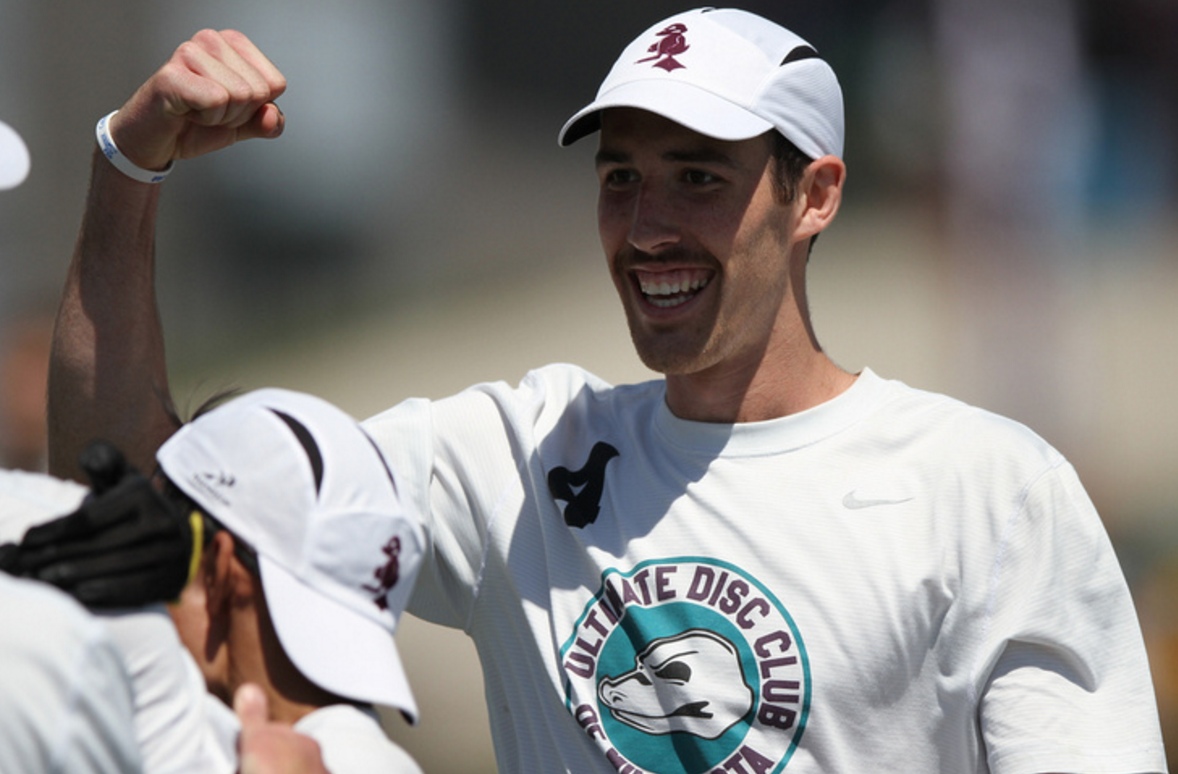 The article is presented by Nike Ultimate Camps; all opinions are those of the author. Please support the brands that make Ultiworld possible and participate in Nike Ultimate Camps!
TAMPA — Minnesota put a bow on a head-turning early season effort with a 14-13 double game point win over Florida in the Warm Up final.
To win early season tournaments, consistency is paramount. While Minnesota and Florida were far from perfect, their steady play set them apart from a field with head-scratching February parity. By the time these two met in finals, each team had done some impressive things.
Florida took down top 5 ranked Wisconsin twice and was the lone unbeaten in the field for a time before finishing pool play at 5-2. One loss Minnesota's efficient offense and breakout performance from big man Ben Jagt were the talk of the tournament.
Grey Duck's only loss? A 13-4 rout at the hands of Florida.
In a final that featured multiple lead changes and some old school college chippiness, Minnesota rose to the challenge, capping off an impressive weekend with a memorable win.
A Four Quarter Affair
"We didn't run zone all tournament," Minnesota captain Wyatt Mekler said after the final. "We just really wanted to focus on working hard man [defense]."
Grey Duck underscored a tournament-long defensive mindset in finals. They sprinted down hard on deep, slightly outside-in Sam Bumsted pulls and covered early Florida options.
Lightning quick freshman defender Cole Wallin, who was named Minnesota's tournament MVP, took on some daunting assignments and held his own. In semifinals against Texas A&M, he was matched up with Dalton Smith. In finals, he worked against Bobby Ley.
Just like in semis, Minnesota came out hot. The defense forced miscues and converted. Florida trailed 3-0 to start while working through Duck pressure and some offensive yips. A huck too far here, a miscommunication at the cone there. The Gainesville team fought back to within one at 5-4 on a Billy O'Bryan bender to Pat Gettino but soon they found themselves in some real trouble after a deep turnover led to Minnesota break and a 7-4 deficit with halftime approaching.
Minnesota's huge sideline was rushing the field and doing cheers. Meanwhile, Florida, who only had 16 players in cleats and a rotation of about 11 seeing points, calmly prepared for a comeback.
Head coach Cyle Van Auken shed some light on his team's cool and collected mentality.
"They play every point. There's no difference if it's 4-0 or 0-4. They know they're going back out for the next one so it's on them," Van Auken said at halftime. "They don't have to be nervous that they're getting pulled."
After a crucial hold, a three turnover point by Minnesota's offensive unit led to a break. Down one, Florida surprised with zone and stayed in the set as Minnesota crisply worked the disc to the goal line before Gettino made the best block of the game with a layout on a two foot pass attempt through the cup. Florida patiently worked it down field; Bobby Ley broke Ben Jagt with an around backhand to Jake Dummeldinger to the the game, 7-7.
A tipped disc found its way into the end zone and into the hands of Grey Duck's Sam Kaminsky to take it to half. But just like that, Florida was back on serve.
Minnesota's side stack worked like a charm all weekend. Captain Ryan Osgar would consistently fly out into the lane with tons of space to get the disc and it was off to the races. This is especially effective when a tall target like Jagt was cutting for the continuation. Against simple man defense sets, Minnesota's O line often scored in three passes.
Though they didn't run it much at Warm Up, side stack is a set Florida uses on offense and, more importantly, is used to defending against at practice. They were able to switch effectively, passing Grey Duck cutters off to one another with minimal effort and energy exerted. All the better for a team with a lot of guys playing both ways.
"They threw some things at us against that side stack that we hadn't seen and we had to figure out where the holes were," Minnesota head coach Tallis Boyd said. "There were open people. We just weren't able to always get it to that person."
Lead Changes
At 9-8 Florida took their first lead of the game when Ley hit rangy sophomore Matt Thompson with a high release backhand.
Grey Duck would regain the lead when a monster pull forced Florida to start halfway deep in their own end zone before eventually throwing away a huck and ceding a break: 10-9 Minnesota.
As the game started to get chippy and calls of all kinds were made (even a number of stalls), the pace of the game changed to jerky stops and starts. Emotions and tensions were running high in the observer-less game but never fully boiled over.
Osgar laid out to stab a disc in traffic on an up line throw that went a little too far to keep Minnesota ahead 11-10. The disc was summarily spiked.
After Soham Shah failed to connect with a laying out Jagt on a low flick huck, Florida's defense was able to convert when Ley found a streaking Danny Bishop. Down a break, 12-11, Minnesota was running out of time.
Minnesota held after a Wyatt Mekler goal to tie at 12, as the game was capped at 14. Veterans Jagt, Shah, Mekler, and Osgar would play the rest of the way to try and secure the final break.
Suddenly Florida's offense seemed to have run out of horizontal space. Ley and O'Bryan engineered an upwind drive that stayed within 15 yards of the trap sideline before a Ley outside in flick found Dummeldinger on a thin slice of turf near the front cone. Minnesota worked upwind in one try as well.
Double game point.
Just as they had on the previous offensive possession, Florida dinked and dunked and nearly handed off to get inside the Florida brick mark. With Minnesota's defense finding pressure and forcing high stall counts, Ley sent a flick to the end zone that Bishop couldn't quite reel in. Grey Duck's Soham Shah walked to the back of the end zone to retrieve the disc and received a loud ovation from a large group sitting underneath some shade. A few throws later Minnesota took a hasty deep look to a double-covered Jagt that fell short. Then Florida misfired again with a drop at half field.
Timeout Minnesota.
It felt like this was going to be it. Maybe there were more jitters than usual at the culmination of this three day tournament.
For the second time on double game point, Shah started the dead disc and, before long, Bumsted got the disc on a strike cut and hit Wallin with a short flick around a Florida defender for the game.
***
This was a statement weekend for a Minnesota team that has to be the favorite to win the North Central region. This team is fast and has no shortage of defenders.
"We've got a lot of horses on our team that can just run and run. We're really excited about that this year," Boyd said after the game. "I love the athletes we've got and now we've just got to keep getting better."
A lot of young guys are making contributions for Duck as well. Cole Wallin played outstanding and fellow freshmen Sam Kaminsky made his mark at Warm Up, tallying two hand blocks in the final.
Boyd assured that his team would have no trouble staying hungry after initial spring success, which can often be a trap for young teams.
"I see us get a win, which is great. But there are a bunch of things I see that we didn't do, and that's what I'm going to take back and that's what we're going to focus on," Boyd said. "I'll be on their case. We've got a lot to get better on."
After all, with that finals win, Minnesota improved to 1-1 and -8 against Florida on the weekend.
For Florida, this was a step in the right direction for a team with a lot to prove this season. Their starters played a ton of minutes and proved they were capable of handling the extra points. They also came away with plenty to work on.
"Overall I think we need to work more on our defense. Offense will get there in time, working it out," an uncleated O'Bryan told Ultiworld after finals. "Defensively we need more people getting the Ds. Pat Gettino… He was all over the place. But we need more from everyone, not just one guy carrying our [defense]."
Something else to notice is that Florida is essentially blowout proof. They might lose but they're going to be in the game. The relaxed, almost laissez-faire attitude is one that will keep them in every game – when things are going well and when they aren't. No sense in getting worked up one way or another. That style of play travels well.
A tight second place finish for Florida would be a good place to build from for a team that wants to get back to Nationals in May after a one year hiatus.
"That's the only goal," O'Byran said with sincerity. "We're going to Nationals this year."