An exciting start to the DIII season!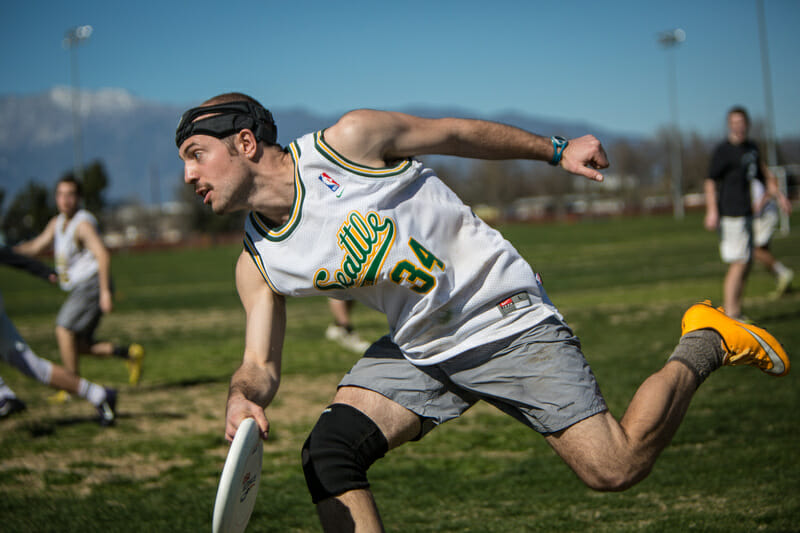 In its third rendition, D-III Warm Up once again brought together a talented pool of teams from the west coast, serving as a primer for the spring season. In its inaugural year of 2013 (it was held again in 2014, but not last year), it featured five teams that went to D-III Nationals: Carleton-GOP, Brandeis, Lewis & Clark, St. John's, and Claremont. It also featured two teams that had made D-III Nationals the year prior in Puget Sound and Amherst. Safe to say, the tournament made a name for itself in its first year.
As a result, the tournament had no trouble attracting top-level talent this year. Whitman, Carleton-GOP, Amherst, Puget Sound, and Lewis & Clark made the trip to face quality competition, including the host Claremont. However, the weekend brought about some unexpected results, with many of the top teams falling early. With heavy winds appearing late into Sunday's games, skilled and athletic teams were limited as "even accomplished throwers looked like rookies at times," according to the men's tournament director Hill Balliet. So while we shouldn't put too much stock into the last two rounds of championship Sunday, there were still some curious results throughout the weekend.
Pool A: #16 Amherst Army of Darkness (1-1), #18 Occidental Detox (2-0), Pacific Lutheran Reign (0-2)
In Pool A, Occidental upset Amherst, pulling out the victory in a tight 13-11 game. Both teams beat Pacific Lutheran handily.
While some teams remarked that they were surprised about Amherst's struggles throughout the weekend, Occidental captain Spencer Goldman had only praise for Army of Darkness: "We were really happy with our two wins over Amherst, it was our first time playing them in a couple of years and they looked like a really solid team that played with solid fundamentals and had some creative throwers."
Amherst Captain Andrew Chang returned the praise for Occidental, citing their creative throws and use of an effective deep game to secure the win. He also didn't seem worried about any expectations set for Amherst, and in fact considered the weekend a success. "People's expectations of us rarely have real substantive evidence at their foundation so we won't worry too much about any 'doubts' that might exist about our team," he said.
Chang mentioned that the team has focused on developing youth more so this year, clarifying that they had only come together as an A-team in the past few weeks. This may end up being a slow start for a young Amherst team still coming into their own.
Pool B: #5 Claremont Braineaters (2-0), #25 Portland Uprise (1-1), Puget Sound Postmen (0-2)
In what many called the most difficult pool in the tournament, Claremont confirmed their reputation as an elite D-III team with comfortable wins over Portland and Puget Sound. Portland finished second in the pool with a 10-8 victory over the Postmen.
In a testament to the strength of the pool, Balliet had kind words for Puget Sound in saying that they "looked stronger than anyone in Pool A." Uprise captain Tyler Honsinger echoed that sentiment, saying, "I think Puget Sound got screwed – if they had been in Pool A they might have won it and been in the bracket." The Postmen finished second at D-III Nationals in 2013 before going D-I in 2014 and having a down year this past season; perhaps they will return to form this spring.
Regarding the top two teams in the pool, Balliet remarked that Claremont had a relatively easy time taking down Portland, only getting broken once all game. Honsinger was equally confident, however, stating that the team was flat to start. "We didn't see anything that would make us scared to play them again, especially if we can come out hot," he said.
Pool C: #6 Carleton-GOP (1-1), #14 Lewis & Clark Bacchus (2-0), Williamette Asylum (0-2)
Pool C featured another upset, as Lewis & Clark went up a few breaks in the first half, never letting go of the lead in a 12-9 upset win over Carleton-GOP. Williamette finished third in the pool, losing 15-6 in both games.
GOP captain Max Longchamp praised Bacchus' top-end talent, stating that "their top 2 or 3 are probably comparable to anyone else's in the division." He attributed the loss to Lewis & Clark "coming in from the start and out-hustling us on both sides of the disc." Despite the loss, he maintained a positive attitude after the weekend, praising the team's growth and focus on having fun playing ultimate rather than stressing about placement.
Pool D: Whitman Sweets (1-1), #13 Air Force Afterburn (2-0), Westmont Wildfire (0-2)
Another difficult pool in the tournament, Pool D featured perhaps the most exciting game of the entire weekend. Air Force matched up against Whitman (who has stated that they will return to D-III this year, and will be included in future D-III rankings discussions) and grinded out a victory, winning on 13-12 on double game point after being down 12-11 as the soft cap went on.
Considering that Whitman would go on to win the tournament, this was a very impressive win for Air Force and gave them a lot of momentum going into bracket play.
Air Force captain Jake Johnson called the game the real championship game of D-III Warm Up. Praising Whitman for their talent, he noted the athleticism and experience they brought from playing D-I in past years. Regarding Westmont, he complimented their resilience and talent despite only bringing "eight or nine players" to the tournament.
He also held great excitement in Afterburn's current state as a team, saying that they have transitioned to focusing on success. He cited more focused practices, beginning team film sessions, adding a second coach, and team bonding as reasons for their recent accomplishments. After struggling in past years' series, this team will be fun to watch as they chase their first Nationals berth in the program's history.
Westmont finished third in the pool; both games were relatively one-sided.
Crossovers
As only Claremont held as the one-seed in their pool, there were many lopsided crossover games to finish Saturday: Claremont defeated Occidental 15-6; Whitman defeated PLU 14-3; Carleton-GOP defeated Puget Sound 10-7; Portland defeated Williamette 15-7; and Amherst defeated Westmont 13-7.
The one competitive game was between Lewis & Clark and Air Force, with both teams upsetting to win their respective pools. Air Force took half 8-2, but Lewis & Clark stormed back in the second half with five straight points before running out of time, giving Afterburn the victory in the hard cap.
Championship Bracket
In the quarterfinals, the upsets continued: Air Force defeated Carleton-GOP 13-11 with another soft cap comeback, while Portland defeated Occidental. Claremont and Whitman won comfortable games over Amherst and Lewis & Clark, respectively.
GOP's Longchamp had praise for Air Force in their comeback victory, remarking that the team had always possessed an elite athleticism but that he'd "never seen them throw or move the disc as well as they did … what's new from them was the flow and cutter continuations they were running. Their team is much deeper this year than it has been in years past and it shows, with everyone on the field able to move the disc quickly and prevent the defense from ever getting set."
As noted in the intro, the last two rounds of the bracket featured heavy winds, with games being decided by who could punt the disc and convert on short-field turnovers. This gave a tall Portland team the advantage as they ended a momentous weekend for Air Force, winning 10-8.
Johnson was frustrated with the loss and held that "the wind equalized everything and turned our match-up into a 50/50 game," but gave Uprise credit for the win.
"I'd argue that we shouldn't put much stock in that game," he said. "It negated everything. We really felt that we should've been in the championship game. UP played well in that wind and are certainly a great team, but I honestly feel — and I said it before and right after the Whitman game — that the championship game at D-III Warmup took place on Saturday morning during pool play between us and Whitman."
Portland was more optimistic about the game, with Honsinger echoing the sentiment of Longchamp: "They had been the team to beat all weekend, and everyone who has played them knows their MO: they are the most athletic/physical team out there and can run other teams into the ground. Over the past several years that is how they have won games, but this is the first year where they have fundamentals down as well."
However, he downplayed the wind's impact later on Sunday. "It was definitely a factor in this game. It wasn't preventing good throws from happening, but it let us throw a lot of different defensive looks which seemed to trip them up. Additionally we were able to break their zones pretty handily – we have more hybrid players than they do: putting five or six players who are comfortable in any position on the field let us look a lot more dynamic."
On the other side of the semifinals, Whitman beat Claremont in an 8-6 game that featured many long points. Balliet remarked that both teams were surprisingly skilled despite the wind, and that Claremont was eager for a rematch in better conditions. Whitman displayed depth and control throughout the game, using their experience to adapt to the conditions.
As a result, Whitman faced Portland in the finals. The wind continued to pick up, but the Sweets' depth and throwing skill allowed them to overcome Portland's height. Racking up a few breaks, they took the D-III Warm Up championship 9-6.
GAINING
#25 Portland Uprise – Impressive wins over Occidental and Air Force (despite the weather) have put this team on the map in D-III. With two tournaments under their belt already, it will be interesting to see where they go during the rest of the regular season.
#13 Air Force Afterburn – The hottest team of the weekend, Afterburn wins the "most praised" award of the tournament. It seemed like every team they played had good things to say about them, and it should be exciting to see them compete later in the season with their depth in throws, athleticism and experience.
Whitman Sweets – Making their return to D-III, they seem poised to reclaim their status as an elite program on the D-III level. Some impressive wins leading to a D-III Warm Up championship indicates that they should have no problem doing so.
HOLDING STEADY
#5 Claremont Braineaters – A perennial Nationals team, the Braineaters did nothing to bring doubt towards their reputation — a semi-finals exit against a talented Whitman team is nothing to scoff at.
#14 Lewis & Clark Bacchus – Beating GOP to win their pool, Bacchus was another team that ran into Whitman in bracket play; they looked skilled all weekend.
FALLING
#6 Carleton-GOP – Another slow start for the Gods of Plastic. While many cite history as evidence that they will improve as the season progresses, they will once again have to do so to maintain their reputation.
#16 Amherst Army of Darkness – After missing out on Nationals last year, this was not a good start for the Army of Darkness. They are younger than in years past, and will have to develop quickly over the spring if they want to return to the national stage.