Easterns Qualifier, Stanford Open, and DIII Midwestern Invite results are in.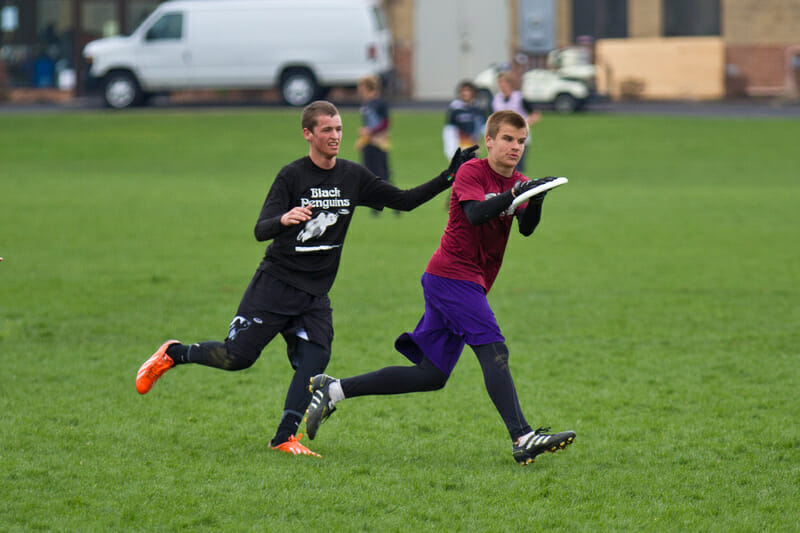 This year, we are hosting a new feature on Ultiworld: a bite-sized weekly recap of the action across the College Division. This will serve as a supplement to our standard tournament reporting and will offer a high-level look at the latest happenings and the biggest stories of the week.
Let us know how we can make this more useful by commenting below or emailing [email protected].
Men's
#22 Michigan Secures Easterns Berth
Aside from a slow start against Penn, Michigan went largely unchallenged at the 2016 Easterns Qualifier and defeated Brown 15-10 in the final to claim the final berth to Easterns.
That sets up Easterns for a very impressive field featuring six of the top 10 teams in the country as well as 16 of the top 25.
The other semifinalists at EQ were Ohio State and Georgia Tech.
It is looking increasingly clear that Michigan is the frontrunner in the Great Lakes this year. While they do not have any signature wins, they only have two losses, both to ranked teams (#1 UNC Wilmington and #18 Georgia). With Northwestern and Illinois struggling mightily at Warm Up last weekend, Michigan commands the early season pole position. Led by Sam Greenwood, they'll get a chance to measure up against elite competition at Easterns in March.
Cal Poly SLO Rallies Late To Earn Stanford Spot
Cal Poly SLO has been the most impressive Southwest team this season other than #16 Stanford. They've turned that into a shot at the elite teams in March.
SLOCORE defeated Oregon State 12-10 in the Stanford Open final with a five point rally to close out the game as they battled back from a three point deficit. With the win, they earned a bid to the Stanford Invite in two weeks.
Will SLO be able to bring their best effort north to Fremont? They have had a grueling tournament schedule. Stanford will be their fourth tournament in just over a month, as they competed in the Santa Barbara Invite at the end of January, the Presidents' Day Invite last week, and the Stanford Open this week.
By the way: don't sleep on Oregon State, who sits at 14-2 with losses to SLO and Oregon (13-9). With the Northwest looking well positioned to earn three bids this year, they should have a chance to play spoiler. They've got one win over a ranked team: 11-9 over #23 Western Washington.
DIII Competition Heats Up
The DIII Midwestern Invite wrapped up on Sunday with host team Indiana Wesleyan looking very strong en route to a tournament title. They defeated the suprising Wheaton 15-9 in the final. They did play a nailbiter against Valparaiso in the semis; they won 12-11.
Reigning DIII player of the year Travis Carpenter is back with IWU and hopes to carry his team to a Nationals appearance, and perhaps a deep run.
Perhaps bigger news than IWU winning the tournament was #1 ranked and defending National champion Franciscan struggling a bit in their 2016 debut. They fell to Wheaton 16-14 in the semifinals and lost again in the 3rd place game, 15-12 to Valparaiso. Franciscan was missing some of their starters, but it was a bumpier than expected start for the 2016 favorite.
Elsewhere…
Maryland dominated a five team indoor round robin at Jersey Devil…South Carolina defeated Davidson in the final at Market Crash…
Power Rankings
No new rankings this week. Michigan should hold steady after an expectations-level performance at EQ. Cal Poly SLO will remain just outside the top 25.
Looking Ahead
This weekend: Tons of tournaments, but no majors. Bring The Huckus, Lincoln Tuneup, and Dust Bowl are among the bigger tournaments this weekend.
Next weekend: Stanford Invite is hotly anticipated this season with our first look at teams in midseason form and titans like #2 UMass and #3 Oregon set to go head to head. The Tally Classic will feature many of the top teams not out west. Midwest Throwdown will host many quality Regionals teams.
Women's
UC-Davis Claims Coveted Stanford Invite Spot
With three ranked teams in the field, the Stanford Open was better than your average qualifier. #25 UC-Davis went undefeated, including a strong 14-12 victory over the #21 Cal in the final. Rogue is back to back champion of the Stanford Open, which they parlayed into a very solid Invite showing in 2015; the Open champ has tended to perform pretty well at the Invite recently.
Veronica Chan led the way for Davis, who now has wins over #15 Colorado, #17 Western Washington, and a pair over Cal. In a very competitive Southwest region, Chan and her teammates have started building a solid resume and strong reputation.
Elsewhere…
Missouri S&T broke seed, going from 4th to undefeated champion at D3 Midwestern Invite…Georgia was challenged only once the way to winning Hundred Acre Wood…Another undefeated victor, this time George Mason at Leap N' Layout…Westchester pulled an upset to claim the Jersey Devil indoor crown…Georgia Tech emerged atop an eight team field, going undefeated at Moonlight Invite.
Power Rankings
No new rankings this week, but expect UC-Davis to move up.
Looking Ahead
This weekend: Another busy one with eight tournaments, highlighted by Commonwealth Cup, featuring #7 Pittsburgh, #9 Michigan, #16 Virginia, and #20 UNC-Wilmington, as well as solid competitors who could fight their way into the rankings, like Delaware, Penn State, and UNC.
Next weekend: Stanford Invite is the headliner, bringing together a competitive field, featuring most of the top 10 and giving us our first look at how the east stacks up against the west. But Midwest Throwdown and Tally Classic will also feature ranked teams and regional upstarts. Great ultimate coast to coast!