Some wild results made for a fun Stanford weekend.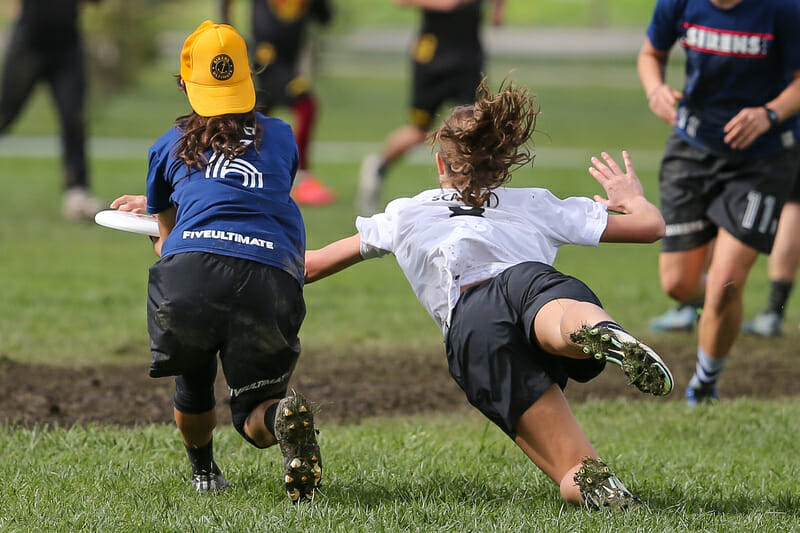 FREMONT, CA — A forecast of high winds and torrential rain allowed an assumption of strange results, upsets, and maybe an unexpected team taking the title. When the last goal was scored on Sunday, the weather turned out to be much more lenient than expected, but the results were just as jumbled and interesting, nothing more so than the weekend of the Invite champions, the Whitman Lady Sweets.
From Question Mark to Exclamation Point
Coming down from Walla Walla, Washington, the Sweets were essentially a one-win team entering the tournament. After cruising through the lesser competition in Oregon, Whitman defeated Oregon Fugue in a game that they controlled the entire way. Despite a lack of important results, the 2016 Lady Sweets roster is enough to garner attention and excitement: 2014 WJUC gold medalists Claire Revere and twin sisters Alissa and Linea Soo, 2015 WU23 gold medalist Arianna Lozano, a true center handler in Nina Finley, a power thrower in Margo Heffron, and plenty more young talent and depth. Regardless, there probably weren't many that would have predicted Whitman winning this tournament.
Unless you ask the Lady Sweets.
Before the Invite final against the bordering-on-infamous UCF Sirens, coach Ben McGinn, when asked about how his team has prepared for UCF and other first time opponents, said that his team didn't do any real scouting or outside preparation. Rather, they worked on themselves, and believed in their own abilities and their own system to allow them to compete and challenge any team they may face. They had been building towards a final-level performance all tournament, "working harder every half" as they ramped up to overcome an undefeated Oregon Fugue team in semifinals and the UCF Sirens, who bested them in the first round of pool play, to win the tournament.
Whitman proved to the country what they seemingly already knew: this team can flat-out play, and they will be a top contender in tournaments to come, including in Raleigh in late May.
RELATED: Whitman Claims First #1 Ranking With Win Over UCF in Stanford Final
UCF Plays Their Game, Falls Just Short
The amazing story of the Sirens continued in Fremont this weekend: a roster composed of less than twelve players grinds through an entire tournament and beat (almost) everybody. Several key players take the field on every single point, if possible: Janina Freystaetter, their primary target on offense; Stephanie "Eli" Williams, the calm, cool handler who drops pinpoint blades all over the field; Shayna Brock, who zips around the field, filling in where Freystaetter and Williams can't. In fact, the entire roster is remarkably important and valuable since there are just so few players to go around. Each plays an essential role on each point.
While this unique system has been whomping on teams all season, the limits may have been found this weekend when the Sirens were completely unable to keep pace with the deep roster of Whitman at the end of a long weekend. The team used every trick in the book to buy just a few desperate seconds of rest. Throughout the final, UCF could be seen sitting on the line before the pull, hands on their knees or on their heads. Their pace of play was slow all weekend, as they seemingly held the disc until stall seven or later, taking easy throws down the force sideline before chucking a blade over the top as stalls escalated. 12 players just couldn't keep up with the 180 or so they had to overcome.
The Sirens plan to bring their extended roster to future tournaments. This weekend was likely proof enough that their current system, while effective in individual games, is simply not sustainable over the long haul of a tournament weekend. Even the addition of just a handful of role players from the Sirens' B-team could vault this team over the final hurdle when the team shoots for the title in May.
Oregon & UBC Continue Their Success
Northwest titans Oregon Fugue and the UBC Thunderbirds locked up semifinal berths by the end of Saturday after beating every team in pool A. When Oregon and UBC met each other in pool play in the first round on Saturday, the game went to double game point where Fugue held on offense to win.
Despite failing to appear in the championship game after a double game point loss to Whitman, Oregon Fugue still might have had the best looking team when they were hitting their stride. The trouble comes when wrenches get thrown into their plans, or when they can't find a groove. Their signature style of person defense, involving switching forces, can sometimes let teams get chunks of yards on big underneath cuts when defenders are out of position, allowing easy trips to the endzone.
This Fugue team arguably has the most stacked roster in all of women's college ultimate, but it's clear that there are some kind of flow or structure or strategy differences that have allowed more teams to challenge this team that, for the past few years, has lost only one or two games a season. They've always turned the disc, but the team hasn't demonstrated the defensive consistency to get it back over and over.
British Columbia held Ultiworld's #1 ranking as the tournament began. A host of returning stars combine to create what might be the best O-line in the game: Mira Donaldson runs the show with her standstill pinpoint handling, dropping scoobers and blades over the top of zones; Kate Scarth joins the team in 2016 and brings elite athleticism to both lines, a role similar to that of Ellen Au-Yeung, 2015 Ultiworld Rookie of the Year. What makes this team truly great is its depth, and the army of cutters/defenders with plus speed, quickness, and disc skills. The bottom half of UBC's roster is better than most anyone else's.
The Thunderbirds beat up on Oregon 15-8 to take third place, but the most interesting game of their weekend was the semifinals loss to Central Florida, a game that saw UBC go down 2-7 at halftime. The Thunderbirds eventually battled back, closing the gap to a single point, 8-9 game, but it was too little too late as UCF found their stride again and slammed the door, winning 15-8.
UBC saw nothing but zone from the Sirens, and the Thunderbirds had no answer: the cutters were stationary and flat-footed, allowing the active UCF zone to bait throws, jump lanes, and generate blocks. When Donaldson wasn't on the field to pop throws over the zone, the offense couldn't move the disc.
While a surprising loss on paper, the game shouldn't take away too much hype from this Thunderbirds team. A one-off loss to a team they've never seen before denied them a chance at winning their first tournament of the season, but is only more ammunition for a prepared, experienced run throughout the rest of 2016.
Noise Makers & Head Scratchers
Several teams that missed on the championship bracket still accomplished some intriguing, important wins and, in some cases, losses.
Texas Melee very quietly finished in 5th place, beating Carleton, Ohio State, and UCLA by wide margins in pool play before closing out Sunday with wins against Colorado and Washington.
Washington Element took sixth after having a chance to break into semifinals if they could overcome Stanford and a couple other games went the right way. A rejuvenated Superfly team denied them that chance early on Sunday, which preceded an Element win vs UCLA and the loss to Melee in the fifth place game. Element takes the award for the first team to beat the Sirens of UCF this season in a wonky game which they lead 4-0 and 5-1 before barely winning on double game point, 7-6.
Colorado Kali had a couple good wins and a couple close losses that allowed them to break seed and finish 7th. Beating the likes of Stanford and UCLA while just falling short of beating UCF 8-10 and Texas 11-12. On the field and on the sideline, Kali surged back into the national conversation this weekend.
Perhaps the most curious team of the tournament was UCLA BLU. Following an exciting double game point win against Ohio State Fever, the team collapsed against UBC the next round, losing 3-13. They rebounded to win against unranked Carleton Syzygy before the worst rain and winds of the day stormed in for Saturday's final round vs. Oregon. With fierce upwind/downwind conditions, the team who could break upwind first/most would clearly win the game. At 3-3 with Fugue moving the disc upwind to try and break, 2016 phenom Kristen Porjunis collided with Oregon's Alex Ode, leaving Pojunis on her back for nearly a minute before walking off the field under her own power. During the rest of that point and the following three points that Pojunis did not play, Fugue scored two upwind breaks and two easy downwind scores, taking half 7-3 before eventually winning the long, cold, tumultuous game to end the day.
After a 2-2 Saturday, UCLA lost out on Sunday, finishing a disappointing 2-4 and taking eighth place. BLU had just one loss before this tournament — in the final of the Presidents' Day Invite against Stanford Superfly — so their resume is still strong. They dearly missed some of their key contributors like Melissa Kan, Kathleen Lo, and Breanna Dirkse. The talented duo of Han Chen and Pojunis is one of the best in the country, but this tournament proves that it might be the depth of the roster that will matter most this season.
President's Day winners Stanford Superfly had a disappointing Saturday, finishing 1-3 — second to last in the pool in front on winless UC-Davis — before winning out on Sunday against bottom-of-the-barrel teams to finish 9th. Satuday's conditions really took Superfly out of sorts, neutralizing a lot of the skilled throws the team often uses to crack open defenses. Their response on Sunday speaks volumes about how much better equipped they were for sunshine.
No one was closer to a surprise semis appearance than Ohio State Fever. To start the tournament, they led a strong UCLA team the entire game before a late half surge broke Fever on double game point. The tough loss led to a near defeat at the hands of the 12th place finishers Carleton in an 8-7 battle. Up next was Oregon Fugue, and Ohio State jumped on them to gain a 7-4 halftime lead and a 10-7 lead later into the second half before falling apart. Oregon went on one of the biggest tears of the tournament, holding on offense then tallying four consecutive breaks to take a 12-10 lead over Fever. Ohio State had a chance to force double game point when a downwind huck went up seconds before the hard-cap horn, but the disc sailed one or two feet past the cutter. Fever scored that point, but with no time on the clock, the game was over, an 11-12 loss.
The team showed they could hang with the best, but they have trouble closing out games. Still, they looked miles ahead of where they did in earlier showings, particularly with a much more polished and fluid offense. Head coach Deanna Ball praised her team's execution and confidence, but admitted that playing poorly in the waning points of games and blowing leads was frustrating. If that problem can be addressed, this team could prove to be very dangerous.
Both UC Davis Rogue and Carleton Syzygy went winless in pool play. Rogue managed to put something together on Sunday, beating Ohio State to get to the ninth place game that should have been against Stanford, but teams agreed to swap opponents to allow for some new matchups. Syzygy lost their ninth place bracket semis game, which would put them in the 11/12 game against Ohio State, but the game swap gave them the UC Davis matchup instead, which Rogue won 12-3.
UC Davis qualified for the tournament after going undefeated at the Stanford Open, but couldn't continue that run of good games this weekend.
Carleton earned a bid to the tournament on a combination of last year's semifinal run and strength of their program. The team was unranked coming into the tournament after an unremarkable 3-5 finish at Queen City Tune-Up, and Syzygy achieved no wins at the Stanford Invite. They have another chance to beat some elite teams at the Northwest Challenge in a couple weeks, but 2016 has not been good so far for the legacy program.