A sunny weekend at MWTD?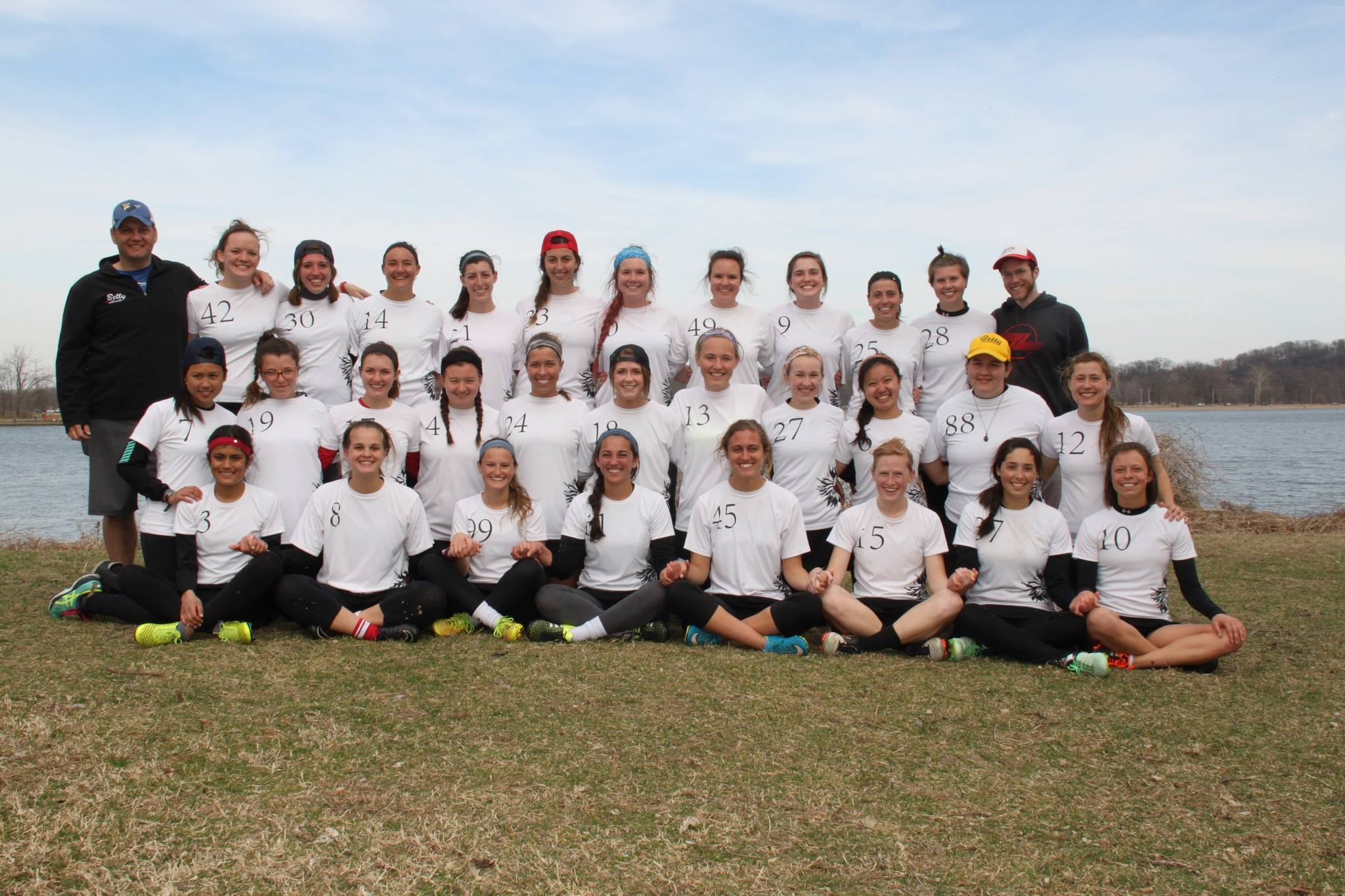 It's hard to admit, but Midwest Throwdown is a lot less thrilling when it's warm, mildly windy, and you leave with a sunburn. Kansas and Wisconsin were on another level: their ultimate IQ, athleticism, and skill as teams were unmatched, and their duel in the finals was easily the best game all weekend.
While the tournament still hosted a few trademark upsets — both power pool five-seeds were in the quarterfinals — there was more plot development than drama last weekend.
South Central Impressive 
Truman State excelled in the wind on Saturday while most of their pool struggled to get their sea legs in the gusts. Smart, patient offense combined with heads up defense earned them three upsets; they also gave Kansas their toughest game of the weekend. They didn't jam the disc desperately up windy sidelines, nor did they take every option they had deep. Sam Daugherty manned the backfield all weekend with ease, and Emilie Willingham (Nemesis) was a major defensive presence for TSUnami on Saturday, helping the team earn their spot in the bracket before she benched herself on Sunday due to injury concerns.
In fact, much of Truman State's core was sidelined by the time they reached the semifinals. They lost most of their veteran players to injury or to other commitments; for some points in the semis, Bella faced a line of mostly rookies. Nevertheless, Truman State pulled themselves from the power pools' bottom seed to semifinals, and they're only going to get better before D-III Nationals.
Speaking of upsets, Truman State's fellow 5-seed Texas State Trainwreck nearly joined them in the semifinals.
Texas State wasn't on many radars before Saturday: few teams had played the San Marcos team, and their first 4-11 loss to Wisconsin didn't build an intimidating narrative. But Trainwreck was just warming up. They stormed into their next game against a tired Illinois and stole the show, 10-5. The game was brutal to watch: Texas State seemed to be flying through their offense while Illinois dragged. They would go on to upset Nebraska and Iowa as well, winning with 5+ point differentials across the board.
They had the best throws in the wind on Saturday, if only because they were willing to run five under cuts up the field instead of relying on huck-and-pray. Fifth year Jerry Benavidez orchestrated their offense with sharp inside breaks and squirrely resets, and Annie Ortiz (Showdown) was the toughest matchup in their game.
They were poised to reach the final four until Iowa State opened their deep game and exploited Texas State's weaker deep defense. Instead, they tied for 5th. Still not too shabby for a 5-seed.
Great Lakes Looking Strong
The Great Lakes may get another bid this year, but they don't count on it. Instead, weekends like Midwest Throwdown are for building chemistry and skills. Both Illinois and Northwestern looked stronger and more confident than they've looked all season.
Illinois Menace earned two masterful wins to start their Saturday over Iowa 10-8 and Nebraska 10-7. Illinois has long been handler-heavy: they could swing and strike all day, but it was never enough to take over the games they had to win.
This 2016 Illinois team is younger and more versatile: sophomores Kelsey Thompson and Cora Wessman add much-needed options in the midfield, and handlers Vivian Chu and Joline Chang move the disc downfield faster than their predecessors. In Saturday zones, their rhythm shone. While Illinois' composure and energy waned as their legs tired and stakes heightened, they're building a team that could do more than grab some upsets in April.
Northwestern Gungho's entire weekend is perfectly represented in their game against Iowa Saucy Nancy on Sunday. They broke to pull ahead 5-4, and then broke again. Northwestern handlers chiseled through the Iowa zone, while defenders fought to earn run-through blocks. Northwestern would take half 8-5, and Iowa wouldn't score again that game.
Northwestern's athleticism was obvious all weekend, and they will be a threat at Regionals.
The Young, The Restless, The Promising
Iowa State didn't look like a 3rd place team on Saturday. Instead, they looked their age in the blustery wind with fumbles and some 30/70 shots that did not go their way. Granted, they are a young team, and they graduated big players with even bigger shadows.
They went 2-2 on the day, which isn't something to be ashamed of. But the team clearly had work to do.
They were a different team the next morning. Captain Britnee Grimshaw was a phenom on the field; several people on the sidelines commented, unprompted, on her speed and skill. She looked confident in the backfield, especially next to freshman Megan Halverson. If Halverson isn't the best player in the region in 2020, I'll be shocked. The YCC alum boosted masterful backhand hucks with the composure and touch of a true veteran.
Iowa State persevered against the weekend's biggest threat, Texas State, and they gave Kansas a challenging semifinal because they refused to relax their defense, even when Kansas broke five times in a row to effectively finish the game. They're in a crowded region this year, but Iowa State is brimming with promise.
Iowa Saucy Nancy would go winless at Midwest Throwdown despite Liz Gronert having the best throws at the tournament. Saucy Nancy did a lot of things right, but their over-reliance on the deep space would be their downfall in long, windy games.