A bumpy regular season closed out strong for Oregon.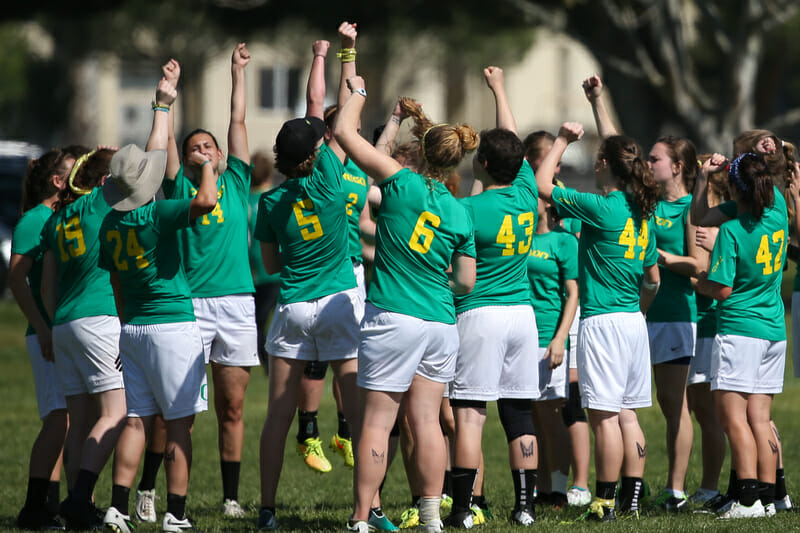 The article is presented by VC ULT Camp; all opinions are those of the author. Please support the brands that make Ultiworld possible and participate in VC ULT Camp!
BURLINGTON, WA — For the second straight season, Oregon and UBC collided at the Northwest Challenge to decide the tournament's de facto winner. Each held title aspirations but had shown their flaws during the course of the season. And after their talented rosters threw haymakers at each other, one team ascended to their place atop the rankings. Oregon Fugue's resilient offense carried them through a tough matchup with British Columbia to win 15-12.
The first two points of the game provided an accurate preview for what was to come. The Thunderbirds offense slogged through multiple possessions to net a hold and Oregon responded with a quick strike. Each team targeted their favorite options in space: UBC gave the lanes to Mira Donaldson, Naomi Morcilla, and Victoria McCann; Fugue turned to Jesse Shofner, Bethany Kaylor, and Olivia Bartruff, with Ella Hansen and Kaitlin Brunik dealing. Both teams' first responsibility would be figuring how to stop these looks.
For Oregon, that meant a smarter defense. Kaylor was assigned to Donaldson and limited her early yardage gains and minimized her continuation options. Then her teammates were asked to pounce on the Canadians' mistakes, which came a little too frequently. Foley Galvin was instrumental in the D-line's success, tallying a pair of first half blocks and adding a bookend goal to give Oregon their first two goal lead at 7-5.
On the other end, UBC applied a team defensive concept to slow down Shofner's initiating looks, and it hinged on the one-on-one defensive play of freshman Paige Muir. She was often on an island with Fugue's fifth year star, but it was anything but a vacation. With the help of great footwork and conservative marking from her teammates, Muir found some success against Shofner.
"Paige is a similar build to Shofner and has a very very quick change of direction," said Donaldson after the final. "Her job was to take away the unders and the mark would take away the big looks."
But when the scheme failed, Oregon found efficient easy scores. Shofner's finishers were often Maggie Kennedy, the sophomore transfer from Wisconsin, and Bartruff, who tallied a combined five of Oregon's six O-line goals in the first half.
"We had some pretty big mental lapses starting off the pull," admitted Donaldson.
The half concluded with another point where British Columbia looked generous with the disc. Despite three shots at scoring from within the red zone, UBC failed to close the gap and went into the half down 8-5.
For Oregon, their ability to play gritty ultimate and win the long points was crucial. This was especially impressive with a shortened roster, playing with about 12 after injuries sidelined big names like Alex Ode, Hayley Wahlroos, and Sarafina Angstadt-Leto. This was especially challenging for the core throwers, as Hansen, Kaylor, Shofner, Brunik, and Lillian Weaver were forced to log heavy minutes on both sides of the disc.
"We played more of a strict O & D line last year, and we're playing more of a spectrum this year – and that just takes longer to develop," said Shofner. "That's a mental challenge and a physical challenge to approach the game, and at certain points your job changes. And I think people have gotten better at that."
After Oregon pushed the lead to four with a quick strike huck to Shofner, where an unmarked thrower meant Muir was helpless, UBC held. The following possession, Muir's squad had her back and they denied Fugue's look to their sparkplug cutter. They eventually broke when Cindy Li found Alei Mohr.
Perhaps UBC could have turned it around, but Oregon would not relent and the Canadians could not maintain a consistent level of efficiency. With the reigning champions up 11-9, UBC got three possessions in their attacking half; all came up empty. Fugue kept grinding and eventually Maggie Kennedy dove for a two handed layout grab to win the long point.
Kennedy struck again to close it out, another multi-turn point where both teams had their chances. Shofner whipped a forehand into space for Kennedy who was forced to extend to complete the game winning score. The sophomore totaled four goals, second only to Bartruff's five (and two blocks).
"I think this weekend, we just went home," said Shofner after the victory. "And our home has always been… 'grind.' If you fuck up, as long as you run, it doesn't matter!"
A credit is due to Oregon's defensive relentlessness. Their offense was far from perfect, sometimes suffering from baffling turnovers, but their defense after the turn made it difficult for the opposition to get anything going. Not only did Fugue consistently come away with goals on multi-possession points, but their offense found a few more quick strikes than British Columbia's. With a small rotation, that made a big difference.
While UBC's offensive inefficiencies doomed them, they did have some standout performances. Donaldson led the way with six assists, a goal, and two blocks. But it wasn't enough.
Oregon is now 2-1 against UBC. The two look like of the class of the Northwest, and probably the Division. There has been criticism of Oregon's early season performance, but they put a lot of doubts to bed by winning the toughest tournament of the season shorthanded.
The final ended as it started. The same can be said of this regular season. Fugue's on top.