The first ever live-streamed DIII tournament brings eight of the top 20 teams in the country to Myrtle Beach this weekend. With strength bids on the line, the final weekend of the regular season promises to excite.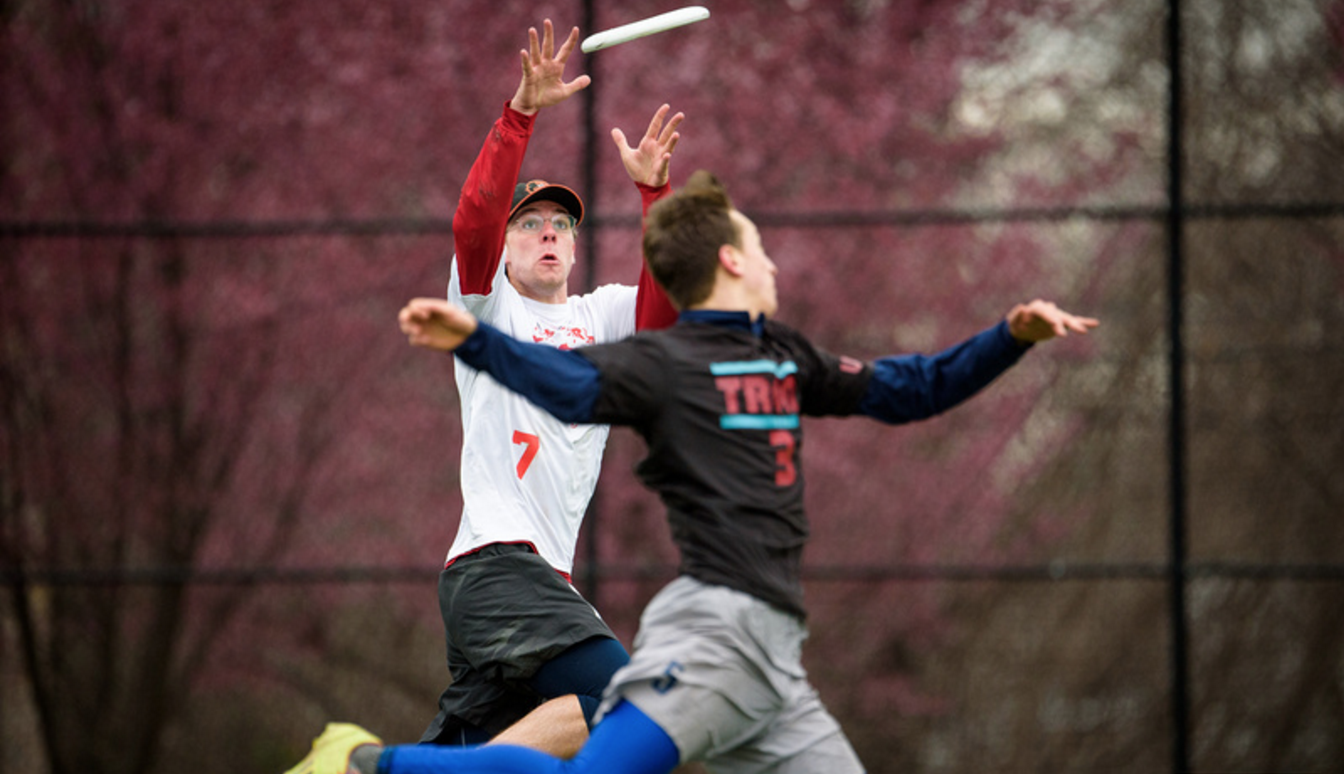 In its third year, DIII Easterns bring a wider range of teams – and higher talent – than in years past.
Teams from 8 of the 10 regions will take the fields on Saturday, and NC State's Jinxcam will be on site to livestream games all weekend long.
Major Storylines
Bids
Rice, Elon, Occidental, Oberlin, and Franciscan are all within striking distance of Davidson's strength bid. While each of these team's hopes are contingent on other results as well, a big weekend from any one of them could change the bid picture dramatically next week.
AC Three-Peat?
Elon won both of the past two Easterns championships over AC rival Richmond. This year, however, it is Richmond, not Elon, who enters the tournament as the favorite. But with a deeper field than in years past, could this be the year that an out-of-region team takes the championship away from the Atlantic Coast?
Weather
Rain on Friday and Saturday could turn the fields into mud pits by Sunday afternoon. Storms could even suspend play on Saturday. With winds above 10mph both days, zone offense and mental toughness are going to be key for whoever wins this weekend.
Top Regions in the Country Go Head-to-Head
The South Central and the Atlantic Coast hold five of the top eight spots in Ultiworld's Power Rankings. The two also hold the top four spots in USAU's algorithm. Right now, these are the two best regions in the country.
Each is currently, tenuously, a three-bid region; each has a team sitting just outside the bid window; and each will play the other in big games on Saturday.
The South Central could leave the weekend with four bids. So could the Atlantic Coast. But both cannot get to four. One of these regions, and maybe both, will leave a team or two just outside the top 12.
If Elon or Rice start running up big margins in pool play – or if Davidson or Air Force have big margins run up on them – the bid picture next week will look very different than it does today.
Pool A
Teams: Richmond (1), Occidental (8), Union (9), Dickinson (16)
Richmond (#2 UW, #2 USAU) enters DIII Easterns on fire. After an inconsistent performance at Bring the Huckus where they were missing some key players, Richmond ran the table at Layout Pigout against top DIII competition. No team came within three points of them, and they beat Brandeis handily in the finals.
To stay hot this weekend, they'll lean heavily on junior handler and all-around threat Henry Babcock. His combination of size and disc skills will make him a difficult match-up for any team who faces Richmond this weekend.
Captain Dennis Maclaine is confident that Richmond can outwork and outperform their opponents, but he isn't taking anything for granted: "We knew how good we could be and were excited to prove it to everyone else. Now we have to show everyone we can keep playing at this high level."
Occidental (unranked UW, #18 USAU) has had a busy spring, playing four tournaments already before Easterns. While they got some big wins in February against GOP, Amherst, and UCLA, their results in March were mixed. A strong performance this weekend might be enough to earn a second strength bid for the SW. Oxy has the experience and talent to compete with any team they face this weekend and could make a run on Sunday if just enough goes their way.
Union (unranked UW, #23 USAU) has played one of the most difficult schedules in DIII, but has flown under the radar for much of the season – despite knocking off Elon at Terminus last month.
"Being an underdog is something we have become used to," senior captain Garrett Wilson says. Playing a difficult schedule has kept them honest, and Wilson believes this mentality will serve his team well at Easterns.
To be successful, Union will need to improve their stack's flow. Senior cutter (and team founder) Jesse Dahms is the catalyst on the offensive end, but at times, they have struggled to keep the disc moving. Depth will also be crucial. A small roster this weekend could mean great chemistry, or it could mean tired legs in pre-quarters on Saturday afternoon.
Athleticism and handler play have been hallmarks of Union's success so far this season, and they will need both in this weekend's adverse conditions if they are to make a deep run on Sunday.
Dickinson (unranked) may not have the most impressive resume in the field, but the Jive Turkeys' emphasis on team culture is what makes them who they are.
"In the past, we have relied on a select few to carry the team," said captains Joel Prushan and Sam Moller. This year has been different. "We are transitioning to a culture of depth and wide spread contribution." For Dickinson, what happens on the field is not as important as how they go about their game.
Game to Watch: Occidental vs. Union. If Occidental has any chance of stealing a bid from the AC or SC, they'll need this game on Saturday against Union. Union can prove itself the favorite in the Southeast with a strong showing this weekend.

Pool B
Teams: Brandeis (2), Rice (7), Elon (10), Mary Washington (15)
Last season's national runner-up Brandeis (#3 UW, #5 USAU) brings an experienced team to Easterns after a strong showing at Layout Pigout. Led by the senior handling duo of Max Zaslove and Hansen Yang, they has played up to expectations so far this season.
However, senior Elan Kane says his team is taking the long view: "We're still focused on the process of the season over any specific outcomes. We're just focused on what we can do better as a team and how we can improve from point to point, game to game." That attitude has carried Brandeis far in recent years and should continue to do so this weekend.
Rice (#16 UW, #17 USAU) will win or lose this weekend on their consistency. The talent is there (see: 13-8 win over Baylor), but as soon as they have gotten big wins, they have given away some equally big losses.
Part of the challenge for Rice has been youth. Heavy roster turnover has made for some growing pains, but juniors Austin Benavides (handler) and Alex Heath (cutter) have stepped into big roles this spring to make up for the loss.
"It's been really inspiring to see new players stepping into the limelight and absolutely performing up to the standard set by the players we lost," says senior Johnny Frolichstein. Younger players' ability to continue to play at a high level could determine whether Rice steals a bid, but Cloud 9 knows they will be fine either way.
Says Frolichstein: "We want to control what we can control […] It seems to me like the bid situation will work itself out."
Winners of Easterns each of the last two years, Elon (#19 UW, unranked USAU) comes into this tournament in an unfamiliar position: as an underdog. Led by all-region handler Zander Taylor and cutter Brian Szymanksi, Elon has the experience, disc skills, and stifling zone defense to make a run on Sunday.
Still, this season has not taken the path they might have hoped. Elon dropped games at Terminus to South Carolina and Union by decisive margins. They will need to step up their game in a big way to be competitive this Sunday.
Unranked Mary Washington had a strong finish to their season last year, but have not made much noise this spring. Junior handler Zachary Norrbom (also of MLU's DC Current) leads the offense, and he will need to have a huge weekend for Mother of George for them to break seed in Pool B.
Game to Watch: Rice vs. Elon. Two teams on the outside looking in face off at 10:45 on Saturday morning. Both teams need this game badly if they hope to jump into the bid picture.
Pool C
Teams: Indiana Wesleyan (3), Franciscan (6), Middlebury (11), High Point (14)
Indiana Wesleyan (#12 UW, #9 USAU) is more than its best player, Travis Carpenter, and should compete for a spot in the semis and championship. For IWU, it has been a tale of two tourneys. Against DI competition at T-Town Throwdown, they underperformed, ending the weekend with a -27 scoring margin and 2-5 overall. Three weeks later, they rolled through DIII Midwesterns unchallenged, winning the championship against Wheaton 15-9.
Which team will show up this weekend?
"DIII Easterns is about taking care of business for us," says captain Zakk Mabrey. "We want to show the country and ourselves that we are able to compete at the highest level."
Everyone knows Carpenter can take over a game, but watch for senior cutters Nik Evans and Luke Mendel, too. If all three of them are clicking this weekend, Indiana Wesleyan could do more than take care of business.
No team has had as strange a year as Franciscan (#17 UW, #19 USAU). After completing last year's championship run undefeated, they lost twice at DIII Midwesterns to mid-level Regionals teams and then lost three more times at Layout Pigout, including a 10-15 loss to RIT. Turnover and absences can only partially explain the drop-off.
"Losing games to teams we should have no trouble beating has been a rough wake up call," captain Tom Koch said. The season has not been all bad, though. Freshman Matt Mirabello and sophomore John Clemente have become big game players. And Franciscan has developed greater resolve and focus amidst their struggles on the field.
Koch remains optimistic: "There is no doubt in my mind that we are capable of taking the title for a second consecutive year."
While everyone in the division knows what Franciscan are capable of, it is time to see results. Could Easterns be their springboard back to the top of DIII?
After a Nationals appearance last year and high hopes entering the spring, Middlebury (unranked) were unimpressive at Spring Awakening last weekend. They dropped games to mediocre Bowdoin and Skidmore teams and finished under .500.
Captain Sam Tauke will miss the rest of the season with a shoulder injury and plans to coach Easterns from the sideline. Senior Sam Hage and freshman Dylan Salzman lead the offense, but Middlebury is still trying to develop chemistry at this point in the season.
Middlebury have been perennial contenders, but this year they look to be rebuilding.
High Point (unranked) is only in their second competitive year as a team, but they have risen quickly in the Atlantic Coast. Michael Ball and Cam Bellando run High Point's offense, with Ball sometimes going every other from their vertical stack. If the offense is firing this weekend, High Point could pull out an upset or two – they almost shocked GOP earlier this month. But execution errors have held them back. In the wind and rain this weekend, minimizing drops and throwaways will be crucial to their success.
Game to Watch: Indiana Wesleyan vs. Franciscan. It's Dom vs. Travis as two of the best players in the country square off in a game likely to decide the top seed in Pool C.
Pool D
Teams: Air Force (4), Davidson (5), Oberlin (12), Haverford (13)
Air Force (#4 UW, #11 USAU) has more wins over top DIII teams than any team in the country: GOP, Lewis & Clark (twice), Claremont, and Whitman have all fallen to AFU's size and athleticism. Senior Mitch Willis leads Air Force on defense, with Jake Johnson and James Coyne pacing the offense.
After last year's disappointing exit at Conferences, Air Force overhauled the team. They added an assistant coach, started keeping stats, and united the team around a 'Nationals-or-bust' mentality that has carried them both on and off the field.
Says Johnson of his team this spring, "We think we've put last year's criticisms about being overrated to bed." A big showing at Easterns would silence the doubters once and for all.
Roster turnover and rebuilding were supposed to be the stories for Davidson (#6 UW, #12 USAU) entering the year. Instead, they defied expectations and came out on fire at Queen City Tune Up, going 3-1 on Saturday and coming two points shy of the quarterfinals.
They have not played quite as well since.
Davidson's offense has been inconsistent, and they have relied on huge comebacks to win games they should have won easily. With their most recent tournament over five weeks behind them, however, they have had plenty of time to work out the kinks.
Injuries are a concern entering the weekend, but if Davidson can stay healthy and find their offensive rhythm, they could make a deep run.
Unranked Oberlin enters the weekend with the depth and senior leadership to make another deep run at Easterns. Their only other tournament thus far – River City Tune Up – was marred by rain and high wind, but, given the forecast, that might be the best preparation a team could have.
Looking forward to the weekend, captain Jason Freedman feels good about his squad: "Our goal this year is to win the tournament, and at least make finals." For Oberlin, that will mean physical man defense and fast-paced offense. If they can avoid execution errors, Oberlin should out-perform their seed and challenge Air Force and Davidson at the top of the pool.
Haverford (unranked) is coming off a mixed weekend at Layout Pigout. They notched two solid wins over Bowdoin and SUNY-Geneseo, but when they matched up against stronger opponents, they were blown out. Junior Calvin Trisolini is the player to watch for Haverford. If he and Haverford's talented underclassmen can get in a rhythm this weekend, they might be able to notch a couple big wins.
Game to Watch: Air Force vs. Davidson. As of today, these two teams hold the last two strength bids in the division. They meet head-to-head in the last round on Saturday in what could be a decisive game not only for the top of pool D, but also a major determinant of bid allocations for Nationals.
Predictions
– Richmond and Brandeis prove why they deserve top overall seeds and coast into semis. Franciscan wins pool C in a close game over Indiana Wesleyan; Davidson takes pool D over Air Force.
– Air Force rebounds in a big way on Sunday, defeating Franciscan and Brandeis on their way to the finals. Richmond defeats Atlantic Coast rivals Elon and Davidson en route to a third consecutive championship appearance.
– The Easterns title stays in the AC, as Richmond edges out Air Force for the win.
– Semifinalists: Richmond, Brandeis, Air Force, Davidson
– Finalists: Richmond, Air Force
– Winner: Richmond
***
Good luck to all teams competing this weekend. But to those who aren't, I have one request: watch the live stream.