Seattle's win in Boulder means Sockeye have claimed the first two prongs of the Triple Crown.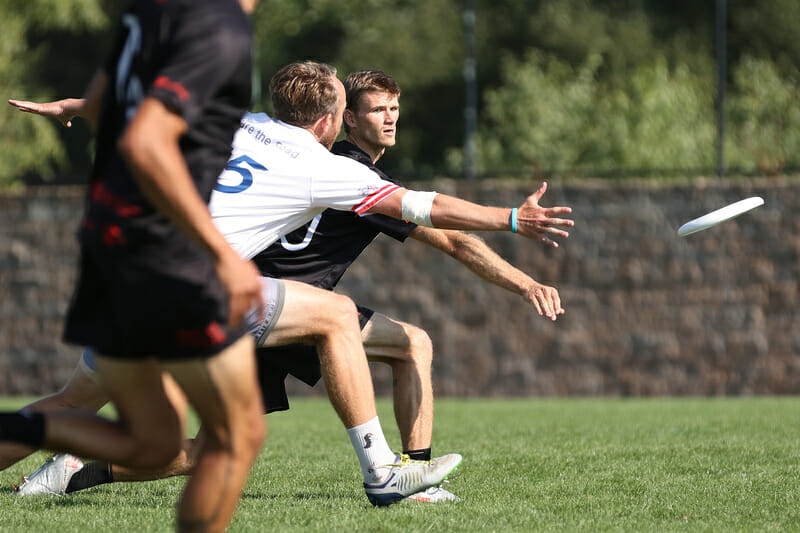 BOULDER, CO. — Pro Championships may have had a smaller lineup of teams than in the years before the pandemic, but attendees brought big athleticism and intensity to the aptly named Pleasant View Fields on Labor Day weekend. In this unusual season where few teams have gotten as many reps as they typically would have by September, this Triple Crown event felt more like an early-season tournament than the last opportunity to play competitive matches before the Series begins — and for many teams, it was only their first or second tournament appearance this season. Chemistry and team development were front of mind for teams in attendance, but the proximity to the Series seemed to up the stakes and intensity of games this past weekend.
The tournament was marked by swings of momentum across the board, making for many tight games and competitive play even in less evenly-matched games. But some elite teams across the three divisions — like Denver Molly Brown, Boston Brute Squad, Seattle Mixtape, Fort Collins Shame, Seattle Sockeye, and Washington DC Truck Stop — had more highs than lows while others — like Oregon Schwa, New York PoNY, and Denver Love Tractor — faltered despite flashes of greatness. The exciting final games perhaps best embodied this theme, as the ultimate victors of the tournament, Sockeye, Molly Brown, and Mixtape, navigated peaks and valleys of play throughout the weekend to swing momentum in their favor in the end and come out on top.
Men's Final Does Not Disappoint
The action from Saturday and Sunday in Boulder crescendoed to an exciting final between #1 Seattle Sockeye and #9 Washington DC Truck Stop. Heading into the game, there was no reason to think Seattle would struggle against Truck Stop. Seattle's offense was near perfect all weekend and with their explosive defense from Nathan Kwon, Trent Dillon, and Nick Stuart, Sockeye was the clear favorite to win and extend their tournament title streak. But Truck Stop was not happy with that narrative and came out of the gate firing on all cylinders to surprisingly take half against Sockeye 8-6. Sockeye's offense struggled against a well-regimented DC defense. A standout player on the Truck defense was Duncan Fitzgerald; he was clearly the anchor of the offense on their break chances and was able to distribute the disc to other big-name Truck Stop defenders Jeremy Hess and David Cranston. Offensively, the Washington handler core was playing a fantastic game. Nathan Prior and Zach Norrbom were able to break both inside and around marks (respectively, really), and find speedy cutters like Joe Richards and Christian Boxley downfield. Tyler Monroe was also a big contributor for the Truck offense and is easily one of the most intense players in the men's division.
Out of halftime, DC punched in a point to take the game to 9-6. After that, Sockeye went on a six-goal run to take the game to 12-9. Truck Stop's offense just fell flat in the second half. Pressure from the Sockeye defense made it difficult for Truck Stop to run their dink-and-dunk offense, and Sockeye was able to convert on forced turns. But when Truck Stop was about to gain some momentum with a break of their own, an offensive foul call on Christian Boxley went to the observers. The observers ruled against Boxley, and the disc went to Sockeye despite the throw coming well after the foul occurred. After the game, the observers determined that they incorrectly interpreted the rule, and the disc should have stayed with Truck Stop. The turnover led to a Sockeye score, and the game moved to 13-10. After a quick back-and-forth, Sockeye won the final 14-11.
Sockeye has a chance to put together an incredible run at the National Championships next month. Already with victories at the US Open and Pro Championships, a triple crown is available to them and they could be in the conversation for the best team of the 21st century. We have still yet to see a full-rostered Sockeye, as Mac Hecht and Dylan Freechild did not play this weekend. Add those cogs back into a Sockeye offense and there may be no team in the nation that can stop it. But even though they enter the Series a heavy favorite to win Nationals, they also go to California with a big target on their back. Seattle is the team to beat and, more than them bringing back key talent to their system, their biggest challenge is going to be fending off many capable teams hungry for an upset.
Top Seeds Separate Themselves From the Pack
With the exception of Pool D, the results from pool play in the men's division went exactly to seed. In Pool A, Sockeye made quick work of #23 Golden Fungi. Sockeye won 15-4 and took half 8-2 in less than 30 minutes. Their second game against #12 Boston DiG was harder. Seattle let up three straight breaks out of half which eventually led to a 12-12 tie game and forced them into a universe-point offensive possession, which they scored to win the game 13-12.
#2 Chicago Machine was undefeated on Saturday after an easy path through pool play. Machine has lots of different defensive sets that can break any offense. Another reason for Chicago's success was their seamless integration of new talent to their D-line. Dalton Smith came up big for their defense on many occasions during Saturday, dicing up offenses with his trademark give-and-go handler movement. On Sunday, late addition Kevin Pettit-Scantling helped take Machine to the semifinals with a win over #17 Boulder Lotus. Both of these players work into a system with many elite defenders, notably Von Alanguilan, Nate Goff, and Walden Nelson.
#6 San Francisco Revolver was untested this season coming into this weekend. It was a fresh-faced roster led by championship-level talent in the form of Simon Higgins, Eli Kerns, and Tom Doi. Revolver looked better the more they played. In their first game against Lotus, they overthrew easy hucks and miscommunicated on zone offense. By their third game against Sockeye, they played with the poise of a team reminiscent of the well-regimented Revolver of the 2010s.
Rhino Slam! Deserves Its Own Headline
#10 Portland Rhino Slam! was easily one of the most impressive teams this weekend. Portland had an exciting spread of talent that helped send them to the semifinals. Ted Sither and Eli Friedman were anchors for Rhino on offense. Raphael Hayes and Leandro Marx made their usual impacts on both sides of the disc, and David Sealand had two clutch blocks to keep Rhino in championship contention. Looking ahead to the Series, and realistically to Nationals, bet on Rhino to make a deep run into the championship bracket. It will be tough for anyone to hold off a scrappy, underdog Rhino when they have an opportunity to upset the biggest teams on the biggest stage.
New York Needs to Do Work
#7 New York PoNY left Boulder 3-4 on the weekend. The aptly named "pool of death" was not kind to PoNY, who suffered tough losses against #16 Pittsburgh Temper and #8 Denver Johnny Bravo. PoNY's cutters struggled to get the disc on both unders and deep shots, and handlers missed wide-open throws. And although they were missing key players Grant Lindsley, Ben Katz, and Marques Brownlee to the AUDL playoffs, their systematic failure was lacking more than some cogs. Defensively, New York struggled to convert any break opportunities. Standout defensive players like Jack Hatchett and Jibran Meiser were able to come up with big blocks during their games, but the D-line offense quickly gave the disc back. This inability to convert coupled with Jimmy Mickle getting injured in their first game against Temper set the stage for a difficult weekend for New York.
On Sunday PoNY was able to bounce back and win the 9th place round-robin. They had five-goal victories over Golden Fungi and Denver Inception, and a four-goal victory over their regional rival Boston DiG. They should not have trouble winning at Regionals with a full roster, but come Club Nationals they cannot afford to come out flat if they hope to make it to the championship bracket.
Middle-Seeded Teams are Hit or Miss
Washington DC Truck Stop bounced back from their pool play loss against Revolver to have a commanding win over Golden Fungi in prequarters and advance to the quarterfinals. Denver Johnny Bravo won Pool D in commanding fashion but eventually lost to Truck Stop 13-10 in the bracket. Integrating Doublewide transfers Kai Marshall and Jay Froude onto their roster made Bravo a force to be reckoned with on Saturday. Other standouts for Johnny Bravo include Erik Hotaling, Ben and Will Lohre, and Quinn Finer, who led Bravo with 13 goals.
Boston DiG had a disappointing exit from the championship bracket in prequarters with a loss to hometown Boulder Lotus. DiG's offense was anchored by the handler trio of Henry Babcock, Noah Backer, and Gus Norrbom. Downfield, the veteran presence of Tyler Chan and height of Orion Cable allowed DiG to cause trouble for defenses on both unders and deep shots. They would eventually finish tenth overall, losing to PoNY in the ninth place round-robin. Like their New England rival, DiG should have no problem making it to Nationals in California. But, they will need to find a way to convert more breaks if they hope to avoid another pre-quarter exit in San Diego.
Boulder Lotus and Pittsburgh Temper both had respectable performances this weekend. Lotus is a young and athletic team and should be on the radar to cause an upset at Regionals if they can iron out some problems with their offense. Pittsburgh Temper started the weekend with an impressive win over New York PoNY, and had an easy win over Denver Inception to advance to the quarterfinals. Unfortunately, they took a tough loss to eventual champions Seattle Sockeye. Standouts on Temper included Pat Earles, who led the entire tournament in assists, as well as Thomas Edmonds and Dylan Best. Pittsburgh could have a difficult Regionals contending with Truck Stop and #15 Virginia Vault. But if they can put together a run like they did against PoNY, they should be able to make it to California come October.
All-Tournament Line
Raphy Hayes (Portland Rhino Slam)
Dylan Best (Pittsburgh Temper)
Nick Stuart (Seattle Sockeye)
Xander Cuizon Tice (Seattle Sockeye)
Simon Higgins (San Francisco Revolver)
Zach Norrbom (Washington DC Truck Stop)
Daniel Landesman (Boulder Lotus)