The latest from College Regionals!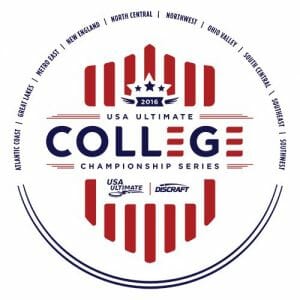 Here is the list of teams that have qualified for the 2016 D-I College Championships. This list will be frequently updated with new information.
Below are lists of the teams that have qualified (see further down for region-by-region breakdowns and scores).
MEN'S QUALIFIERS
UNC Wilmington
UNC
Michigan
Massachusetts
Harvard
Carleton

Wisconsin
Minnesota
Oregon
Washington
Utah
Case Western Reserve
Pittsburgh
Colorado
Texas A&M
Georgia

Florida State
Auburn
Cal Poly SLO
Metro East Qualifier (next weekend)
WOMEN'S QUALIFIERS
Virginia
Michigan
Ottawa
Dartmouth
Wisconsin
Oregon
Whitman
Washington
British Columbia
Western Washington
Pittsburgh
Ohio State
Colorado
Texas
Colorado College
Central Florida
Stanford
UCLA
USC
California
ATLANTIC COAST
Men's
2 Bids
UNC Wilmington (defeated UNC 15-9 in final)
UNC (defeated VCU 15-3 in game-to-go)
Women's
1 Bid
Virginia (defeated UNC 15-10 in the final)
GREAT LAKES
Men's
1 Bid
Michigan (defeated Notre Dame 15-9 in the final)
Women's
1 Bid
Michigan (defeated Northwestern 15-7 in the final)
METRO EAST
Men's
1 Bid
Quarterfinals have been postponed until next weekend due to rain in Middletown, NY.
Women's
1 Bid
Ottawa (defeated Rutgers 12-4 in the final)
NEW ENGLAND
Men's
2 Bids
UMass (defeated Harvard 15-10 in the final)
Harvard (defated Tufts 15-8 in the game-to-go)
Women's
1 Bid
Dartmouth (defeated Northeastern 15-7 in the final)
NORTH CENTRAL
Men's
3 Bids
Carleton (defeated Luther 15-4 in semis; defeated Wisconsin 15-13 in the final)
Wisconsin (defeated Minnesota 15-10 in semis)
Minnesota (defeated Iowa State 15-9 in game-to-go)
Women's
1 Bid
Wisconsin (defeated Carleton 15-6 in the final)
NORTHWEST
Men's
3 Bids
Oregon (defeated Victoria 15-8 in semis; defeated Utah 15-7 in the final)
Washington (defeated Oregon State 15-10 in the game-to-go; defeated Utah 15-12 in the 2nd place game)
Utah (defeated UBC 15-13 in semis)
Women's
5 Bids
Oregon (defeated Washington 15-7 in semis; defeated Whitman 14-10 in the final)
Whitman (defeated UBC 13-11 in semis)
Washington (defeated WWU 14-9 in backdoor bracket)
UBC (defeated Victoria in backdoor bracket)
Western Washington (defeated Victoria 15-8 in the game-to-go)
OHIO VALLEY
Men's
2 Bids
Case Western Reserve (defeated Penn State 15-9 in finals)
Pittsburgh (defeated Penn State 15-11 in game-to-go)
Women's
2 Bids
Pittsburgh (defeated Ohio State 14-7 in the final)
Ohio State (defeated Penn State 13-12 in the game to go)
SOUTH CENTRAL
Men's
2 Bids
Colorado (defeated Texas A&M 17-16 in the final)
Texas A&M (defeated Texas 15-11 in the game-to-go)
Women's
3 Bids
Colorado (defeated Colorado College in semis; defeated Texas 14-13 in final)
Texas (defeated Kansas 15-12 in semis)
Colorado College (defeated Colorado State in game-to-go)
SOUTHEAST
Men's
3 Bids
Georgia (defeated Auburn 15-12 in the final)
Florida State (defeated Auburn 15-11 in the 2nd place game)
Auburn (defeated Florida 15-13 in the game-to-go)
Women's
1 Bid
Central Florida (defeated Georgia Tech 15-3 in the final)
SOUTHWEST
Men's
1 Bid
Cal Poly SLO (defeated Stanford in the final)
Women's
4 Bids
Stanford (defeated UCSD 13-2 in the semis; defeated UCLA 10-7 in the final)
UCLA (defeated Cal 12-8 in the semis)
USC (defeated Cal 9-6 in the backdoor bracket)
California (defeated UC Davis 13-6 in the game-to-go)