Three bids for a deep South Central region.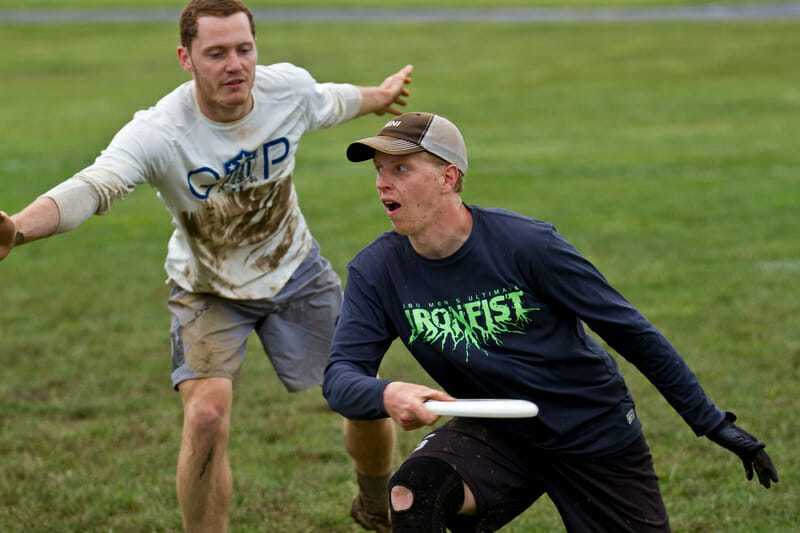 Due to potential player safety concerns — confirmed by the Conference Coordinator — last weekend, D-III South Central Regionals was postponed to this coming weekend. USAU was concerned about players traveling on any snowy roads; the weather also had the potential to cause frostbite with any prolonged exposure to the elements.
This has left many of the top schools unhindered in their pursuit of Nationals, but struck a major blow to some schools. In particular, John Brown and Truman State have been hit hard both by the fact that it is their graduation weekend and, in the case of John Brown, they have multiple Residential Assistants on the team who have duties that weekend.
The South Central D-III Men's Regional will converge in Colorado Springs for the first time in D-III history this weekend for what is shaping up to be one of the deeper Regionals of 2016.
With three top-flight teams in Colorado College, John Brown, and Air Force, one would expect them to take the bids to Nationals. For these top teams, this weekend is the peak of their season as they seek to push one more step and continue playing together.
Will John Brown's proven process from the past few years carry them to the top of the Region?
Will Colorado College make the most of their 1st year back in the Division and complete the run to D-III Nationals?
Can Air Force take advantage of their senior-heavy class and homefield advantage to break through?
Before those teams can be crowned victors, they must traverse some hungry and talented teams in Rice, Colorado Mines, and Truman State. All of these teams will strive to make the storyline of the weekend not about who will secure the overall top bid, but who will survive the weekend to claim the third bid.
Let's take a sneak peek at the teams coming into the weekend:
Colorado College Wasabi
After an extended stay in Division 1 due to their College Championships appearance in 2011, Colorado College is now rejoining the D-III ranks. And their arrival has certainly been dramatic as they enter the weekend as the team to beat.
When asked about their return to D-III, Captain Ian Adams cited a number of factors for the switch. The primary reason, however, is the "USAU rule that requires any school with under 7,500 students to compete at – and win – the D-III Conference Championships before advancing to D1 Regionals." For Wasabi to compete D1 would have required a trip to Tulsa, Oklahoma, for Conferences and a short turnaround to Kansas City, Missouri, two weeks later.
With D-III Regionals set in their backyard this year, the prospect of staying at home for Regionals was too tempting. On top of that is the prospect that, in the words of Adams, "Going D-III for at least a season would be smart to get younger players more experience and to potentially extend our season."
While flying under the radar most of the year, their two well-earned wins against John Brown at COnferences proved that this is a team not to be trifled with. Despite being a young team, they bring gritty D1 experience and a well-run system into the weekend.
To develop as a contender, Colorado College admitted to taking their lumps in some "tough games [that] really highlighted what we needed to work on in order to be one notch better, which was helpful and motivating." Most notably are the appearances of big losses to Arizona and Luther. However, those losses came with some small squads. Showing up to Conferences with a deep roster of 23 players, Colorado College went undefeated while only being challenged by a few teams.
Offensively, Colorado College is a very fit and athletic team that relies upon a disciplined vertical stack system to carry them. As in any vert stack, there is a lot of room for the handlers to cut. And Colorado College has a pair of handlers in Grant Mitchell and Jason Bair who can electrify the field with their ability to work together. Mitchell has had some injuries, so his health over the weekend will be something to monitor.
Once the handlers are able to deliver it to each other in power position, look for them to be sending the disc to their versatile cutters, most notably Ian Adams, Phil Korolog, and Sam Hale. Adams played exceptionally well at Conferences, but also noted that Korolog and Hale have proven over the course of the Spring that they "are both reliable, athletic cutters who are tough to mark and [are] great in the air."
On defense Wasabi brings a bid-heavy defense that very few D-III opponents match. Some players who really set the tone for the defense against top opponents are Isaac Rubenstein, Perry Fitz, and Joel Fisher-Katz. Those three regularly generate blocks, but also possess the savvy and ability to work the disc up the field after a turn.
Wasabi is a team that brings a mantra of "stoked on dudes" to the field. You can hear their energy in everything from their opening pre-game chants to the way they push each other to go the extra inch to make a big play. There were a few times, especially noticeable in their wins against John Brown, that Colorado College brought a team-wide intensity that was unmatched.
If Wasabi can capture that same intensity and energy this weekend, and if nobody can find away to shut down their handler core, they certainly seem the favorite to win the South Central this year.
John Brown Ironfist
John Brown Ironfist comes off back-to-back years of winning the Region and is seeking to extend that streak. In many ways, this should have been considered a rebuilding year for them after graduating six key seniors and losing another top player for financial reasons. 
However, they retained just enough playmakers from last year and gained some young rookies that allowed them to emerge as a dangerous, albeit young, team. Their season even culminated in a #1 ranking in the USA Ultimate rankings.
While John Brown has backed up this ranking with two crucial wins against Air Force and strong, consistent play for most the season, there is still cause for concern. Most troubling is how they have struggled against teams with extensive D1 experience. In losses to Arkansas, TCU (2x), and Colorado College, their youthfulness was exposed in that they struggled to dictate the energy level of the game.
Heading into Regionals, President Ryan Gulbranson described their mental state as "really focusing on peaking both physically and mentally this week going into Regionals. [Conferences] was our first tournament since Dust Bowl and on Saturday, we struggled to come out hot."
They did have trouble on Saturday putting away weaker teams in Harding and Missouri S&T, even needing a furious comeback to win the latter game before being embarrassed by Colorado College on Saturday.
However, Sunday brought out a better side for the team and, despite being down 0-2 early against Air Force, they won that game convincingly and then played Colorado College much closer, relying on a much improved defensive effort in their rematch against Wasabi.
We had much written about John Brown's offensive and defensive strategies, but the fact is that their roster has been decimated by postponement of Regionals. What was once a deep, 20-man roster is scrambling. They simply hope they can get 10 players to Regionals. It is a very young 10 guys that will show up to try and carry JBU to a Nationals berth once more.
Mark Belvardi (RA duties) and Bradley Herschend (previous commitments) will be away. Additionally, Ironfist's best player and a potential South Central POTY candidate, Ethan Penner (RA duties), will not be in attendance. They will also lose a key defensive player in Zeke Zumbro (graduation). A few more role players may not be able to adjust to the new schedule either.
In a stroke of good fortune, though, John Brown is going to be able to fly out senior Aric Powers for Sunday play. While it may still be a heavy burden for him to bear without his counterpart Penner, Powers brings a lot to the table for them offensively. If Ironfist can stay in the hunt on Saturday, he may shift the tide to vie for at least that 3rd bid out of the Region.
What was once a peripheral story, and now becomes a huge storyline, is the health of junior handler Ryan Gulbranson. He has been struggling with a hamstring injury and his return to the field is vital for John Brown this weekend. His length and experience makes him John Brown's toughest offensive handler to mark.
Another player who will have to carry a heavier burden than normal is speedy cutter Ethan Bolthouse, a sophomore. He has great speed and can distribute as an effective mid, but he has never had to carry the cutting burden against such pressure. Look to see if this is an emergence for him as a player in the region or if the defensive attention can contain him.
John Brown will hinge their defense heavily on the backs of rookie defenders Josiah Johnson and Spencer Patterson. Ironfist employes both man and zone looks, and tries to expose their opponents weaknesses with the best defense.
No matter which defense they play, expect to see both these players in the middle of the action. Powers ] drew attention to Johnson saying that "he is developing into a tenacious defender."
They may just provide JBU with enough of a spark to return to Nationals. The fun doesn't end after the turn either, as Patterson and Johnson turn into strong cutters.
Throwing to them is Sophomore Grant Bruner. As their go-to handler on the D-line, Bruner is fearless and willing to go every other.
However, with him crossing over onto offense this weekend, he will likely have less energy to devote towards break opportunities. Look to see if he can pick up the slack of a team that was already short on handles heading into the weekend.
John Brown has their work cut out this weekend to get their highly-touted team to Nationals.
Air Force Afterburn
Afterburn was everyone's favorite poster boy last year for proof of how flawed USAU's ranking system was. Somewhat unfairly in many cases, people wrote them off and dismissed them as a team of no consequence – merely an outlier produced through faulty data inputs.
Afterburn took everyone's words to heart. Instead of cowering in a corner, they pulled a Steve Rogers transformation and have come out athletic, strong, and red, white, and blue. With consistent coaching, more playmaking depth, and better team unification, they played the toughest schedule of any D-III team in the nation and proved they belong among this year's elite teams.
On paper, this team stacks up as well as anyone else in the region; their performance this season backs that up. Boasting eight seniors and a consistent coaching staff, a rarity for most schools in this Region, this is easily one of the best Air Force teams in their program's history. 
The postponement for Air Force actually may have been a positive element. Not only has the miserable weather affected their practices, but the delay may actually allow them to get some key players back who were up in the air. In particular, Justin Miller and MItch Willis, who were absent most of the week with senior projects, are now set to participate with Air Force this week.
Air Force has a well-deserved reputation for being athletically gifted. Captain Jake Johnson told me that "most of our guys were standout high school athletes and some of our players have crossed over from playing NCAA Division 1 track, football, diving, and lacrosse here at the Academy to play for AFU."
While the quality of their athletes is not in question, what separates them on offense this year has been the development of a consistent cadre of throwers who can get the disc to those big athletes in space.
Keying the attack this year was Justin Miller, who Johnson noted is "playing lights out, especially as our 'breaks' specialist handler," and Alan Villanueva, an impressive freshman with unorthodox throws. Both players have had excellent campaigns throughout the entire year and will look to continue that momentum into this weekend.
One interesting player to keep an eye on is the Spring pick-up of Noa Chun-Moy, a player with extensive high school experience. He was unable to make Conferences, but has the potential to be a huge wildcard player for Air Force this weekend.
On defense the engine will be senior captain Mitch Willis. "If he keeps us with the defense he's playing, I think he could be a serious D-III defensive player of the year candidate," said Johnson. If Air Force is to truly break through to Nationals, Willis will once more need to bring his confident playing style to the field.
As stated earlier, Air Force has acquitted themselves extremely well – piling up a lot of quality wins. Their list of wins this Spring includes Lewis and Clark (2x), GOP, Whitman, Davidson, High Point, Mary Washington, and Elon. There's very few teams that have played that many elite D-III teams, let alone won that many games!
They do have some head-turning blowout losses to Baylor, Indiana Wesleyan, and a shocking upset loss to Oberlin. But by and large this team has been extremely consistent in performing at a high level all year. Additionally, they are extremely battle tested after their grueling tournament schedule.
Air Force has responded to any questions about their worthiness with elite athleticism and strong results. Johnson stated the expectation – and realistic destination – of the team when he said this:
"We're ready," said Johnson. "Everything's been building for this moment. We're hosting Regionals and we're pumped for the chance to finish top three and make Nationals for the first time in team history in front of our friends and families."
Indeed, Air Force has the experience and home field advantage this year. If there was a year of destiny for this team, this will be it as they push for glory in their hometown!
Rice Cloud 9
Rice endured heartbreak last year, falling in the game-to-go after securing a bid for the region. As heartbreaking as this was, it taught the team something about themselves. Captain Johnny Frolichstein said of last year that "the expectations we set for ourselves were a catalyst for our losses in high pressure situations."
With that in mind, this year they turned to a more lighthearted approach. All season long they have strived to become a team that wants to have fun, get better together, and enjoy the big moments when they come, not be crushed by the weight of them.
This approach has kept them positive, but has not quite afforded them the season they would have hoped for. With some unexpected losses to teams like Texas Tech and Oklahoma, as well as a bit of a letdown at DIII Easterns, this team comes into Regionals as an underdog.
Fortunately for Rice, they will be able to bring most of their roster to Regionals. The postponement of the tournament did cost them financially, as some plane flights were already purchased — but with a full roster Rice may actually end up with an easier path to grabbing a bid.
What we do know about Rice is that they have been to some extremely competitive tournaments and will be prepared for the best their opponents have to throw at them. Frolichstein also enjoyed the idea of being the underdog, stating, "Having not earned a bid this year, we know we have to go out there and play like we have something to prove."
Their backfield on offense is full of solid, experienced players like Frolichstein and Austin Benavides, both 2nd-team All-Region last year. Look for them to keep the offensive attack moving quickly and efficiently. They will have great downfield options to throw to in dynamic cutter Alex Heath, also 2nd-team All-Region, and Avery Zaleski.
Frolichstein and Heath in particular are the players to watch for Rice here as both garnered valuable club experience, playing with PLEX and Space City Ignite, respectively. Their ability to continue winning match-ups against the opponent's top defenders when the stage lights gets brightest will be the best indication of how Rice's weekend is going.
Defensively, Rice thrives off of tough, physical man defense. And with some swagger-filled defenders like Linden Shih and Abhijit Brahme, why wouldn't they? Those two will be taking the biggest matchups to cause havoc on the other team's best players.
"Linden is my favorite player on the team,"said Frolichstein. "His defense is scarier than any I faced in club." Once Rice produces turns, look for James Kittleman to take over the show and use his surprising quickness to keep the disc moving and produce break opportunities.
Cloud 9 has played like a team with talent, which shows in that they were competitive in even most of their losses. However, after Frolichstein and Heath, the talent depth for this team starts to diminish rapidly as they simply seem to not have the depth of the other top teams at this tournament.
Make no mistake though, if their top players are rolling and they find one of the teams above them playing a bit lackadaisically, this team will be first in line to steal a bid to Nationals. As they grind through a tournament, watch to see if they can keep their legs fresh and bodies energized in the Colorado altitude.
Colorado Mines Entropy
Colorado Mines Entropy is an emerging team in the region. With a spot to Regionals on the line last year, they took out their Colorado brethren, Air Force, to advance. They then made a big splash by beating Rice in their first game of Regionals before fading throughout the rest of the tournament.
This year they look to show up as a bigger threat with more experience under their belt. With the postponement of Regionals, they have 5 players currently seeking to get rescheduled exam times. We will see if they are able to get their players available and ready to go. But even if they don't, their lack of having to travel as much as other teams will give them a potential edge. 
Despite not having the overall depth and experience of some of the top teams, which could hinder them from winning the Region this year, they seem to have a positive and energetic culture that makes them a scary threat to anyone this postseason.
One cool aspect of their team that demonstrates their passion is they are passionate about promoting the sport in their area, and are heavily involved in some programs like 10 Million Discs, a charity that promotes sportsmanship through teaching ultimate.
The largest — pun intended — reason they are emerging into a threat goes by name of Zach Cotter. Cotter very deservingly made the All-Freshman team for the region last season. A seemingly tireless workhorse and huge target, he brought down almost everything thrown his way. It would be surprising for him to not continue his upward trajectory and get nominated to an All-Region team this year.
But don't get too caught up guarding Cotter or else the other Mines staples – like Patrick Boyker and James Miller – will burn you. Especially look to see if Miller can stretch the deep space as captain Scott Harris told me that "there is no one I trust more to bring down any of my throws whether it [is] a hot in cut or a deep look."
If Cotter and friends get some support other players like Thomas Hennen, their premier defender, and Scott Jariell, a cross-country convert with deep scoring potential, this team can quickly turn into a scary game for any team in the field.
Exhibit A is that Colorado Mines played an extremely intense game against Colorado College, only losing 10-12. While Mines has yet to prove they are among the Region's elite, they seem to be quickly closing the gap the past few years. Look for them to have the pressure-free situation of playing spoiler to someone's weekend. And who knows – if a few scenarios fall their way, they could just spoil their way right to Nationals.
Truman State JujiTSU
Truman State was a somewhat surprising team in D-III last year, coming out of a relatively quiet season to steal the bid Rice had secured and go to Nationals themselves. With another quiet year slowly developing underneath them, will Truman make another sudden Nationals run? They certainly have the experience and key players to make that dream a reality.
Last year was critical, however, in laying the building blocks for the team to use as a launchpad into this year. If they can navigate a deep and treacherous Regionals, it will be due to a system that consistently places Truman towards the top of the Region.
To make this year a success though, Truman is rewriting the book on their system a bit. Losing key studs Tom Crockett and Aaron Davis left a bittersweet opportunity to redefine who Truman is. President Joe Williamson-Link admitted that "JujiTSU has traditionally based its success on the play of our top handles."
While this year seems to lack a dominant handler like Crockett, this year has been a chance for JujiTSU to rely more on their overall depth and talent to see them through big games. Certainly, their core group of players – like Seniors Isaac Pearlstone, Ray Hilger, Brendan Cirillo, and Junior Matt Beers – are capable of driving the team in big moments.
These players are all experienced veterans who now have Nationals experience under their belt. Williamson-Link was confident that "the majority of the team knows what it's going to take to get to North Carolina and are highly motivated."
Especially keep an eye on Cirillo, a captain and 2nd-team All-Region player last year, to see if he continues to elevate his game. He has struggled with injuries in the past, but fortunately appears to be quite healthy heading into this weekend. He brings a passionate energy to the team that could keep them in crucial games.
Filling in the gaps as pivotal role players are Sophomore Jacob Jackson and Freshman Sean Eberle. Eberle especially was praised by Captain Brendan Cirillo as a player "who has been throwing great hucks all year as a cutter." If that kind of performance continues from younger players, it bodes well for JujiTSU.
Truman has long been towards the top of the region and has the system and knowledge to get where they want to be. They can play man or zone defense. They can run handler give-and-gos or throw precise hucks. Simply put, they have proven they can show up in the big moment and make things happen. Will they be able to do so again in a bit of a transition year?
Truman was not quite compelling at Conferences. They described some of their discomfort in saying they were "caught off guard by how physical the two Colorado teams we saw at conferences are, but we are making some changes and will be ready for a fight all weekend." They have the tools, the program, and the experience to be as competitive as anyone. Now they just have to execute.
Rest Of The Pack
Tulsa and Missouri S&T round out the rest of the field. Despite making Regionals, neither team has the history or demonstrated the capacity to do much this weekend. It is possible they secure an upset win at some point, but it would be a shock to see these two teams approaching bid territory on Sunday.