Proving their doubters wrong, Carleton reclaims the Regional title in a cold, wet weekend in Cedar Falls.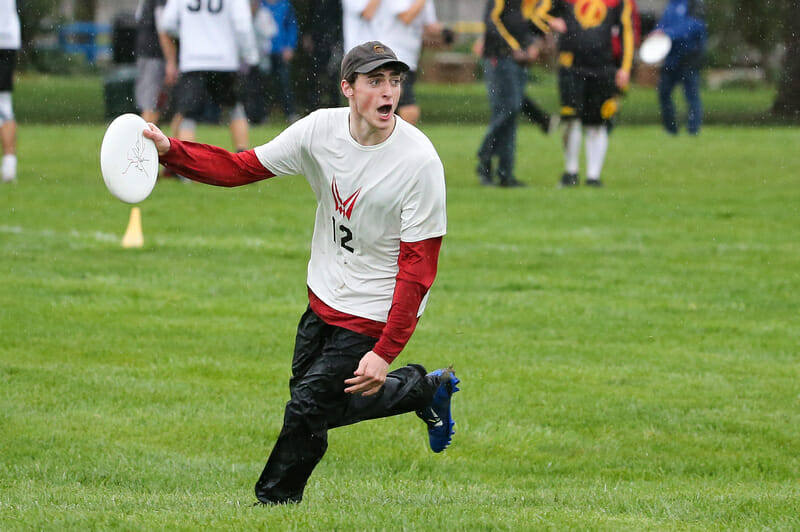 As expected, the three top teams of the North Central faced little resistance in procuring their bids to Nationals.
Not as expected was their placement.
Carleton College CUT, despite showing flashes of brilliance this season, hadn't managed to put it together for an impressive full tournament yet in 2016. Heading into Regionals, most assumed they would be outclassed by Minnesota (as they were at conferences, 15-9) and Wisconsin, happily settling for the 3rd and final bid. You know what assuming does…
Carleton Cruises Through Saturday
CUT absolutely annihilated the Wisconsin Hodags in Saturday pool play, to the tune of 15-5. Obviously Wisconsin started resting their top players at some point, but especially considering the rivalry between the two schools, a result like that can't be ignored. And it was indicative of things to come.
With the victory under their belt, CUT made mincemeat of the rest of their pool and locked up a favorable matchup with happy-to-be-there Luther in semis on Sunday. Wisconsin, on the other hand, got Minnesota, preempting what many thought would be a hotly-anticipated final.
Late Surge Guides Wisconsin Past Minnesota
The matchup, despite coming early than expected, did not disappoint. Wisconsin started hot and took an 8-5 lead into half. Minnesota was struggling with short field turns, and Wisconsin's defenders were making life rough for Grey Duck handlers Wyatt Meckler and Tony Poletto. But at the start of the second half, Minnesota flipped the script. They were ones locking down on handlers and playing quick, clean offense on the turn. They held out of half, then punched in a break to Sam Bumsted — who punctuated the score with a gigantic spike. Bumsted was everywhere this weekend, often taking the most difficult matchups against Craig Cox and Aaron Speiss. Through his (and Tristan Van de Moortele's) inspired play, Grey Duck broke twice more to take the lead 9-8.
But just as quickly as their momentum came, it was gone. With the score knotted at 10, the Hodags broke. And then they broke again. And again. And again. And suddenly it was 15-10, a score that was entirely un-indicative of how close the game actually was. Grey Duck was left shaking their heads, dreams of defending their Regional crown dashed, and stuck dropping down to the third place bracket.
Grey Duck has, historically, been a team that is prone to riding their highs, but crashing and burning when something goes wrong. This year's squad had avoided the mental lapses of years past (their first game against Florida at Warm-Up notwithstanding), but their regional semi against Wisconsin showed a team that can still crumble in the face of a series of unfortunate events. Luckily, they quickly rebounded and were able to mop up the competition in the third-place bracket to claim their rightful spot at Nationals. This team is more than capable of contending for a title in Raleigh, but it could depend on how they handle negative momentum.
Carleton Does Double Over Hodags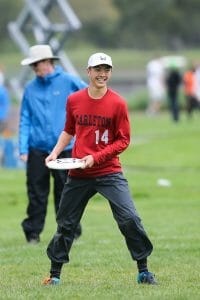 In the final, a well-rested CUT took on the Hodags in one of the longest-standing rivalries in ultimate. While both teams had already locked up their bids by winning in semis, they each laid it all on the line to claim the Regional title over their bitter rival. The spectacle was all the better for it.
The game was extremely even, with neither team getting out to a multiple break lead at any point. Tied at 13-13, Carleton broke. And then at 14-13, a Wisconsin handler miscommunication gave CUT a short field. Justin Lim quickly found Henry Fisher in the endzone, and the North Central title was theirs.
Carleton got contributions from up and down their roster on the weekend, though Jesse Bolton didn't play at all on Sunday. That's kinda scary. Also, if you haven't heard of him yet, remember the name Eric Taylor. Only a sophomore, Taylor was the driving force behind multiple breaks for Carleton in the final. He also had some pretty impressive pulls.
There was one moment (see 0:30 in this video) of the final that was… umm… unspirited? Not sure if the observers saw it, but it was pretty blatant from the sideline. TMF? PMF? Nothing? I'm not sure what you'd rule there. Poor spirit from the Hodags, regardless.
While all three favorites qualified for Nationals, it is entirely unclear how results from this weekend will affect seedings in Raleigh. Minnesota and Wisconsin had pretty even regular seasons that were far more impressive than Carleton's. Wisco will likely now end up seeded above Minnesota, having beaten Grey Duck head-to-head and finishing above them at Regionals. The Hodags, however, lost to CUT twice on the weekend, who Minnesota had beaten handily at Conferences a few weeks ago. Carleton, despite their less-than-stellar regular season, comes away having topped the region. How does that result get rewarded in seeding? I don't envy USAU.
Unfortunate Weather 
The weather was absolutely abominable all weekend. Rain (usually only a drizzle), wind (max 15 mph on Sunday), and cold (40 degree) formed a terrible trifecta. Usually I miss playing college ultimate; this weekend was not one of those times.
Due to the weather, the fields suffered, and most were 75% mud by Sunday morning. While it was entertaining seeing someone go face-first into a puddle on a layout, it was far from ideal conditions for ultimate. Not much you can do about it, but it still was unfortunate.