It's the Pool of the Programs, featuring Case Western.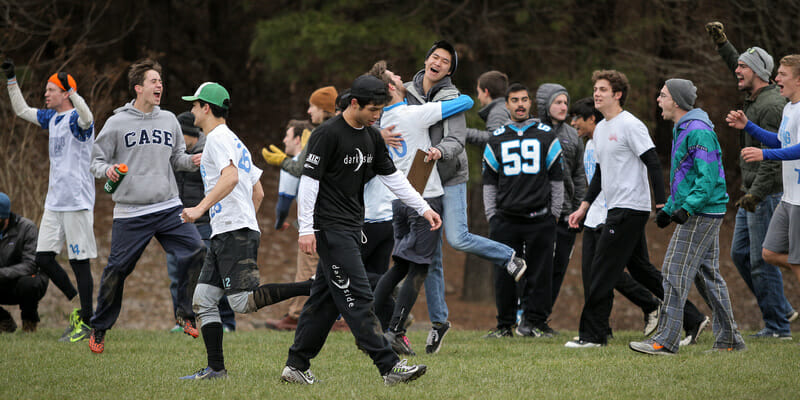 This article is presented by Spin Ultimate; all opinions are those of the author. Please support the brands that make Ultiworld possible and shop at Spin Ultimate!
Pool B is the pool of the programs. Each of the top four teams in this pool has made a semifinals appearance within the past two years. Three of these teams have recent graduates with Callahan awards, and the other has one who won the 2015 Player of the Year award from Ultiworld.
But as consistent as programs like this are, they return this year with new faces. There will be no more Mickle v. Freechild, no more Nethercutt v. LaRocque. A whole new set of stars is ready to pick up the torch and try to carry their storied programs back to the promised land.
Oregon Ego
Seeding: B1, Overall #2
Overall Record: 42-1
Against the Nationals field: 7-1
Against the pool: No games
Key matchup: Colorado, 10:30 AM Saturday
Oregon comes in as the #2 overall seed in the tournament, and for good reason. Oregon is 42-1 on the year, with a loss to Harvard in March as their only blemish on the year. Connor Matthews, Chris Strub, and Adam Rees lead the charge for Ego, who have won five tournaments already this spring, including the first two rounds of the Series.
But upon closer inspection, it's hard to tell where the barometer is for this year's team. Aside from a solid win over Texas A&M at Stanford Invite, Oregon has yet to play strong out-of-region competition like what will present itself in Pool B.
Oregon missed out on some high level regular season games when they bounced out of the Stanford Invite bracket earlier than expected. A loss to Harvard in the quarterfinals squandered Oregon's only chance to play Wisconsin and Pittsburgh before Nationals. But this team is experienced, and among the favorites to return to the finals. Chris Strub has emerged as a new leader for Ego, leading the fiery defense while sometimes crossing over onto offense. Marvin Waldvogel has become a smart utility player for Oregon as a transfer student from Germany, and standout freshman Xander Cuizon-Tice only adds to what might be one of the deepest rosters in the field.
Oregon has no experience playing anyone in Pool B, but the expectations are high for last year's finalists. At the very least, semifinals should be an achievable goal for Ego, giving them a shot at one of the other top programs in attendance.
North Carolina Darkside
Seeding: B2, Overall #7
Overall Record: 23-7
Against the Nationals field: 4-6
Against the pool: 1-0 vs Florida State, 1-0 vs Case Western
Key matchup: Colorado, 2:30 PM Saturday
Darkside returns to Nationals to defend their 2015 title, but not many will be betting on a UNC repeat championship. Outside of the state of North Carolina, UNC's biggest losses came to Massachusetts and Pittsburgh. Beyond that, UNC Wilmington has had their number. UNC was 0-3 on the year against their in-state rivals, but they won't let that deter them here. Darkside finds themselves in a very similar situation to 2015, needing wins over Oregon and Florida State to set themselves up for a title run. Unlike 2015, UNC doesn't quite have the star power they need to be a serious contender.
UNC is playing a different style of ultimate than they were in 2015. The loss of Jonathan Nethercutt, Ben Snell, Justin Moore, and Tim McAllister called for a complete rebrand. Yet here they are, looking to make another Nationals run for the third consecutive year. The quick and agile defense led by Nathan Kwon and JD Hastings is surely different (and shorter) than last year, but they're able to force breaks just the same. On offense, there's a more balanced attack, with every young gun — the starting backfield is comprised of all sophomores — having multiple break throws in their arsenal.
UNC bested Case Western 11-9 early in the year, and claimed a one point win over Florida State in March, which may point to Darkside as the favorites to advance to the bracket. But it's more likely that UNC, Colorado, and FSU are just about interchangeable in predicting their final standings in the pool.
Colorado Mamabird
Seeding: B3, Overall #11
Overall Record: 22-7
Against the Nationals field: 4-4
Against the pool: 1-0 vs Florida State
Key matchup: Florida State, 12:30 PM Friday
The return of Pawel Janas at Regionals was a huge factor in Colorado's regional title. The inability to stay healthy was a hampering issue for Mamabird all spring, but they'll be their healthiest in Raleigh this weekend. Colorado coach Mike Lun preached patience before the Presidents' Day invite, and their patience has been rewarded with another trip to Nationals.
Despite several question mark losses throughout the regular season, momentum is on their side. A double game point win over Texas A&M in the regional final could be enough to propel them into bracket play, provided that Mark Rauls and Pawel Janas can work well with handler Wes Chow in the consistently calm Mamabird offense.
Colorado has experience with Florida State. A 15-11 win over DUF started off their tough Easterns weekend, but bad losses to Florida and Carleton still present question marks. Mamabird will need to be on guard against a FSU squad out for revenge if they want to earn a spot in the prequarters.
Florida State DUF
Seeding: B4, Overall #14
Overall Record: 20-13
Against the Nationals field: 4-8
Against the pool: 0-1 vs North Carolina, 0-1 vs Colorado
Key matchup: North Carolina, 8:30 AM Friday
Florida State has fully evolved into a collegiate program. The rise of Chris LaRocque in the past few years had many writing off DUF as a short-term Nationals blip, but their return to the big stage proves that coach Peter Van De Burgt has built a deep team that goes beyond just one generational star. Still, having one of the best players in the Southeast definitely helped them at Regionals this season, with Connor Holcombe leading the way to a second place finish.
After proving themselves against Auburn and Florida, College Nationals will be a stage for the new generation of DUF stars to take control. Avery Van Brussel has filled an offensive gap for DUF, while young athletes like John Kern can cover most opposition. Their most dangerous attribute though has to be their unwavering confidence. FSU plays with a swagger that can disarm the most patient of offenses; unfortunately for them, they're in a pool of similar style.
FSU gave UNC a good fight at the Tally Classic, losing 13-12. If they can win the rematch of that game, a berth in the bracket will be in sight. DUF opened a roller coaster Easterns by losing to Colorado 15-11, and they've yet to play Case Western or Oregon in 2016. The conventional wisdom has FSU fighting for the third spot in the bracket.
Case Western Reserve Fighting Gobies
Seeding: B5, Overall #18
Overall Record: 32-9
Against the Nationals field: 0-1
Against the pool: 0-1 vs North Carolina
Key matchup: Florida State, 12:30 PM Saturday
Case Western has a couple significant wins over mid-level programs like Georgia Tech and Maryland, but what's really impressive about their surprise Nationals appearance is their consistency over the past few months. In their last 26 games, the Gobies are 24-2, with their two losses coming by a combined three points.
That said, there aren't many high level wins in that stretch. And as a newcomer in the pool of the programs, a championship bracket spot may be too big a dream for Case Western. But don't be surprised to see Joe Marmerstein near the top of some statistical categories by the weekend's end.
The pool of the programs could realistically shake out in multiple ways. Colorado, UNC, and FSU are all on just about the same talent level, and it only takes one upset to send the whole thing into chaos. If forced to pick a favorite from two through four, Colorado has the momentum and their stars returning from injury. But if Case Western manages to steal a pool play game against a squad looking ahead to another critical matchup, panic will set in on the seasoned Nationals teams.