Oregon may look nearly untouchable, but Pool A has served up fireworks in the past.

This article is presented by Spin Ultimate; all opinions are those of the author. Please support the brands that make Ultiworld possible and shop at Spin Ultimate!
For the third time in four years, Oregon is the #1 seed of the tournament and Pool A. Over the past six years, they have only lost two games in Nationals pool play1. As long as Oregon starts the weekend as the 1-seed, Friday and Saturday will follow the same story: teams throw their best shots at Fugue, and Oregon wins anyway. They've been here often enough that Pool A might as well be officially renamed "Everyone loses to Fugue."
Below Oregon, however, there's more wiggle room and many more questions. Can Virginia upset Colorado again like they did last year in pool play? How will California fare in their first Nationals since 2012? Could Colorado College surprise someone, and could that someone be Colorado? Pool A has an exciting history: even though the #1 seed has won five of six years, there have been more upsets in women's Pool A than any pool in either division.
Last year, Pool A was the best kind of mess. 2-seeds became 5-seeds (Notre Dame), and 5-seeds became 2-seeds (Victoria). This weekend, those spots are taken by Colorado and Colorado College. Kali and Strata are not only South Central neighbors, but they've each won against each other this season. If Colorado College comes out hot on Saturday morning, Pool A will see plenty of drama.
Oregon Fugue
Seeding: A1, Overall #1
Overall Record: 37-4
Against the Nationals field: 20-4
Against the pool: 2-0 vs. California, 1-0 vs. Colorado College
Key matchup: Colorado, 10:30 AM Friday
Oregon is the easy bet, both to win their pool and the tournament. So what makes them compelling in pool play, after so many years of dominance? Why bother following them on Friday or Saturday?
Because Fugue is ultimate in its best form.
They're not just strong, physical, or fast (and they are all of those things). They're also clever: watch them study an opponent's offense in the first few points, and wait to watch them rip it apart for the rest of the game. They don't shy away from the big moves: Shofner's dive-bomb bids and shotgun hucks are worthy of several highlight reels.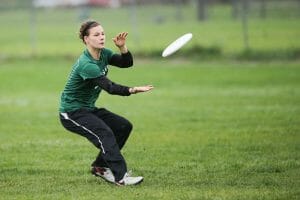 And this year's team has their sights set on more than a title. They're making their coach emeritus proud. They're sending their golden class off on a high note. They're beginning the next chapter of Oregon's dynasty the only way they know how: by winning.
Admittedly, they haven't done it at the alarmingly dominant rate they have in previous years. They've struggled with injuries and coaching changes, and looked a bit uncharacteristicly shaky at times. While that may have some of their future opponents hopeful, this Fugue, filled with last year's championship impact players, looks as formidable as ever.
Here are a few things we can count on from Fugue in pool play:
Olivia Bartruff will score most of their points. I'm personally wagering that she catches over 60% of their pool play goals.
Jesse Shofner will continue to give the people what they want: face-melting plays that keep Oregon in control. She is undefendable one-on-one in their pull play, and the pool doesn't have a defender who can run with her for a full game.
Alex Ode will firing on all cylinders after returning from injury.
If the gods are kind, we'll get to watch Bethany Kaylor match up on Marisa Rafter, and maybe she'll get a footblock.
Colorado's defensive craftiness matches Oregon's, and they are Fugue's only real hurdle for the first two days of Nationals. Colorado and Oregon actually haven't played each other since Stanford Invite 2015, a remarkable feat for two elite women's programs. They play each other in the first round of play on Friday. After that, Oregon's job will be to close out their games quickly to get ready for the bracket.
Colorado Kali 
Seeding: A2, Overall #8
Overall Record: 20-11
Against the Nationals field: 10-9
Against the pool: 1-0 vs. California, 2-1 vs. Colorado College
Key matchup: Virginia, 2:30 PM Friday
Colorado was the 1-seed in the Pool of Death last year, where Virginia unseated them. This season, Colorado has to defend their seed once more against a peaking Virginia on Friday.
Colorado wins their games through defense and a Pulp Fiction-style injection of energy. They're one of the most defensively agile teams in the division: they can try three to four defensive looks against a team and make tweaks until they're on a run of breaks. Kali specializes in claustrophobic handler defense, a talent that punished Colorado College at South Central Regionals.
While senior Kirstin Johnson produces a lot of the highlight plays, Kali's junior class is the team's engine. Jean Russell and Kelsey Bennett are staples behind the disc, and Nhi Nguyen is speed incarnate downfield.
That's Kali playing their best ultimate. But this season, Kali has struggled to play their best ultimate for a full tournament. They can generate turns, but they can't always convert. Against efficient offenses, they can't rely on a third or fourth break opportunity during points. The same issues plagued them last season, and they wound looking harmless against the top teams in the division.
Pool A doesn't hold a lot of surprises for Colorado: they were well-matched with California at Centex, they've seen Virginia before, and they've played Strata a lot. The next step for Kali is making sure they don't surprise themselves.
California Pie Queens
Seeding: A3, Overall #12
Overall Record: 27-11
Against the Nationals field: 6-9
Against the pool: 0-1 vs. Oregon, 0-1 vs. Colorado, 1-0 vs. Virginia, 1-0 vs. Colorado College
Key matchup: Virginia, 10:30 AM Friday
The Pie Queens haven't been to Nationals since 2012, and most of their games this season have been against local (Californian) teams. California is not a young team, but the mainstage is new for this roster.
Their season is a story of close losses to great teams: 10-13 to Oregon, 10-11 to Stanford, 11-12 to UCLA, and 11-12 to Texas. The mental strength they used in these games to prevent elite teams from taking over will come in handy once more this weekend. Cal enters the weekend 1-8 against teams seeded above them and 5-1 against the rest of the field. They might be a strong bet to hold seed, having lost to both the teams in Pool A above them and beaten the two situated below them, providing an unusual anchor for a volatile pool.
They'll have to maintain the emotional endurance for four days worth of battles. They will have to edge out Virginia again to punch their ticket into the championship bracket, which could be a tall order against a team that knows how to peak at the right time. Colorado, Virginia, Colorado College, and even Oregon's vets have been to the College Championships before, making Cal the least experienced team in the pool.
If California does hold their seed, count on it coming from big Allison Griffith endzone plays, and speedy cutting and big ups from Lexi Hasan, and bigger than big layouts from Jackelyne Nguyen. Freshman Anna Wysen provides a consistent reset for them, and they have good athletic downfield players to trot out until they can open up the field. But if they break their seed, count on it coming from the all-around impact of Player of the Year candidate, Marisa Rafter. Having struggled with injury the past few seasons, Rafter is healthy and making her mark felt. She's big, strong, fast, has gigantic throws, and has become famous for stuffing throwers on the mark.
Virginia Hydra
Seeding: A4, Overall #13
Overall Record: 23-11
Against the Nationals field: 2-8
Against the pool: 0-1 vs. California
Key matchup: California, 10:30 AM Friday
When teams graduate stars — and Player of the Year winners, no less — it's really tempting to frame the team forever in the context of their loss. Can they be as good again? What does losing someone whose name rhymes with Shmalika Yohnston mean?
Those are last season's questions.
"We have built a culture at UVA where the focus is largely team-based," says coach David Allison, "We believe that removing any one player from a game should not change how we play as a team. We will stick together and find our game."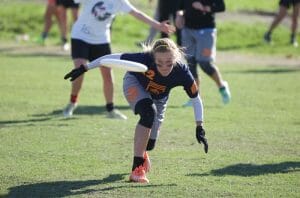 Hydra spent 2016 building a new narrative: they aren't the same team, but they're also not that different. Virginia is a well-rounded squad that can easily field seven capable throwers who will play small ball for 90 minutes if they have to. They're still not a physically imposing team, but they play to their strengths and compensate with speed.
Last year, Keila Strick was a breakout player for Hydra as a seemingly everywhere cutter with an impressive continuation look. This year, Strick is actually everywhere. She can make herself part of every play without disrupting resets or cutting patterns, and she works easily with fifth year veterans Tess Warner and Janie Mockrish. 
Virginia is in a strong place to upset California ahead of them, and after their drawn out 9-10 loss at Centex, they're probably happy at the chance for some vengeance, too. But one upset isn't enough.
"I think there are about eight teams at Nationals that cannot be beaten if they play their best ultimate for an entire game," says Allison, "I personally include Hydra in that list."
As the coach of a team that has made it to and through prequarters for three straight years, Allison has reason to be bold. UVA hasn't had their best season, but they are at their best in the postseason. That could spell trouble for the teams standing in their way.
Colorado College Strata
Seeding: A5, Overall #17
Overall Record: 22-12
Against the Nationals field: 3-8
Against the pool: 0-1 vs. Oregon, 1-2 vs. Colorado, 0-1 vs. California
Key matchup: Colorado, 8:30 AM Saturday
The third bid from the South Central wasn't supposed to be Strata's, but Colorado College has been working toward that back door final all season.
They traveled to bigger tournaments (QCTU, President's Day) to see bigger teams, and they learned what it feels like to grind through games that aren't decided after a few breaks.
The last time Strata qualified for Nationals, they relied on phenom Lisi Lohre to set the team's pace. This time around, there are more players holding the reins: Chloë Rowse and Patricia Weicht are the beginning and end of many of Strata's goals, and handlers like Corey Baron, Erika Hiromitsu, and freshman Frances Gellert have the green light to open the deep space, too.
Strata's roster might look different, but they'll bring the same manic energy and fun to their sidelines this weekend that they fed on in 2014.
"We aren't a team that gets fired up by aggression," agrees captain Chloë Rowse. "We always play our best when we're focused on ourselves and the love and humor we have as a team."
This enthusiasm is not only a big part of their wins at Regionals, it's also a requisite when you're the 5-seed in a top-heavy pool.
"We love coming in from the 5-seed spot," Rowse says, "It gives us the chance to capture that "nothing-to-lose" mentality and really enjoy and celebrate every point we score, no matter what happens results-wise."
---
Lost to Texas 10-15 in 2012, and to Carleton 9-15 in 2011. Interestingly, both upsets were from 4-seeds ↩