Get set for day two with the biggest stories from day one.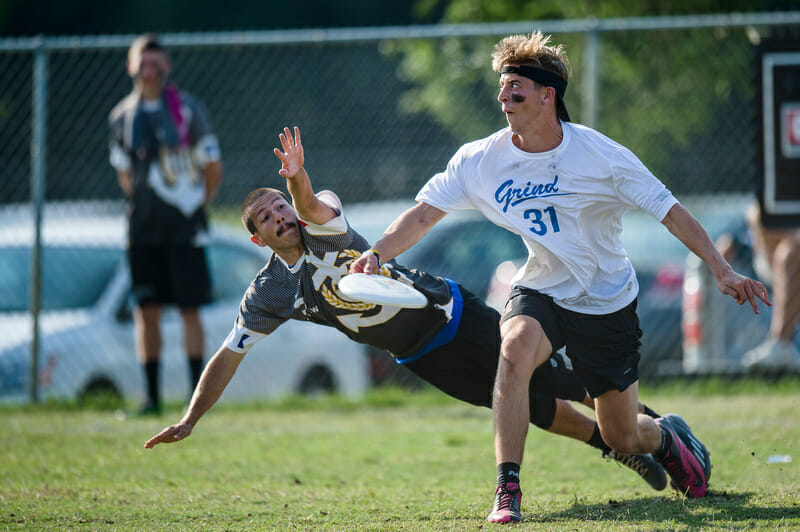 This article is presented by Spin Ultimate; all opinions are those of the author. Please support the brands that make Ultiworld possible and shop at Spin Ultimate!
On a wild first day at the DI College Championships, there was no shortage of storylines coming out of Raleigh headed into day two. Here's what struck us most from the men's division.
Upset City
The biggest story coming out of Day One on the men's side was the string of stunning upsets, in which three of the top five seeds went down. This is the madness that would have the country tearing up their brackets in March, and has ultimate fans going bananas in May.
The day started off at a frenetic pace as venerated Pittsburgh blew a sizeable lead to Pool D fourth-seed Auburn and fell 15-13. As shocking as that result was, what the next round had in store was even more stunning, when we saw the number one overall seed UMass go down to Georgia. Seeing the presumptive favorite capsize in their first game is shocking enough as it is, but the fact that it came at the hands of a Georgia team that they had beaten handily in their last four games, and was missing Parker Bray to boot, is almost unbelievable.
But the mischievous forces that preside over Nationals saved their best for last, as what should have been a perfunctory 1 vs. 5 matchup turned out to be the biggest shock of all. UNC-Wilmington, the 3rd overall seed, was playing UConn, the bottom seed of the pool, and a first time Nationals qualifier from a region that hasn't won a pool play game at Nationals in six years. If there was any game this weekend that should have been a sure thing, it was Wilmington over UConn. But when the sun began to set over the fields in Raleigh on the final point of the game, and somehow the disc was in the hands of Connecticut's Charles Morgan in the endzone, the possible and the impossible crossed streams in a euphoric moment. The sidelines erupted in pandemonium as fantasy became reality and onlookers struggled to comprehend what had just happened.
This scene represents the great appeal of the college series, and Nationals in particular. The polished club and pro game may exhibit the sport on a higher level, but days like this showcase all of the emotion, drama, and passion that makes the college season so special. While it might be frustrating for your prognostications, the crazy upsets we saw today, and the lesson that nothing in college can be written in ink, are why this is the best weekend of the year for our sport.
Conditions In Raleigh A Factor On Friday
Cincinnati, Milwaukee, then Raleigh. The Nationals progression took a turn when they decided to come down south. Friday in North Carolina, it was hot and humid. The heat got up to 90 degrees at points, and the humidity put a weight in the air. The current Nationals format counteracts this by only making teams play twice a day, but by the end of today some teams looked like they had played a full tournament. The heat and humidity of Raleigh added another element to an already contentious Nationals.
In Harvard's final game against Washington, the conditions had taken their toll. Their rotation, or lack thereof, had John Stubbs and Mark Vandenburg playing a majority of both offensive and defensive points. Stubbs was vomiting on the sidelines, and while he did continue to play, the fatigue was evident. Even the deep Wisconsin roster had cramping members by the end of their showcase game, proving no one was safe. In the women's division, the same issues struck UCF. Central Florida, a team that has famously relied on an extremely limited rotation and high level conditioning, had players cramping against Whitman Friday afternoon. Head coach of Michigan Flywheel Ben Murphy even proclaimed that a major key to their success was their ability to deal with the conditions. "We've never played in heat like this," Murphy said. "But our players did a great job staying hydrated and getting simple sugars when they could."
The heat wasn't the only daunting condition in Raleigh. Despite the last minute cancellation of some of the complex's worst fields, there were still issues. Turf is never a favorable option for most players, but we are often left with no choice. When Pittsburgh was playing Minnesota in a men's showcase game Friday, Andrew Lehmberg slipped trying to close down Minnesota's Connor Anderson. Anderson found himself wide open, and Minnesota easily converted for an important break. Apart from the turf, three to four of the fields had large dirt patches that visibly prevented some players from attempting a layout and could have caused extra muscle tension that could lead to cramps.
Last but not least, some of the backup fields that teams are now using are on a slight gradient. When Utah faced off against Carleton, Utah was able to hang with the favorites by hucking "downhill." Carleton players thought they were in good position downfield, but a stumble or an off-balance jump from unexpectedly lower footing meant the idea of a downhill advantage had to now be taken literally.
Conditions can't be used as excuses. The problem is when every team can call on the same excuse, it can no longer single you out. The better teams will adapt, and the deeper teams will prevail in the southern heat.
Breakout Players Make Huge Impact
Being the best player on a fourth or a fifth seed — often at Nationals for the first time — is a little like cliff diving. Having slogged up the ladder or seemingly endless switchback trail through the woods of the regular season, players stare over the edge of opportunity and recognition and pause for a moment — is committing 100% to this activity going to pay off? Will it be worth it?
Sometimes, those players realize that they were meant to take the jump, or that they might not have another chance like it in life. They whiff the salt air and smell success. On the first day of college championships today, a notable few talked themselves into the leap and it paid off.
Nate Pettyjohn
Cal-Poly SLO doesn't owe their entire 13-11 win against Texas A&M today to 6'2" sophomore Natthan Pettyjohn, but his five goal, three assist performance during SLO's victory was certainly impressive. Slocore built their season on feats of athleticism that reeled in long and wild hucks, and today Pettyjohn took the team's approach into his own hands. While teammate Cameron Wariner, a junior, held down the Dalton Smith matchup, Pettyjohn did everything that was needed of him and more to give his team their first win at the college championships.
John Wodatch
During UConn Grind's win over the UNC Wilmington Seamen, which was historic by a measure or two1, John Wodatch took over the game.
When Grind needed a cutter to streak deep and leap high into the air to track down a crucial hold, Wodatch made the play. When the Seamen had closed the gap to one point, at 13-12, Wodatch held the disc at the attacking brick mark and sent a backhand off into what seemed like nowhere, only to have a cutter streak onto it for a crucial break.
Grind's demeanor and effort helped them stay above the fray of a Wilmington team that was already dealing with a tough loss to Wisconsin, but Wodatch pushed the game over the edge and turned a light, at least for a moment, that left the basement of the Metro East dark for half a decade.
Martin Newman
You may know Marty Newman from his clutch sky block on Tanner Repasky in the game-to-go at Southeast Regionals. Other than that, this lefty defender has largely flown under the radar. Now at Nationals, Newman has done more to keep spectators looking for #83 in their programs.
In Aetos' upset win over Pitt, he held his own when tasked with marking Trent Dillon. On a turn, he facilitated the offense with his reset quickness and breaks.
"Very unknown to other teams," Auburn coach TJ Martin said of Newman's play after a round one win. "Easily our biggest playmaker on defense."
Newman has big play ability but most of his impact is a little less flashy, like preventing another team's stud from getting the disc or being on one end of an Aetos break. Auburn has recognized studs like Ryan Landry and Blake Galloway — both All-Region players in 2015 — but Marty Newman has been the straw that stirs the drink so for Aetos so far this tournament.
Surprising Teams Still Alive
Day One of College Championships 2016 felt a bit unprecedented for the Ultiworld staff — upsets abounded, games came down to the wire, and for once, the Metro East had what could be a decade-defining moment.
At the end of the day, Cal-Poly SLO, UConn, Michigan, and Auburn all control their bracket fate. In 2015? Each men's 5-seed finished last in their pool. Every 4-seed except for Texas Tuff (who was a surprising 2-0) needed help to stay alive beyond day one2.
Tomorrow, each of the four teams listed above has a chance to play their way into prequarters and defy their lowly seeding. With so many teams sitting at 1-1, the second and third spots in the pool could easily come down to some wild tiebreaks. Break out the pen, paper, and calculators — it'll be necessary as we follow all the action from this excellent tournament.
---
This applies, or should, to the entire Metro East men's division since 2010. ↩

Oregon may never have faced UNC in the final had Darkside not first sat their starters in pool play. ↩