Get set for day two with the biggest stories from day one.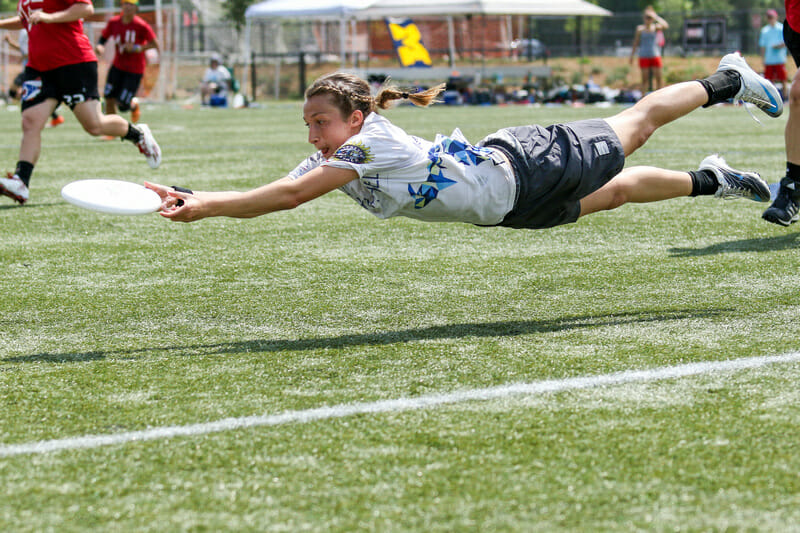 This article is presented by Spin Ultimate; all opinions are those of the author. Please support the brands that make Ultiworld possible and shop at Spin Ultimate!
On a wild first day at the D-I College Championships, there was no shortage of storylines coming out of Raleigh headed into day two. Here's what struck us most from the women's division.
Dartmouth Is Even Better Than We Thought
Everyone was curious how Dartmouth would play this weekend. They had a bumpy season without Jaclyn Verzuh, and, late in the season, star handler Angela Zhu struggled with ankle injuries. With a healthy squad, Dartmouth revealed the team we all thought they could be. If Regionals was the trailer, today was the first act.
Dartmouth took ahold of the first half against UBC like they had been there before: they broke twice to start the game, and they would three more times before taking half. Marks seemed irrelevant to Angela Zhu, and with Verzuh available on the break side, Princess Layout had their pick of ways to get down the field.
Nobody had an answer for Verzuh: not Mira Donaldson, not Victoria McCann, and not Carolyn Normile. We'll see her challenged this weekend, but it didn't happen today. She was playing a different game than everyone else, and she mostly did it in the midfield. She was barely the leading goal scorer with seven goals, and she only had five assists. If we tracked yardage, her stats sheet would be much, much heavier.
Angela Zhu, on the other hand, threw 15 of Dartmouth's 29 goals today. Verzuh made the flashy plays, but Zhu was Princess Layout's engine.
Dartmouth obliterated Pittsburgh 15-3 today. Think about that score. Pittsburgh is not a bad team. They're a top ten team, in fact. But Dartmouth's play today made them look helpless.
Princess Layout has a steep hill tomorrow: they'll see UCLA in the morning, the only team with players tall and talented enough to trip up Verzuh and Werffeli. But if they can get past BLU, this 18-seed has an incredibly high ceiling.
UBC Falters
Dartmouth was great, sure. But British Columbia didn't look like the 2-seed today, either. Dartmouth shattered UBC's rhythm and confidence, and they couldn't gather the pieces.
When they're hot, their cutters can outpace anyone. Mira Donaldson drops dimes, and together the team grinds on defense. Yet UBC's skill and speed this season have masked their in-game inconsistency. The Thunderbirds can win games, but that doesn't mean they can hold games from the first pull until the last grab. Two strong halves against quality competition continues to elude UBC. Usually, their raw talent makes up for it, but in Raleigh, that wasn't enough.
It isn't that they let teams back into games or that they dig early holes. They do both. UBC usually bookends those performances with antithetical efforts where they display their undeniable skill and precision. Unfortunately for them, their bad habits have caught up with them and now they'll be playing catchup on Saturday in Pool B.
2-0 Three Seeds
Two three seeds went 2-0 on Friday, but the similarities between the two teams does not extend much further. Michigan in Pool C seed looked very impressive in dispatching USC and Ohio State, while Texas in Pool D looked less than convincing in topping Ottawa and Wisconsin.
Flywheel got off to a positive start from off in their second round matchup with the USC Hellions of Troy. Michigan was not spectacular, but instead very solid and within themselves. Hannah Henkin was a force to be reckoned with, of course, and Michigan's stable of dependable starters played very well, but they were not particularly special or overwhelming in how they played.
Michigan jumped out to an 8-4 lead on Southern Cal and then cruised to a 15-9 final score. Flywheel continued the solid play into their second round against Ohio State. Again the team played solidly, taking advantage of their opponent's mistakes while minimizing their own. The 2-0 start puts Michigan in a great spot in their pool. They have yet to play the top two seeds in the pool, but their current 2-0 record has given them a nice base on which they can build from tomorrow and should relieve some of the pressure they would have otherwise faced against two top teams in Stanford and Washington.
"Both teams really kept us honest and made us play hard and made us play well," said Michigan head coach Ben Murphy of his team's Friday matchups. "I think that was a great first day for us, to be able to face really good competition and still come out on top and I think helps all the players realize what they're in for and hopefully sets the tone to be able to improve over the course of the weekend."
Texas also went 2-0 as the Pool D three seed, but looked less convincing in doing so. Melee allowed Ottawa, a team that was completely overmatched by UCF in their second game of the day, hang around after a bright start. They held on for the 15-12 win, but were in danger of suffering an upset when the Lady Gee Gees tied the game up at nine with a strong second half run.
A similar pattern followed for Melee in round three. Again Melee was impressive and jumped out to an early lead on Wisconsin, but the Texas club also let their opponents hang around again and, in fact, completely frittered away their lead in the second half. In one of the best finishes of the day, Texas wound up surviving a break and scare and then snagging a break themselves to take the win, but the fact of the matter is that Melee struggled to put away lower seeded teams when they had opportunities to do so.
Yet, they sit at 2-0, in second place of their pool and in as good a place to build from as Michigan. And to Melee's credit, they seem to know that they must improve upon today's performances on Saturday. "This is what we wanted from the start of the tournament," said coach Edith Teng. "More than anything we're dissatisfied with how we played today regardless of how the scores went. I think we know we have more work to do if we want to compete."
Ultimately, how both teams' Fridays will be viewed will be determined by how they play on Saturday. But both have taken advantage of playing the two bottom seeds of the pool to put them in a solid position for qualifying for prequarters at the very least. Though they took slightly different paths to get there, Michigan and Texas have both set themselves up as well as they could have to accomplish their goals this weekend.
Virginia Has Been Here Before
Virginia Hydra hasn't had the flashiest season. They don't have the breakout stars, the highlight reels, or the signature wins that dot other teams' resumes. But they know how to take care of business, especially at Nationals.
They've reached quarters for the past three years straight. The rhythms of pool play aren't foreign to Hydra, and nearly half of their roster are seniors or grad students.
Players like Tess Warner, Janie Mockrish, Rebecca Meeker, Amy Wedmore, Brogan Jones…they're seasoned pros at outlasting teams in pool play and digging into the bracket. They spread the wealth and rely on the full line to score: during their game against California, nine people scored their 14 goals. In their game against Colorado, 10 people scored 14 goals. Their depth makes the process of shutting them down long and tricky: who do you start with, and how? You cannot one-on-one guard a system.
Hydra was aided by today's heat: the temperature drained teams' top players whose mistakes became more prevalent as fatigue set in. Slow, lengthy, grinding points played right into Hydra's hands. It is unclear that, without overpowering individual players, they can outlast and outmaneuver the elite teams. But they probably won't have to in order to make quarters. Their 2-0 start, with Oregon and Colorado College left on their schedule, is favorable.