Stanford stands alone as the only top seed in either division to win their pool.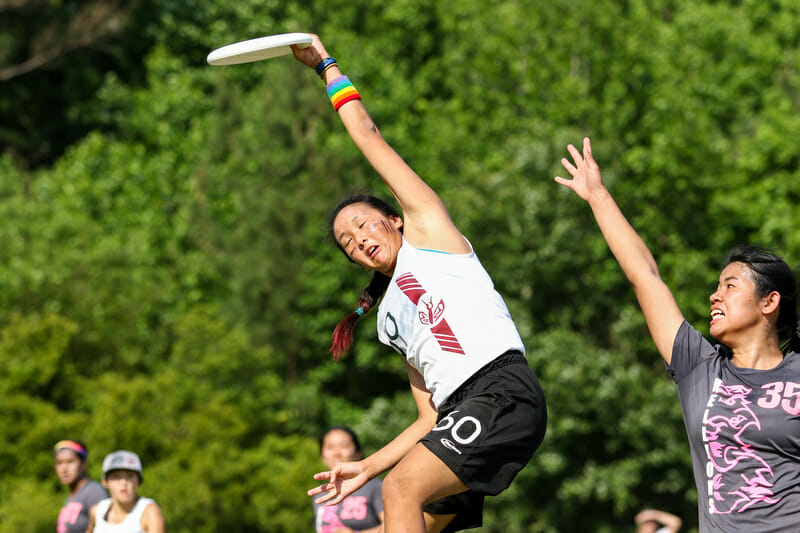 This article is presented by Spin Ultimate; all opinions are those of the author. Please support the brands that make Ultiworld possible and shop at Spin Ultimate!
Ultiworld is happy to provide all of our written and video coverage of the 2016 College Championships free of charge. However, if you are enjoying our work and want to contribute to our site, please consider making a donation to our completely optional tip jar.
Pool A
Colorado College 15-13 Virginia
Coming off a historic win over the tournament #1 seed Oregon, it's not surprising that Virginia was tired and ready for a breather in their final game. They traded with pool #5 seed Colorado College until Strata took half 8-7.
As much as they could for an already deep team, Hydra opened their lines and gave younger players a chance on the field. Younger players like Allison Hahn, Jianna Torre, and Christine DeRieux made plays in the first half.
Colorado College brought their signature energy to the game, and they were able to break late in the game to lead 10-8. They held their lead for most of the second half before winning the game 15-13.
Pool B
UCLA 12-7 Pittsburgh
To confirm their pool-winning credentials, UCLA took care of business by beating Pittsburgh 12-7 in the final round of pool play. The teams traded early, but UCLA knocked out two breaks to build up a lead.
Pittsburgh has had a rocky two days of pool play, but they're still an elite team: they challenged UCLA downfield and made incredible plays to earn their points. Sarah Russek made a reaching bid for a Pittsburgh break, and Carolyn Normile threw some of the best hammers of the day.
Their breaks were made easier by more open lines from UCLA, who played the bottom two thirds of their roster and gave Pojunis and Chen a chance to cheer from the sidelines.
Despite Pitt's best efforts, UCLA ground out two breaks to end the capped game 12-7.
British Columbia 15-10 Chaos
With a spot in the prequarters on the line, UBC rallied to beat Chaos by five.
UBC has all the talent they need to win a title, but in the first few points, their bracket fate was uncertain. Against Chaos, neither team was able to generate turns to earn a break before 6-6; the sun was taking its toll in a late round game, and nobody wanted to ramp up on defense.
UBC finally broke twice to close the half, 8-6. Chaos loves their deep game, and like Oregon they're not afraid of a couple turns in a point. But when UBC started generating the Ds and converting Chaos' mistakes, Chaos couldn't fight back into the game. They couldn't settle on an effective defensive strategy against UBC, either, and they would leave the game without a recording a single break.
UBC's offense looked disjointed, and this team is still finding their footing this weekend. They'll face a deep Michigan in the prequarters, and they'll have to clean up if they want to advance.
Pool C
Stanford 15-11 Ohio State
By the time Stanford Superfly met Ohio State Fever in the last round of pool play of Nationals, the fate of both teams had already been sealed. Owners of a 3-0 record, Superfly had already clinched first place in Pool C and a spot in quarters, while Ohio State was already bound for the consolation bracket regardless of the result. Strangely, the same situation occurred last year in the last round of pool play between Ohio State and Stanford1.
Stanford, despite the locked-in path, still played the game with intensity. Though they rested players with nagging injuries — among them Caitlin Go, Courtney Gegg, Anne Rempel, Rosemarie Sandino, and Natasha Field-Marsham — the rest of the roster saw approximately their regular amount of minutes. However, the absence of four starting players opened up a window for the younger Superfly to see the field and make plays. Rookies Rachel Thomson, Carly Eckstrom, Emma Heath all showed that the future of the Stanford program remains bright, showcasing strong cutting and solid throws. That said, it was still the old guard leading the way as Monisha White led the team with four assists and Veronica Cruz paced the squad with four goals.
Ohio State played impressively, displaying skillful throwing from Stevie Miller and strong games from Sadie Jezierski (three assists, one goal) and Corinn Pruitt (one assist, two goals).
Michigan 15-7 Washington
A game that was for second place in the pool wound up being significantly less entertaining than it could have been. Washington elected to rest its top players in preparation for prequarters, knowing that winning the pool was out of reach. Washington also failed to execute at a high level, and Michigan continued to play as solidly as it has all tournament, but neither team appeared to truly be fighting to win the game.
In the glorified exhibition match, Hannah Henkin dominated the stat sheet, racking up six points in her best statistical game to this point in the tournament. It feels like Michigan has been ramping up its game throughout the tournament and could be peaking at the right time. A matchup with UBC in prequarters awaits for Flywheel, who have to like their chances of moving beyond that as well.
---
Except last year it was Ohio State bound for prequarters. ↩