Colorado faced a familiar foe, Texas, in prequarterfinals, and emerged victorious to advance to quarterfinals.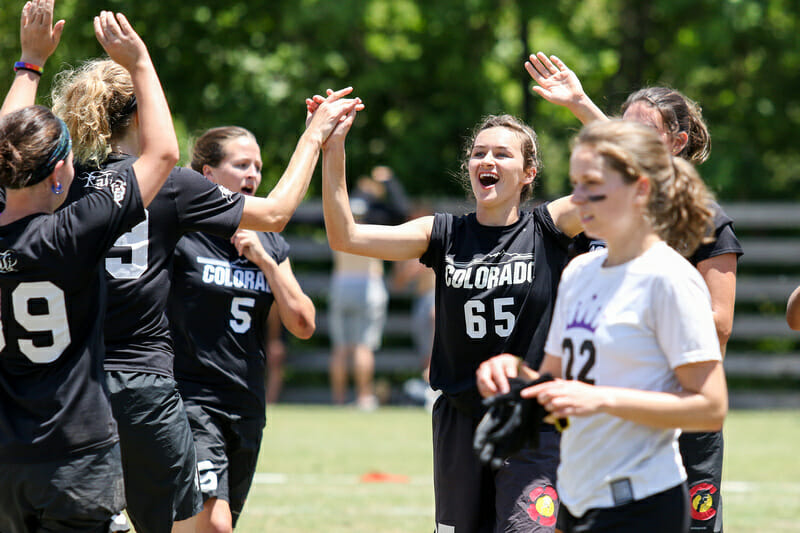 This article is presented by Spin Ultimate; all opinions are those of the author. Please support the brands that make Ultiworld possible and shop at Spin Ultimate!
For the second time today, Colorado faced a regional rival at Nationals. First they took down Colorado College. This afternoon in prequarters, they defeated Texas 15-9. Kali topped Texas 14-13 in the South Central Regionals, but there was still some unfinished business.
"We knew Texas was hungry after their Regionals loss," said captain Nhi Nguyen. "We knew they were going to bring the fire, and we were pumped up after yesterday's lower-than-standard play."
Indeed, Colorado went 0-2 yesterday with frustrating losses to Oregon and Virginia. Colorado won their first game today despite some sloppy offense and energy lulls early. But they stepped onto their prequarters field with a different mindset. They were still rowdy, loud, and feisty, but their offensive flow had a new laser-like focus. The Kali handlers took better options under instead of the deceptively easy deep shots, and when they did shoot deep, it worked. Colorado broke ahead early in the first half after Hillary Egan dove to save Colorado possession and threw the assist to Katiana Hutchinson. Kali went crazy, and followed that up with another break.
Texas had a rocky weekend in pool play. They went 3-1, but let teams get too close for comfort. They persevered on the strength of their defense and Shiru Liu's throws, but a game against a high energy team they know so well highlighted their weak spots.
Colorado's defense pushed Texas's cutters deep and pressured their handlers so that Liu was left with nowhere to look and no safety net behind her. Hillary Egan and Jessie Chesnut stayed in the Melee handlers' pockets on strikes and swings, and Liu had to choose a tight window downfield or a risky reset.
Colorado, on the other hand, played better offense than they have all weekend.
"We started to throw what we know how to throw and played our game," agreed Johnson.
Johnson's throws were the most impressive of them all: she threw six assists and many more rockets deep, usually to Nhi Nguyen or Megan Ives. Johnson's low inside flick – a throw many club teams know well – is fatal.
Colorado protected their two bid lead into late in the second half when they doubled down and broke three more times. Texas could still piece together holds, but they were just surviving. Colorado finished the game 15-9, beating Texas yet again. It marks the second straight year they've fought through prequarters to the quarterfinals.
Tomorrow morning they'll play Stanford, who has had a much more comfortable journey through Nationals. Colorado beat Stanford 9-8 early in the season at Stanford Invite, but that was a long time ago. Both teams are known for their skilled defense, but Stanford's zone may be Colorado's death knell. Strong zones have flustered Kali all weekend, and Stanford has an elite zone with a killer deep deep in Courtney Gegg.