Sweets and Hydra take different paths to their programs' first Nationals semifinal.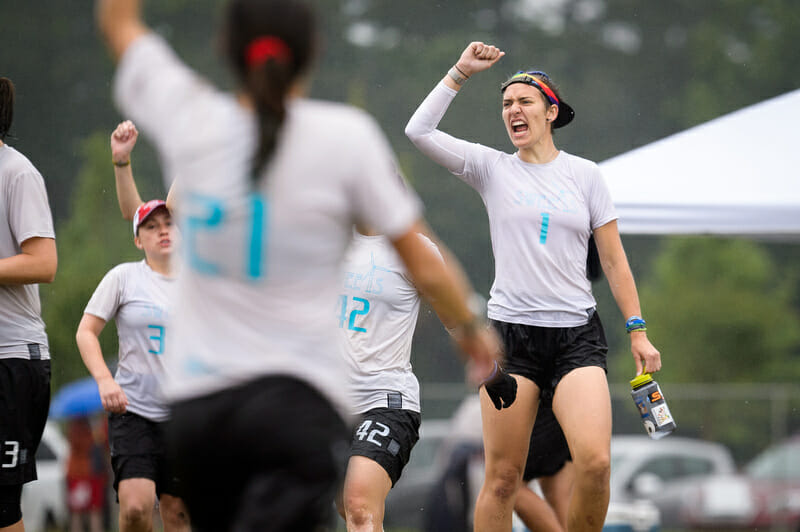 This article is presented by Spin Ultimate; all opinions are those of the author. Please support the brands that make Ultiworld possible and shop at Spin Ultimate!
Two teams advancing to their first ever semifinal — in stark contrast to the old blood programs in the other semifinal — will battle for a chance to compete in the National Championship game after impressive performances throughout the weekend. But they were impressive for very different reasons.
The Whitman Sweets have caught fire at the right time. In their five games at Nationals, they've only won by less than five goals a single time. Their past three opponents have been rolled by six or more and Whitman has only allowed double digit goals once. With stifling defense and explosive offense, there's an argument that nobody is playing a better game in the women's division than the ladies from Walla Walla, WA.
In a highly anticipated quarterfinal against British Columbia, another team from the Northwest region with whom they were very familiar, Whitman took the initiative early and often. After an opening hold from UBC, the Sweets rattled off seven straight goals to take full control of the game. It could have been so different, after Whitman gave UBC a short field on the game's second point, but a drop gave it right back. The Pool D winner never let the Thunderbirds collect themselves, and without their feet underneath them, UBC's stars and role players alike continued to make execution errors that Whitman could pounce on.
It was a very different path for Virginia. Four of their five games have been decided by two or less1 and often won under high-pressure conditions. Hydra has shown the ability to execute a strict system of resets and cuts through the middle of the field against defensive intensity, playing from behind, and when it matters most. The discipline — which failed them in their quarterfinal effort last year — has been the backbone of their resilient and superb performance in Raleigh.
It took some late game heroics from the team to advance through the quarterfinal, a round that has been their final game for three straight seasons. After taking half up 8-6 against a talented Dartmouth team, Virginia faced three separate points where they could have conceded the lead. They fought off Princess Layout at 10-10, but a few points later, Dartmouth took their first lead of the second half, 13-12. A stout and poised Virginia squad held and followed up with back-to-back breaks — both thrown by senior handler Tess Warner — to seal the game, 15-13.
With two teams that thrive on execution, the semifinal will be test of who can avoid costly mistakes. Both teams are experienced, packed with seasoned and skilled veterans who are no strangers to tough defense. Only one player on either roster has played in a College Championship semifinal, meaning for a lot of them, the ESPN cameras will be a new adjustment2. The other key external factor could be the conditions; the forecast calls for more rain, which obviously could hurt both team's ability to rack up the smooth possessions they are known for.
"This is our kind of weather" said Whitman coach Ben McGinn about the rain-soaked quarterfinal round.
Each team also relies on a vast array of contributors to lead them to success, and favors their depth as one of their top strengths. Whichever team can get more production from the length of their roster could find themselves one game away from hoisting the trophy.
"There's no superstars on the team," said Virginia coach David Allison about Whitman, though he might as well have been talking about their own roster. "But there are good, deep players, so there are some similarities there."
"They seem like a very disciplined and fundamentally sound team," said McGinn when assessing Hydra. "They're kind of a faceless army with a lot of good throwers."
With both teams battle-tested and playing their best ultimate heading into semifinals, expect fireworks. The game should be a battle of systems, depth, and discipline. One thing is for sure: someone is getting to their first final in program history.
---
Although that includes their end of pool play loss to Colorado College, where they rested their starters with Pool D locked up. ↩

Nina Finley played in the semifinals with Ohio State her freshman year, although Claire Revere has also played in multiple ESPN games in the club division. ↩