Zhu was exceptional and Dartmouth's defensive adjustments overcame Washington's focused gameplan in prequarters.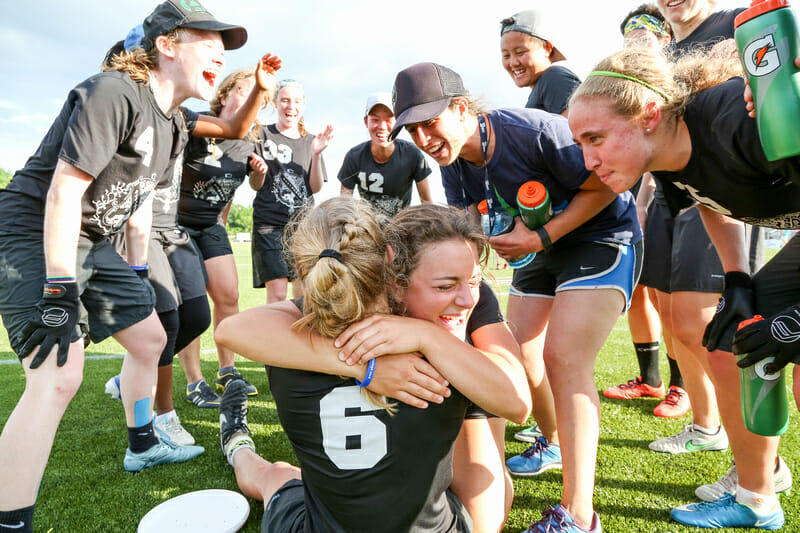 This article is presented by Spin Ultimate; all opinions are those of the author. Please support the brands that make Ultiworld possible and shop at Spin Ultimate!
Dartmouth clashed with Washington on the field and stylistically, and prevailed through second half adjustments and the dominant performance of Angela Zhu in their prequarter, winning 15-11. The will advance to play Virginia in the quarterfinals on Sunday.
The first half was sparkling clean, save a few flecks of erroneous execution. The teams traded two quick turns on the opening point, but the first seven points went break free. Washington capitalized on a Princess Layout turn and, in short order, punched in a break to Janet Ho to push the score to 5-3. The momentum shifted in favor of Element, who took control of the game's pace, ratcheting it up to their preferred rate. Their marks were frenetic and defenders shifting, while their offense sizzled with multiple series of rapid completions. Dartmouth hung in it with some high stall completions for scores, but the Northwest team was in the driver's seat.
"I thought we were playing a better game than they were," said Washington coach Kyle Weisbrod after the game. "They got a lot of stall nine throws out…there were a lot that were 50-50."
Dartmouth finally found a response when they got another opportunity. The New England Champions punched in both of the break opportunities UW gave them to end the half and seize the lead, 8-7.
"We made some tight adjustments on D, really playing tighter on the marks," said Dartmouth coach Eugene Yum of their first half success,"Trying to deny the disc from their primary and secondary options."
The second half was where Dartmouth asserted themselves. It wasn't clear to start the half, when Washington broke to Kate Dusenbery to tie the game at 8-8. It was the last break Element would get. Princess Layout came out in a new defense, matching up in the backfield but switching and poaching downfield. The look was quicksand to the speed of the Seattle-based offensive assault and shifted the advantage into Dartmouth's favor. It also helped them preserve the legs of the core of their rotation, which they rolled onto the field point after point.
"It's do or die at this point," said Dartmouth coach Ian Engler. "They've trained hard and are ready for that."
"That poaching system they figured out was very effective," said Weisbrod. "It saved their legs and allowed them to still slow us down enough and generate enough turns that they were able to get breaks."
While Dartmouth's D-line gained them control of the game, but their offense allowed them to keep it. Dartmouth converted on all three offensive possessions that they obtained on D points. Element dialed up a variety of zones and adjustments within them, and no matter how much pressure they applied to the Princess Layout offense, Angela Zhu seemed to find a way to get them out of it. On the way to an 8 assist evening, Zhu broke the mark, switched fields, and found small windows with difficult throws.
"Angela played a fantastic game, she played lights out," said Weisbrod. "She completed everything she threw."
With Zhu on fire and their defense flummoxing Washington's offense, Dartmouth pulled away. A string of breaks closed out the game in favor of Dartmouth as longer points began tiring Washington. It was fitting that the game concluded on a Zhu assist to Piper Curtis to advance Dartmouth to quarterfinals.
Quarterfinals Look Ahead
If it were a week ago, many would look at Virginia as a favorable draw. But Hydra has been playing arguably the best ultimate in the women's division — there's also a case for Stanford — and is operating with frightening efficiency. They run a deep rotation and know how to grind out a game. Their patient style might force Dartmouth to play longer and harder points, which could be a challenge for Princess Layout's small rotation, especially when Virginia's bye reward exacerbates that gap. However, Dartmouth's core has shown an ability to overcome a variety of defensive schemes with their vision and playmaking.
It is clear that this will be a war of execution and whoever's handlers can present open reset options and find holes in the opposing defense will move on to the semifinals.