Can a fresh-faced Danish team defy lower-than-usual expectations?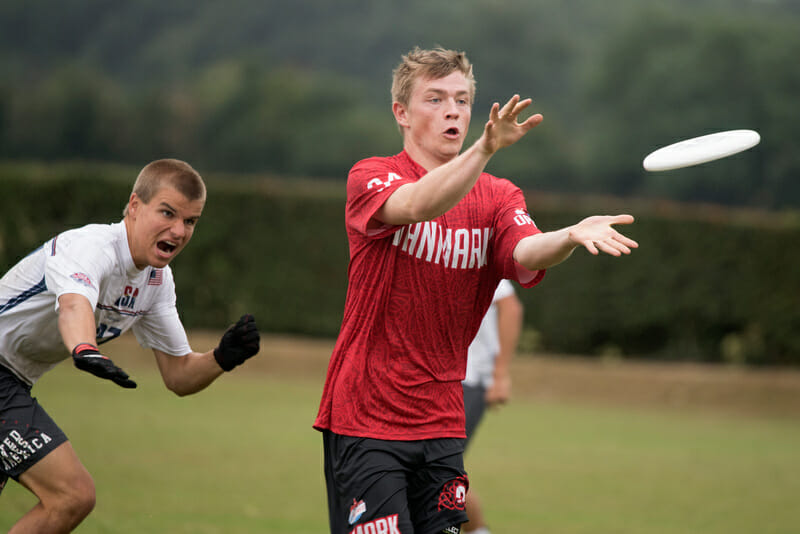 There is a storm building in Europe — spinning in the streets of Salzburg, ploughing across French fields, and lurking in Swedish parks — and it's heading straight for London. With WUGC nearly upon us, it is time to learn a bit more about some of the men's teams who will be competing in England next week, squaring off against the best the world has to offer.
A Changing Of The Guard
Though relatively small in size compared to other European empires, overachieving has become a habit for Denmark. Over the last decade, Denmark has frequently upset teams from larger ultimate communities, a trend epitomized by Copenhagen's Ragnarok, a team that routinely finishes in the top eight of European club tournaments. However, recent years have seen a bit of a drop off in relevancy for the Danes.
Last summer, the Danish Ultimate community hosted the European championships in Copenhagen. Veterans of the Danish national team decided to compete in the Masters division, causing a shift in the focus of the country's player base. The graduation of experience to the older division reaped immediate rewards for those who moved up as Denmark won the Masters division in 2015. However, it has also left the younger elements of the squad in a state of flux.
Offensive coach Esben Høgh understands the realities of their situation. "We've been trailing other European countries who've had a strong youth development…but I have some hope that things are starting to change at the youngest players," he said.
Despite losing the more seasoned elements of their squad, the Danes still fought their way to a respectable record of 8-4 at the 2015 European Championships. On home turf, the Danes scored important victories over several continental rivals including Sweden, Finland, and the Czech Republic. Høgh knows his team's place in the European hierarchy. "Germany and the UK are above our level," he said. "Below them, there are several European teams that are all beatable if everything works out."
When it came time to pick the National team this year, Høgh and his fellow selectors focused solely on individual ability, an unfortunate condition smaller communities are forced to adhere to. The limited experience of the player base has meant some practical, though thoroughly exciting, changes to their tactical tenets. Every coach wants to focus on the fundamentals: dumps, swings, and isolation cuts. However, in games where it stays simple, the more athletic and experienced teams tend to come out on top. Denmark is looking to give itself an edge over their more physically gifted opponents through unpredictability, drawing from Danish ultimate's seasonal emphasis on indoor competition. "Our aim is to do things that can surprise the opponent without ending up in silly, high-risk plays," says Høgh.
Despite the prevalence of younger player, the Danes are not without leaders. Høgh and Jørgen Alsted run the offense and defensive aspects, respectively. Both players have over a decade of experience under their belts and have played at the highest level of European Club ultimate with Ragnarok. Due to the lack of non-playing coaches in the Danish community, Høgh and Alsted are pulling double duty for WUGC. They are also being assisted with coaching by Benjamin Lazar, an up and coming coach in Denmark with a sense for the sport and aspirations of grandeur.
Denmark Open has enjoyed steady improvement during the build up to WUGC. Their first real outing against European opposition was the Confederation Cup in May. The Danes finished 7th overall but, as with most teams attending the event, used it as a preliminary road test for their squad and came away stronger from the experience. Their pool victories over local rivals Austria and Netherlands are good psychological boons for the side. Two weeks later at Windmill Windup, the Danes revealed a bit more of their true strength on route to a fourth place finish, although this involved a disappointingly low number of games against other national teams. Given their track record of fortnightly improvements over the last month, one wonders what they will be capable of when they touch down in London.
Players To Watch For
Mads Lindskrog
Renowned throughout Denmark for afflicting opposing offenses with suffocating defense, Lindskrog specializes in taking away easy throws. His low center of gravity and Swayze-esque footwork make every attempt to get free just that bit more difficult. Not afraid to pick up the disc on a turn, Lindskrog spreads honey across the pitch.
Jonas Skovgaard
Sam to Mads' Frodo, Skovgaard completes Denmark's stellar handler defense couplet. Unrelenting pressure on all things reset related has become a hallmark of Denmark's defense under these two. An impressive player in his own right, Skovgaard should finish off the defensive possessions that Lindskrog initiates.
Kristoffer Buus
On the offensive end, Denmark has several weapons, with Buus key among them. A figurative and damn near literal workhorse, Buus does not stop running. He has made a habit of waiting for his defender to risk glancing away before galloping full tilt for a score. Failing this, Buus is not afraid to have the disc in his own end zone. Armed with his confident demeanor and one of the scarier flick hucks in Europe, Buss remains a threat whenever he is on the pitch.
What To Expect
Denmark Open is bringing a squad to WUGC that simultaneously understands their place in the world and defies it. The Danish are looking to London with honest eyes and an earnest determination to highlight the naked aspects of the established powers. Their Scandinavian rivals have historically dominated them, a tradition the Danish are eager to break. For the upcoming tournament, they belong decidedly to the middle, a section that promises to be abnormally large and unpredictable for this championship. The Danish have the opportunity to reinvent their reputation with their new generation of players coming to the fore, an objective the squad has already achieved on a small scale through warm-up tournaments. In their dogged pursuit of progress, we will see how great these Danes really are.